CET-16:

11 Days Beijing - Xi'an - Hangzhou - Nanxun - Shanghai

This travel experience is exclusively designed for women and girls, being especially friendly for lady travelers. This trip includes carefully crafted experiences combining sightseeing, shopping, gourmet food, and cultural experience. Enjoy boutique travel for women to explore a variety of destinations in China.
Trip Highlights
5 different cities from the north to the south of China showing various customs
Ample free time for relaxing, shopping, and sight-seeing
Climbing the Great Wall in a comfortable way
Learn the traditional Chinese handcraft of paper cutting
Dress up like an ancient Chinese person and take beautiful photos
Make dumplings by yourself and discover mouthwatering food in Xi'an
Go boating on the West Lake to enjoy relaxation
Taste top-level tea and admire tea art performance in Meijiawu Tea Village
Try painting a paper umbrella
Stroll in the art district in modern Shanghai and experience the nostalgia of old Shanghai
Suitable For: Women Travelers, Girls' School, Travel With Girlfriends, Family, Solo
Full itinerary for China Tour for Ladies
Day 1
Arrive in Beijing
Welcome to Beijing and join our fully escorted tour. You will meet your private driver and tour guide at the airport. After arriving at your hotel, we will help you check-in. Have an early night and good rest.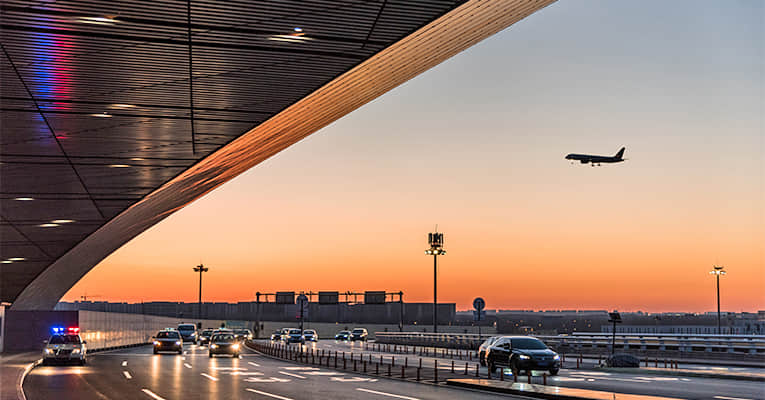 Welcome to Beijing, China
Day 2
Beijing: Visit famous landmarks (breakfast & lunch)
Morning
A relaxed start from about 09:30, beginning with the Forbidden City, where you can wander in the largest imperial palace. As you explore the Chinese royal complex structure, you will visit the Hall of Clocks and Watches, which displays many collected unique and priceless clocks and watches from the Qing Dynasty.
Afternoon
After lunch, proceed to Houhai Lake, indulge yourself in the beauty of the scenic lake with an easy walk to wander through the hutongs around there. Not only are there some secluded alleys where you can enjoy your leisure time, but also some bustling streets such as Nanluogu Alley. It is an ideal place for rambling along enjoying different tasty foods, unique gift shops, and popular bars.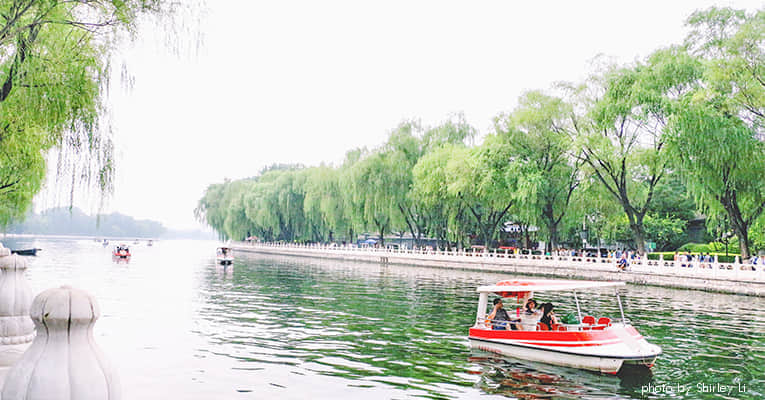 Houhai Lake
Evening
Recommended activity:
Nanluogu Alley: You can stay in Nanluogu Alley into the night, and bars, snack shops, souvenirs and restaurants are accessible all around you.
Sanlitun Bar Street: Sanlitun District is a lively area in Beijing. The modern mall and the bar street are full of young people. Various styles of bars here are available for your choice. You will experience some delightful nightlife.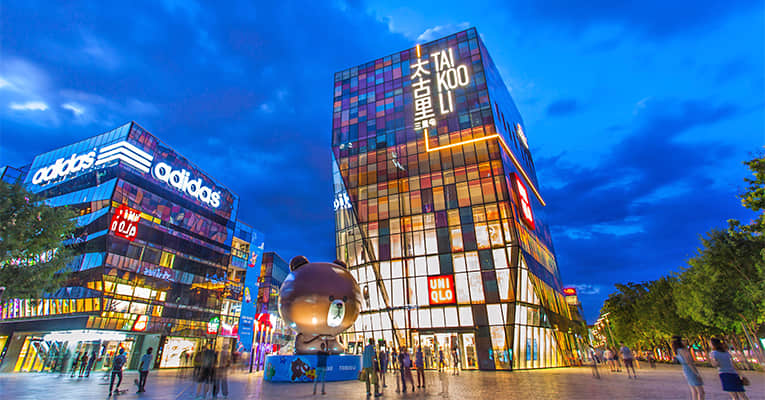 Sanlitun District
Day 3
Beijing: Take a cable car to visit Mutianyu Great Wall, and learn paper cutting (breakfast & lunch)
Morning
Enjoy your breakfast, and then head to the Mutianyu Great Wall. Located in Huairou District, Mutianyu Section is a less crowded section of the Great Wall. It will take about 1 hour from your hotel. We specially arrange a round trip of the cable car. Riding in the cable car is a comfortable way to experience the majesty and charm of the Great Wall.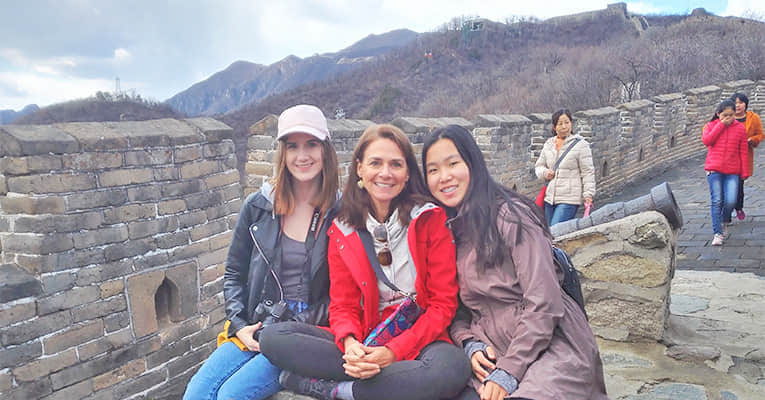 Visitors photo on the Mutianyu Great Wall
Afternoon
Visit a local family and experience the traditional Chinese art of paper cutting. Guided by a master of paper cutting, you will enjoy using scissors, paper and engraving knives to create an artwork by paper cutting, which you can take home as a significant souvenir. Chinese paper cutting is used to make decorative things people use in wedding ceremonies or festivals.
Day 4
Beijing – Xi'an by Bullet Train: Go shopping at Xiushui Street (breakfast)
Morning
After breakfast, you will have a relaxing time to stroll along Xiushui Street, which is probably the most well-known market for international tourists. There are lots of vendors and a great variety of goods. Bargaining here is actually really easy, once you give it a try. Have a good time shopping.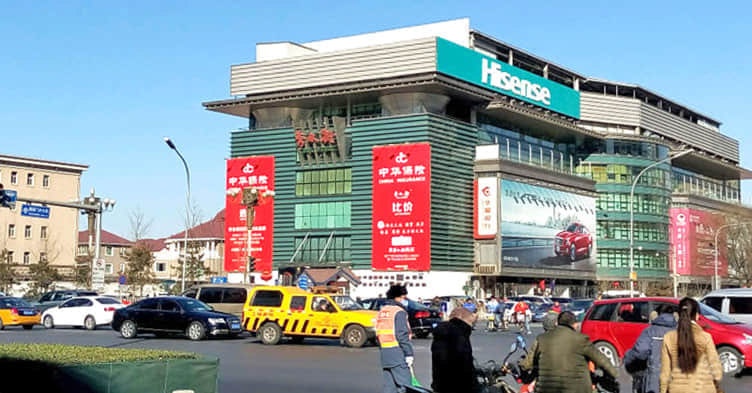 Afternoon
Take a bullet train from Beijing to Xi' an. It will take you about 4.5 hours. Your local tour guide and your driver will wait for you at the train station. Then, they'll send you to your hotel. Have a good rest.
Day 5
explore history and culture (breakfast & lunch)
Morning
Enjoy your breakfast at the hotel, your guide and driver will pick up you to go to see the Terracotta Warriors. The Terracotta Warriors are thousands of life-size clay models of soldiers, horses, and chariots which were deposited in the grand mausoleum around and near the tomb of the first emperor Qin Shi Huang in China. To explore the history of the Qin Dynasty will be memorable.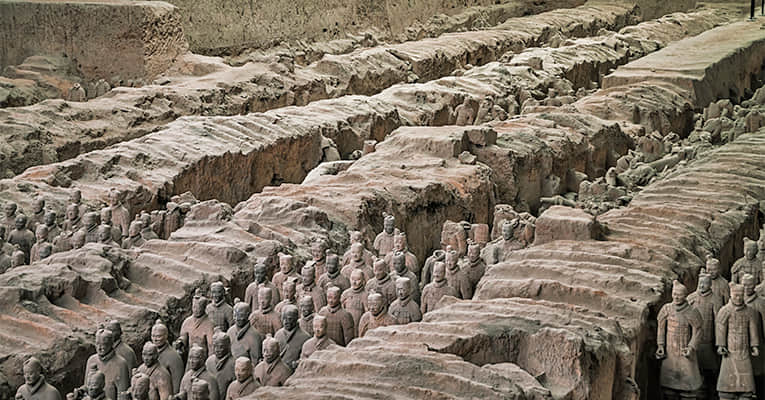 Emperor Qin's Terra Cotta Army
Afternoon
After lunch, drive about 1 hour to visit Guanzhong Academy. It was the highest Academy in Shanxi Province in the Ming and Qing Dynasties, and one of the four largest academies in China. In this traditional academy, visitors can dress up in the costume of Chinese Hanfu. You can try on different sets of clothes and makeup as an ancient Chinese. Wearing a Hanfu costume, you can wander around the academy to take beautiful photos for this unique cultural experience.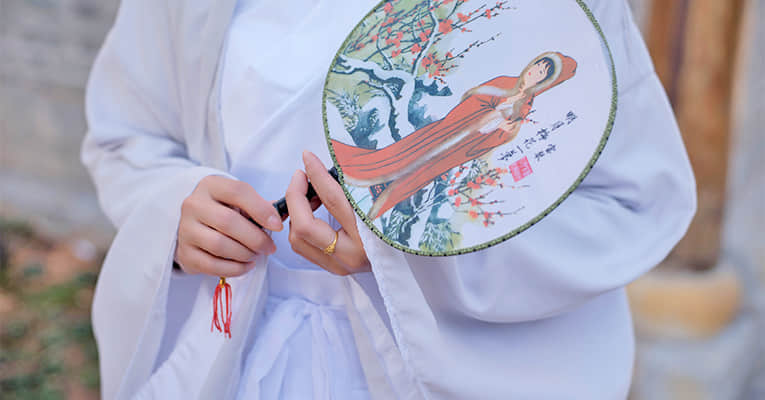 The coustum of Chinese Hanfu
Evening
Recommended activity:
1. The music fountain at the north square of Big Wild Goose Pagoda is free to the public. You can stroll around it after dinner to experience local life.
2. 'Tang-Dynasty Palace Music and Dances' is a performance that was re-created by many famous artists in Shaanxi province, displaying the essence of music, rhythm, and dance art in the Tang Dynasty.
Day 6
Xi'an – Hangzhou by airplane: Xi'an local food and culture experience (breakfast & lunch)
Morning
Today continue to explore the Muslim Quarter, where the original religious customs and lifestyles of Muslims have been preservedl. Delicious food such as Chinese hamburgers, cool noodles, steamed stuffed buns and various Islamic foods are easy to find here. You can eat and do as local people do.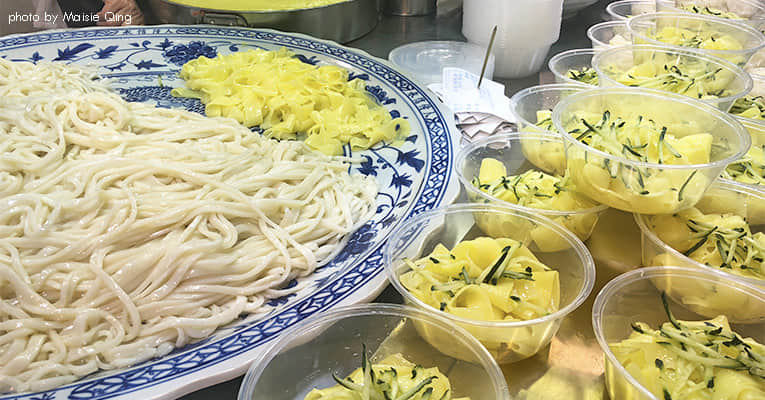 Cool noodles
Later visit Gao's Grand Courtyard. In this antique traditional Chinese dwelling, you could indulge yourself by watching a brilliant shadow puppet performance. An interesting story with various colorful figures will leave you deeply impressed after your trip. Then, continue on to visit a local family to learn how to make dumplings.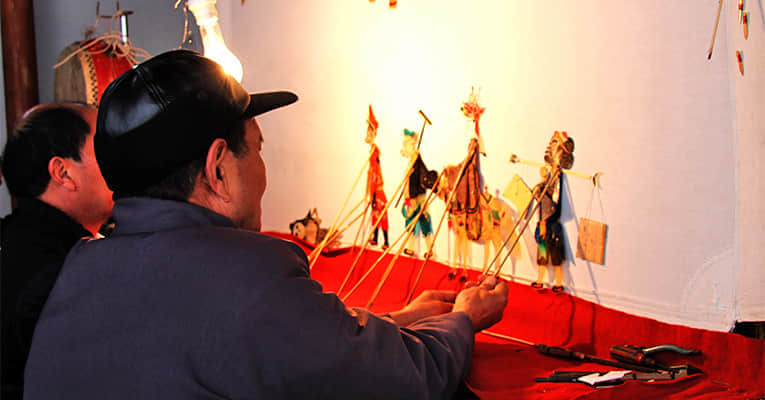 The backstage of shadow puppet performance
Afternoon
The guide and a driver will escort you to the Xi'an airport. It will take about 4.5 hours to Hangzhou. On your arrival in Hangzhou, your local tour guide and driver will pick you up and transfer you to your hotel.
Day 7
Hangzhou: enjoy interesting activities (breakfast & lunch)
Morning
West Lake is a famous historical site you don't want to miss it. Taking a boat sailing on the picturesque lake, tourists will have an enjoyable and fresh way to admire the delightful scenery, such as its islands, causeways, temples, and pagodas.
Afternoon
After lunch, tour in Meijiawu Tea Village, which is to the west of West Lake, about a 30-minute drive. The wide open spaces and fresh air with natural scenery will touch your heart. The guide in the village will introduce tea history, the process of tea production, and present a tea art performance. Experience the traditional Chinese tea culture and taste typically top-level Longjing Tea.
Meijiawu Tea Village
Then transfer to the Handicraft Exhibition Hall. This is a museum display of traditional handicrafts, like knives and scissors, paper umbrellas, silk umbrellas, and fans. You will see the masters demonstrate the whole creative process and you can paint an umbrella to create your own unique handmade work.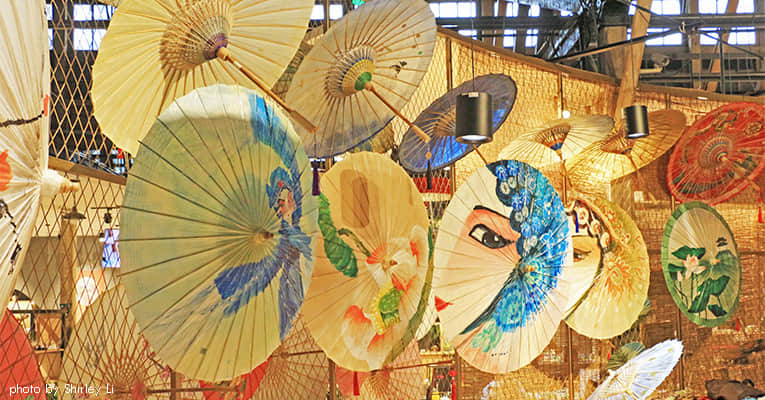 The handicraft Exhibition Hall
Evening
Recommended activity:
The Enduring Memories of Hangzhou: this is a live-action show directed by the famous director Zhang Yimou. Using West Lake as a stage, the show offers vivid artistic forms, wonderful lighting effects, sensational performances, and touching stories.
Day 8
Hangzhou – Nanxun by Bus:visit ancient water town(breakfast & lunch)
Morning
After breakfast at your hotel, enjoy a relaxed boating tour in Nanxun Water Town. It is a wealthy town full of a mixture of Chinese traditional and western architecture, like Lesser Lotus Villa (Xiao Lian Zhuang), the former residence of Zhang Shiming. As well as that, you can avoid the crowded areas and explore Baijianlou, which means 'a hundred houses'. The building is interconnected with corridors that have gray tiles and white walls, which reflect on the glassy water, looking like a classical ink painting.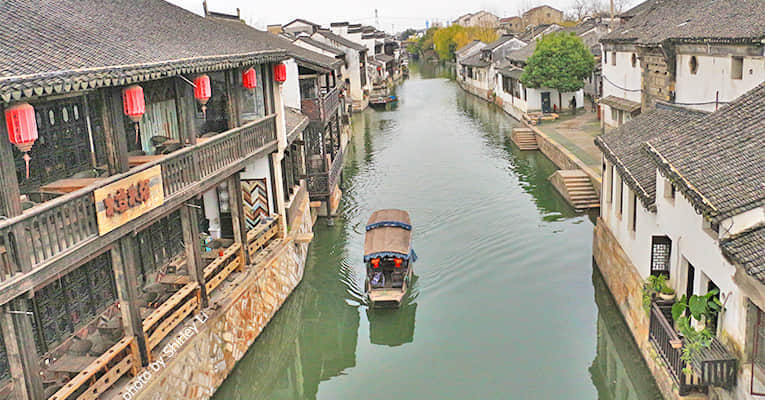 Boating tour in Nanxu Water Town
Afternoon
After lunch, take about a 4-hour drive to Shanghai. We will escort you to your hotel and help you check-in. Have a rest.
Day 9
Discovery old and modern Shanghai (breakfast & lunch)
Morning
Today we explore the fancy metropolitan Shanghai, starting from Shanghai Oriental Pearl Tower, a TV Tower. Located on Lujiazui peninsular in Pudong New District, the tower is about 1, 500 feet (468meters) tall, and sits opposite the Bund. You can learn the history of Shanghai at the Shanghai Development Exhibition Hall and enjoy a bird's view from the observation deck.
Afternoon
As you proceed you will be able to admire the most characteristic architecture, Shikumen. It is an architectural style that blends Chinese and western elements, featuring two or three stories with a front yard. You will not only watch the appearance of the houses, but also have a chance to explore the inside of a household. Enter the Shikumen Open House Museum, and you will see a well-preserved Shanghainese house in about the 1920s, showcasing the structure of a local house, the arrangement of furniture and you can even study the household items. Later, walk to Shanghai Xintiandi for some shopping, and then visit the famous landmark, the Shanghai Bund, with its mixed modern skyscrapers and with the splendid Huangpu River views.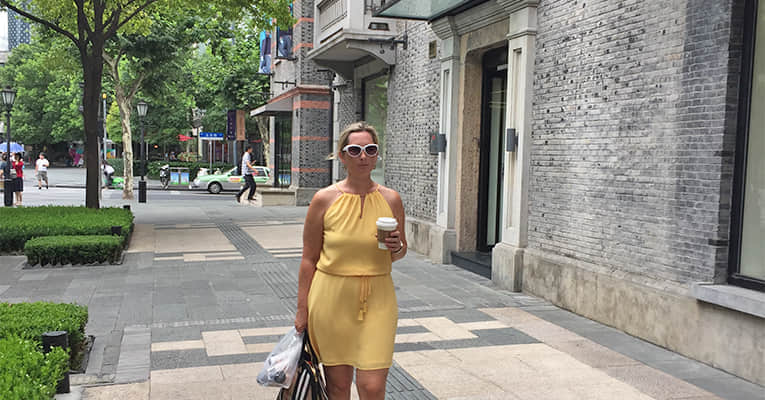 Shopping in the Shanghai Xitiandi
Evening
Recommended activity:
1. A live acrobatic show by Shanghai Acrobatic Troupe or another one called 'ERA, Intersection of Time'.
2. Night cruise along Huangpu to see the beautiful city lights on both sides.
Day 10
Shanghai: visit the art district and go shopping (breakfast & lunch)
Morning
After breakfast, enjoy your leisure day. Today, we come to the M50 Art District. M50 is a short name for No. 50 Moganshan Road. In this area, there are a lot of art workshops, galleries, design companies, and a platform for the art exhibition. Besides that, quite a few coffee bars and art supply shops are around. You can spend a very pleasurable time in this interesting art zone.
Afternoon
After lunch, go to Yatai Shenghui Underground Shopping Center and enjoy your shopping time. Clothes, bags, watches, and shoes are provided by more than 1000 separate vendors. Some shops can offer custom-made service.
Day 11
Departure Shanghai (breakfast)
Morning
After breakfast at your hotel, our guide and driver will send you off at Shanghai airport. Have a good trip.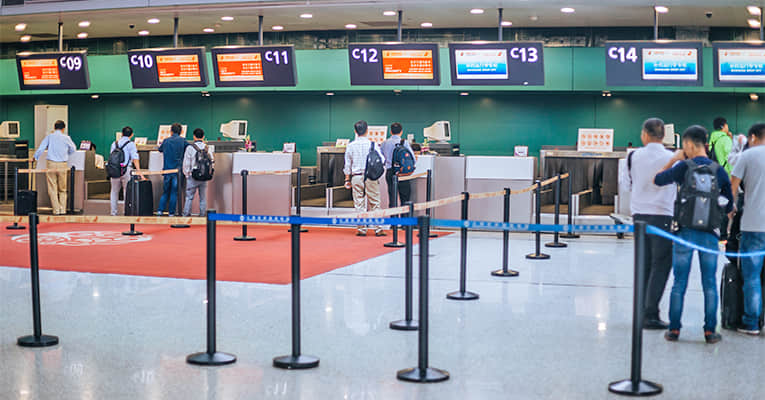 Shanghai Departure
What's Included
Entrance fee to the attractions listed in the itinerary
Meals mentioned in the itinerary
Private land transfer with licensed driver
Private local tour guide service throughout the tour
Hotel accommodation with breakfast
Flight tickets from Xi'an to Hangzhou
Transportation from Hangzhou to Nanxun