CET-21:

9 Days Private Tour: Beijing - Xi'an - Shanghai - Suzhou

This tour will take you to see the different styles of architecture in different regions of China. Each style of architecture with its unique history and cultural accumulation writes its own stories. The most typical building in northern China is Beijing style architecture featuring symmetrical distribution. You can tell by the quadrangle courtyard. Cave dwelling is the most widely distributed architectural style in northwestern China. In Xi'an, you will see one of three types of cave dwelling: the 'pit cave' which was built underground. 'Shikumen' style in Shanghai originated in the 1870s, and is regarded as one of the symbols of modern urban civilization. The Water Town in Suzhou is a different story: it is a typical representative of the Chinese classical garden.
Trip Highlights
Learn about the architectural layout of a Hutong
See the details of the Forbidden City more closely
Visit the form of ancient dwellings of the loess plateau
Walk along French Concession to see old Shanghai
Admire the new Suzhou Museum designed by World Chinese architect Ieoh Ming Pei
Take a boat ride in Tongli Water Town
Suitable For: Architecture lovers, Architectural experts, School, Family
Full itinerary for China Architecture Tour
Day 1
Beijing: Arrival
Welcome to Beijing. On your arrival, you will meet your guide at the arrival hall. The guide will hold a sign with your name on it. And then you will go to your hotel and check in.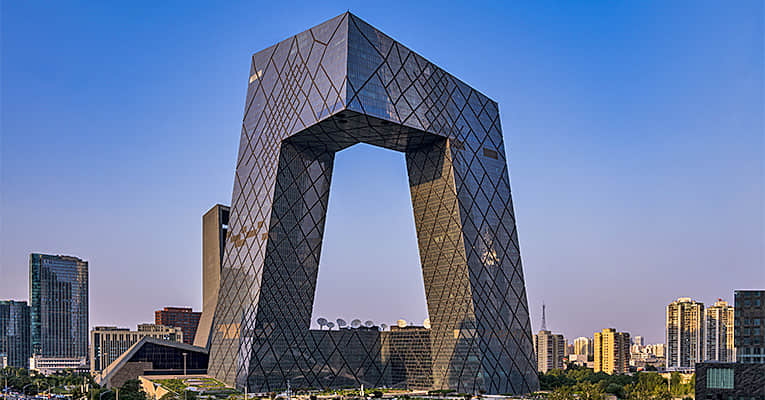 CCTV Headquarters Beijing was selected as one of the world's top 10 architectural wonders by time magazine on December 24, 2007 and won the "2013 Global Best High-rise Building Award " issued by CTBUH in 2013.
Day 2
Beijing: City Tour (breakfast & lunch)
Morning
After breakfast, you will visit Tiananmen Square which is definitely the heart of China. If you are interested, you can attend the flag-raising ceremony held every single morning at around 05:00.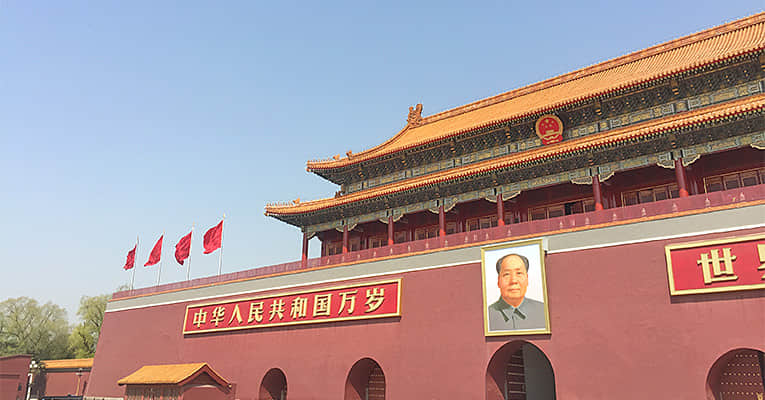 Tiananmen Rostrum is divided into two floors. The upper layer is double eaves gable and hip roof decorated with yellow glazed tile. The lower layer is a 13-meter-high vermilion rostrum surrounded by low walls in glazed tile roof.
And then you will be on to the best-preserved structure, the Forbidden City, where you will admire the art of Chinese ancient architecture. It can be seen as a huge quadrangle courtyard, with wider functions and clearer division of labor, giving people a sense of royal majesty. You can also visit the Hall of Clocks and Watches inside the palace. Have lunch at a local restaurant.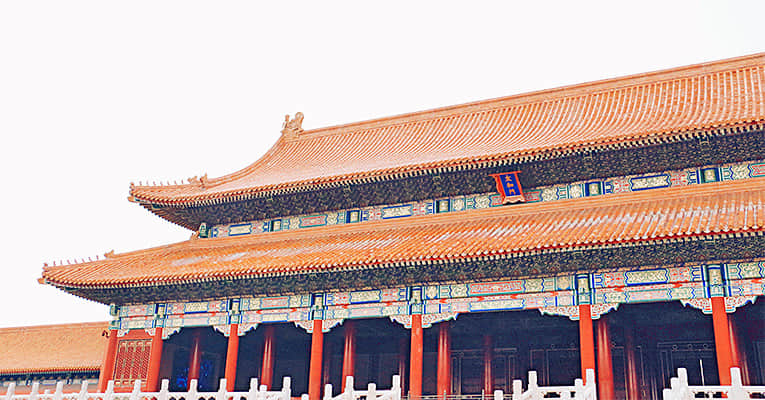 Gate of Supreme Harmony is the largest palace gate in the Forbidden City. It also has double eaves gable and hip roof, which is mostly used for the important halls in the palace. There is color painting in dragons pattern on the beam of the roof, which is only used for royal palace, the main hall of temples and other important buildings.
Afternoon
The Hutongs were firstly built in the Yuan Dynasty as local dwellings. They are a maze of historic alleyways with single-story traditional courtyard houses, which are fast disappearing. In this one hour tour, you will have a walk through the narrow alleys and be in close contact with the local culture and people's lifestyle.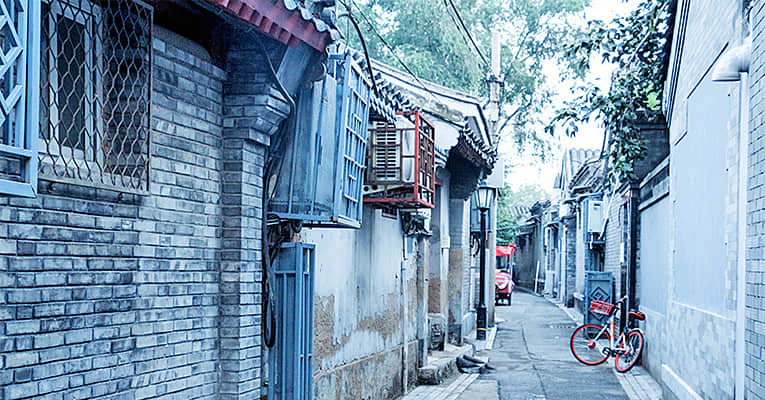 Hutong is a passageway connecting each courtyard house.
Evening
Recommended activity:
1. The Legend of Kungfu premiered in 2004. In contrast to the traditional Kungfu shows, it demonstrates Kungfu through dramatic stories. The group also tours abroad and has a good reputation.
2. Acrobatics at Chaoyang Theatre was founded in 1984. Their performances have won more than 30 awards at home and abroad. "Blue And White Porcelain" (balancing a stack of bowls on the head), which is one of them, was on the stage of the Spring Festival Gala in 2015.
3. Peking Opera is one of five major operas in China and the quintessence of Chinese culture with a history of nearly 200 years. It was entertainment only for the court in the beginning and then slowly opened to common people as well.
Day 3
Beijing: the Great Wall (breakfast & lunch)
Morning
After breakfast, you will visit the Temple of Heaven, built in 1420 during the Ming Dynasty, in the south of Beijing. Chinese emperors held the Heaven Worship Ceremony and prayed for a good harvest there. So it is famous for its rigorous architectural layout, peculiar architectural structure and magnificent architectural decoration. Inside the altar, there are echo walls, triple echo stones and dialogue stones constructed by the ingenious use of acoustic principles, which fully show the developed level of ancient Chinese architectural technology. And then you will be transferred to Mutianyu Great Wall. Enjoy your lunch at a local farmyard nearby.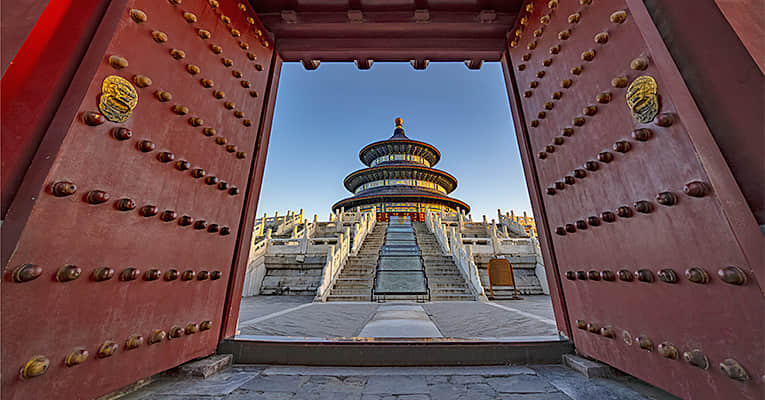 There are 28 pillars in the Hall of Prayer for Good Harvest. 4 in the inner circle imply spring, summer, autumn and winter; 12 in the middle circle imply 12 months, 12 in the outer circle imply 12 Shi Chen (one of the 12 two-hour periods of the day).
Afternoon
You will be stunned by one of the seven wonders of the world. The Great Wall is an ancient defense system which took the longest time and the biggest team of laborers to build in the whole world. It is mostly masonry. You will be back to the city in the late afternoon.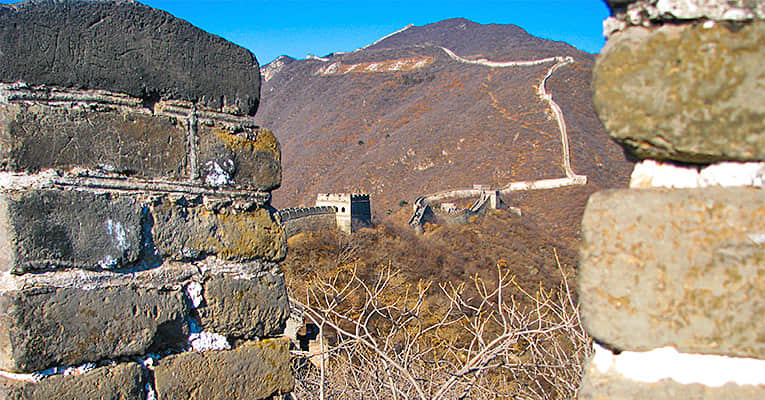 Granite is the main building material, magnificent and solid.
Day 4
Beijing – Xi'an by Speed Train: the Summer Palace (breakfast & lunch)
Morning
After breakfast, you will visit the most well-preserved and largest royal garden – the Summer Palace. It is based on Kunming Lake and Wanshou Mountain, taking Hangzhou West Lake as the blueprint and drawing on the design techniques of Jiangnan gardens. Different from the majesty of the Forbidden City, the style of the architecture here is more leisurely. It reflects in the layout, the color, the roof and the plants. All the private owned gardens in eastern China have copied its design and layout. Have lunch at a local restaurant.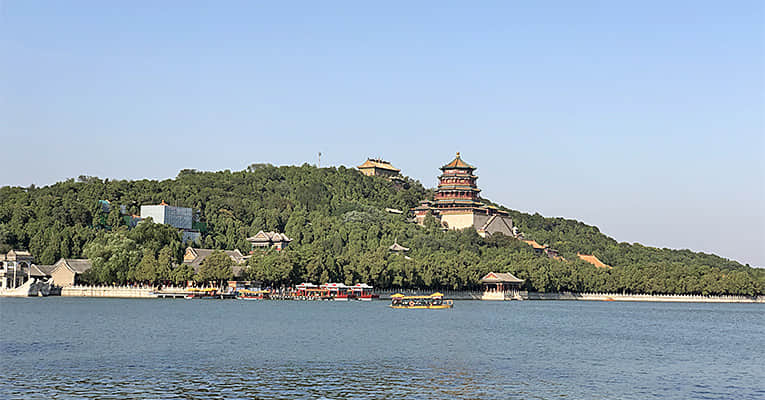 The Summer Palace is surrounded by a lake and Wanshou Mountain. It is rather a garden then a palace. Instead of yellow glazed tiles, it mostly uses green bricks and gray tiles.
Afternoon
After lunch, you will be sent to the Beijing Railway Station and board your train to Xi'an. On arrival, our Xi'an guide will welcome you at the exit holding a sign with your name on it. And then the guide and the driver will escort you to your hotel.
Day 5
Xi'an: Historical Sites (breakfast & lunch)
Morning
After breakfast, first you will visit the Terracotta Warriors, a one hour drive from your hotel. As the most significant archeological excavation of the 20th century, this incredible army of over 7000 soldiers, archers, horses and chariots in full battle array has guarded Emperor Qin's tomb since 210BC. Lunch will be served at a local restaurant. You will have traditional northern noodles.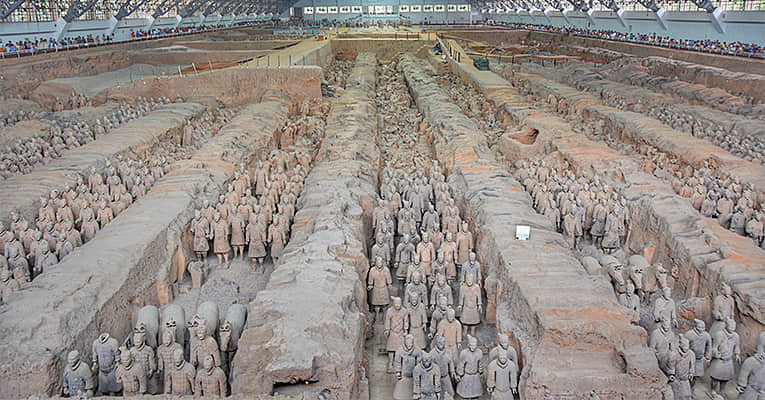 An Orderly Array of Terracotta Warriors and Horses
Afternoon
We will drive you back to the city center. You can stroll along the Ancient City Wall or take a bike on it.
Finally, today ends at the Muslim Quarter, which is the hub of the Muslim community in Xi'an City. The Muslim food and souvenir market is the main feature of the area. Walking along the streets provides an authentic experience of local people's life style.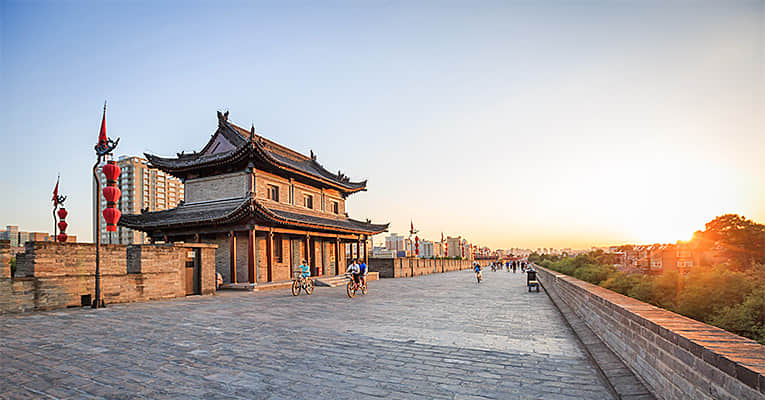 The width of the wall is longer than its height, enough for biking and doing exercises. It is rammed of loess layers by layers, and the bottom layer is rammed by mixing soil, lime and glutinous rice juice, stable as a mountain.
Evening
Recommended activity:
1.The music fountain at the north square of the Big Wild Goose Pagoda is free to the public. You can stroll around it after dinner to experience local life.
2. Tang-Dynasty Palace Music and Dances is a performance that was re-created by many famous artists in Shaanxi province, displaying the essence of music, rhythm, and dance art in the Tang Dynasty.
Day 6
Xi'an – Shanghai by Plane: Cave Dwelling (breakfast & lunch)
Morning
As a type of dwelling little known outside of China, Cave Dwelling (Yaodong) is particularly common in Shaanxi due to the numbers of loess hills and lack of other building materials.Today you are going to see the homes built underground, which are like its living fossils. This creates the good condition of being warm in winter and cool in summer. From a distance, you would not expect that there is a living place, but you can see the chimney in ground. There is a central patio which can both ventilate and harvest sunlight. Taking advantage of the hardness and reliable stability of the local loess, our ancestors came up with the idea of digging a hole to live in. Without any bricks, tiles and sand, the whole project basically can be completed with only manual labor. Have lunch at a local farmhouse.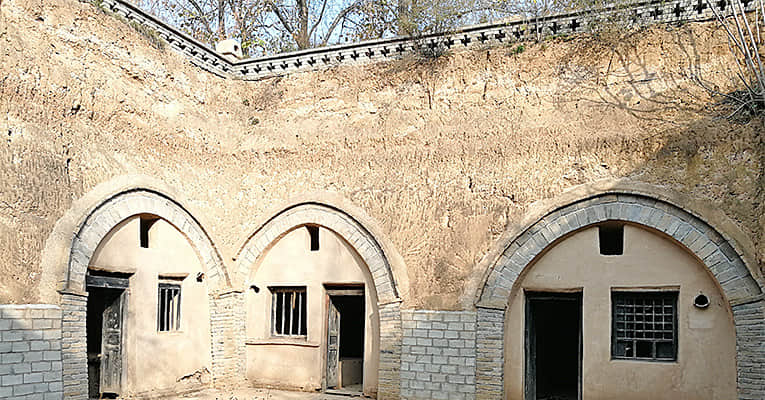 The Layout of underground Cave Dwelling is a courtyard.
Afternoon
Our driver and guide will transfer you to the airport. Say goodbye to Xi'an, you will take an afternoon flight to Shanghai.
Evening
After you arrive at Shanghai airport, your tour guide will meet you at the arrival hall. And then you will go to your hotel in their company.
Day 7
Shanghai: City Tour (breakfast & lunch)
Morning
After breakfast, we will take you to visit the Bund. As a walkway along the Huangpu River, it is the best place to see the skyscrapers in Pudong and historical buildings in Puxi. The old architectural complex featuresthe styles of gothic revival, neoclassicism, classicalism, English neoclassical renaissance, Italian renaissance, new Greek and Japanese modern western, and so on. Look across the river, you can see Lujiazui financial center standing next to Shanghai World Financial Center, Shanghai Jinmao Tower, The Oriental Pearl Radio & TV Tower and Shanghai Tower.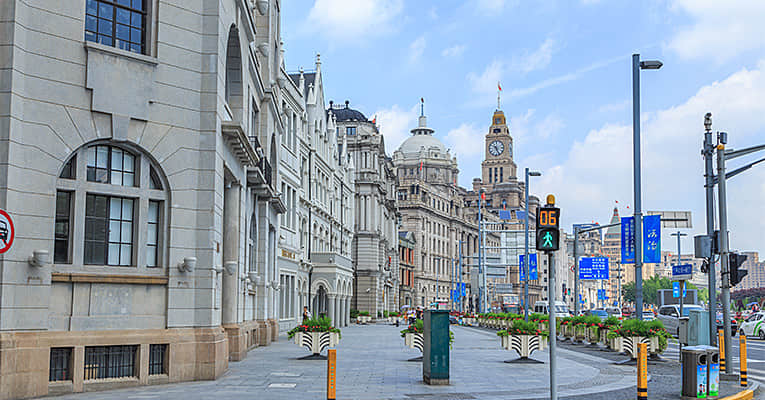 A variety of European-style buildings are on the Puxi side.
And then you will go to Yu Garden. You can see 'Dougong' in some of the important or commemorative buildings. It is a unique component of Chinese architecture where a system of brackets are inserted between the top of a column and a crossbeam. Framed landscape is one of the methods of scenery constitution in architectural art gardens. Using a door frame, window frame, tree frame, cave, etc., it selectively absorbs the beautiful scenery of the space, forming a picture embedded in a frame.
Stepping outside the garden, you will reach the Yuyuan Bazaar. There are clothes, snacks, souvenirs, jewelry, gold and also lots of restaurants with tasty offerings. You can taste the traditional snacks for lunch today.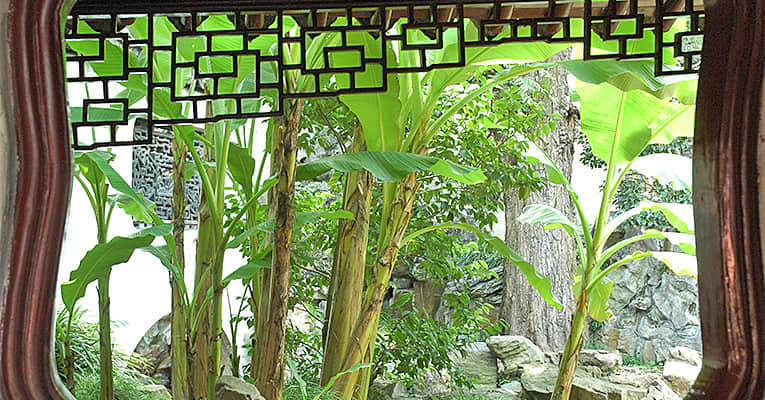 a Natural Picture Embedded in a Window Frame
Afternoon
After lunch,you will visit Shikumen Museum. Shikumen is a typical architectural style in Shanghai which has a combination of Chinese and Western styles. Actually this museum is a historical and cultural local house. It is mostly a two-story brick and wood building, with a balcony on the second floor. The overall layout adopts the European row style.
Today's tour will end at the Old French Concession. There are lots of small and interesting streets. Not all are full of shops, but there are plenty of old buildings, leafy trees and quiet laneways.The area is really historical and unique in the Shanghai sense.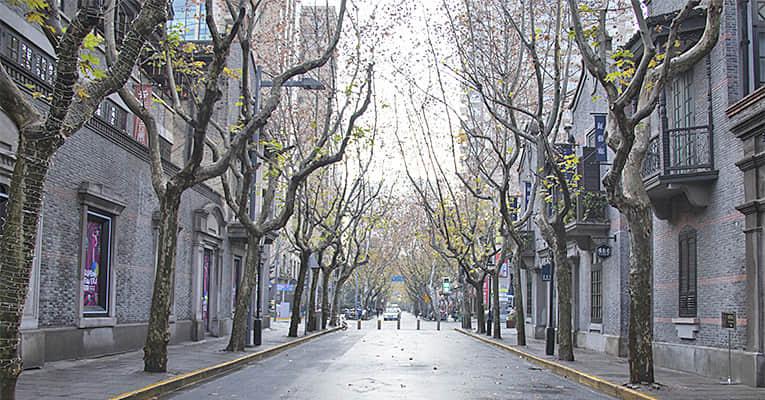 Shikumen no long pays attention to carving, but simplicity. Its name comes from choosing stone to make a door frame.
Evening
Recommended activity:
1. A live acrobatic show by Shanghai Acrobatic Troupe, or another one called 'ERA, Intersection of Time'.
2. Night cruise along Huangpu River to see the beautiful city lights on both sides.
Day 8
Shanghai: Suzhou One Day Tour (breakfast & lunch)
Morning
After breakfast, we will drive you to Suzhou city for around 2 hours. You are going to visit the new Suzhou Museum (closed on Mondays) which is designed by World Chinese architect Ieoh Ming Pei. He uses the wall as paper and the stone as a paintbrush, creating a minimalist work in Chinese style. It contains garden elements: trees, water, stone, pavilion and corridor, which are displayed with geometrical lines. You can mainly focus on the architectural art rather than the collections. Have lunch at a local restaurant to taste Suzhou cuisine.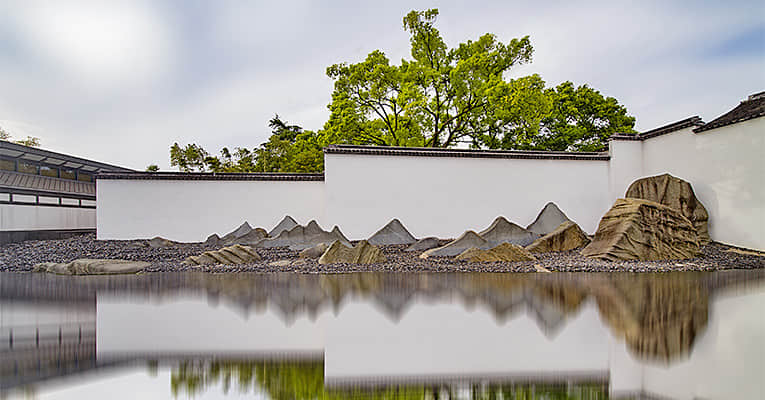 The architectural form is naturally integrated with the environment.
Afternoon
You will depart to Tongli Water Town. With a history of more than 1000 years, it is a less touristy ancient town about 30 minutes' drive from Suzhou. The stone bridges, well-preserved ancient architecture, private gardens, temples and museums are why it is sometimes called 'Eastern Venice'. Taking a boat ride on the canal is the best way to discover the delights of this ancient town. You will find lots of local shops along the river, and see local people playing Chinese Chess on the bank. You will be back to Shanghai after that.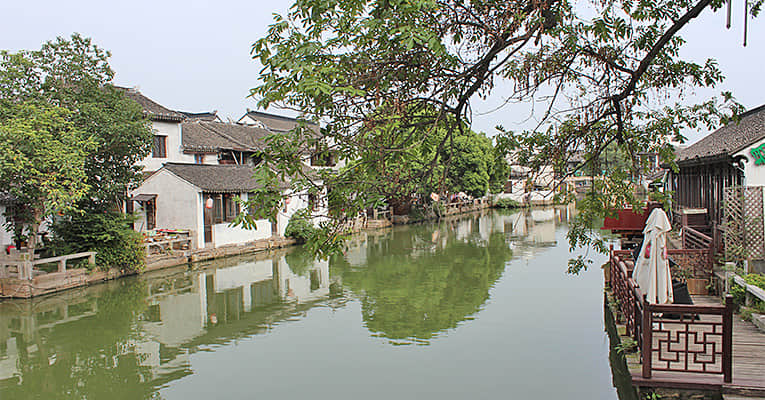 Tongli is a typical Jiangnan water town. Houses with green tiles and white walls were built along the river, giving you a feeling of blending in a Chinese picture.
Day 9
Shanghai Departure (breakfast)
You will fly home today from Shanghai. We believe that you will know much more about Chinese ancient and modern architectural characteristics. Have a safe journey and see you next time.
Featured Hotel
| | Comfortable | Deluxe |
| --- | --- | --- |
| Beijing | Penta Hotel Beijing | Regent Beijing |
| Xi'an | Grand Noble Hotel Xi'an | Wyndham Grand Xian South |
| Shanghai | Narada Boutique Hotel Shanghai Bund | Radisson Blu Hotel Shanghai New World |
What's Included
Land transportation fee in each city
Hotel accommodations with daily breakfast
Meals as listed in the itinerary
Entrance to the attractions
Professional English speaking guide
Speed train ticket from Beijing to Xi'an
Flight ticket from Xi'an to Shanghai