The Top 7 Chinese Dumplings You Need to Taste

When you think of China, you are sure to think of a good many things. We are sure though that the classic Chinese dumplings features somewhere on the list. You would find people trying out dumplings everywhere, be it for a quick snack or a meal. And if you don't like one type of dumplings, don't worry. There is a great variety to choose from, and you won't be able to taste them all soon. With the types of stuffing, wrappers, colour, shape and methods of preparations for flavours and serving, you are sure to have a tough time choosing from the best for yourself.
Whether you are a resident of China or a tourist, make sure you try at least the top mouth-watering varieties of the delightful delicacy available around.
The 7 Best Chinese Dumplings and Where to Get them in China
From Beijing to Shanghai, from the street sidewalks to the most significant food joints, we had a tough time choosing from the many dumplings to put up top 7. So, here's a handy guide for you to pick the most appetizing and delicious ones.
1. Cantonese Shao Mai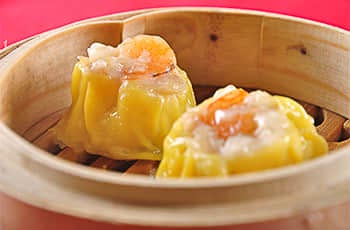 Cantonese Shao Mai
Associated with the Cantonese cuisine, Shaomai is one of the most popular dumpling dishes. Shao Mai is an open steamed dumpling that has its origin in Hohhot in Inner Mongolia. Even in Shaomai, you will find variations like the Uyghur Shao Mai that consists of mutton and the chrysanthemum Shaomai that contains an egg yolk as it's topping. However, the Cantonese Shaomai are pork dumplings that have mushrooms in it. The orange garnishing on the top is either made from carrots or crab roe.
For a memorable experience of shaomai, Jade Garden in Hong Kong is the ultimate go-to – restaurant. They make the texture so soft and yet, so chewable. At the centre of Kowloon Bay, Jade Garden has amazing Cantonese food, with shaomai being the top choice on its menu. Mott 32 is another pick you can go for, especially for its interior courtesy.
2. Har Gow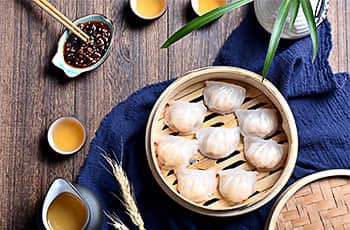 Har Gow
Har Gow or the dim sum style shrimp dumplings have an exquisitely beautiful appearance. But the catch is, despite its simplistic look that you can gobble at one go, the dumpling requires double the hard work to make them. The requisites include at least seven pleats, a wrapper that does not stick to the paper it is placed on, and neither does it break when lifted with a chopstick, with evenly proportioned filling. They are often served with shaomai. To find the perfect har gow dumplings, you will have to visit the One Dim Sum restaurant or the Luk Yu Tea House, both in Hong Kong, where the chefs do beyond their best to present you with a unique kind.
3. Xiao Long Bao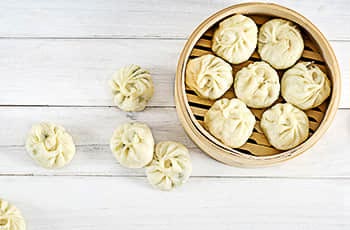 Xiao Long Bao
Also known as soup (pork) dumplings, Xiaolongbao is a special dish of Shanghai as it originated in the Shanghai suburb. They have a thin wrapper and fresh ingredients for the filling, but this intricate work should not be messed up with. Yet the chefs prepare it in a way that elevates it into a delicacy of art (with an 18 fold crown!). The Din Tai Fung restaurant in Shanghai is responsible for making Xiaolongbao famous throughout the world, with an open kitchen where you can view the chefs making them, so you can surely expect the best soup dumplings here. Jia Jia Tang Bao too delivers you fantastic tasting dumplings.
4. Wonton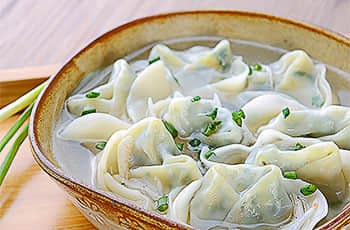 Wonton
Wontons come in different shapes, sizes and fillings. The most common ones are the Large Wontons that come with minced pork and bok choy fillings and another type would be wonton noodle soup, both prepared through boiling. An innovative and versatile shape that wontons are made is a triangular served with sesame paste and chilli oil. Some wontons are deep fried with wrappers made out of eggs and flour. Wontons can be cooked in all methods, according to the choice of shape. These are easily available at the Din Tai Fung and Paradise Dynasty in Shanghai with reasonable rates and a soothing ambience.
5. Tang Yuan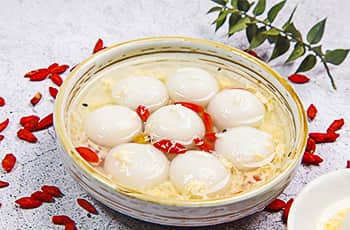 Tang Yuan
A dessert type of dumpling, Tang Yuan comes both filled as well as unfilled. The wrapper is creatively made with glutinous rice flour and water and boiled in sweetened water with eccentric fruit and chocolate fillings like chopped peanuts, red bean paste, sesame paste and so on. Unlike usual desserts, they are served warm and eaten authentically during the Chinese New Year as it is believed to bring good luck. Yet, you can savour its taste and go on a good luck chance anytime in the year at Wang Jia She Confectionary which is the most famous one till date. A second favourite would be Tang Yuan Dumpling restaurant.
6. Jian Jiaozi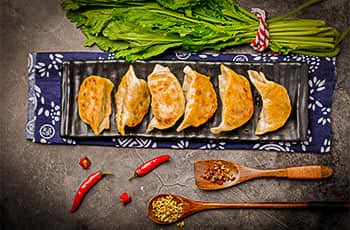 Jian Jiaozi
Of North China origin, jiaozi dates back to centuries ago with an amazing history of its invention. Ever since we have come across multiple variations in its fillings. In today's latest viewed ingredients, jiaozi includes freshly minced vegetables and meat with exotic herbs. These are perfectly crescent-shaped dumplings that are served by boiling, steaming and pan frying and is now a universally acknowledged snack. Jiaozi can also be served with its soup which gives it an even softer texture. Of course, anywhere in North China would you find the perfect jiaozi. But our suggestions would be to visit Baoyuan Jiaoziwu (colourful dumplings are available too!) and Din Tai Fung - they top our favourite restaurant choices again.
7. Yao Gok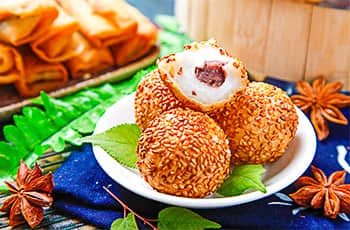 Yao Gok
Yao Gok is eaten extensively in other Chinese communities of Hong Kong and Malaysia although its origin roots to Guangdong. It a fried dumpling that is made customarily in the Chinese New Year. During the festivals, the fillings comprise peanuts, sesame and coconut, nonetheless, they are always available anywhere in China. The regular fillings are made of minced pork. Here too the wrapper is prepared from glutinous rice dough and fried in a wok. The Nanjing Jinling Dumpling restaurant in Hong Kong is a prominent one which is open almost for 24 hours of the day.
Which one of these are you going to try out first? Or, did you already try a few of them? Let us know below!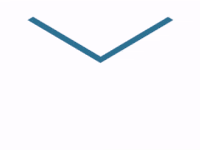 Have a question?
OR
Are you eager to begin your Chinese cultural journey?
Drop us a line and we will promptly connect you with our leading China expert!