Top 9 Shanghai Delicacies
Cooking methods such as steaming, boiling and baking have made various mild and tasty Shanghai delicacies possible. They are literally delicate and stylish.
1. Nanxiang Cage Steamed Bun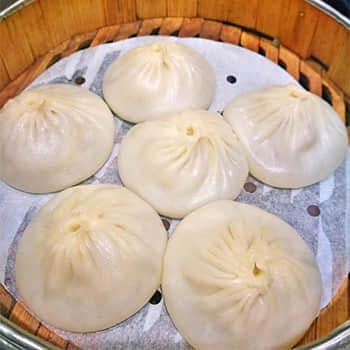 The Nanxiang Steamed Bun dates back to a century ago. Seasonal additives such as crab meat, shrimp and meat are used for the fillings. A well stuffed bun has a thin wrapper. Small, translucent buns are steamed in a special little bamboo cage, and so are they named "small cage steamed bun".
Characteristics:The thin wrapper is made of flour, and fillings are made of hand chopped pork shanks. The seasoning juice is slow cooked chicken soup. The pork skin is cooked into pork jelly and added to the fillings. Crab meat, shrimp or spring bamboo shoots are used as seasonal additives. Tender, juicy meat is enclosed in the thin wrapper.
How to eat:
Lifting: Lift the bun off the cage with chopsticks, holding its upper part.
Landing: Put it on a spoon or a plate and feel free to add vinegar or sliced ginger.
Biting: Take a little bite of the translucent wrapper.
Sipping: Sip the juice.
Tasting: Eat the bun's skin and stuffing together.
Recommendation:
Nanxiang Yiyuan Small Cage Bun
Address: No.288, Guziyuan Road, Nanxiang Town, Jiading District, Shanghai
Jiajia Soup Bun
Address: No. 62, Liyuan Road, Huangpu District, Shanghai
2. Pan-fried Bun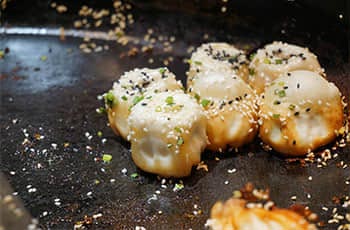 The Shanghai-style pan-fried bun is made of semi-fermented flour in which fresh meat and pork jelly are wrapped. They are laid in pans and fried in oil. When the bottom of the wrapper is golden, they are spread with chopped scallion and sesame. It is best to eat the buns when they are hot.
Characteristics:The bun has a soft texture but has a crisp bottom. Each bite contains juicy meat and occasionally sesame and scallion.
How to eat: Use chopsticks to puncture the bun and sip out the soup. Then eat the whole bun.
Recommendation:
Xiaoyang Shengjian (Pan-fried Bun)
Address: 1F, Gourmet Food City, No. 1, Lane 1058, Jufeng Road, Pudong New Area, Shanghai
3. Pork Ribs & Rice Cakes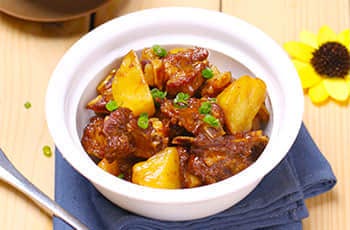 Wrap the blend of flour, tapioca flour, Chinese all-spice and eggs over the ribs and fry them in the oil. Dress the cooked rice cakes over the ribs, and the taste of pork ribs and the tenderness of the rice cake will be given full play. Use sweet sauce and chili sauce to make the dish even more delectable.
Recommendation:
Xiandelai Paigu Niangao (Ribs & Rice Cakes):
Address: No. 46, South Yunnan Road, Huangpu District, Shanghai
4. Tiaotou Pastry (glutinous rice pastry)
Tiaotou Pastry is a traditional dish in Shanghai. It is a soft flexible glutinous rice cake with aromatic bean paste. It is usually dressed with fragrant osmanthus. It can be eaten hot or cold.
Recommendation:
Shen Da Cheng
Address: No. 636, East Nanjing Road, Huangpu District, Shanghai
5. Crab Shell Cake
A flat, round crisp pastry, dotted with sesame. It has the color of a crab shell and the outer layer tastes sweet and soft. It can be made sweet or salty. The round sweet cake has fillings of lard and white sugar; the oval salty cake has fillings of meat, scallion and oil.
Recommendation:
Wuyuan Bing Jia
Address: No. 255, Yanping Road, Jing'an District, Shanghai
6. Chicken and Duck Blood Soup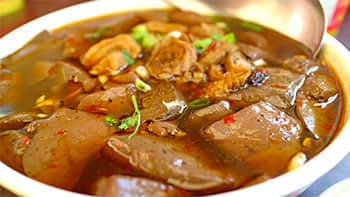 The chicken and duck blood soup is a famous delicacy. Blood in cubes is cooked with chicken gizzards and livers. The boiled soup is thick and delicious. In general, the cook would add tofu, bamboo shoots, and cellophane noodles. Chicken and duck blood soup is generally accompanied by small cage buns, pan-fried cakes, spring rolls, etc.
Characteristics: Fresh livers, smooth blood and thick soup that is dressed with chopped green scallion, coriander leaves and pepper, and topped with a few drops of vegetable oil tastes really good.
Recommendation:
Lao Song Sheng
Address: 1F, Yuyuan Tourist Mart, No. 288 Fuyou Road, Huangpu District, Shanghai
7. Scallion Pancake (Cōng yóu bǐng)
A scallion Pancake is made of well kneaded dough that is layered with lard and chopped scallions. Locally grown scallions are a must. The materials will be pan-fried and baked. The long baking time will make the scallion pancake tender and multi-layered.
Characteristics:It is usually 10 cm in size. The scallion scent and the aroma of oil penetrate the crisp outer layer. Eat when it is freshly cooked.
Recommendation:
Ah Da Scallion Congyoubing
Address: No. 120-1 (temporary), the Second Ruijin Road, Huangpu District, Shanghai
8. Salty Soybean Milk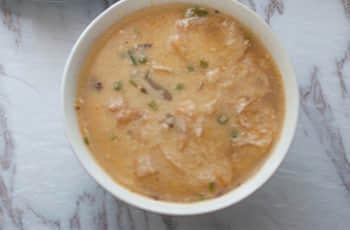 Thick soybean milk is expected to be salty, unlike most places in China, in Shanghai. Chinese oil sticks, crushed Sichuan preserved vegetables, dried small shrimps, chopped scallions, soy sauce and spicy oil are usually added into the soybean milk. The matched principal food is steamed twisted rolls or steamed buns.
Recommendation:
Jiankang (Healthy) Dabing (big flatbread) Youtiao (oil stick)
Address: No. 1098, Zhongxing Road, Zhabei District, Shanghai
9. Shaoxing Chicken Porridge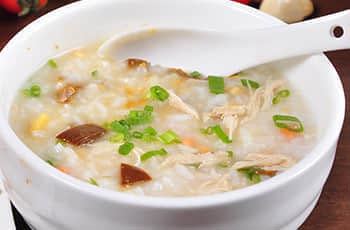 Shaoxing Chicken Porridge is an authentic traditional delicacy. The Triple Yellow Chicken, the best breed in China, non glutinous rice and other condiments are used for the dish. It tastes smooth and resilient. Green condiments also add color to the porridge. It is really nutritious.
Recommendation:
Xiao Shaoxing
Address: 5F, No. 75, South Yunnan Road, Huangpu District, Shanghai
Have a question?
OR
Are you eager to begin your Chinese cultural journey?
Drop us a line and we will promptly connect you with our leading China expert!