Shanghai cuisine is one of China's main cuisines. 'Benbang' is the common name for local Shanghai cuisine. When people talk about Benbang, they are referring to a traditional Chinese Han food culture branch in the Jiangnan region (which includes Zhejiang, Jiangsu and Shanghai). Benbang cuisine uses thick sauce and oil to cook light natural-flavored dishes. The corresponding cooking methods are braising, simmering and soaking ingredients in sugar. Compared to Zhejiang cuisine, Shanghainese's lightly flavored, refreshing dishes use even less salt and oil. The skilled cooking method includes the delicate use of sugar.
1. Shanghai Braised Duck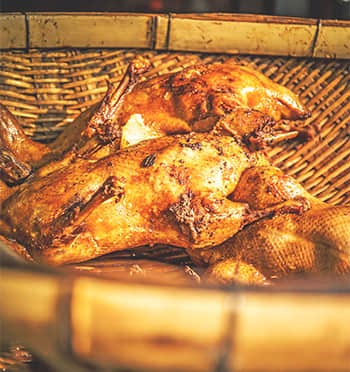 The brown appearance of Shanghai Braised Duck may not be as inviting as a roast duck, but it does have a translucent skin. It strikes a balance between sweet and salty flavors. In addition, it is not greasy at all. Quality sauce is the key to this dish.
Characteristics: Its black and yellow color is its brand. It is fragrant, spicy, pungent ,crisp and tender.
Recommendation:
Guangmingcun Restaurant
Address: No. 588, Huaihai Middle Road, Huangpu District, Shanghai
2. Wheat Gluten Dish (Sì xǐ kǎo fū)
Wheat Gluten Dish is a classic local dish, which fully embodies the use of strong soy sauce. It tastes sweet and salty. All the ingredients are suitable for vegetarians, that is: shiitake mushroom, tree-ear (edible fugus) and peanuts. The stir-fried dish is nutritious and healthy (as long as you are not allergic to gluten or peanuts).
Characteristics: rich in flavor and full of tender, juicy wheat gluten, smooth shiitake mushroom, fresh daylilies, sticky and crisp tree-ear as well as peanuts are typically very tasty.
Recommendation:
Lanxin Restaurant
Address: No. 130, Jinxian Road, Huangpu District, Shanghai
3. Pigeon Egg Dumplings (Gē dàn yuánzi)
Pigeon Egg-shaped Dumplings is a typical traditional dish in Shanghai. Glutinous rice and white sesame are the main ingredients. They look like pigeon eggs and taste sweet and cool.
Characteristics: The glutinous rice skin is wet, smooth, tender but not sticky. Sugar syrup will flow into your mouth after a bite of the dumpling.
Recommendation:
Shanghai Classical Hotel
Address: No. 242, Fuyou Road, Huangpu District, Shanghai
4. Babao Spicy Sauce Dish (Bā bǎo là jiàng)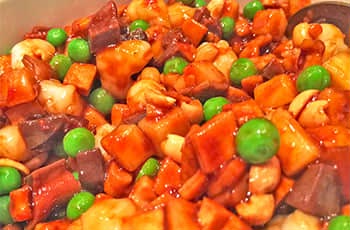 Babao Spicy Sauce Dish is the name of a traditional dish rather than just a sauce. It looks bright and tastes spicy.
Characteristics: There are four meat ingredients in Babao Spicy sauce, which are diced shrimps, chicken, pork shanks, and chicken or duck gizzard. The four non-meat ingredients are diced shiitake mushrooms, tofu, bamboo shoots and peanuts. The combination of the 8 ingredients may vary according to the season. It has the complicated taste of sweet, salty, spicy and delicate flavors.
Recommendation:
Mingchu Benbang House
Address: No. 118, South Runan Street, Huangpu District, Shanghai
5. Deep-fried Shrimps (Yóu bào xiā)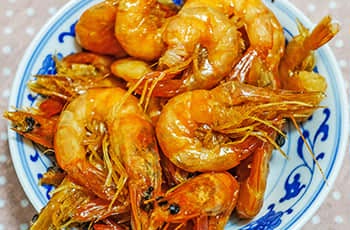 The sweet and salty shrimp is really favored by Shanghai people. River shrimps caught in the late spring and early summer have the best taste. Deep-fry the fresh shrimps in the oil to ensure the color, taste, aroma and nutrition.
Characteristics: Small to medium sized shrimps are fried in very hot rapeseed oil to make a crisp shell and tender meat. After that, the shell peels off easily and the fresh meat is revealed.
Recommendation:
Laotou Youzha Xia (Papa's Fried Shrimp House)
Address: Stores 18 and 26, 5F, Building 1, No. 939-949, Huaihai Middle Road, Xuhui District, Shanghai
6. Reversed Triple Slices (Kòu sān sī)
Reversed Triple Slices is one of the famous dishes in Shanghai. In addition to its savory taste, its neat appearance and clear broth has won it a good name in Shanghai cuisine.
Characteristics: Triple Slices refers to sliced chicken breast meat, ham and bamboo shoots. The choice of materials is exquisite and the cutting is quite delicate.
Recommendation:
Sanli Benbang House
Zhoupu Branch
Address: No. 4399, Chuanzhou Road, Chuansha-Zhoupu Highway, Pudong New Area, Shanghai
Zhonglin Street Branch
Address: No. 65, Zhonglin Street, Pudong New Area, Shanghai
7. Sweet and Sour Ribs (Táng cù xiǎo pái)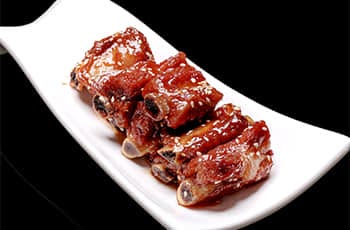 Sweet and sour ribs are loved by Shanghainese. Ribs are chopped into smaller chunks. Soy sauce with well dressed icing sugar and vinegar make the dish look red and bright.
Characteristics: The fresh and crispy dish is sweet and sour. It can be enjoyed either right after it is just cooked or later when it has cooled.
Recommendation:
Xin Bai Lu (white deer) Restaurant
Address: 9F, Building C, No. 1 Shopping Center, No. 800, East Nanjing Road, Huangpu District, Shanghai
8. All Spices Smoked Fish (Wǔxiāng xūn yú)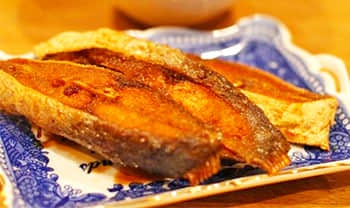 Grass Carp seasoned with salt, MSG, pepper, cloves and other condiments make this traditional Shanghai cuisine. The color is either golden or soy sauce red, depending on the cooking method. The skin is crisp and tender and the meat is delicious.
Recommendation:
Zhenlaoda Store
Address: No. 137, Changli Road, Pudong New Area, Shanghai
9. Crab Tofu (Xiè fěn dòu fu)
The authentic cooking method is to steam the crabs and peel them to get the crab meat. The meat is then blended with tofu. When they are boiled with a bit of crab cream, the tofu looks golden brown. The extracted crab meat is really inviting. The soup tastes silky and mellow and the flavors of ingredients are closely intertwined.
Recommendation:
Chenglonghang Xie Wangfu (Crab King House)
Address: No. 216, Jiujiang Road, Huangpu District, Shanghai
10. Yan Du Xian (pickled delicious food)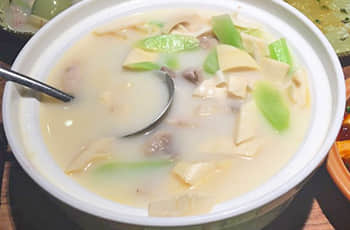 Yan Du Xian is seasonal food of the old Shanghai flavor. Spring bamboo shoots and salty marbled meat are cooked into a thick white broth.
Characteristics: Yan means salty, Xian means delicious and Du indicates the low temperature simmering cooking method.
Recommendation:
Xishi (Food) Restaurant
Address: South-east corner of the intersection of South Shaanxi Road and Julu Road, Huangpu District, Shanghai