9 Shanghai Luxury Restaurants
As an international metropolis, Shanghai offers both local specialties and western foods introduced from a plethora of countries. High-end restaurants that boast both Chinese and Western cuisine are very tempting. The following nine high-end elegant restaurants are really popular for their novel experience among people who know cuisine well.
1. Ultraviolet, run by Paul Pairet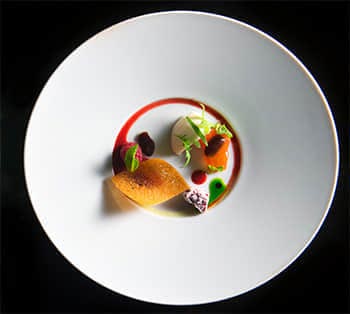 Photo from the website of Ultraviolet
This avant-garde restaurant was founded by French chef Paul Pairet in Shanghai in the summer of 2012, and is known as "the world's first sensory restaurant". The restaurant only accepts 10 guests per day, and reservations can only be made on the official website 120 days in advance. On the dining day, guests are transported by a dedicated commercial car to No. 18, Mr. & Mrs. Bund. 20 dishes and 12 courses of drinks are served under different themes, for which exclusive tableware, videos, music, scents and shaped dishes are provided. Four hours' dining is really a sensory adventure, full of surprises.
Average price per person:RMB 4000-6000 per person. RMB 8888 for each unique set of cuisine.
Hours: Tuesday to Saturday 19:00-23:00
Address: No. 18, the Bund
2. L'ATELIER de Joël Robuchon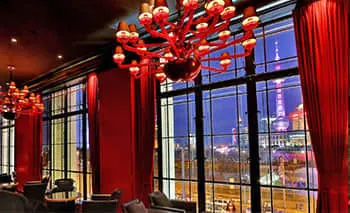 Photo from the website of L'ATELIER de Joël Robuchon
Joël Robuchon, owns famous restaurants in many countries, and has been awarded the most Michelin stars worldwide, opened his first restaurant in mainland China. No. 18 on the Bund is the best location he has picked. The restaurant is designed in red and black colors like his other restaurants, which makes it simple and calm, but fashionable. 32 seats around the iconic open kitchen allow customers to appreciate the preparation of ingredients and cooking process. The fabulous food is the perfect mixture of classic French food and local ingredients.
Average price per person:RMB 1500
Hours: 11:00-14:30 18:00-22:30
Address: 3F, No. 18, the Bund, the First Zhongshan Road, Huangpu District, Shanghai
3. Morton's
This steak house is located on the 4th floor of the prestigious Shanghai IFC (International Finance Centre) Mall. The elegant American style layout offers 400 seats. People can enjoy a view of the bustling landscape of Lujiazui through the large floor-to-ceiling windows. Now it has become a quiet private dining place for Chinese and foreign guests. Steaks provided in Morton's are top grain-fed beef, which taste tender and fresh.
Average price per person:RMB 900
Hours: 11:00-14:30 18:00-22:30
Address: No. 15-16, 4F, Guojin Center Mall, Shanghai ifc Mall, No. 8, Century Avenue, Pudong New Area, Shanghai
4. Ruth's Chris Steak House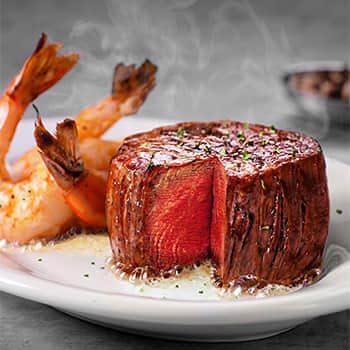 Photo from the website of Ruth's Chris Steak House
As one of the top three steak houses in Shanghai, the secret lies in its special cooking method. Steaks are offered on heat preserving ceramic plates which are heated to 260 °C. The food is sizzling from the beginning until the end. To retain the essence, no condiment nor seasoning is added during the cooking. Each bite is tender and juicy. Seafood and desserts served here are also renowned. Sitting by the window, one can see the Oriental Pearl Tower. It is really an atmospheric environment.
Average price per person:RMB 910
Hours 11:00-14:30 18:00-22:30
Address: 4F, No. 5, the Bund, No. 20, Guangdong Road, Huangpu District, Shanghai
5. Fu He Hui
The red lanterns, old wooden furniture and folk music provided in Chenglongfu Crab Mansion are reminiscient of crab cuisine in China. It is a time-honored crab dining restaurant in Shanghai. Crabs are available throughout the year. The whole set of the crab feast is very delicious. Different parts of the crabs are made into different dishes with various cooking methods. The four signature specialties include steamed crab claws, sliced crab meat with asparagus, fried mixed crab meat and crab cream and shark fins.
Average price per person: RMB 760
Hours 11:00-14:30 18:00-22:30 Address: 2F, Peninsula Hotel, No.32 the First East Zhongshan Road, Huangpu District, Shanghai
6. Yongfoo Élite
The museum-like main building of Yongfoo Élite was adapted from the British Consulate in the 1930s. This private museum garden restaurant, where the Chinese and Western styles are integrated, reflects modern and elegant old Shanghai. Traditional Shanghai Benbang cuisine is served in a western manner in this three-story building. Choice of quality soy sauce is strictly observed by Shanghai cuisine. The exclusively made soy sauce is used in the special soy sauce seasoned dishes such as duck meat and chicken. They are well worth a try. The vegetables and fruits here are basically western style. Green papaya and avocado seasoned with soy sauce are served. They are representatives of the inclusiveness and combination of Shanghai legacy.
Average price per person:RMB 760
Hours: 11:30-22:00
Address: No. 200, former British Consulate, Yongfu Road, Xuhui District, Shanghai
7. Yong Yi Ting
Housed in the Pudong Mandarin Oriental Hotel, Yong Yi Ting offers some of the most exquisite Jiangnan (Shanghai, Zhejiang and Jiangsu) cuisine. Cantonese classic dishes are also served. There is a selection of globally sourced wines and guests can taste them in the dedicated appreciation seats. Only the finest and freshest seasonal ingredients can be used in the house. The dishes respect the traditional flavors with unique modern cooking techniques.
Average price per person:RMB 650
Opening hours: Lunch, 11:30-14:30, Dinner, 17:30-22:30
Address: LG Floor, Pudong Mandarin Oriental Hotel, No. 111, South Pudong Road, Pudong New Area, Shanghai (near Shanghai Taigong Ferry)
8. Yilong Court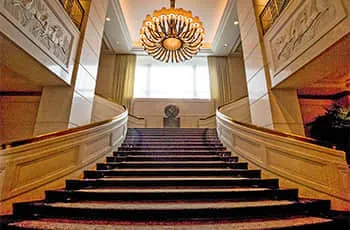 Located in Shanghai Peninsula Hotel, it is a high-end restaurant specializing in Cantonese cuisine and is headed by a Michelin-starred chef from Hong Kong SAR, China. The vast majority of Cantonese cuisine here is able to satisfy the tastes of customers from Jiangsu, Zhejiang and Shanghai (Jiangnan region in general) with its own essence retained. Cantonese classic dishes such as sautéed shrimp balls, shrimp dumplings and char siu (Chinese BBQ Pork) are very authentic. The atmosphere here is graceful and the low-profile interior furnishings are luxurious and elegant. You can also enjoy the scenery of the Huangpu River while sitting in the private viewing room.
Average price per person:RMB600
Hours: 11:00-14:30 18:00-22:30
Address: 2F, Peninsula Hotel, No.32 the First East Zhongshan Road, Huangpu District, Shanghai
9. Peace Hotel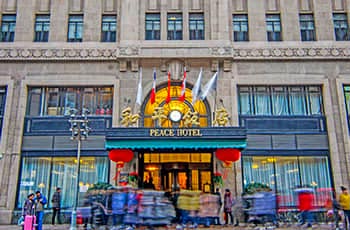 The Peace Hotel is classical and elegant. Since its opening in 1929, the legendary landmark has received more than 100 presidential figures. It is also pretty popular as a filmmaking spot. There is even a museum that keeps a record of its history, right in Peace Hotel. Longfeng Hall mainly provides Shanghai cuisine. Abalone, cubilose (characteristic ingredient of edible birds' nests), sea cucumber and fresh seafood are all provided here. Nutritional soups and other seasonal delicacies are also listed in the menu.
Average price per person: RMB 580
Hours: 11:30-14:30 17:30-22:00
Address: 8F, Peace Hotel, No. 20, East Nanjing Road, Huangpu District, Shanghai