The Top 5 Dumpling Trends and Flavors in the World

Ever wondered what is so fascinating about dumplings that have an inescapable urge across the globe today? The little round stuffed ball that melts inside your mouth right when you take the first bite is pure food-love! The juices flowing from the dumpling, passing from one corner of your tongue to another, cannot be the last time you would try it.
If you are curious to know a little over what you have learned all this while, here is what we have to share.
With so many types of dumplings being served around the world, it might be a little difficult to convince which one came in first, given the difference in taste and type. However, we'd be sharing about Chinese dumplings in this article.
The History
Chinese dumplings were introduced with a purpose by a good Samaritan named Zhang Zhongjingyears ago, to cure his people of frostbite. He wrapped minced meat with medicines in a flattened flour dough, cooked those in soup and served the poor so that it can warm them and help recover from frostbite. Ever since dumplings kind of took over and became a staple food for all in China.
How Dumplings Took Over the World?
Not known to many countries, dumplings were a mystery back then. With migration in progress over the period, Chinese food has gradually spread across, and people have grown fond of them too.
Not every country is into spicy or dry food, hence, trying something that can suit every palate wasn't a huge deal after all. And voilà! People have not only welcomed Chinese food but have also made it an integral part of their continental menu.
We have such wide variety of dumplings available these days that we cannot say no to. The modification hasn't really changed the basic nature of the dumplings, however, since the taste serves across regions, alteration becomes imperative. Today, though people world-wide are aware of the Chinese style, by acknowledging customers of each country around, dumplings have only turned into a public demand.
To understand the authenticity and aesthetics of different kinds of dumplings, below are few to count as a reference.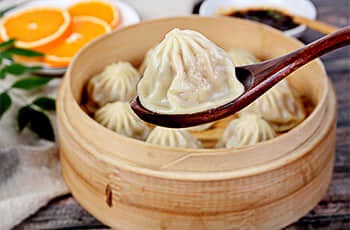 Soupy Dumplings
Five Types of Chinese Dumplings that You Can Find Extensively Cooked in China:
1. Soupy Dumplings
Generally, soupy dishes are intended to keep the body warm. Winters are apt for consuming soupy items as such, promoting good sleep and cold and cough relief.
These types are made with thin flour wrappers, stuffed with minced meat and herbs; boiled for some time in beef or chicken stock. To ensure that you do not burn the mouth, the dumpling is poked with chopsticks, letting the steam release. The stock that settles inside the flour ball keeps the meat flavourful and damp. Soupy dumplings are known as Xiaolongbao in China.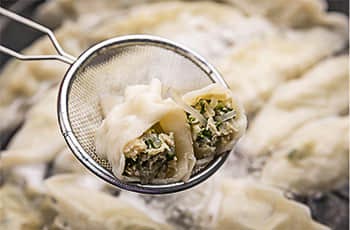 Boiled Dumplings
2. Boiled Dumplings
Similar to the Xiaolongbao, these are boiled similarly, without the meat stock. Shui Jiao (boiled dumplings) are basically boiled in water. The ingredients might not be too different, but unlike the above, Shui Jiao doesn't have an additional stock flavour to the stuffing inside. These can be dipped in a sauce of choice and consumed for a quick snack.
3. Wonton
Quite known to many of us, Wonton is again another form of boiled dumplings. The dough of this dumpling is made of flour, egg, water, and salt. These are generally stuffed with pork minced meat and bok-choy (a Chinese cabbage but smaller in size), and served with either thin noodles or glass noodles. Some even include shrimps to the minced mixture for a better taste.
Wonton
4. Steamed Dumplings
One of the widely accepted and modified form of dumpling, which is commonly known as Jiaozi in China, is cooked over steam.
The stuffing in Jiaozi is almost the same as other forms, however, steaming it allows preserving of its special folding on the skin and doesn't let it go wobbly. These, sit firm and beautiful with pleats around it and are served with a sauce of choice soy and vinegar.
5. Fried Wonton
Mostly consumed in the southeastern part of the country, fried wontons are considered as appetizers. These are crispy and don't contain any form of liquid other than a little moisture found inside the stuffing. The cooking of these fried wontons is similar to the normal wontons, only that these are kept for frying and are served with sweet and sour sauce.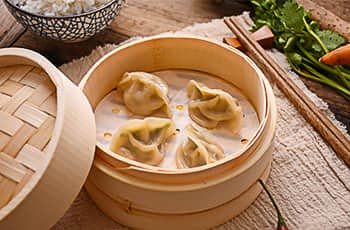 Steamed Dumplings
Dumplings Bang On-Trend
Irrespective of the ingredients that were historically introduced, dumplings have made its way to a much wider range of experiments. The legacy of using minced beef, mutton, chicken, pork or shrimps has been passed on and is followed even now, however, the idea of trying more and not sticking to just that has also become a trend.
There are festivals in many countries, celebrating different kinds of recipes tried by chefs and normal people. Also, a variety in the stuffing like cabbage, cottage cheese, carrots, and soy nuggets are used these days, keeping in mind the vegetarian group of food-lovers. And for people who aren't done with experimenting, have even tried chocolate dumplings, adding another feather to their hats.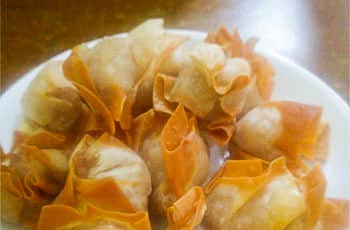 Fried Wonton
The love for fried dumplings too are in fashion. The latest that we can commonly find in most of the western or Indian restaurants include crispy fried dumplings. These are coated with eggs and cornflakes or bread crumbs, making them crunchy and different than before.
With the passing of years, there will be more to these wrapped meatballs than just boiled, steamed or fried. Every little experiment will attract attention and foodies will forever be ready to try just about anything in the name of dumplings.
Nevertheless, authentic dumplings shall always remain in the hearts, steaming from a vessel, somewhere far in a town in China. Those will be craved for, loved, relished and rejoiced thoroughly even in the coming years and more.
Want to try dumplings after reading this post? Well, go ahead and try out the nearest Chinese joint at your disposal.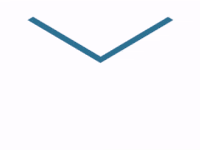 Have a question?
OR
Are you eager to begin your Chinese cultural journey?
Drop us a line and we will promptly connect you with our leading China expert!