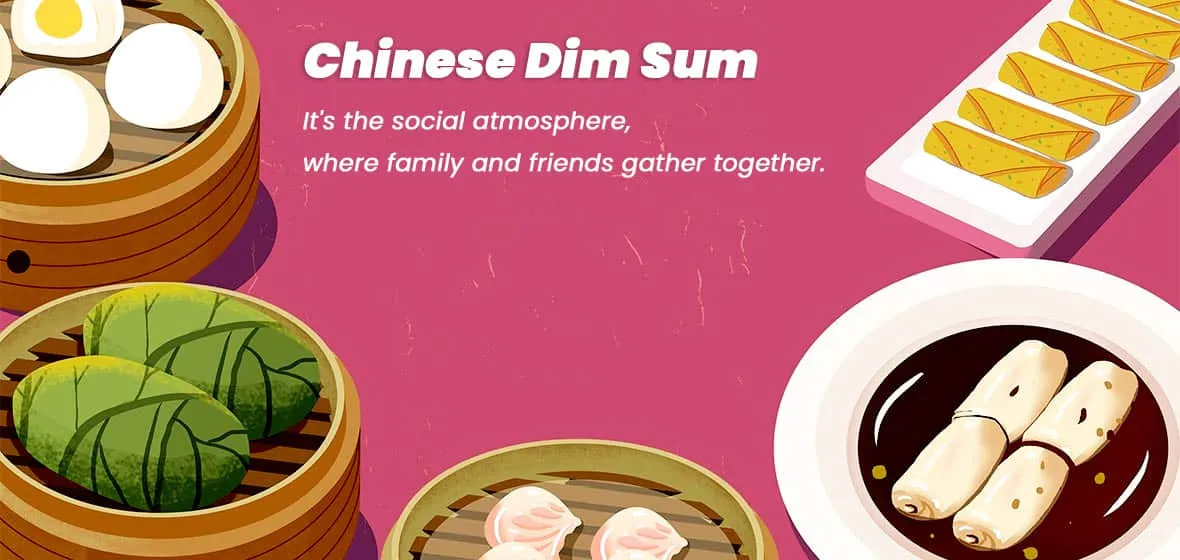 There is nothing better than sharing a variety of delicious bite-sized morsels, tastefully displayed on a trolley that is brought right to your table. Just like tapas in Spain, dim sum is not just about the food found in Guangzhou and Hong Kong; it's the social atmosphere, where family and friends gather together.
For international visitors, the noisy atmosphere at a dim sum restaurant can take a bit of getting used to, but it's a great way to sample a variety of intriguing tastes and flavors, as each small dish is shared.
How do you order dim sum and what to order? What are the most popular dim sum restaurants in Guangzhou Hong Kong? You'll get answers to those questions in our article below.
1. What is Dim Sum?
Sometimes people think that dim sum is simply another name for dumplings, but there is so much more to dim sum than just dumplings. More accurately, dim sum is a Chinese meal of small dishes, and it is best enjoyed with Chinese tea, and in the company of family and friends. In fact, Yum Cha is a meal where you have dim sum while sipping tea on the side.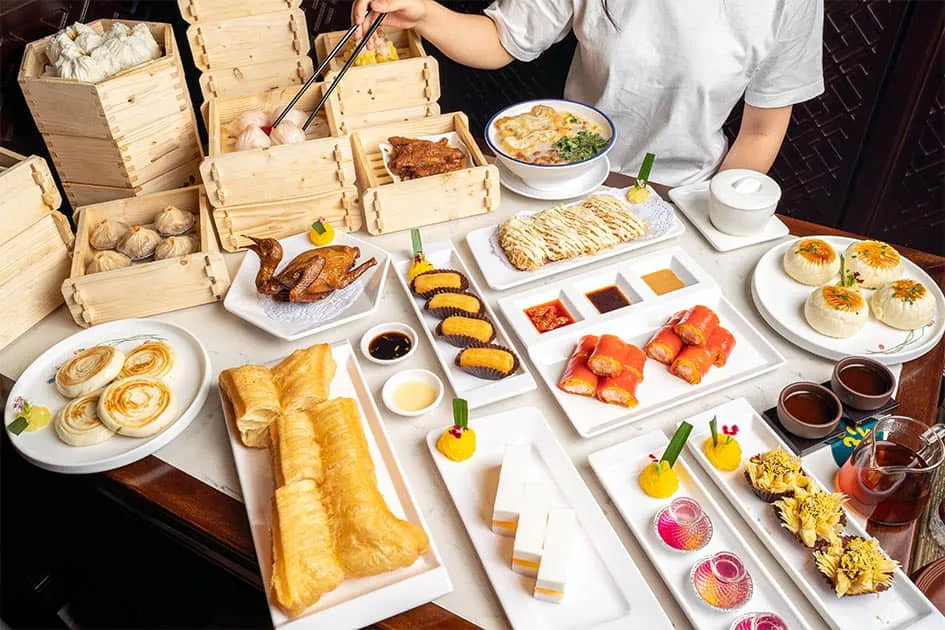 Yummy Dim Sum
What does dim sum mean? Literally translated, dim sum means to "touch the heart", while yum cha means "drink tea". The custom originated in Guangzhou as snacks with tea offered to weary travelers at the end of the Silk Route. Over the years it has developed into a loud and happy dining experience, which could take place at any time of day. It is so popular that dim sum restaurants and opportunities for yum cha can now be found all over the world.
Along with the dishes, tea is a very important part of dim sum. Dim sum restaurants typically serve chrysanthemum tea (which according to some people is not real tea because it does not have tea leaves), green tea, oolong tea, and pu-erh tea. The type of tea is very important to some people that they bring their own tea leaves to dim sum.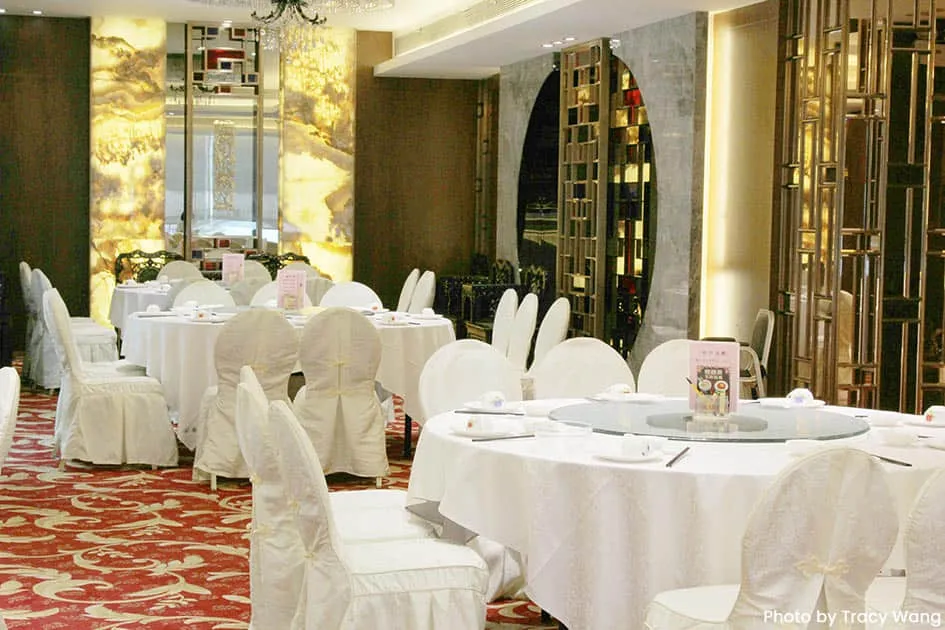 Nan Yuan Restaurant: A Dim Sum Restaurant in Guangzhou
Many restaurants start serving dim sum as early as five in the morning, while traditionally the elderly gather to eat dim sum after their morning exercises. It has become commonplace for restaurants to serve dim sum at dinner time, and various dim sum items are even sold as take-out for students and office workers on the go. For many in southern China, yum cha is treated as a weekend family day.
Dim sum can be made at home, but the process is labor-intensive and very finicky. Sometimes at a big family get-together, the ladies will gather in the kitchen to prepare dumplings together and chat, while other family members enjoy other forms of relaxation. However, for those craving dim sum without going out, nowadays they can be purchased frozen in the supermarket, and quickly steamed or microwaved at home.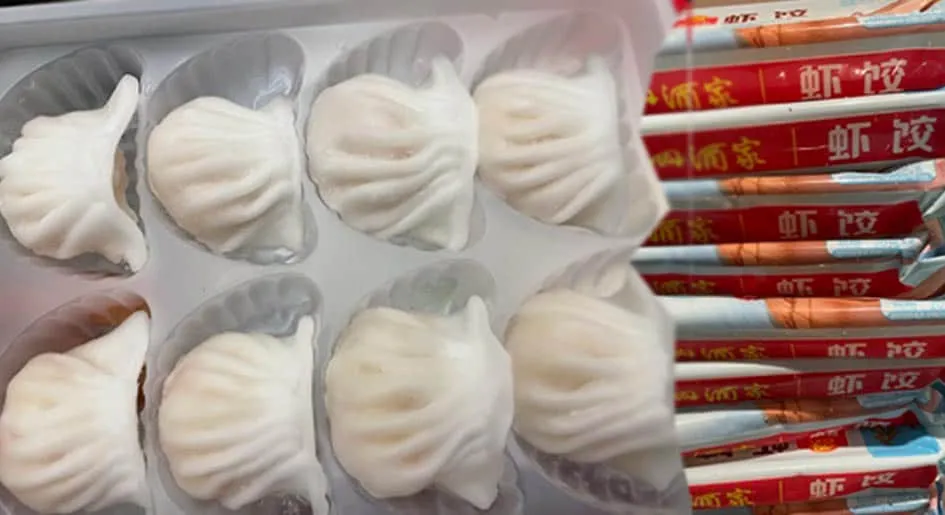 Frozen Har Gow 虾饺
More commonly, dim sums are enjoyed in a restaurant setting, often (but not always) as a brunch or late breakfast, surrounded by all the cheerfulness and loud friendly conversation that is part of a mealtime get-together in a Chinese restaurant (in China). The delicious dim sums that are served up are either fried, or steamed.
2. How can I order in a Dim Sum restaurant?
Once you are seated in a restaurant, you will likely be asked first is, "What kind of tea would you like?" Tea is a traditional complement to dim sum and a very important part of the dining ritual. You'll usually have the following choice: Black tea 红茶 (Hóngchá), Pu'er tea 普洱茶 (Pǔ'ěr chá), Chrysanthemum 菊花茶 (Júhuā chá), Jasmine 茉莉花茶 (Mòlìhuā chá) or Oolong tea 乌龙茶 (Wūlóngchá).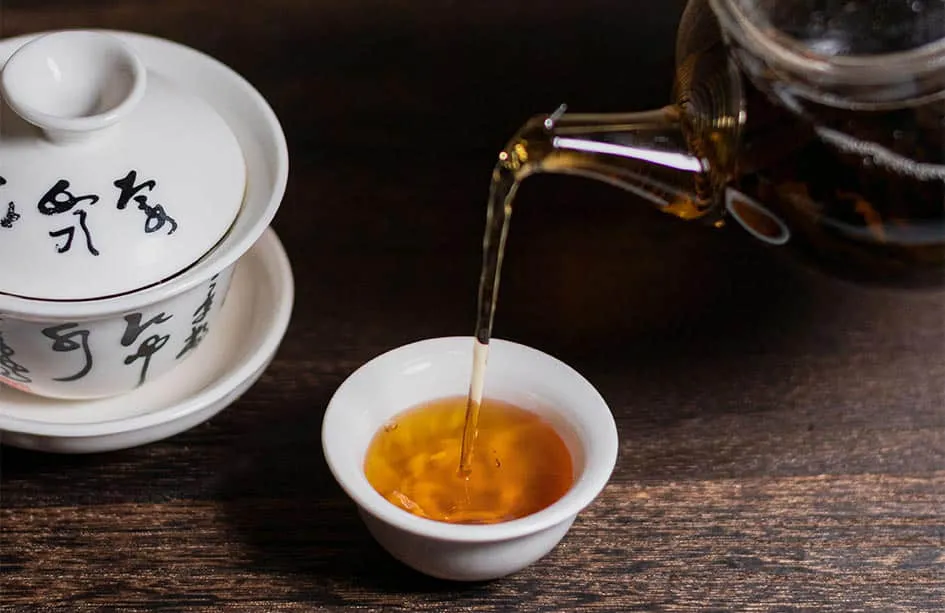 Dim Sum and Tea
This is then followed by ordering the dim sum. Traditionally a variety of dim sum will be brought around to the tables on trolleys or pushcarts, presented on little plates or in bamboo steamers. Diners can choose what they would like and generally share each dish around the table. Each table will have a card, where the server will mark the card with a stamp or pen to indicate the price point of the item. Another way of ordering is by menu, you'll be provided a menu that lists all the dishes that are divided into sections for 'steamed items', 'fried and baked', and other specialties and desserts. You just write a number indicating your order quantity (usually 1 is enough) next to each dish you want to order. Unfortunately, most menus are in Chinese, so you need the server to help you. We have listed the popular and must-order dishes below, and you can just tell the server what you want.
Due to the pandemic, nowadays many restaurants use a QR code menu or their App to minimize the amount of contact between guests and servers. Diners scan a QR code using their phones, which takes them to an online menu to view what dishes are available that day. The diners can also make payments using the QR code.
For tea etiquette, it is always polite to fill the cups of others at the table before pouring your own. Never pour the tea to the top of the teacups – it should only be around 70 percent full. If someone fills your cup, you should bend your index and middle fingers and tap the table thrice after your cup is filled, to thank the tea server.
3. What are the must-order Dim Sum Dishes?
Ordering dim sum dishes can be quite difficult if you cannot read or speak Chinese, therefore we have made this guide for you to take along show the Chinese names to the server. There are over one thousand dim sum dishes in existence today, however, most restaurants provide about 40 dishes. With so many possible tasty choices, your first dim sum experience could be somewhat overwhelming, so hopefully, the list below will help you.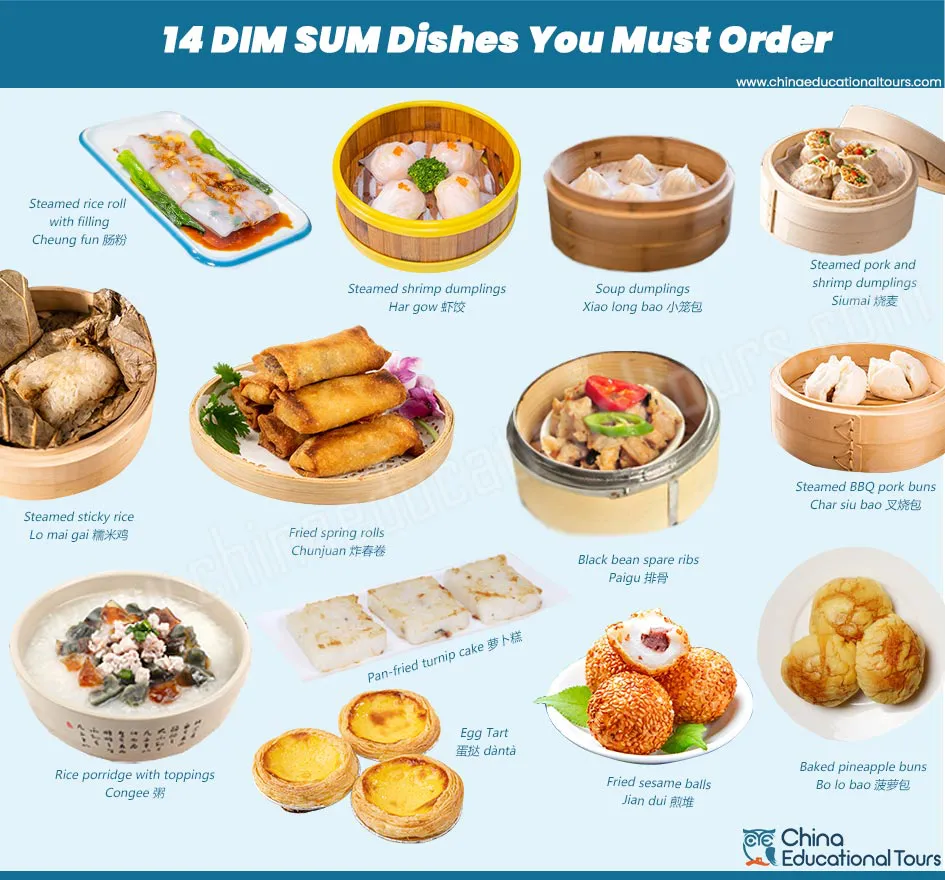 14 DIM SUM Dishes You Must Order
Siumai 烧麦– steamed pork and shrimp dumplings
Siumai is open-topped dumplings filled with minced pork and shrimp.
Har gow 虾饺 – steamed shrimp dumplings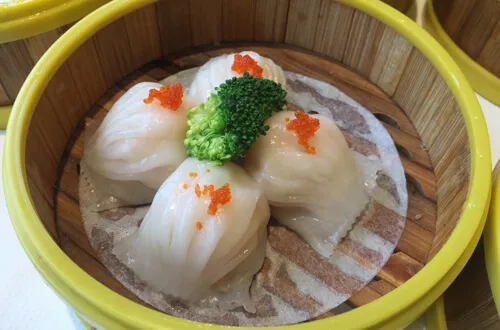 Steamed Shrimp Dumplings
Har gow is a steamed dumpling with whole shrimp encased in a delicately pleated, translucent wrapper.
Char siu bao 叉烧包– steamed BBQ pork buns
Char siu bao (also called BBQ pork bun) is one of the most popular steamed buns. It's made of a soft and fluffy bread dough, filled with a savory pork filling and steamed.
Cheung fun 肠粉– steamed rice roll with filling
Cheung fun is thin rice noodle sheets that is then wrapped around various fillings. The most common filling for the Hong Kong Style Cheung Fun is shrimp (虾)and Char Siu – roast pork (叉烧). In Guangzhou, you can choose beef (牛肉), pork (猪肉), fish (鱼) or pork liver (猪肝). It is served with soy sauce.
Xiao long bao 小笼包– soup dumplings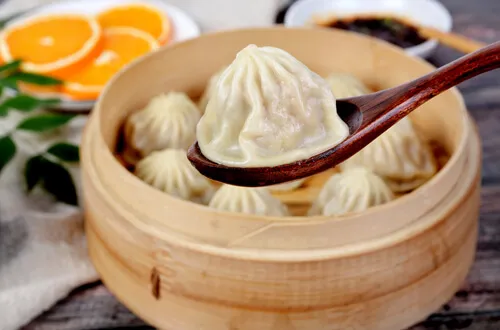 Soup Dumplings
Xiao long bao is a sack-like shape, filled with tender minced pork and broth.
Lo mai gai 糯米鸡– steamed sticky rice
Lo mai gai is sticky rice, with pork, chicken, Chinese sausage, and mushrooms wrapped in dried lotus leaves and steamed.
Black bean spare ribs 排骨
Pork spare ribs, steamed with whole fermented black beans, garlic, ginger, wine, and other seasonings.
Congee 粥 – rice porridge with toppings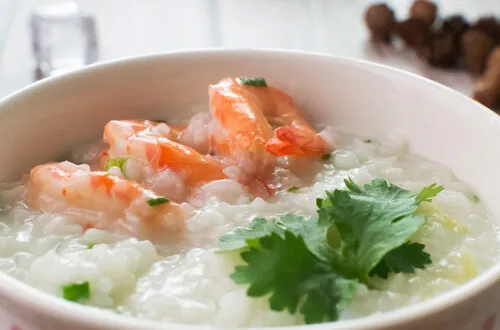 Congee
Congee is a simple rice porridge that is made by boiling rice with water until it breaks down into a thick consistency. It is very bland on its own. It is often accompanied with scallions, salted duck egg slices, Chinese crullers (you tiao 油條), and fried peanuts.
There are many variations of congee, and the most popular ones are:
Preserved duck egg congee 皮蛋瘦肉粥 congee with preserved duck eggs and minced pork
Sampan congee 艇仔粥 congee with squid, fish, peanuts, sliced crullers, and scallions.
Fish congee 鱼片粥 congee with sliced fish
Ground beef congee 碎牛粥 congee with ground beef
Fèng zhǎo 凤爪 – braised chicken feet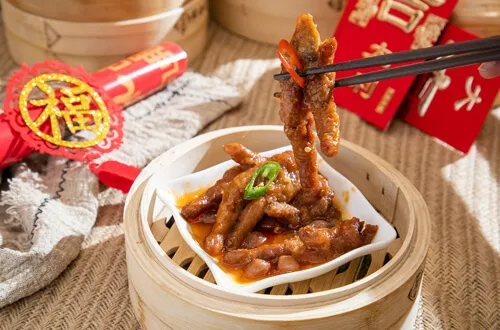 Braised Chicken Feet
Chicken feet, or fèng zhǎo meaning phoenix talons, are fried and braised whole chicken feet sautéed in a garlicky, black bean fermented sauce and steamed.
Fried spring rolls 炸春卷
Fried spring rolls are pancake-like wrappers with fresh vegetable and/or shrimp fillings.
Pan-fried turnip cake 萝卜糕
Pan-fried turnip cakes are made from the white long radish, also known as daikon, that is grated, and mixed with rice flour, pork, Chinese dried mushrooms, and shrimp.
Jian dui 煎堆 Fried sesame balls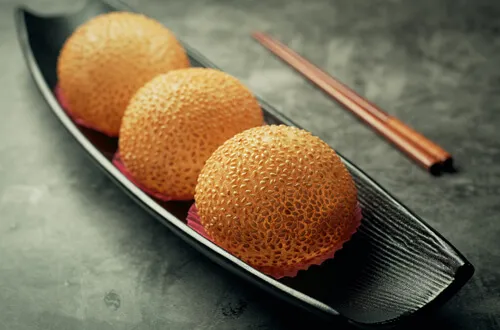 Fried Sesame Balls
Jian dui are deep-fried sesame balls made from sticky glutinous rice flour and filled with a sweet bean paste filling and rolled in sesame seeds.
Bo lo bao 菠萝包 – baked pineapple buns (no pineapple in it)
Pineapple bun is a sweet bread that has a crispy golden pineapple-like topping that resembles a pineapple, hence its name, and the baked bun is soft and sweet.
Egg Tart – 蛋挞 dàntà
The baked egg tart Is a delicately light pastry filled with egg custard filling – a favorite among many and a nice way to end the meal.
4. What are the most popular Dim Sum restaurants in Guangzhou and Hong Kong?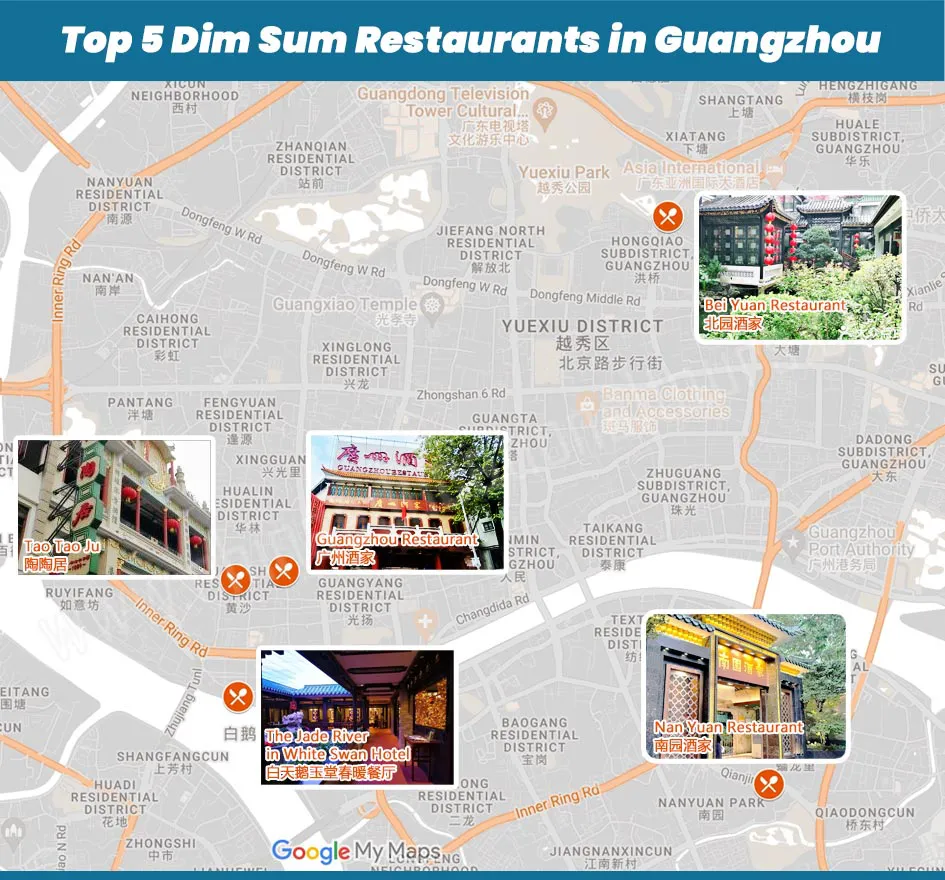 The Top 5 Dim Sum Restaurants in Guangzhou
1) The Jade River in White Swan Hotel 白天鹅玉堂春暖餐厅
Address: Level 3, White Swan Hotel, No.1 Shamian Street, Liwan 荔湾沙面大街1号白天鹅宾馆3楼.
First opened in 1983, the White Swan Hotel is one of the most recognized 5-star luxury hotels in Guangzhou and specializes in delicately created Dim Sum and Cantonese dishes. It was included in the Michelin Guide in 2018. Their dishes are authentic yet creative at the same time with a strong emphasis on healthy wholesome eating. The only advantage is its hefty price.
2) Guangzhou Restaurant 广州酒家
Address: Original branch - 2 Wen Chang Lu, Liwan district 总店- 荔湾区文昌南路2号
Established in 1935, Guangzhou Restaurant is referred to as "The No.1 Place to Eat in Guangzhou". It has also been awarded as one of the top 10 restaurants in China.
3) Bei Yuan Restaurant 北园酒家
Address: 200-202 Xiao Bei Lu, Yuexiu district 越秀区小北路200-202号
Bei Yuan Restaurant is a garden restaurant located in the Northern part of Guangzhou on the way to the Baiyuan Mountains. The entire restaurant was built in traditional Guangdong-styled buildings and landscape, so not only can you sample some of the best dim sums in Guangzhou, but you can also enjoy the peaceful surroundings.
4) Nan Yuan Restaurant 南园酒家
Address: 142 Qian Jin Road, Haizhu district 海珠区前进路142号
The restaurant specializes in Chaozhounese cuisine. The cuisine comes from Chaozhou, a city in the eastern part of Guangdong province. If you want to try different versions of dim sum, this is the place to go. They have siu mai, har gow, steamed buns, Chiu Chow dumplings, and much more to whet your appetite.
5) Tao Tao Ju 陶陶居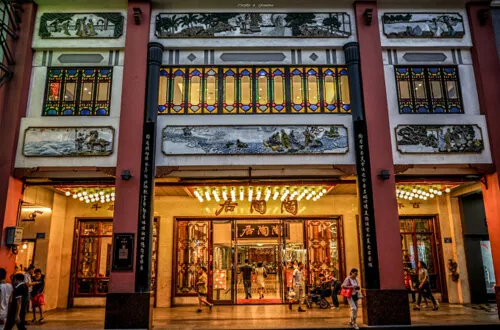 Tao Tao Ju
Address: 20 Dishi Fu Lu, Liwan district 荔湾区第十甫路20号
Tao Tao Ju has been around since 1880. It is a highly respected restaurant with high-quality service, atmosphere, and food. It is very popular amongst the locals and travelers who want that authentic Cantonese dim sum experience. It is conveniently located near Liwan District, and you can get there by many modes of transportation. Some of its specialty dishes are fried rice, roast pork, har gow, chicken feet, and har gow. It is also popular for its cookies.
The Top 5 Dim Sum Restaurants in Hong Kong.
1) Mott 32 卅二公館
Address: Standard Chartered Bank Building, 4-4A Des Voeux Road, Central 中環德輔道中4-4A號渣打銀行大廈地庫
Presenting a refined yet playful landscape of Cantonese flavours, Mott 32 is known for modernizing traditional Cantonese pillars like roast meats, dim sum, and stir-fries with Western culinary techniques. Must orders include the siu mai dumplings, snow top char siu buns, vegetarian dumplings, crispy beancurd cheung fun rice rolls, char siu roast bbq pork, beef ho fun rice noodles, and a 3-course Peking duck dish.
2) Ming Court 明閣中餐廳
Address: Conrdis Hotel ,Level 6, 555 Shanghai Street, Mong Kok 旺角上海街555號香港康得思酒店6樓
It's a 2 star Michelin restaurant and worth their rating. All the dim sum is delicately flavored and beautifully executed.
3) Lung King Heen 龍景軒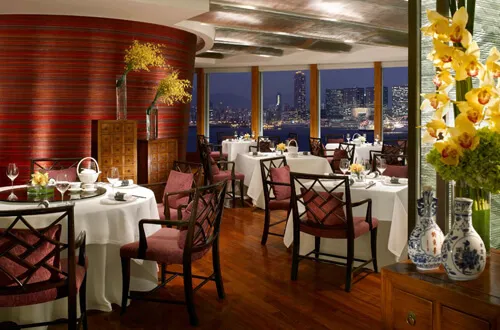 Lung King Heen
Address: Four Seasons Hong Kong, 8 Finance Street, Central 中環金融街8號香港四季酒店
Maintaining a 3-Michelin-star rating for 13 consecutive years, Lung King Heen is practically a sainted legend in Hong Kong's Cantonese dining scene. Spoiling you with views of Victoria Harbour through floor-to-ceiling windows and exceptional seafood and dim sum dishes, the Chinese fine-dining stalwart is the sort of establishment that sets the gold standard for its counterparts all around.
4) Lei Garden 利苑酒家
Address: One IFC, 1 Harbour View Street, Central (branches in Mong Kok, Kowloon, etc) 港景街1号国际金融中心商场二期3楼3008号铺
Known for their dim sum and dinner menu at their many Lei Garden branches, it's safe to say the food is solid all-round. Excellent quality dim sum cooked to a very high standard with great flavors. You can enjoy the taste of the superior ingredients used here.
5) Lin Heung Tea House 蓮香茶室(or 蓮香樓 before March 2019)
Address: 1600-164 Wellington Street, Sheung Wan (威靈頓街160-164號)
Opened in 1926, Lin Heung Tea House is one of the few tea houses that still serve dim sum the traditional way. All the dim sums are prepared in advance and rolled out on metal pushcarts. Customers can either wait for the pushcarts to roll past their tables or simply walk up and grab the dim sums. The atmosphere here is generally quite chaotic, and like most traditional Hong Kong eateries, customers are expected to share tables with other diners.
5. How much does Dim Sum cost?
In Guangzhou, prices range from 30 yuan (4.6USD) to 120 yuan (18.4USD) per person. In Hong Kong, the price will be higher. It may cost you up to US$100 per person at some high-end restaurants. If you want to learn more about Eating & Drinking Food costs in China, please click here.
6. Do you have any foodie tours that I can take?
Yes, we have crafted several foodie tours for you. You'll get in-depth knowledge about Chinese food culture and sample some of the best and quality food offered after those tours, here it is.
Have a question?
OR
Are you eager to begin your Chinese cultural journey?
Drop us a line and we will promptly connect you with our leading China expert!