Briefing about Chengdu (成都)
Having a history of more than 1,300 years, Chengdu is the capital city of Sichuan Province. Chengdu has become well known by international travelers because of the Giant Pandas. It's the hometown of the giant pandas in China. But for the Chinese, Chengdu is a vibrant ancient city with a rich cultural history. The Giant Panda is just one of its city drawcards. Chengdu is thought of as a 'Hot', 'Spicy', 'Fresh' and 'Fragrant' modern city. Obviously, Hot Pot is the most important city drawcard in Chinese people's mind.
The Best Time to Go
TEMPERATURE °C
Spring (March to June) and autumn (September to November) are the best times to travel to Chengdu, because the temperature is quite comfortable and there is not too much rain.
Summer time is from late June to September when the weather is quite hot. But you can pay a visit to some cooler places near Chengdu, like Jiuzhaigou, Qingcheng Mountain and Emei Mountain. Winter time is from December to February, and it's icy cold. However, skiing in Chengdu is a good option if you are travelling in the winter.
Jan
Feb
Mar
Apr
May
Jun
Jul
Aug
Sep
Oct
Nov
Dec
Mean
Maximum
Temperature
°C
10
11
16
21
26
27
29
29
25
20
15
10
ºF
49
52
61
70
79
81
84
84
77
68
59
50
Mean
Minimum
Temperature
°C
2
4
8
12
17
20
22
21
18
14
9
4
ºF
36
39
46
54
63
68
72
70
64
57
48
39
Rainfall Amount
mm
7
10
21
47
87
103
231
224
132
39
17
5
Days with Rain*
days
3
4
6
8
10
10
13
12
12
8
4
1
Mean Daily Sunshine Duration
hrs
2
2
3
4
4
4
5
5
3
2
2
2
*denotes number of days with at least 1.0 mm of rainfall
What to See
Giant Panda Base: There are 3 panda bases around Chengdu. Which one is the best for you? We have listed some information below to help you to make the decision.
Place
Driving Distance from Chengdu
Number of Pandas
Access
Activities
Time to stay
Hotel Attached
Crowds
Dujiangyan Panda Valley
1.5 hrs
30+
Easy
1.Volunteer Program
2.Holding Pandas
1 day
Yes
Bifengxia Panda Base
3 hrs
80+
Quite Far
Volunteer Program
2+ days
Yes
Chengdu Giant Panda Breeding Center
30 mins
30+
Near the city
Seeing Pandas Only
half day
No
Chengdu Kuan-zhai Lane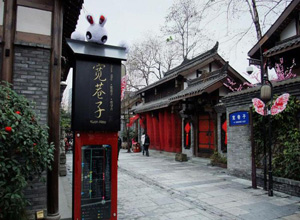 Kuan-zhai Lane is a historical and cultural area in Chengdu. It's a compound of three old streets (Kuan, Zhai and Jing Lane) and the courtyards beside the streets. Actually, there are 45 courtyards in the Qing and Ming Dynasty architectural style.
Kuan Lane exemplifies the local culture. You can find hotels, tea houses and restaurants there. You can just sit in a local tea house and talk to local people. Zhai Lane is more like a shopping street. There are lots of small shops with good products. Jing Lane is the modern life of Chengdu. There are many bars and pubs. Walking in Kuan-zhai Lane, you can experience the old Chengdu life-style.
Leshan Giant Buddha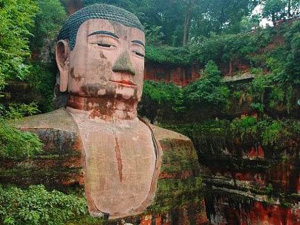 The Leshan Giant Buddha, also named Lingyun Buddha, is located on the eastern bank of the Southern Min River, Leshan City. Listed by UNESCO as the largest carved Buddha in China with a height of 71 meters, its ears alone are 7 meters tall and its feet are 8.5 meters wide. Workers took 90 years to finish this masterpiece about 1,200 years ago.
You can climb the steps on the mountain to see it up close. To get a good perspective view, you could take a boat ride on the late at foot of Leshan.
Other Recommended Attractions
The Most Recommended 3 Days Tour: the Best of Chengdu
*Price from USD319 per person (based on a group of 6 people)
Day 1, Chengdu Arrival
Your tour guide and driver will pick you up from the airport or train station and transfer to your hotel.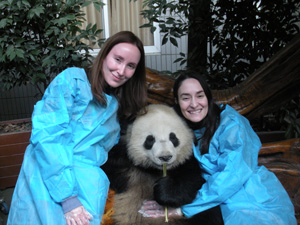 Day 2, Hello Panda (B,L)
After breakfast, your guide will meet you at the hotel lobby and transfer to Chengdu Panda Breeding and Research Center. It's good to see the pandas in the morning, as they are more active than in the afternoon. After lunch, drive back to Chengdu and discover the city in its old and modern styles. Experience the Chengdu Kuan-zhai Lane, marvel at the beautiful architecture of the traditional courtyard. Pay a visit to Chengdu People's Park, see the local people's life. Drive back to your hotel or the driver can drop you off at Jinli Old Street to shop around on your own.
Day 3, Leshan Giant Buddha & Departure(B,L)
Today you will drive about 2 hours to see the Leshan Giant Buddha. You can climb for about 40 minutes to get close to the Buddha. Then the 40 minute boat ride takes you to a vantage point where you will have a complete view of the Giant Buddha. (The cost of the boat ride is included.)
After lunch, your tour guide and driver will escort you back to Chengdu. They will transfer you to the airport or train station based on your request.
How to get there
Air
Chengdu is the capital city of Sichuan Province. It's also the transportation center for the west of China. Most of the major cities have a direct flight to Chengdu, such as Beijing, Xi'an, Shanghai, Guilin, Lhasa, Urumqi, Guangzhou, Kunming, Hangzhou, and Shenzhen etc.
Railway
Most of the popular cities have trains which travel to Chengdu. Unfortunately, the bullet train is not available from some big cities.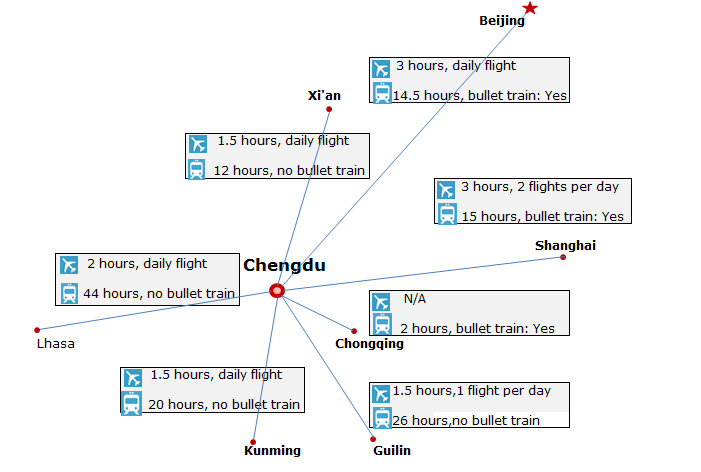 Recommended Hotels
Category
Hotel Name
Hotel Class
Why Recommend
Ranking on Trip Advisor
International Chain
The Ritz-Carlton
5-star
√ Central location
√ Comfortable bed
√ Delicious and extensive breakfast buffet
#3
The St. Regis
5-star
√ Spacious room with 700 sq.ft.
√ Personal butler service
√ New Hotel, opened in 2014.
#4
Sofitel Chengdu Taihe
5-star
√ Reasonable Price
√ Prompt room service
√ Good location
#19
Best Value
Minyoun Royal Hotel
5-star
√ Central location,near shopping mall
√ Good price for 5-star hotel
√ Huge variety for breakfast
#37
Tianfu Sunshine Hotel
4-star
√ Good location, city center
√ Good price
√ Well equipped rooms, free wifi
#28
Holiday Inn Express Wuhou Chengdu
3-star
√ About 20 minutes' drive from the airport
√ Clean and quiet room with free wifi
√ Professional staff
#43
Boutique
BuddhaZen Hotel
4-star
√ Located in the old part of the town
√ Courtyard style with traditional Chinese setting
√ Helpful and friendly Staff
#6