5 Chengdu Food Streets
In the Land of Abundance, many cuisines are offered. Hot pots, snacks and delicacies and the Sichuan cuisine dishes are considered essential to the life of the native Chengdu people. A gourmet street easily tempts visitors.
1. Kuixinglou Street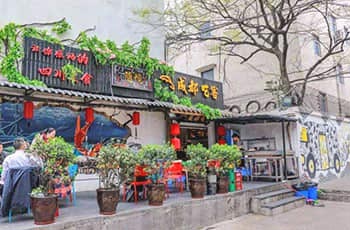 Old German-style buildings that have lain idle for years are now transformed into very modern looking constructions in black and white. A small street includes more than a dozen shops scattered from one end to the other. Graffiti is seen on the walls of the street. Western restaurants, vegetarian restaurants and authentic local restaurants provide visitors with a variety of food options.
Recommendation: Shaocheng Weidao (Familiar Taste from a Brand New Restaurant), Super-in Chwan Chwan (Hot Skewers in Hot Pots), 'No Cat French Desserts', and 'Lobster Island' are all good choices.
Address: Kuixinglou Street, Qingyang District, Chengdu City, Sichuan Province, China.
How to get there: Take the bus No. 341, No. 54, No. 48 or No. 30 and get off at Yushu Street East Station. It is within the walking distance.
Nearby attractions: Kuanzhai Xiangzi (Wide and Narrow Alley) and Du Fu Caotang (Du Fu, a poet's residence, a thatched cottage).
2. Yuling Living Square
Visitors can experience ordinary life here down in the alleys around Yulin Community. The slow life is right there for any tourist to see. Hot pots, skewers, rabbit meat barbeque, rabbit kidneys (yes, Chengdu people have a fondness for meats, internal organs and the brains of rabbit), crawfish, and barbeque and grill dishes. It is definitely a gourmet paradise in local people's eyes.
Recommendation: Wangma Shredded Rabbits and Yulin Chuanchuanxiang (Sichuan skewers)
Address: Yulin Street, Wuhou District, Chengdu City, Sichuan Province, China.
Transportation: Take bus No. 153 or No. 1006 and get off at Yulin East Road Station. The Living Square is within walking distance.
Nearby attractions: Wuhou Shrine and Du Fu Caotang
3.Xiangheli Lane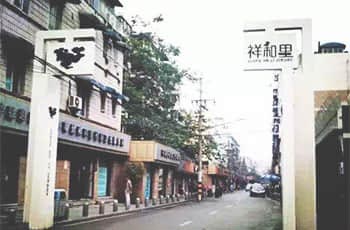 This lane is an ancient residential community with many of the characteristics of Chengdu. Now it has become a special dining street. The Gourmet business is booming here in east Chengdu. Most of the shops only open after 10 o'clock in the morning. It is quiet in the street during the day time. In the evening, people gather here. There are hot pot barbecues and small restaurants all along the street.
Recommendation: Ziwei Grilled Fish, Weng's Bobo (jar) Chicken and Kang's Grilled Bullfrog
Address: Intersection of Tianxiang Street, Chenghua District, Chengdu City, Sichuan Province, China
How to get there: Take Bus No. 8, No. 106 or No. 237 and get off at Mengzhuiwan Jiekou Station. Or take Metro Line 4 and get off at Yushuang Road Subway Station.
Nearby attractions: Wuhou Shrine
4.Chunxi Road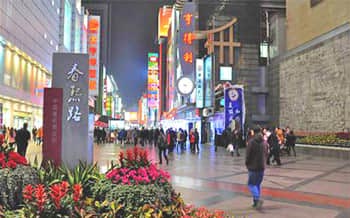 Both locals and visitors in Chengdu love Chunxi Road. Take-away foods are provided everywhere. It is often surprising that such rich kinds of desserts are offered for such reasonable prices. A place where both local and exotic cuisines are available is a blessing for foodies.
Recommendation: Xiao Tan Douhua (beancurd), Yutian Hotel, and Xiaolongkan (the top hot pot brand in Sichan)
Address: Chunxi Road, Jinjiang District, Chengdu City, Sichuan Province
How to get there: Take Metro Line 2 or Line 3 and get off at Chunxi Road Station.
Nearby attractions: Wuhou Shrine and Kuanzhai Xiangzi (Alley)
5.Jinli Lane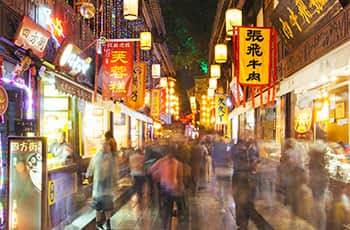 Jinli Lane, the most ancient commercial street in Chengdu, is a great place to see local folk arts. It is a must-see for tourists visiting Chengdu. Almost all the special Chengdu snacks can be found here: sweet water noodles, buckwheat noodles, San Dapao (sticky rice balls, which make a lot of loud noise in the making), Sugar and Oil Guozi (fried sticky rice balls with black sugar and sesame seeds) and Dan Hong Gao (folded tender cake with eggs blended into the flour). The antique streets there are a great scene with people strolling and enjoying snacks. The local opera, tea drinking or Guzheng performances are also good choices.
Recommendation: Damiao Hot Pot, Golden Beef Pancake
Address: 1, No. 231, Wuhouci Avenue, Chengdu, Sichuan Province, China
How to get there: Take the bus No.1, No.57, No.82, No.334, etc., and get off at Wuhouci Bus Station. The restaurants are within the walking distance.
Nearby attractions: Wuhou Shrine, Du Fu Thatched Cottage and Jinsha Site Museum
Have a question?
OR
Are you eager to begin your Chinese cultural journey?
Drop us a line and we will promptly connect you with our leading China expert!