Top 5 Chengdu Cuisine Restaurants
Chengdu Cuisine is an offer that neither a citizen nor a visitor can resist. In addition to numerous hot-pot restaurants, there are also many restaurants which feature a variety of dishes.
1. Wenshu (Manjusri, bodhisattva of wisdom in Mahayana Buddhism) Temple Vegetarian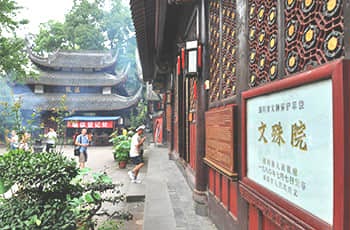 Wenshu Temple Vegetarian is located in the Wenshu Monastery (Manjushri Monastery) in north Chengdu. It is the place where the first vegetarian dish was served in Chengdu. The meat substitute for Spicy Chicken Nuggets is tofu that looks like chicken. Soaked in the local red oil with all seasonings, the dish instantly becomes spicy and delicious. The fish substitute for Braised Fish has a crispy shell and a similar texture to fish. The long running Vegetarian diet in Wenshu Monastery is well known to the natives in Chengdu. A vegetarian meal served in a temple is quite a special experience.
Average price per person: for the help yourself Buffet, RMB 35 per person (refund of RMB 5 for each no waste buffet goer) and for the Vegetarian Hot-pot, RMB 50 per person.
Opening hours: Help yourself Buffet: 11:15-14:30; Vegetarian Hot Pot: 11:00-21:00
Address: No. 15, Wenshuyuan Street, Qingyang District, Chengdu City, Sichuan Province, China
2.Lao Ma Rabbit Head (rabbit heads made by a caring mother for her child)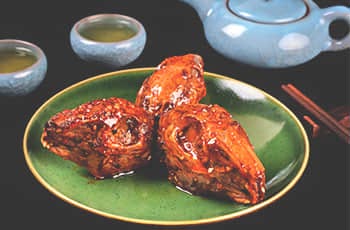 This dish was invented over two decades ago, and numerous foodies in Chengdu would show no restraint in front of such dish. The essence of the well-cooked rabbit heads is the tender meat dressed with spicy seasonings.
Average price per person: RMB 30
Opening hours: 08:00-23:00
Address: No. 245, Changshunshang Street, Qingyang District, Chengdu City, Sichuan Province, China
3. Chen's Mapo Tofu (or generally known as Mapo Tofu across the country)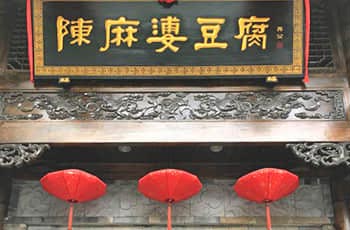 Chen's Mapo Tofu's history could date back to 1862. The decorations, the lanterns in the hall and the traditional wooden table and armless vintage chairs tell the tale of the restaurant since the Qing Dynasty. Mapo Tofu is delicious, salty and spicy. Tender tofu slips onto your tongue as you bite it. In addition, Boiled Fish, Kung Pao chicken and Twice Cooked Pork (Huiguo Rou) as well as Blood Curd (Mao Xuewang) are all good choices for those who favor spicy food.
Average price per person: RMB 50
Opening hours: 11:30 - 14:30 and 5:30 - 21:00
Address: 10-12, No. 10, Qinghua Road, Qingyang District, Chengdu City, China
4. Sichuan Folk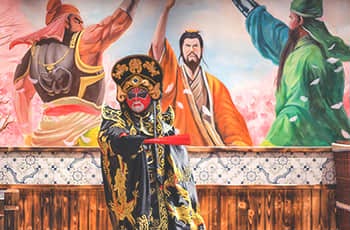 (the single Chinese character Ba, or Shu, or Ba Shu, are all the synonyms of Sichuan for the ancient cities and countries which once existed)
Blue brick walls, old wood carvings, and stone lions at the doors are all part of the stylish restaurant. Authentic Sichuan cuisine, such dry White Meat and Blood Curd, etc. are all cooked with quality ingredients. The diners can also watch the performance of Sichuan Opera's face-changing and shadow-puppets. The local culture is served both literally and metaphorically.
Average price per person: RMB 77
Opening hours: 10:00-21:00
Address: Building #3, Phase II of The Atrium, No. 169, Xiadongdajie Section, Dongdajiexia Street, Jinjiang District, Chengdu, Sichuan Province, China
5. Long Chaoshou (Dragon Wontons)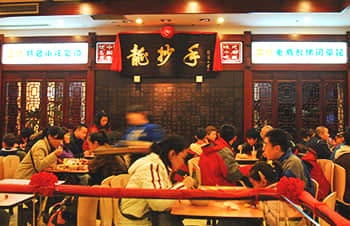 Long Chaoshou is worth a try for those who come to Chengdu for the first time. The shape of the dragon wonton resembles that of a general wonton, only with thicker wrapper, which makes it even chewier. When visitors come downtown to Chunxi Road (or Chengdu's version of Sanlitun in Beijing), a plethora of local delicacies pop up, such as Zhong Shuijiao (Mr. Zhong's All Pork Dumplings), Lai Tangyuan (Mr. Lai's Sticky Dumplings), and Fuqi Feipian which are all the good choices.
Average price per person: RMB 27
Business hours: 10:00-22:10
Address: No. 63, Chengshou Street, East Side, Zhongshan Square, Chunxi Road, Jinjiang District, Chengdu City, Sichuan Province, China
Have a question?
OR
Are you eager to begin your Chinese cultural journey?
Drop us a line and we will promptly connect you with our leading China expert!