Shopping In Chengdu
Chengdu is renowned for being the "Land of Abundance" with its vast lands, fertile soil, and colorful culture. As a city of leading fashion, Chengdu is not only a city of gourmet pleasures, but also a shopping paradise. In this article, we will take you to the right spots to buy the different goods you may want.
What are Must-buy Specialties in Chengdu?
Shu Brocade
Shu Brocade is one of the four most famous brocades in China, along with Song (Suzhou), Yun (Nanjing) and Zhuang (Guangxi) brocades. As part of the important intangible cultural heritage, Shu brocade has more than 2000 years of history. The bright color and elegant pattern make Shu brocade of high artistic value for appreciation and collection. Shu embroidery products include silk ties, scarves, traditional Chinese clothes, and purses.
Where to buy: Shujiang Jinyuan is near to Du Fu Thatched Cottage, where handmade brocade craft is sold, with the price ranging from several tens to hundreds of Yuan. With ties, capes, key chains, pillows, ornaments, and arty items, you can find a variety of brocade products to buy as souvenirs.
Chengdu Lacquer Wares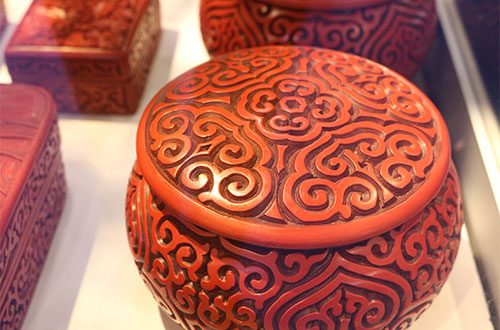 Chengdu lacquer craft was listed as a national intangible cultural heritage in 2006. These beautiful and unique wares have colorful carving, and are not only used in daily life, for things such as plates, jars, pots, bowls, tea sets, and drinking vessels, but also used as furnishings, such as vases and folding screens.
Where to buy:
Lacquer wares Factory
Address: No. 81, Jinhe Road, Jinhe District, Chengdu
Sichuan Antique Shop
Address: No. 6 Shaocheng Road, Shudu Avenue, Chengdu
Bamboo Weaving over Porcelain
The handicraft of bamboo weaving over porcelain is the essence of the heritage of Chinese folk crafts from Sichuan province, a combination of porcelain and bamboo weaving. With a special technique, producers can intertwine bamboo filaments and soft bamboo chips covering porcelain to decorate it. Originally, people put bamboo slices outside of the ceramics to prevent shattering. They can make vases, tea sets, bowls, jewelry boxes, and bamboo trays.
Where to buy:
Bamboo-weaving Arts and Crafts Factory
Address: 12 Jiefeng Road, Jin Niu District, Chengdu
Local Tea
Chengdu people love to drink tea, an old proverb goes: "In Sichuan you will see more teahouses than sunny days." It cannot be denied that Chengdu is a city moistened by tea. Famous teas are Maofeng green tea from Mount Emei, Jasmine tea, and Bamboo Leaf Green (Zhuyeqing).
Where to buy:
The famous brand tea shops are Zhuyeqing (竹叶青), Caomujian (草木间), and Yifangchashui (一方茶水).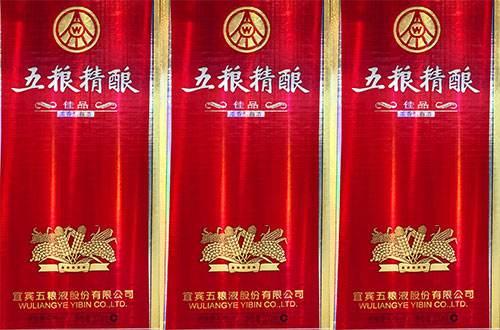 Wuliangye (五粮液)
Local Baijiu
Sichuan Province produces a good amount of good quality Baijiu due to the sufficient water resources and fine water. (Baijiu is a liquor popular in China, made by distilling fermented sorghum or rice.) Chengdu is at the heart of China's "baijiu belt". Local people's favorite top-ranking brands are Luzoulaojiao (泸州老窖), Wuliangye (五粮液), and Jiannanchun (剑南春).
Giant Panda Souvenirs
As Chengdu is "the hometown of giant pandas", if you are a panda lover, you can bring home some lovely panda souvenirs such as cute stuffed toys, ornaments, postcards, bookmarks, statues of the giant panda, fans and paintings of the giant panda.
Where to buy: at the airports, Jinli Ancient Street, Kuanzhai Alley, and Panda bases, and there are some specialty stores including Panda House and Panda Post.
Chengdu Shopping Streets and Places
Shopping in Chengdu is fun. You can explore the shopping places and markets as local people do.
Shopping Streets
Song Xian Qiao Antique and Art Market
If you are interested in antique things, such as paintings, sculptures, ceramics, old coins, and jade, there are more than 800 vendors accommodated in the 20,000 square meter market. It is better to hire a tour guide to explore here. This place is not crowded and there are not many fellow tourists. Address: No. 24 North Huanhua Road, Qingyang District
Jinli Ancient Street
Here you can find stores selling the Shu brocade, exquisite ceramics, panda-themed souvenirs, Sichuan opera masks, folk handicrafts, and lacquer products. It is the perfect place to buy some little gifts to take back home. Address: No. 231, Wuhouci Street, Wuhou District.
Wuhouci Cross Street
Wuhouci Cross Street is full of Buddhist religious articles and Tibetan art crafts such as prayer wheels, Thangka, woolen clothing, and jewelry. Here you can find a lama and a Tibetan shop owner.
Address: Wuhouci Cross Street, Wuhou District.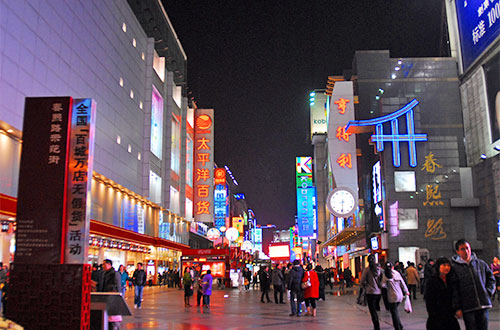 Chunxi Road
Chunxi Road is the most typical and prosperous commercial pedestrian street. On this road, tourists can buy products ranging from souvenirs to living and travelling necessities. You can take a stroll along the street to enjoy your shopping time.
Address: Chunxi Road, Jinjiang District
Qintai Road
Qintai Road was named for a romantic love story about a couple named Sima Xiangru and Zhuo Wenjun. Nowadays, this road is a jewelry street, selling silver, stone jewelry, and antique stones, and you also can appreciate the traditional style buildings aside the street. Address: Qintai Road, Qingyang District
Shopping Mall
IFS (Chengdu International Finance Square)
Chengdu International Finance Square provides many luxury brands, featured watches, jewelry, and fashion clothes. Even if you are not interested in luxury shopping, you can visit the uniqu e architectural design that has a giant panda climbing outside the mall.
Address: Hongxing Road 3rd Section, Jinjiang District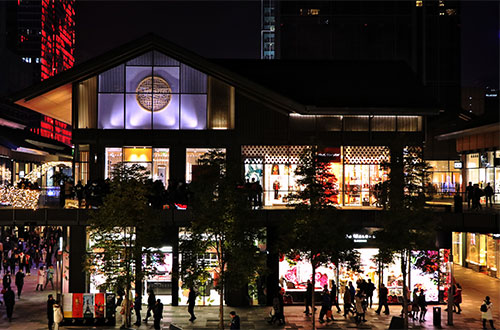 Taikoo Li
A fancy and cool place for hanging out, Taikoo Li is an important landmark rather than a shopping area. You can find various commercials from high-end luxury goods to affordable goods. The tradition-style architecture of this place and cool art pieces provide an artsy atmosphere and endless shopping opportunities. Address: No. 8 Shamao Street, Jinjiang District
New Century Global Center
The New Century Global Center is the largest shopping mall in the world. This mall provides hotel accommodation in case you need to spend several days shopping for clothes, accessories, cosmetics, and is even situated outside of the city center; it really is a shopping heaven.
Address: No.1007 North Tianvu Avenue, Wuhou District.
Shopping opportunities in Chengdu are plenty. There are a lot of shopping malls, shopping streets and night markets waiting for you to explore.
Have a question?
OR
Are you eager to begin your Chinese cultural journey?
Drop us a line and we will promptly connect you with our leading China expert!