Shopping in Guangzhou
Guangzhou is an important import/export city located in the Pearl River Delta area in southern China. It is home to thousands of factories, wholesale markets and shopping malls. This article helps international visitors to go to the right places and find the items they are looking for. You will gain an enjoyable shopping experience in Guangzhou.
1. Guangzhou shopping areas and their uniqueness
Shopping streets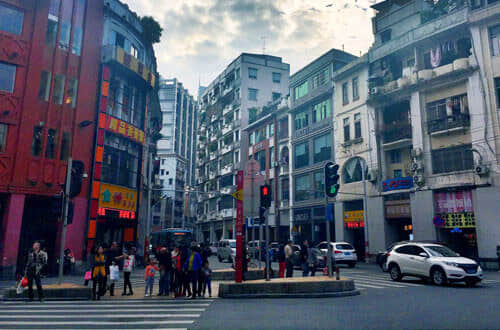 Beijing Road Shopping District



Beijing Road Shopping District is one of the 3 business centers in Guangzhou. If you like shopping, you can spend a whole day in this area. A variety of stuff can be found from cheap souvenirs and clothing to some high-end brands. Take metro line 6 to Beijing Road Station, and you will arrive at the heart of this shopping district.
Shangxiajiu Pedestrian Street is the oldest trading center of Guangzhou having been in use since the 6th century. Even now, there are still many ancient style "overhang" buildings along the street, where sit various dim sum restaurants, snack stalls and handicrafts shops. It's an affordable shopping place for most of the people in Guangzhou. There is no metro station at this place, so you may take a taxi to get there.
Shopping malls
Taikoo Hui Shopping Mall is located at the Tianhe Central Business District of Guangzhou. It is home to over 180 brands, including internationally well-known brands, sophisticated lifestyle boutiques and exquisite cuisines. The mall is one of the most luxury shopping places for high-end items in Guangzhou.
Address: No.383, Tianhe Rd., Tianhe District, Guangzhou / Metro line 3, Shipaiqiao Station.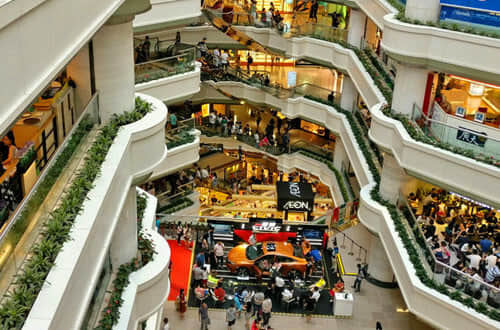 TeeMall is reputed as one of the earliest modern shopping malls in China since 1996. This is a mid-range mall with mostly recognizable brands, supermarkets, cinemas, and popular restaurants. It's a huge mall where you can spend a whole day and thus something will definitely catch your eye.
Address: No.208, Tianhe Rd., Tianhe District, Guangzhou / Metro line 3 or 1, Tiyu Xilu Station, Exit C, D or E.
Grandview Mall is located in the thriving heart of the Tianhe Central Business District of Guangzhou. It's a large-scale multi-faceted complex of shopping mall, hotel, theatre, ice skating rink, and aquarium. It's a perfect place for a family with children, especially in summer time!
Address: No.228, Tianhe Rd., Tianhe District, Guangzhou / Metro line 1, Tianhe Sports Center Station, Exit D.
Wholesale markets
Leather
Guangzhou Baiyun World Leather Trading Center is the largest leather product trading center in Guangzhou. You will be surprised by the imitations of those 'high-end' handbags, belts and accessories in this market. The quality of the items is usually quite good, and you can find many different grades and designs. The price is usually only 10% of the real one. You can bargain here and purchase at a reasonable price, no matter whether you are a wholesale or a retail buyer.
Address: No.1356-1358, Jiefangbei Rd., Baiyun District, Guangzhou.
Shoes
Guangzhou Metropolis Shoes City is home to over 800 shoe shops. You can find a variety of shoes and boots from high to low grade items with pretty low prices in this mall. It's the largest shoe wholesale market in the Pearl River Delta area. There are many copy branded items with fine quality in this market.
Address: No. 165, Sanyuanli Avenue, Yuexiu District, Guangzhou / Metro line 2, Sanyuanli Station, Exit A1.
Electronic
If you are looking for electronic products, then you should go to the Gangding shopping circle. It's quite a large area with small shops and large digital shopping malls selling computers, laptops, tablets, cameras, and peripheral products for both wholesale or retail.
Address: Metro line 3, Gangding Station, Tianhe District, Guangzhou.
Clothing
Baima Garment Market is the most famous and popular wholesale market for clothing in Guangzhou. You can find all kinds of clothing for women, men and children with a low price there. Of course, you will get a lower price if you buy more. It's a good place to practice your bargaining skills.
Address: No.16, Zhannan Road., Yuexiu District, Guangzhou.
Antiques
Xiguan Antique Street, one of the top 10 antique markets in China, located at Liwan Road near Liwan Lake and the Panxi Restaurant. You will find the original Cantonese lifestyle along this street. Locals are selling, bargaining and talking about the story of the "old" items, including antiques, calligraphy and painting, and traditional Chinese furniture. It's also a great place to explore and learn Chinese culture.
Location: Longjinxi Rd. Liwan District, Guangzhou
Chinese Traditional Medicine
You probably may not be able to bring Chinese herbal medicines back to your country. But there are many interesting herbs and stuff to see in Qingping Medicine Market. You will experience the local Cantonese daily life and gain some knowledge about Chinese medicine along the way.
Address: No.65-2, Qingping Nan St., Liwan District, Guangzhou.
Recommended items to take home from Guangzhou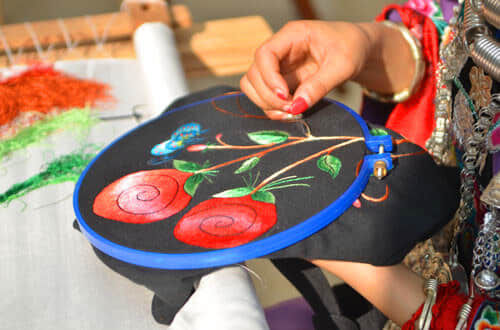 Cantonese Embroidery
Cantonese Embroidery is one of the top four embroideries in China, along with Jiangsu, Hunan and Sichuan. As a traditional folk arts and crafts, it was listed in the first National Intangible Cultural Heritage list in 2006. You can visit Guangxiuzhuang at No.100 Yuehua Road to find some handmade Cantonese Embroidery products.
Jade
Jade was not originally from Guangzhou, but the largest jade market in southern China is located in Guangzhou.Hualin Jade Street is located at Kangwangzhong Road near Shangxiajiu Pedestrian Street and Liwan Square. It is the major jade trading area in Guangzhou and mainly deals in retail, wholesale of jade, and jewelry processing. You can find fine quality jade items with a reasonable price there, such as rings, bangles, pendants and sculptures.
Tea
Cantonese love tea very much, much the same as people elsewhere in China. Guangzhou Fangcun Tea Center is the hub of national tea trading. All kinds of teas can be found here, from the most common to some of the highest class types. Visitors from home and abroad participate in tea trade here every day. You can get there by metro line 1 to Fangcun Station.
Cantonese Snacks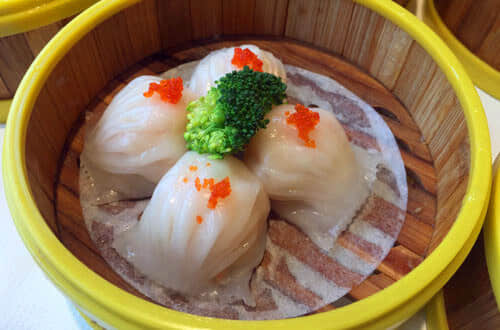 Guangzhou is not only famous for Cantonese dim sum, but also for its various snacks. There are well-packed local cakes and biscuits for you to bring back home. The traditional Cantonese snacks include Ji Zai Biscuits, Pineapple Cake, Xiguan Salty Pancake, Walnut Biscuits, Cantonese-style Moon Cakes, etc. There are some recommended famous local bakeries, such as Tou Tou Koi Bakery, Lianxianglou Bakery and Likoufu Bakery of Guangzhou Restaurant. You can find these restaurants at Beijing Road or Shangxiajiu Pedestrian Street.
Woodcarvings
Cantonese woodcarving is one of the iconic local folk techniques in Guangzhou. It's well known for its delicate and intricate craftsmanship. Most of the small carvings are made of camphor wood. Camphor wood has a kind of special aroma which makes people calm and relaxed. You can find delicate woodcarvings and sculptures at Wende Road at Beijing Road Shopping District or Fangcun Birds and Flower Market by Metro line 1, Huadiwan Station, Exit D.
Have a question?
OR
Are you eager to begin your Chinese cultural journey?
Drop us a line and we will promptly connect you with our leading China expert!