Guangzhou, also known as Sui, Yangcheng, or Huacheng, is the capital city of Guangdong province. It is a central metropolis and a mega city for China and a quite an international one. It is one of the important trade centers in the world. Located in the southern part of Guangdong province, it has the Pearl River Delta at its south and is very close to the South China Sea. It is China's south gate to the world and plays a key role in the Guangdong – Hong Kong – Macao Greater Bay Area, Pan – Pearl River Delta Economic Zone and the 'Belt and Road' Initiative.
Since the Qin Dynasty, Guangzhou has been the political, military, economic, cultural and scientific center of South China. It has been rated as one of the world's first-tier cities by authoritative research institutions, and was named the top commercial city in mainland China by Forbes five times. The development capacity of the Guangzhou economy ranks among the top three in China.
Basic Facts
English Name: Guangzhou
Chinese Name: 广州(Guǎng Zhōu)
Government: Provincial capital
Location: South China(113°23'E,23°16'N)
Area code & Zip Code:
Area Code:020;Zip Code:510000
Airports:Guangzhou Baiyun International Airport
Railway Stations:
Guangzhou Railway Station, Guangzhoudong Railway Station, Guangzhounan Railway Station, Guangzhoubei
Suburban Districts: Yuexiu, Liwan, Haizhu, Tianhe, Baiyun, Huangfu
Population: about 20.15million
Best time to visit Guangzhou
September to December is the best time to visit Guangzhou. During this time, the temperature is agreeable with a pleasant breeze. Many outdoor activities can be conducted with just a jacket at this time. Try to avoid traveling in Guangzhou during public holidays, especially during the National Day Holidays (October 1st to October 7th). Crowds will spoil the journey.
Attractions: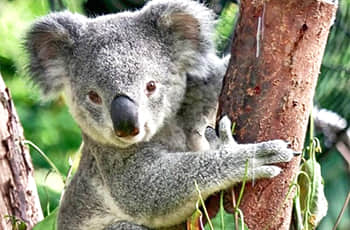 1. Chimelong Safari Park: The largest wild life stocking and the self-drive experience are the attractions of the Safari Park. Excellent animal shows can be seen here, such as white tigers. It is a good place to help children learn about the habits of the jungle creatures and join the recreation world in 'Children's Paradise'.
2. Shameen(Shamian): In many local people's eyes, Shameen is probably the most interesting place in China. The European style architecture built in British and French settlements offer a great place for promenade or taking photos.
3. Canton Tower: The land mark is 600 meters in height with the giant antenna. It is probably the highest tower in China. The scenes in Guangdong can all be seen from this place. The tower has a nicely designed 'waist' and a nice figure. The lights will be turned on in the evening and tourists can take a photo for memory.
Natural Attractions
| | | |
| --- | --- | --- |
| Baiyun Mountain | Yuexiu Park | Baishui Castle Attraction |
| Nansha Wetland | Dafu Mountain Forest Park | Lotus Mountain Scenic Area |
Cultural Attractions
| | | |
| --- | --- | --- |
| Shangxiajiu Pedestrian Street | Shishi Sacred Heart Cathedral | Chen Clan Ancestral Hall |
| Lingnan Impression | Whampoa Military Academy | Guangdong Museum |
How far is Guangzhou from Major Cities
| Cities | Distance from Guangzhou (km) | By Air to Guangzhou | By High-Speed Railway to Guangzhou |
| --- | --- | --- | --- |
| Beijing | 2,114 | 3hrs | 8hrs |
| Shanghai | 1,435 | 2hrs 20m | No direct High-Speed train. |
| Shenzhen | 127 | No direct flight. | 29m |
| Hangzhou | 1,252 | 2hrs | 6hrs 30m |
| Nanjing | 1,362 | 2hrs 10m | 7hrs 17m |
| Hong Kong | 181 | 1hr | 50m |
| Xian | 1,629 | 3hrs | 7hrs 40m |
| Wuhan | 987 | 1hr 45m | 3hrs 55m |
| Tianjin | 2,100 | 3hrs | 10hrs 43m |
| Lhasa | 3,546 | 5hrs 25m | No direct High-Speed train, traditional train about 55hours. |
As one of the four major airports in China, Baiyun International Airport connects almost half of the global residence. It is quite convenient for those who want to reach Guangzhou. In addition, there are Guangzhou Station, Guangzhou East Station, Guangzhou South Station and Guangzhou North Station.
Gourmet Food in Guangzhou
Cantonese morning tea: Cantonese have the habit of taking morning tea, which includes the Chinese dim sum and tea. In addition to steamed water, chestnut cake, and sticky rice in lotus leaf, the siu mai, shrimp dumplings, chicken feet and black bean sauce spareribs are the four most favored kinds of food. Western desserts have also been introduced into the teahouses in Guangzhou in recent years.
Cantonese Hot Pot: The Cantonese-style hot pot resembles that in northern part of China. This Han dish provides all good ingredients and it belongs to Canton Cuisine. This hot pot is with broth and all kinds of seafood like fish fillets, squid, raw shrimps and hunted game.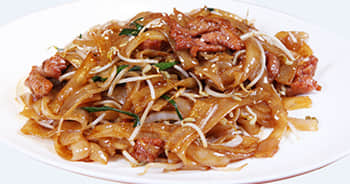 Fried rice noodle with sliced beef: this is a very famous Cantonese cuisine, and is a must on the menus of Cantonese restaurants and tea restaurants. It is made with fried sprouts, rice noodle and beef. First, fry the tender beef to medium. Then sauté the sprouts and onions with added oil. Stir fry the rice rolls quickly with soy sauce and boiled oil. Finally, add the beef.
Pork tripe stewed chicken: this is a traditional local dish in Guangdong Province and is also a pre-dinner soup for catering in the Guangdong Hakka area. The soup is thick and clear with a strong pepper fragrance and a health-giving taste. The milky white soup is very aromatic and both the chicken and tripe are rich in nutrients.
Souvenir and Shopping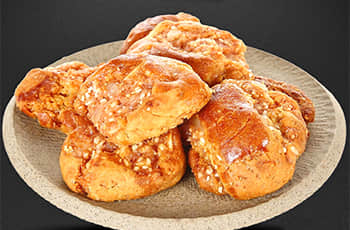 Chicken cookies: this traditional snack used to be called 'phoenix cookie'. It is made with flour, sugar, pork, almond kernels, preserved meicai (dried and pickled mustard greens). It is shaped into a chicken shape and baked until brown. It is both crisp on the outside and tender on the inside. As you take a bite of chicken cookie you will enjoy the fragrant sweet, salty flavor. Tourists from around the world are attracted by Cantonese snacks.
Guang embroidery: Guang embroidery is one of the four famous embroideries in China. It is famous for its rich composition, vivid images and artistic characteristics. Categories may include embroidery of calligraphy, embroidery on performance costumes, and beaded embroidery. The works of Guang embroidery share a common feature. They are very eye-catching when looked at from a distance, and very delicate upon closer observation. The works have a high value.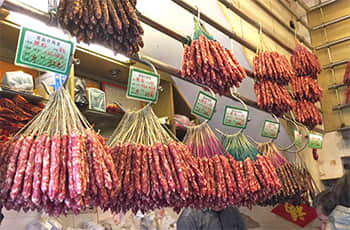 Cantonese Cured Meat: the renowned cured meat gets its superior flavor from ages of practice and improvement. It has a bright color and tastes sweet and fragrant. The delicious meat is a little chewy. Local people turn to this dish in fall and winter.