Guangzhou Cuisine

Guangzhou people have both affection and knowledge for food. The local cuisine is called Guangdong Cuisine, which is the typical subbranch of Cantonese cuisine. The ingredients of Guangdong Cuisines come from their rich natural resources. Probably the only thing they avoid chewing is the four-legged table. People in Canton focus on retaining the quality and original taste of food. Of the 21 cooking methods, they favor steaming. The cooked dishes show the following features: they look clear, but the tastes are rich; they taste delicious, but not ordinary; they chew tender, but not raw; they are cooked with oil, but not greasy at all.
1. Cantonese Morning Tea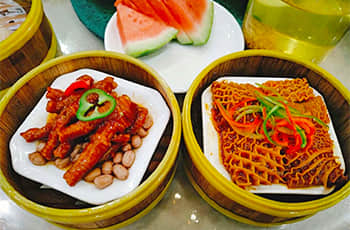 Cantonese morning tea is in fact the general term for breakfast in Guangdong Province. It belongs to Cantonese cuisine and is mainly composed of Chinese dim sum and tea. For dim sum, there are rice rolls, pork-filled buns, shrimp dumplings and siu mai; for tea, Tieguanyin, Pu'er and chrysanthemum are the most popular ones. In Guangdong, people have the habit of drinking a morning tea that is paired with snacks. Western desserts have also been introduced into the teahouses in Guangzhou in recent years.
Characteristics: there are various offerings and they are all sweet and delicious.
Recommendation: Yutang Chunnuan Restaurant at White Swan Hotel
Address: 3/F, White Swan Hotel, No. 1 Shameen Avenue, Liwan District, Guangzhou (nearly Six Two Three Road)
2. Cantonese Hot Pot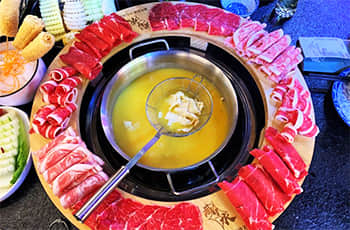 The Cantonese-style hot pot resembles that in the northern part of China. This Han dish provides all good ingredients and it belongs to Canton Cuisine. This hot pot is with broth and all kinds of seafood like sashimi, squid, raw shrimps and hunted games. Local 'shacha' sauce is the main sauce for the hot pot.
Characteristics: it has rich flavor and the meat is tender.
Recommendation: Cheng's Farm • Venison Feast
Address: The bottom of Zhong-Wei Express Way & Railway Bridge, Shibi Community, Panyu District, Guangzhou.
3. Boat congee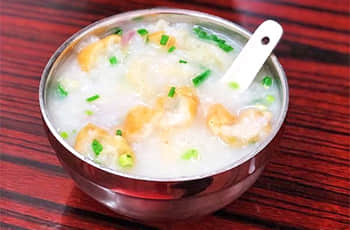 The 'boat congee' uses fresh shrimps, fish fillets, chopped shallot, sliced egg, jellyfish, peanut kernels, fried pig skin and sliced deep fried dough sticks. The cooking method is generally boiling. According to legend, the authentic boat porridge should be made on and even enjoyed in the boat floating on the river. Therefore, it is called 'boat congee'.
Characteristics: it takes delicious, smooth, soft and refreshing.
Recommendation: Chen Tian Ji (Branch at Lane 3 on 15th Road).
Address: The second eatery, Lane 3, 15th Road, Baohua Road, Liwan District, Guangzhou. of Baohua Road (the opposite side of Hong Kong Luk Fook Jewellery)
4. Cantonese Claypot Rice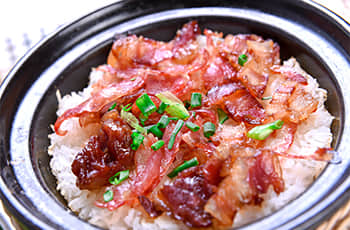 Claypot rice, also known as Wafangzi, is a specialty served in the Guangzhou area and it belongs to Cantonese Cuisine. After putting the scoured rice into the claypot, measure a proper amount of water to submerge it. Cover the claypot and add meat and vegetables when the rice is medium well done. Then use a light fire to cook them well.
Characteristics: the meat is soft and it is fragrant.
Recommendation: Tao Tao Ju Branch (10th Road).
Address: No. 20,10th Road, Baohua Road, Liwan District, Guangzhou
5. Pork tripe stew chicken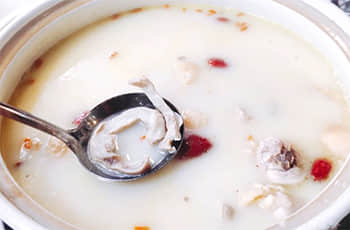 This is a traditional local dish in Guangdong Province and is also a pre-dinner soup for catering in the Guangdong Hakka area. The soup is thick and clear, with the fragrance of pepper, and a taste makes you feel sure it is doing you good. The milky white soup is very aromatic.
Characteristics: it is fresh, fragrant and nourishing. The soup is thick and the meat is tender
Recommendation: Miao Fu Pork Tripe Stew Chicken Spicy Hot Pot (Flagship Shop at Tuanyida, Yuexiu District, Guangzhou)
Address: No. 82, Yucui Road, Yuexiu South Road, Yuexiu District, Guangzhou
6. Baiyun Trotter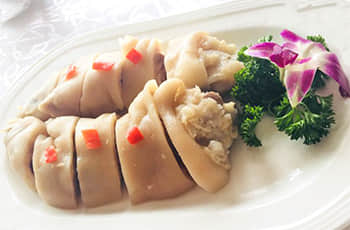 Baiyun Trotter is one of the famous dishes in Guangzhou, and is offered in many restaurants. Well boiled trotters are dressed with seasoning and served with cold salad in a cold dish. It is said that the "Baiyun Trotter" was made with Baiyun Spring water. Hence it has the name of Baiyun.
Characteristics: it is fatty but not greasy and crispy to chew.
Recommendation: Baiyun Banquet Restaurant at Baiyun Hotel
Address: 3/F, Baiyun Hotel, No. 367 Huanshi East Road, Yuexiu District, Guangzhou (near World Trade Building)
7. Fried rice noodle with sliced beef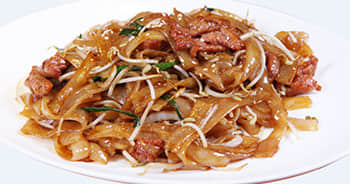 This is a very famous element of Cantonese cuisine, and is a must try on the menus of Cantonese restaurants and tea restaurants. The dish is mainly a fried combination of sprouts, rice noodle and beef. First, fry the tender beef to medium. Then sauté the sprouts and onions with added oil. Stir fry the rice rolls quickly with soy sauce and boiled oil. Finally, add the beef.
Characteristics: the beef is smooth and tender, and the rice noodle is fragrant and chewy.
Recommendation: Paoding Pavilion Beef Hot Pot (Branch at Kexin Road)
Address: No. 9 Eatery, 1/F, No. 1, Datang Industrial Zone, Kexin Road, Tianhe District, Guangzhou
8. Siu mei (Cantonese-style Roast)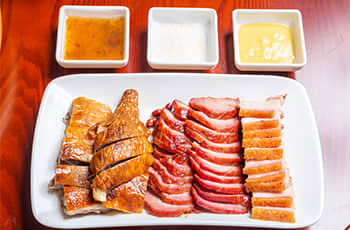 Siu mei is one of Cantonese cuisine's most popular dishes (and not to be confused with the siu mai dumplings). Siu mei includes oyster sauce chicken, barbecued pork, roast meat, suckling pig, roast duck, roast goose and feet of pigs, chicken and ducks. Among them, barbecued pork is an especially popular ingredient in siu mei. It is soft and juicy meat. The bright color goes well with the rich fragrance.
Characteristics: it has crispy skin and sweet, tender meat.
Recommendation: Bingsheng Mansion
Address: 5/F, Capital Building, No. 2, Yucun Road, Zhujiang New Town (opposite the Provincial Museum), Guangzhou.
9. White cut chicken
White-cut chicken is the most common type of Cantonese chicken. It is easy to make, usually without extra ingredients and with the original flavor retained. Well-cooked white cut chicken is yellowish white. It has the fragrance of fried scallions and is prepared with mustard and soy sauce. It can remind people of the taste of Canton when they are away.
Characteristics: it has smooth skin and has a delicious, light taste.
Where to eat: Xin Taile Branch (Jiangnan West Road)
Address: 1-4F, No. 93-99, Jiangnan West Road, Haizhu District, Guangzhou (near Grandbuy New City)
10. Gel Gel Pot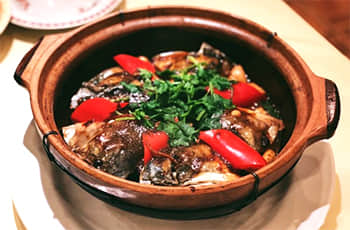 A unique cooking method of Cantonese cuisine is used for cooking this pot. Meat ingredients, along with shallots, ginger and garlic, are put into the extremely hot pot and the 'gel' noise can be heard. When "A Bite of China" was broadcast, more people heard about it. Do try this dish when you are in Guangzhou.
Characteristics: it has rich flavor and is full of aroma.
Recommendation: Hui Shi Jia Branch (Zhe Ba)
Address: No. 174, Binjiang West Road, Haizhu District, Guangzhou (near Baogang Avenue)
Have a question?
OR
Are you eager to begin your Chinese cultural journey?
Drop us a line and we will promptly connect you with our leading China expert!