Top 10 Cuisine Restaurants

Whatever you do, don't miss out on going to restaurants and tasting Cantonese cuisine and experiencing the hospitality of locals. Restaurants in Guangzhou mainly offer Cantonese cuisine. In addition, there are cuisines from other places, which enrich the menu. The following recommendations are for the foodies.
1. Yutang Chunnuan Restaurant at White Swan Hotel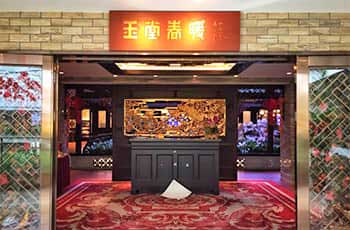 This legendary Guangzhou restaurant is deeply favored by Chua Lam, a columnist, food critic and occasional television host in Hong Kong and Japan. The restaurant's environment is quaint, and the garden components such as pavilions, rockeries and fish ponds are full of Xiguan (a traditional area of Guangzhou) customs. Dishes are all authentic traditional Cantonese dishes, and the dim sum sold with morning tea have enjoyed a good reputation.
Average per person: RMB 302
Open hours: 08:00-15:00 & 17:30-22:00 for weekends; 11:30-15:00 & 17:30-22:00 for week days.
Address: 3/F, White Swan Hotel, No. 1 Shameen Avenue, Liwan District, Guangzhou (close to Six Two Three Road)
2. Bingsheng Mansion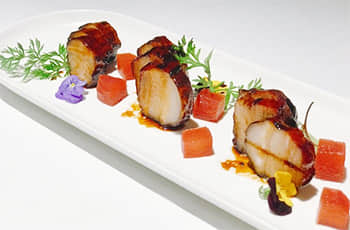 This is a Cantonese restaurant in Zhujiang New Town that enjoys a good reputation and popularity in the local area. It is said to be one of the first choices for Guangzhou residents to treat their important guests. The decoration in the restaurant is luxurious and yet stays low profile. Every dish on the menu is delicious and the service there makes people comfortable.
Average per person: RMB 151
Open hours: 09:00-15:00 & 17:00-22:00 for weekends; 10:00-15:00 & 17:00-22:00 for week days
Address: 5/F, Capital Building, No. 2, Yucun Road, Zhujiang New Town (opposite the Provincial Museum), Guangzhou.
3. Heyuan Restaurant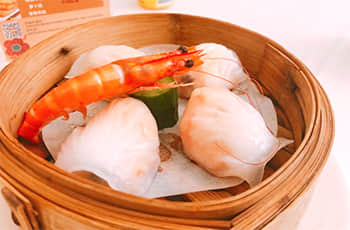 This popular new Cantonese restaurant has an elegant environment and almost every dish is great. Traditional dim sum and other dishes are all great. There are also many popular new dishes, such as lavender apricot buns, souffle, and seven-flavored scallops and sausage. And the top dish is classic shrimp dumplings and chicken feet. In addition, the service here is very good.
Average per person: RMB 160
Open hours: 11:00-14:30 & 17:030-21:00 for week days; 09:30-14:30 & 17:30-21:00 for week days.
Address: 3-5/F, Times Real Estate Center, 410 Dongfeng Middle Road, Yuexiu District, Guangzhou
4. Taiwan Exquisite Charcoal Barbecue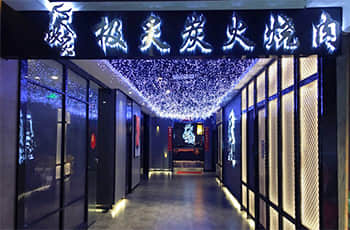 This barbecue restaurant with its Taiwanese style brings joy to the dining atmosphere. The flavor of quality imported beef is well retained by the heat from the burning charcoal. The marbled meat tastes great. There is also a selection of sake and beer offered here, each of which is well worth savoring.
Average per person: RMB 200
Open Hours: 11:00-15:00 & 17:00-00:00
Address: 3F, Comprehensive Building, Xintianhe Hotel, 178-188 Tianhe Road (50 meters west of South Gate Guangzhou Grandbuy Zhongyi, opposite Kaifu Hotel)
5. Kapok (Hengbao Store)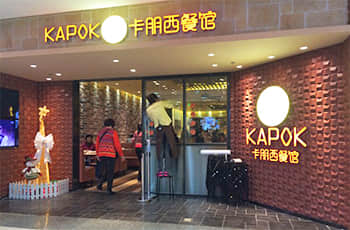 Located on the 3rd floor of Hengbao Plaza, this is a restaurant where you will often see queues of people eager to enter. The food is always excellent quality yet good value for money. The menu offers a wide range of options, and the service is polite and efficient, but customers need to relax and be patient because it is a very popular dining place for its comprehensive offerings in Guangzhou.
Average per person: RMB 55
Open hours: 11:00 – 22:00
Address: 3/F, Hengbao Plaza, No. 133 Baohua Road (close to Changshou Road Metro Station), Liwan District, Guangzhou
6. Zi Zhou Restaurant (fanyu Plaza)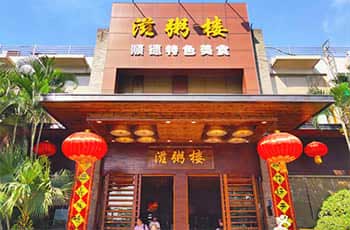 Zi Zi Lou is renowned for its Shunde Private Dining and signature porridge hot pot. The elegantly decorated restaurant is highly recommended by the famous foodie, Cai Lan, in his blog. The restaurant hires the top chef from Shunde to prepare porridge hot pot. The porridge is made from the finest rice boiled for a couple of hours so that it is tender and thick as it is meant to be. When shellfish, river food, seafood and meat are boiled together, the porridge is delightfully fragrant and sweet.
Average per person: RMB 121
Open House: 11:00-14:30 & 17:00-21:30
Address: 200 meters west of Xingtai Road and S11 intersection (east of Panyu Square on Xingtai Road), fanyu, Guangzhou.
7. Guangzhou Restaurant (Wenchang)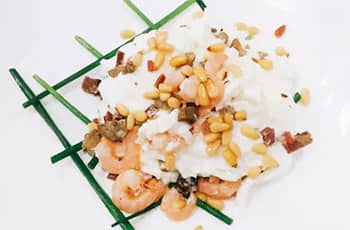 Guangzhou Restaurant was started in 1935 and is a national special restaurant. It has the reputation and for being the "Top Restaurant in Guangzhou" and it does offer top Cantonese cuisine. Typically, it can present a variety of ancient Cantonese cuisine. In addition, the traditional Cantonese-style teahouse culture is also observed here. Wenchang Chicken and various dim sum are the specialties here.
Average per person: RMB 106
Open hours: 9:00 - 21:30
Address: No. 2, Wenchang South Road, Liwan District, Guangzhou
8. Runyuan Coconut Chicken (Baiyun Avenue)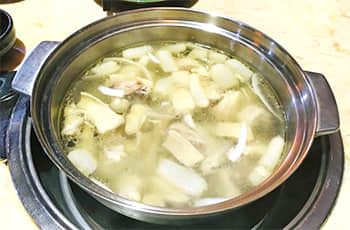 This is said to be the best coconut chicken shop in Guangzhou. Even the interior decoration is the in Hainan coconut forest style. The environment itself is elegant and pleasant. The coconut chicken in the original flavor (with no additional flavoring) is a signature dish for every table. The chicken soup is fragrant, while the chicken boiled in the broth has smooth skin and tender meat, which is sweet and delicious. A cured meat claypot rice means fine rice and Chinese sausage. Tourists often find that they have eaten even the last dot of rice in the claypot.
Average per person: RMB 107
Open hours: 11:00 - 22:00
Address: No. 168, North of Baiyun Avenue (2F, Baifu Plaza), Baiyun District, Guangzhou.
9. Nanyuan Restaurant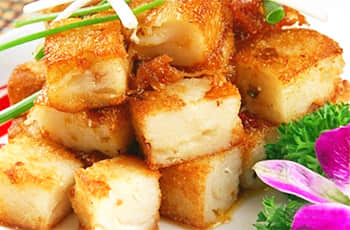 Nanyuan Restaurant used to one of the four garden restaurants in Guangzhou. It is close to Xiaogang Park, and it is named after its location in the south part of Guangzhou. The interior of the restaurant is typical Lingnan garden style, with small bridges, brooks and pavilions and it is equipped with colorful windows. Whether it is Cantonese cuisine or morning tea, the dishes are never disappointing. The locals even choose to have their weddings here.
Average per person: RMB 87
Open hours: 7:00 - 22:00
Address: No. 142 Qianjin Road (near Xiaogang Park)
10. Taoran Pavilion Branch (Shameen)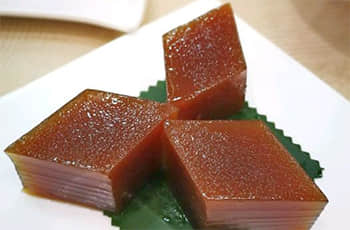 This Cantonese-style tea restaurant is located in the area where there are a plethora of buildings in European style architecture. Contrary to the typical European facade, the decoration in the store is antique. Calligraphy works from renowned literati can be seen everywhere. When observed closely, visitors can find Lingnan black bricks, Manchurian windows, glazed palace lanterns, etc. Visitors can appreciate a guzheng (Chinese zither) performance on the first floor. Friends can have tea and conversation with each other there, although the tea is slightly expensive. However, the cost for tea on the second to the sixth floor is relatively cheap and the rooms are spacious. There is no queue for upstairs seats. On the 6th floor, one can see the Pearl River from the window.
Average per person: RMB 102
Open Hours: 8:00-14:30 & 17:00-22:00
Address: No. 50, Shaping South Street (close to Shameen Rose Garden)
Have a question?
OR
Are you eager to begin your Chinese cultural journey?
Drop us a line and we will promptly connect you with our leading China expert!