China is home to a variety of shopping destinations. Customers can find a multitude of unique merchandise and culturally significant products in the many shopping malls scattered around the provinces of China. Foreign products are extremely popular in modern China, but if you are coming to visit, make sure to take a look at some of China's leading domestic brands as well! Shopping in China may seem different to foreigners due to practices of bargaining. The experience of finding something great to buy can be even greater if you bargain a price you are satisfied with.
What Makes Shopping in China Unique?
Here are some of the top reasons why you shopping experience in China may be different than anywhere else in the world.
Bargaining
Take a try at using your communication skills to talk down the absurdly high price of a product. But where is bargaining acceptable?
Often, local markets and smaller shopping centers that feature second-hand goods or even knock-off clothing are great places to practice bargaining. The shop owners often place higher-than-normal prices on products to require shoppers to bargain. Some shopping destinations will have such high prices, if you don't bargain, you are better off leaving to find a less expensive option.
Bargaining can be difficult at first, especially because some countries do not practice bargaining in a daily setting. One of the key indicators that the seller is ready to bargain is when they bring out a big calculator to discuss price. Their first offer will always be much too high, so think of a percentage of their price based on the product to counter-offer.
A good rule-of-thumb is to practice some bargaining first on some smaller items of souvenirs, so if you have trouble talking the seller down, you will have only spent a small amount. Once you feel more comfortable with your newfound communication skills, feel free to move on to big-ticket items that caught your eye.
Different Prices for Name-Brand Goods
Some name brands are much cheaper to buy in China, while high-end brands can have much higher prices due to tariffs or shipping costs. It is well-known that many products around the world have tags that say "Made in China", and that means that these products have a much lower cost to buy within the country than overseas. This is because there is not a high overseas shipping cost or mark-up!
Many name brands such as Nike or Adidas can be bought at much lower prices in China than abroad. Similar to many of your favorite brands, Nike or Adidas have many factories within China where they produce goods for the whole world.
While these name-brand products feature a lower price tag, shoppers may find that products made outside of China have a much higher price than abroad. One of the best examples is the Italian handbag market. Famous brands such as Gucci or Prada have a much steeper price within China than in European countries or the USA.
While there are a variety of benefits and drawbacks to shopping for some of the most popular brands in China, remember that Chinese companies also make some very high-quality products that are competitive with global brands. If you are interested in activewear, check out Li Ning for a selection of modern active apparel. Explore the many massive shopping malls you can find in China and enjoy an infinite selection of foreign and domestic products!
Variety of Shopping Malls or Markets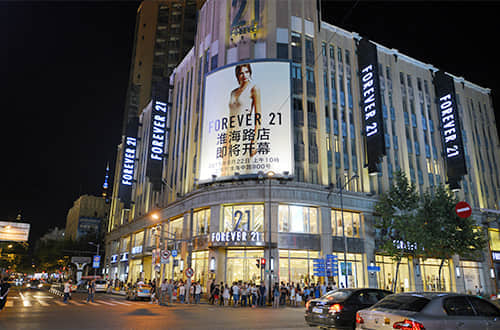 It is quite common to find free-standing shopping malls with similar stores in China. This means that a large building may host stalls where every seller is offering the same type of product. This could be tea, clothing, souvenirs, electronics or many more.
In these themed shopping malls, you might be able to find an extremely wide variety of products of one type. Often, if you look hard enough, you can find some rare items or grab a product you've always wanted for a great price. You may find those bargaining skills we mentioned early handy in many of these shopping malls.
There are also a variety of popular "fake markets" that specialize in making counterfeit items that resemble real products. Sometimes, the quality of these "fakes" can be very high, and even match the real thing! If you want to wear some of the trendiest clothing or accessories without blowing your whole budget, then the fake markets may be a great place for you to check out.
Shopping for Souvenirs, Some of the Most Popular Keepsakes and Gifts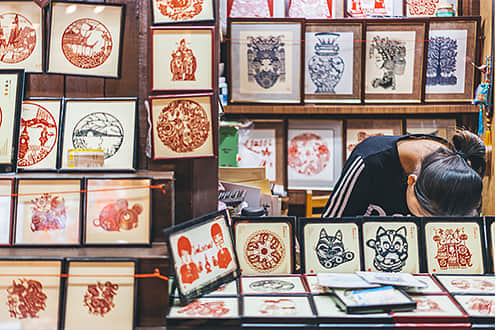 There is a debate as to whether tea or jade best signifies Chinese history and culture. Whichever you may think is most important; there are plenty of locations to pick up both of these famed souvenirs. Expert craftsmanship and attention to detail make jade jewelry a beautiful keepsake or gift for a friend or loved one. The wide varieties of teas that have been drunk in China for centuries also make a wonderful and delicious memory of your time here.
Additionally, you can find a variety of historically significant goods, such as CPC posters or vintage clothing. You may also find something unique that ties your memories to China in the antique markets. There is no wrong answer when choosing products to remember your travels in China.
You may also be able to find culturally significant items in different cities and provinces. Some special products may be only found in Beijing, Shenzhen, Shanghai, Chengdu, or many more places, so remember to keep a close eye out for anything that has an even closer tie to your specific travels in the PRC.
If you find yourself looking for Souvenirs in some of these cities, then here are some great locations to check out!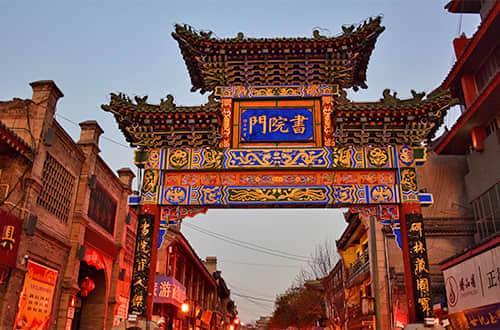 Shuyuanmen Street in Xi'an
Shanghai – Shanghai Souvenirs Shopping Center – Plenty of Chinese memorabilia and keepsakes, you will also find many Shanghai themed goods here.
Address: No. 79, Zhejiang South Road, Huangpu District
Beijing – Qianmen Street – A famous pedestrian shopping street. You will find a variety of souvenirs and specialty products from the wide variety of vendors. Enjoy some tasty Beijing street food here too!
Address:Qianmen Street, Dongcheng District
Chengdu – Chunxi Road – Also a well-known pedestrian shopping paradise, this historical street in the Sichuan province offers you many different unique gifts and snacks to choose from.
Address:Chunxi Road, Jinjiang District
Xi'an –Shuyuanmen Street - Enjoy some of the most historic souvenirs from China's famed center of the Qin Dynasty and location of the Terracotta Warriors
Address: Shuyuanmen Street, Beilin District
No matter where you travel in China, you will find a variety of markets selling various specialty items that make great gifts or markers of your wonderful travels through the Middle Kingdom.
Online Shopping, Express delivery (JD, TaoBao)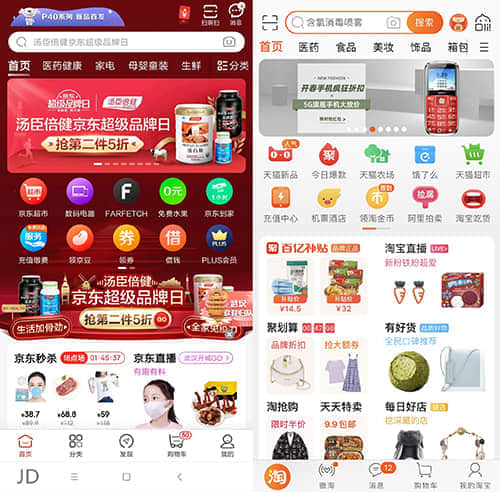 The interface of JD and Taobao
One of the most unique features of shopping in China is the expansive online shopping platforms available to consumers. Two of the largest shopping websites in China are TaoBao and JD.com. On these websites, you can find nearly any product you desire! From shoes to tiny houses, TaoBao and JD have it all. In Western countries, Amazon is most like these websites. While Amazon ships to China, it is not the preferred domestic online shopping resource.
These websites have influenced many smaller Chinese companies to find success. Sellers of products of every kind can provide their inventory to people all around the country with the help of these websites. Often, you will see smaller clothing shops or specialty goods stores that sell their products in-store and online. These websites have had a significant impact on the entrepreneurial attitude and economic advancement of Chinese citizens.
Another amazing feature of these online shopping hubs is their quick delivery. Often, you can expect a package to arrive the next day!
Conclusion
The market economy in China has led to a wildly popular shopping society. You can find products of any kind if you go looking in the correct places. Use bargaining skills to get a good price on a variety of products. Shop in malls can offer you a wide selection of specialty goods to choose from. Find unique souvenirs to take home and remember your stories of your time in China. Shopping is one of the most exciting activities to take part in when visiting this vast country.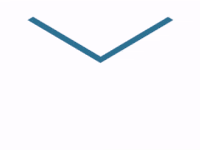 Have a question? Or can't wait to immerse yourself in the engaging journey of Chinese culture? Send us a message! Our top China specialist is ready to assist and connect with you without delay!