Chengdu Weather in November
The weather is much colder than last month. There are only a couple of days with maximum temperatures over 21°C/69.8°F. The lowest minimum temperature can go down to 4°C/39.2°F. There are more cloudy days and overcast days.
| | | | | |
| --- | --- | --- | --- | --- |
| | Average Maximum | Average Minimum | Highest Maximum | Lowest Minimum |
| ℃ | 16 | 10 | 22 | 4 |
| ℉ | 60.8 | 50.0 | 71.6 | 39.2 |
Sunny Days: about 2 days
Cloudy Days: about 11 days
Rainy Days: about 5 days
Overcast Days: about 12 days
What to wear and bring?
Early November
The period has the warmest days in November, and has no rainy days. The temperature is still between 22°C/71.6°F and 13°C/55.4°F. It is suggested that you wear warm clothing, such as an autumn coat.
Mid-November
Compared to early in the month, the maximum temperature is little bit lower, which is between18°C/64.4°F and 8°C/46.4°F. There are only a couple of days with light rain. Long sleeves with pants, jeans and a warm jacket is adequate clothing.
Late November
The temperatures are going down, and the lowest temperature can reach 4°C/39.2°F. It is important to keep warm, so it is recommended that you wear a sweater with a coat, or a down jacket and other warm clothes.
Historical Chengdu Weather in November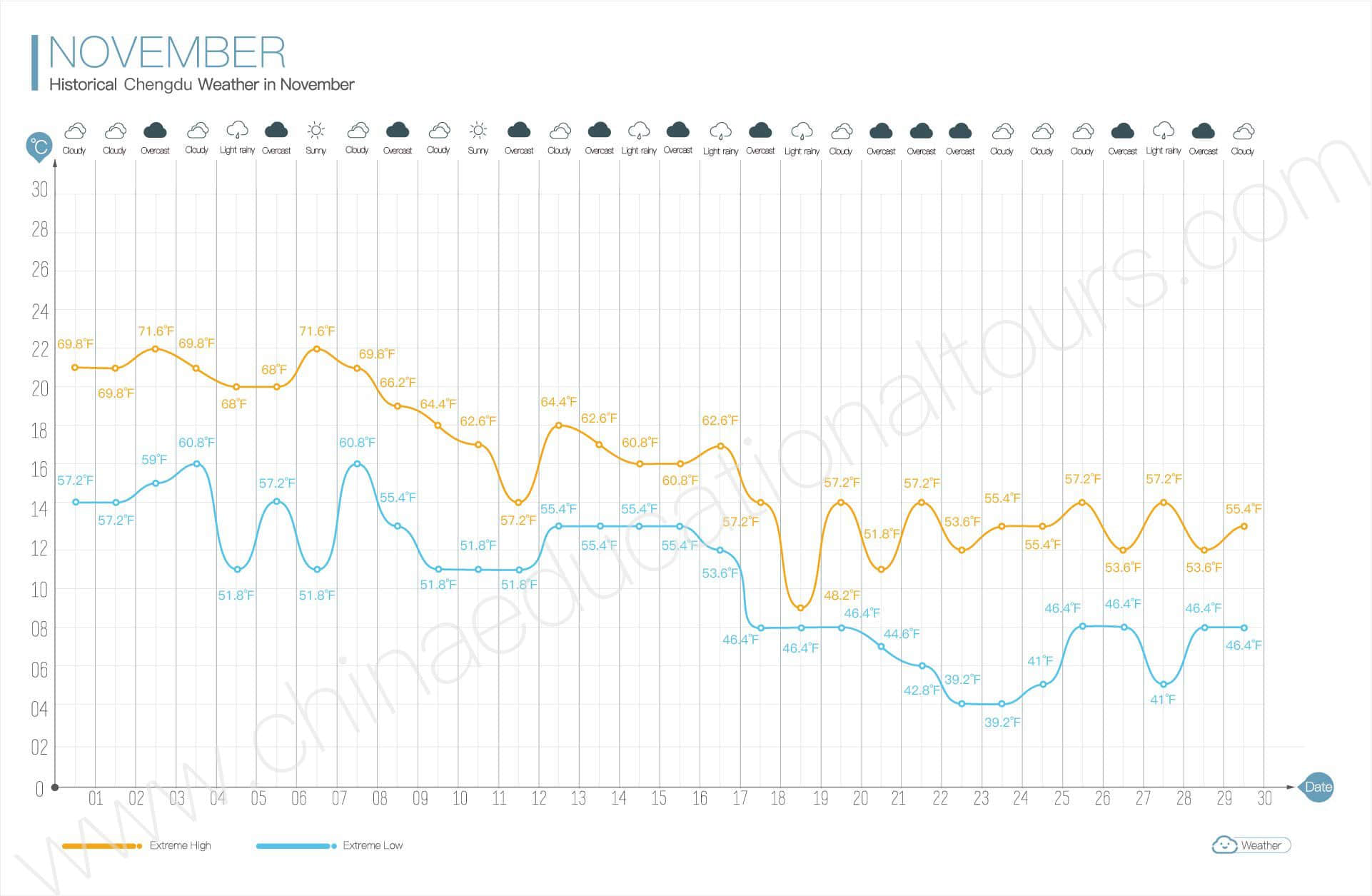 click here to enlarge
Have a question?
OR
Are you eager to begin your Chinese cultural journey?
Drop us a line and we will promptly connect you with our leading China expert!