Jinli Pedestrian Street was once one of the busiest streets of West Shu with the longest history and renowned nationwide in the Qin-Han dynasties and Three Kingdoms Period. Near Wuhou Memorial Temple, Jinli Pedestrian Street today is enriched with culture from the Qin-Han dynasties and Three Kingdoms Period, townscape from the Ming and Qing dynasties, and folk customs of Chuanxi, thus showing off the cultures of the Three Kingdoms more colorfully. This street represents the epitome of life in Chengdu, with teahouses, inns, restaurants, bars, opera stages, local snacks, artwork, and local specialties fully conveying the unique charm of folk customs in Sichuan.
Quick Facts
Chinese name: 锦里古街 Jǐn Lǐ Gǔ Jiē
Built in 2004
Duration: 2-3 hours
Entrance fee: free
Opening hours: 5:00-23:00 (Lights turn on at 20:00)
Address: 231-1 Wuhouci Street, Wuhou District, Chengdu City, Sichuan Province
Best time to visit: all year around. Optimal from March to June and September to November
How to get there: Take Bus 1, 57, 82, 334 or 335 and get off at Wuhouci Stop; or take Bus 8 or 21 and get off at Wuhouci East Street Stop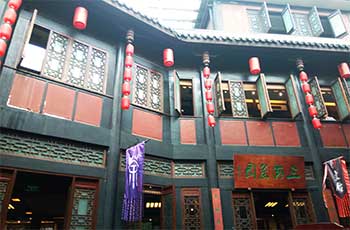 The ancient buildings of the street
Beauty of Ancient Buildings
The beauty of Jinli Pedestrian Street lies in its artistic design. Twisting and turning alleys are in harmony with courtyards, rivers, lakes, ponds and stone bridges, presenting a scene of serenity. Cultures of the Three Kingdoms can be found in buildings along the Street, with names of several stores here including the cultural elements of the Three Kingdoms. Chuanxi architecture built with aged wood and grey bricks here is decorated with red lanterns or banners and flags made of cloth. Tourists stroll along the Street, visiting cultural relics of the Three Kingdoms and ancient buildings and enjoying local snacks. Several buildings of the late Qing Dynasty and early Republic of China can be found in the street.
Rich Folk Customs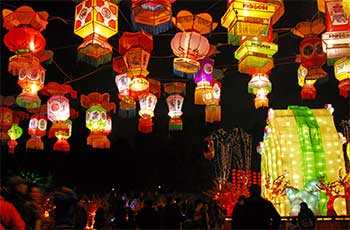 Colorful lanterns in Jinli Pedestrain Street
Folk customs can be found throughout the street. Old craftsmen at featured stalls here make clay figurines, sugar paintings, paper-cuttings or colorful lanterns, or play shadow puppetry. The most appealing part is that there are a long row of chairs on which you can sit and enjoy the "ear cleaning" service, hoping to lead the relaxing and comfortable life in Chengdu.
Major Events
Here you as a visitor can witness the "Village Fair" of Chuanxi ancient towns, regular Sichuan Opera performance on the ancient stages, and interesting folk wedding ceremonies. Young couples can hold their wedding ceremonies in Jinli Street. Traditional activities such as night watch, bridal sedan chair lifting, and bamboo sedan chair lifting reproduce the original life scenes of Chuanxi ancient towns in Jinli Street.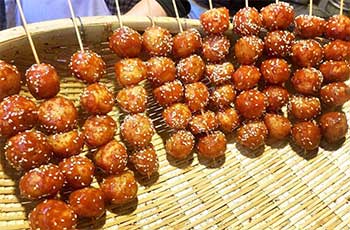 Fried rice-flour dough made of glutious rice
A Paradise of Delicacies
What you should never miss is the local snacks along Jinli Street, which enjoy both a long history and a wide range. Local snacks across Sichuan can be found here, such as like glutinous rice-flour dough, fried rice-flour dough made of glutinous rice, brown sugar and sesame on a stick, kebabs, and Kanto cooking, all being made and sold on site. In addition, international chain brands like Starbucks and DQ can also be found here, adding a flavor of fashion to this cultural Street.