The 'Great Wall of China' is the collective name for a series of fortification systems. It was built generally across the northern borders of China. The main purpose was to protect and consolidate the territories of the Chinese states and empires against various nomadic groups from across the steppe with their political entities. Having started as individual walls built throughout several kingdoms and dynasties over a span of 2000 years, the parts were then joined to create the world's largest manmade structure. A visit to the Great Wall is a must when traveling to China. The Chinese name for the wall, Wan Li Chang Cheng, literally translates as the 'Ten-thousand li (a 'li' is about 500m) long wall'. The Great Wall is a treasure of Chinese civilization, and one of the world's most important cultural heritage sites. Most visitors to the wall just breeze in and out again in one hour. But for true aficionados of travel, camping on the Great Wall of China is the adventure of a lifetime and something that is different and unusual to any other kind of China experience. You can be sleeping under the stars in a watchtower, with the sound of birds chirping serving as your alarm clock, and getting up to see the sunrise on the wall before any visitors. If this is the way you want to visit the Great Wall, our article is for you.
1. Where to Camp on the Great Wall of China
There are many different locations to camp. The farther you are from Beijing, the less touristic the Wall usually is. But be aware that most parts of the Wall are in disrepair and some might not be suitable for camping. Therefore, to go camping on the Great Wall of China, you need a place that is still in an acceptable condition and not too touristic so that the authorities don't bother patrolling. Multiple places near Beijing fit that description such as the following four sections.
1. Huanghuacheng Great Wall Camping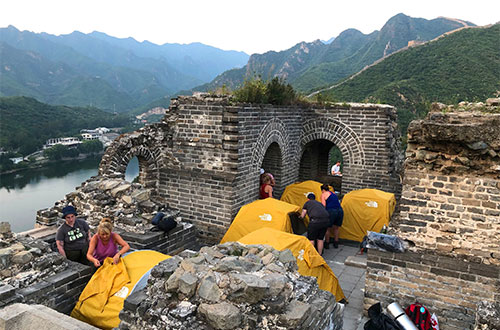 Located 70km from Beijing city center, Huanghuacheng means "yellow flowers wall" and boasts a sea of yellow flowers in spring and summer. Huanghuacheng Great Wall section is most famous for its unique scenery. There is a lake and a crescent shaped reservoir nearby. And the lake breaks this section of the Great Wall into three segments naturally. Part of the wall is under water and becomes submerged because of the reservoir built in 1970s. So the Huanghuacheng Great Wall is nicknamed "Water Great Wall". There are many original parts of the wall, as well as original watchtowers, since it is largely unrestored.
There are two designated campsites with BBQ facilities, one is in the chestnut garden and another one is at peninsula area. They are open to visitors from May to September annually, but you need to bring your own camping gear.
To get to Huanghuacheng Great Wall from Beijing, you need to go to Dongzhimen Public Transport Hub (Dongzhi Men Station on subway line 2 or 13), take bus 916 Express and get off at Nanhuayuan Sanqu (南华园三区) Bus Station, then walk 340 m to Qingchunlu Nankou (青春路南口) Bus Station, change to bus H21 and get off at Xishuiyu (西水峪) Station.
2. Gubeikou Great Wall Camping
Located in Miyun County, 120km (75 miles) from the city center of Beijing, Gubeikou Great Wall was considered as a "wild wall", meaning completely unrestored. Generally speaking, Gubeikou Great wall includes four sections, namely Panlongshan (Coiling Dragon Mountain) Great wall, Wohushan (Crouching Tiger Mountain) Great Wall , Jinshanling Great wall and Simatai Great Wall, but here we only refer to Panlongshan (Coiling Dragon Mountain) Great wall and Wohushan (Crouching Tiger Mountain) Great Wall, because Jinshanling and Simatai are managed by different authorities, and they are partly restored.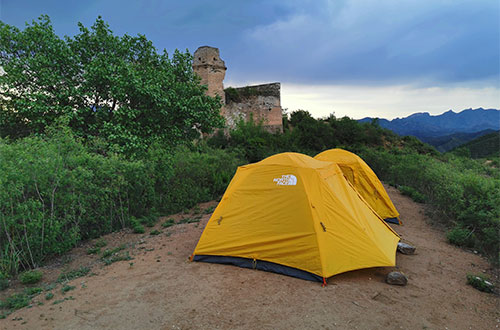 Gubeikou Great wall is a good place for hiking, because it's very remote and you can hike for hours without seeing anyone. It's also a great place to camp because of its isolation and ruggedness. You can start from the town of Gubeikou, and then hike eastward towards Jinshanling. Camp here overnight in any of the watch towers or even on the wall itself, and then continue until you get to Jinshanling. For more hiking, you can continue your hiking from Jinshanling to west of Simatai. As the Gubeikou section is unrestored, it can be a bit dangerous if you don't watch your footing. When you camp in a watch tower, please make sure to choose one in good shape.
To get to Gubeikou, you need go to Dongzhimen Public Transport Hub (Dongzhi Men Station on subway line 2 or 13), take bus No. 980 express to Miyun Bus Terminal (密云汽车站), then change to bus No. 25, and get off at Suidaokou station (隧道口) station which is the entrance for Gubeikou village. There's an information office located here for Panlongshan Great Wall, which is the official name of the eastern sections of Gubeikou (the western section is called Wohushan Great Wall). The two sections are separated by a river.
3. Jiankou Great Wall Camping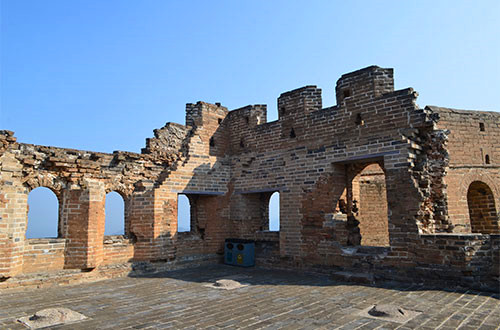 Located 70 km (43.5 miles) north of Beijing, Jiankou is connected to Mutianyu in the east. But it is completely different from its better-known neighbor, Mutianyu. There is no souvenir shop, no cable car or toboggan. Built in the late 16th century, this section was left untouched for centuries. Over time, the towers melted into mounds of rubble. Some parts of the wall have tumbled down completely, rendering once-wide sections so narrow that only one person could walk at a time. Trees and bushes have pushed through the ground, making the wall look more like a forest than fortification. This is a very challenging section of the great wall that's mostly unrestored and with some very steep parts (like Sky Stairs). You need to get to the village of Xizhazi and start hiking from there. You can either go west towards Huanghuacheng Great Wall, or southeast towards Mutianyu Great Wall. There are many camping spots along this stretch in any of the watchtowers. The plan to restore 3km of the section has started in March 2020, the plan was supposed to finish in three years, so we are not sure if you can still camp here after 2023.
The best way to get to Jiankou Great wall is via Xizhazi Village (西栅子). You need to go to Dongzhimen Public Transport Hub (Dongzhi Men Station on subway line 2 or 13), take bus 916 Express and get off at Yangjiayuan (杨家园) Bus Station, then walk 700m to Yujiayuan (于家园) Bus Station, change to bus H25 and get off at Xizhazi (西栅子) Station.
Another way to Jiankou is via Mutianyu Great Wall, they are connected to each. You need to go to Dongzhimen Public Transport Hub (Dongzhi Men Station on subway line 2 or 13), take bus 916 Express and get off at Huairou Beidajie (怀柔北大街) then change to H23/H35/H36 and get off at Mutianyu Roundabout (慕田峪环岛). When you get to Mutianyu Great Wall, keep hiking west along the wall for about 5km and you will get to Jiankou.
4. Chenjiapu Great Wall Camping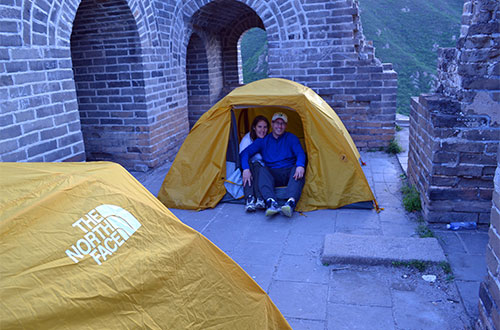 About 82km (51miles) northwest of Beijing, Chenjiapu Great Wall is part of the wall built in the Ming Dynasty (1368-1644). In 1644, the Chinese rebel leader Li Zicheng who captured this section of wall (weakest point of the defense system) and finally seized the capital Beijing, which brought about the end of the Ming Dynasty. This section is extremely unknown to tourists. It was crumbling and deteriorating. Many parts of the wall are basically a pile of stones. But this will give you a feeling of genuine ancientness. You'll encounter even fewer hikers and campers here than on any of the other sections suitable for camping near Beijing. If you plan to do it yourself, you can contact Great Wall Fresh which is a restaurant/homestay in the village near the wall. It was run by a local family (the Chen family, Chenjiapu literally means Chen Family's village) in the village. They can arrange transportation, homestay, meals or tent rental. You can email them at chxiyuan@sina.cn to book. You can find more detailed booking instructions on their website http://www.greatwallfresh.com/.
5. Longquanyu Great Wall Camping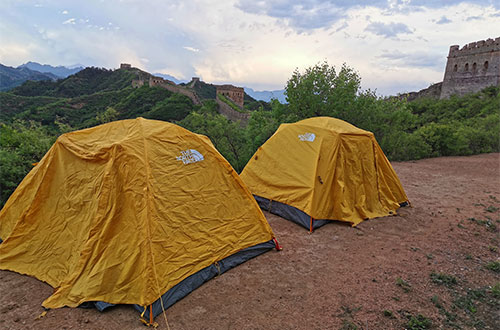 About 75km (46miles) from Beijing or 22km (13miles) from Ming Tombs, Longquanyu Great Wall is a 5km (3miles) wall which was built in the Ming Dynasty (1368-1644). The builders of the wall used locally available granite, which was abundant. Unlike other walls which connect to other sections, it is a solitary wall. The wall meets a cliff that forms a natural barrier in the east, but in the west, it was deliberately cut off. Experts believe it was mainly because the Ming Dynasty wanted to protect the Fengshui of Ming Tombs (royal tombs). The Chinese believe that desirable burial sites allow the dead to rest in peace, ensure a favorable reincarnation, and can also secure the happiness and prosperity of future generations. The highlights of Longquanyu include the chance to see 10 ancient towers, and panoramic views of mountains, water canyons and other natural wonders. To get to Longquanyu Great Wall by public transportation, you can go to Deshengmen bus station (Jishuitan subway station on Line 2), you'll take bus No.872 and get off at Chang Ling (长陵) station, then change to bus No.925 and get off at Longquanyu (龙泉峪) bus station then walk about 2.5 km (1.5 miles) to the wall. It may take you up to 3hrs. There are only four 925 buses each day departing from Chang Ling, at 9:30am, 12:00pm (noon), 3:00pm and 5:00pm. It would be a good idea to hire a private driver.
2. Is it Legal to Camp on the Great Wall of China?
Yes and no. For the fully restored sections like Badaling, Juyongguan and Mutianyu, you are not allowed to camp on these walls. But there is no law that prohibits you from camping on unrestored sections like Gubeikou, Jiankou, Chenjiapu or Longquanyu. The only section that has designated campsites is Huanghuacheng Great wall.
3. Great Wall Camping Tips
If your budget allows, we highly recommend going with a tour operator. The tour operator will rent camp gear for you. They'll take care of the logistics of getting to the sections of the wall that are suitable for camping; they'll arrange an experienced guide to show the highlights of the wall. This will save your time and make your Great Wall trip more enjoyable.
Of course it is also doable on your own, here are some tips to help you camp on the Great Wall on your own:
1. Do your homework carefully beforehand
What will the weather like? which section do you want to camp? How can you get there? How can you get your camping gear?
2. Preparation
Take enough food and drink with you. There are no shops around the wild wall. This means you need enough water and food to last from when you leave Beijing until at least midday the next day. Even if there are shops, the prices will be much higher than a supermarket in Beijing. All of the wild walls are rugged, so a pair of good hiking shoes is recommended.
3. Get up early and leave for the wall early.
Normally it will take you over two hours to get to the wall by public transportation. It may take longer than you expect to walk along the wall with all your camping gear and you don't want to be left trying to find somewhere to sleep in the dark. There aren't many sheltered sections early on so you need to allow time to get to the watchtowers that are suitable for camping.
4. Maps
Download the offline map before you leave. Although it's almost impossible to get lost on the wall, it's useful for seeing how far along the wall you are and it even shows where the military section of Gubeikou is located.
5. Travel without leaving a trace.
Take all your rubbish with you and dispose of it once you reach a bin.
Camping on the Great Wall is an once-in-a-lifetime tour experience; you should hurry up if you want to do it as restoration work will make it impossible to camp on some sections of the wall. An ongoing restoration on Jiankou started in March 2020 and will likely finish in 2023. We are experts of Great Wall tours, all our guides are well trained, experienced and fluent in English, making your Great Wall travel experience hassle free and as enjoyable as possible. For more details about our two day hiking and camping tour on Great Wall, please see it below.