Top-Rated Hiking Trails in China

It is best to travel on foot when you really want to learn more about a place. Whether you're trekking on the Great Wall, through ethnic minority villages, or around the Holy Mountain, hiking brings you closer to the land and its people in China.
With destinations including the snow-capped peaks of western China, the minority ethnic villages, and numerous spectacular mountain ranges, China is an ideal location for a hiking tour. In the western regions of China, unbeknown to most travelers, are some of the world's most spectacular places for hiking and exploration. The Sichuan province and Yunnan province are home to many high mountains and colorful minority cultures, which make them ideal places for hiking. There are many off- the-beaten-track places with much fewer visitors than that of Beijing, Xi'an and Shanghai.
Xinjiang area, occupying the northwestern corner of the country, is a popular hiking destination thanks to its beautiful scenery. It is one of the most unique regions in China; you'll find landscapes like no other area in the rest of China.
Explore canyons, visit secluded villages, and take in breathtaking landscapes on these 10 best hikes in China.
The 10 Best China Hiking Trails
1. Tiger Leaping Gorge Hiking
Location: Lijiang ,Yunnan Province
Distance: 27km (16 miles) one way
Duration: Two days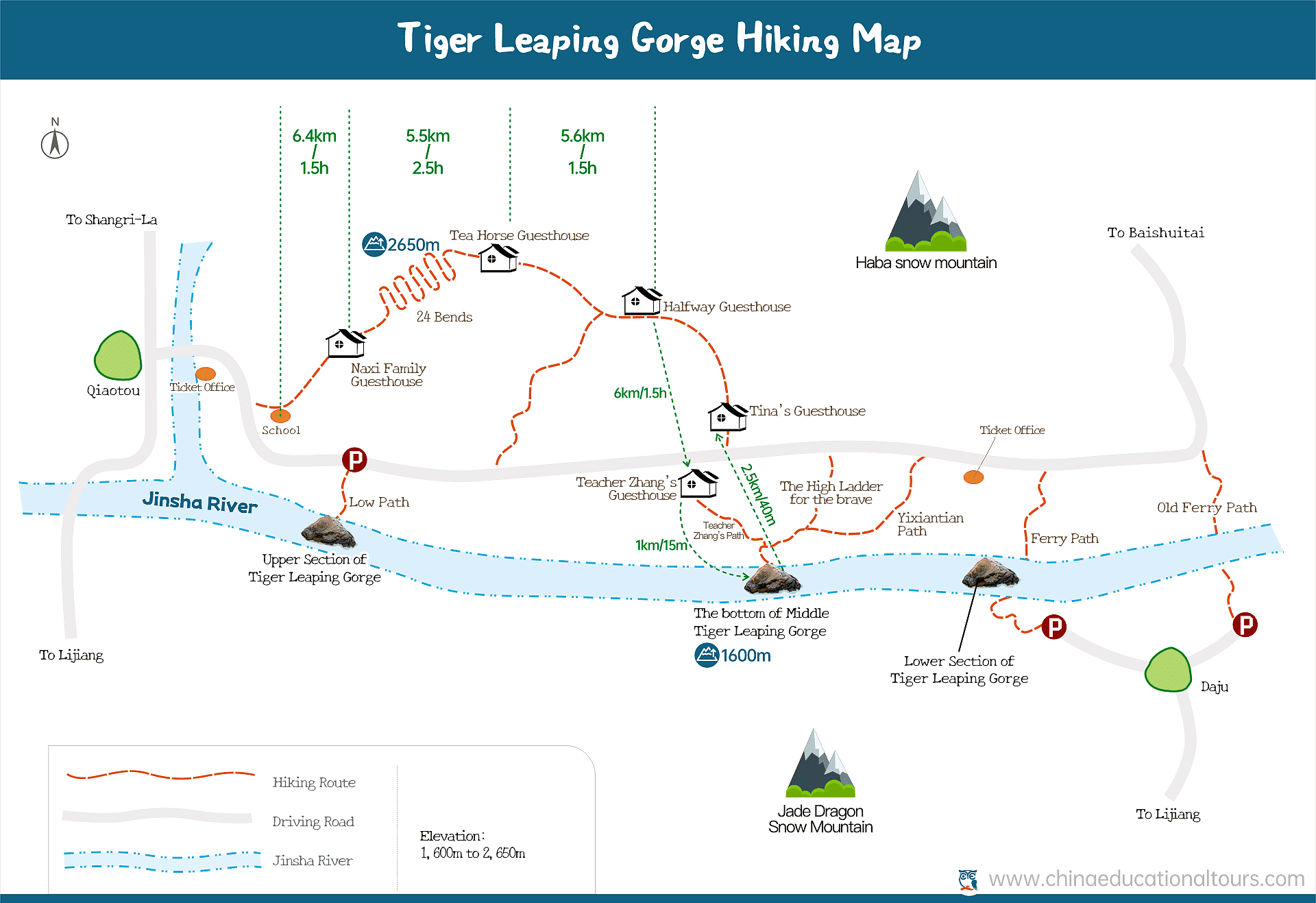 Named for an old legend of a tiger that jumped across a river to escape its hunter, Tiger Leaping Gorge is a set of jagged peaks dramatically severed by the Jinsha (Golden Sand) River, a tributary of the Yangtze. The Jinsha is fast-moving and strewn with rapids as it cuts below the 5,596m (18,354 ft) Jade Dragon Snow Mountain and 5,396m (17,698 ft) Haba Snow Mountain.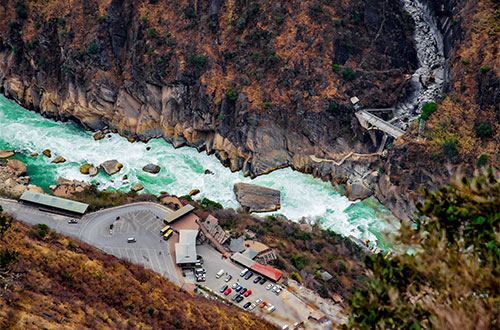 There are 3 sections to the Tiger Leaping Gorge – upper, middle and lower. The classic hiking starts at Qiaotou, where the Upper Trail takes you through Upper Gorge to Middle Gorge. The hiking will take you two days; the first day is challenging if you start at Qiaotou and the whole hike finishes at Tina's Guesthouse. It includes steep climbs like "28 bends" (also called "24 bends") which is a group of switchbacks that get you to the highest point of the hike.
Day 2 would be a relatively shorter hike, just 3-4 hours downhill from the Halfway Guesthouse to Tina's Guesthouse. From Tina's you can actually go down to the river to visit the rock that the tiger has leapt over to the other side of the river. It will take you about 1.5 hrs for the round trip to the riverside. There are a number ways to get down to the river in the Middle Gorge, all of them charge a small fee (about 15 yuan) for access.
After the hiking, you can continue to Shangri-La.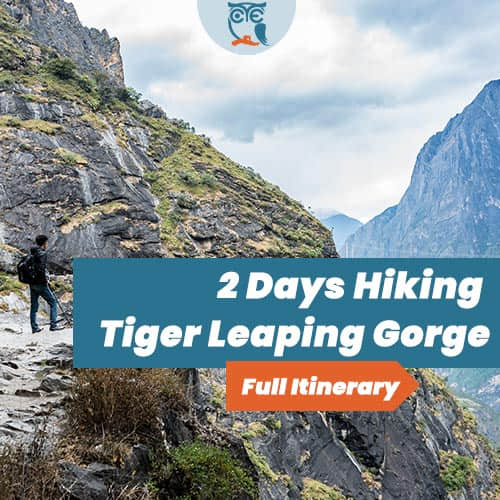 2. Li River Hiking from Caoping Village to Xingping Ancient Town
Location: Guilin, Guangxi Zhuang Autonomous Region
Distance: 33km (20.6 miles) one way
Duration: One day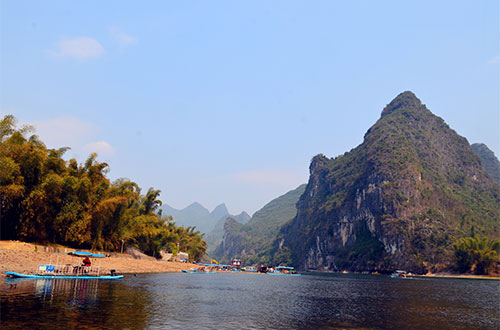 Spanning 164 kilometers (102.5 miles) from Xing An county to Ping Le county in Guilin, the highlight of Li River is 64km (40 miles) which connects beautiful downtown Guilin with the riverside town of Yangshuo.
Tens of thousands of Karst hills surround the Li River. They are the byproduct of millions of years of water erosion and weathering; these karst hills are among the oldest and most beautiful natural wonders in China.
The most popular way to visit the river is by boat cruise, which was the choice of many celebrities like former US president Bill Clinton, and the Founder of Microsoft, Bill Gates, among others.
But if you want to have more time to enjoy the karst peaks, hiking along the river is the best option. Most hikers start from Yangdi and finish at Xingping. For strenuous hikers, we recommend the route from Caoping village to Xingping, about 33km (20.6 miles). Caoping village is a Muslim village where you can visit their 190 year old mosque.
Along this route, you are able to hike along the riverside at a leisurely pace and witness the beautiful countryside landscape. You'll have lunch in one of the restaurants in the village; the main dishes are fresh vegetables from the gardens, fish from the river and free range chicken from the nearby hills.
You'll finish hiking at the ancient town of Xingping. It features many well-preserved Ming and Qing-era structures.
Contact us to tailor-make Guilin Li River hiking tour
3. Hiking in a Valley of Mount Siguniang (Four Sisters Mountain) National Park
Location: Aba Tibetan Autonomous Prefecture, Sichuan Province
Distance: 26km (16.25 miles) round trip
Altitude: 3,200m (10,490 ft) – 3,800m (12,464 ft)
Duration: 1-3 days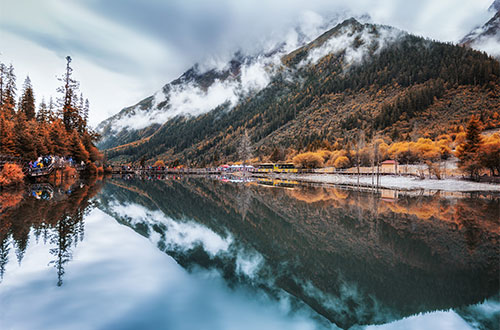 Located on the eastern edge of the Qinghai-Tibetan Plateau, the park is about 591 square kilometers (224.5 square miles), and the altitude is from 2,500m (8,200 ft) to 3800m (12,464 ft). It is only 220km from Chengdu, the capital city of Sichuan Province in southwestern China.
Mount Siguniang got its name for the four most prominent mountains, which are adjacent and form an imposing row of snow-capped peaks. As local Tibetan legend goes, the four peaks are the embodiments of the four daughters of a local family. To protect the giant pandas and villagers at this area, they fought against a monster and finally turned themselves into mountains. It is still a part of the Giant Panda Sanctuaries, which is why it was listed as a UNESCO World Heritage Site, along with Wolong and Jiajin Mountain. We don't recommend it as a destination to see the pandas; we recommend it because of its stunning natural beauty. The park is composed of three separate valleys: Shuangqiao Valley, Changping Valley and Haizi Valley. You can hike in all three of the valleys if time permits. If you have limited time, we recommend hiking in Changping Valley which provides the best possible views of the four peaks. You'll walk on the 13-km boardwalk which extends into the valley. The boardwalk ends at the base of Mt. Siguniang. You can turn around here or continue and finish the remaining 16km of the valley, but that will take at least an additional day.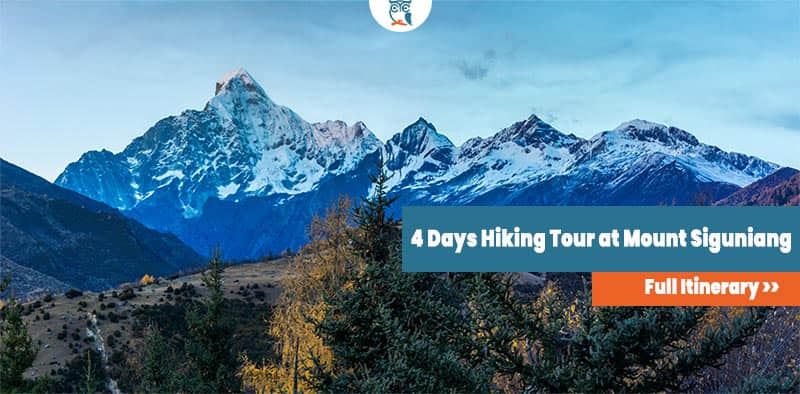 4. Hiking in Yading Natural Reserve
Location: Daocheng County, Ganzi (Garze) Tibetan Autonomous Prefecture, Sichuan Province
Distance: 11km (6.8 miles) round trip
Altitude: 4,180m (13,710ft) to 4,700m (15,416ft)
Duration: 5-6 hrs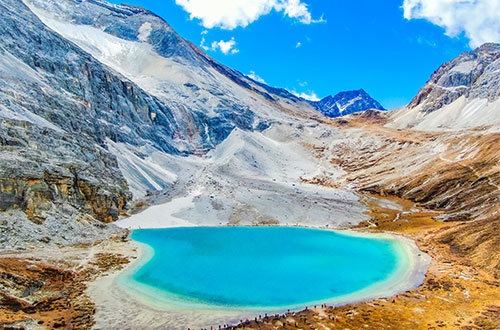 The Yading Nature Reserve, located in Sichuan Province, is one of China's most spectacular and pristine nature reserves. It is a well-protected Nature Reserve with a complex and expansive network of hiking trails, and it is also an important cultural site for Tibetan Buddhism. In 1928, American explorer Dr. Joseph Rock travelled throughout the region, taking photos to share with the outside world.
Yading scenic area is a massive area to explore, and there are two notable paths for hikers: the long route and the short route. The long route is that you take an electric cart from Chonggu Monastery to The Luorong Pasture (4,180m/13,710ft) where you can have stunning views of the three mountains. Then hike 5km to Milk Lake (4,600m/15,088 ft), then hike another 500m (1,640 ft) to Five Color Lake (4,700m/15,416 ft). These two glacial lakes lie nestled tightly between the imposing faces of Chenresig and Jampalyang, with stunning views of both. And then you can return to Luorong Pasture via the same route.
The short route is a 3km round trip hike from Chonggu Monastery to Pearl Lake, a beautiful alpine lake. The lake sits directly beneath the towering walls of Xiannairi.
Full itinerary about Daocheng Yading Hiking Tour
5. Hiking Great Wall from Jiankou Section to Mutianyu Section
Location: Beijing suburb
Distance: 9km (5.6 miles) one way
Duration: 5 hrs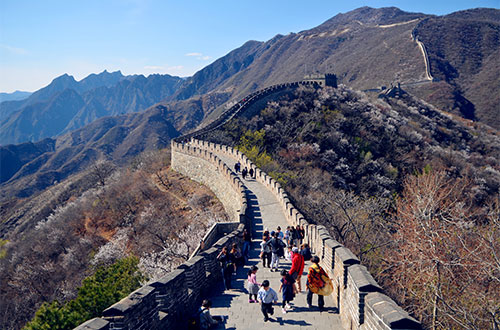 If you feel other hiking routes are too far away from the city you plan to visit, you may consider doing a one day hike on the Great Wall near Beijing. For normal visitors, they just go to the well restored sections with cable cars. Jiankou is a wild Great Wall section which remains untouched by tourism authorities. It is known for its ruggedness and wild beauty, and you will be in awe of the marvelous views it affords. It is the steepest, most dangerous section of the Great Wall, and while the hike is quite challenging, it is feasible for anyone with moderate fitness accompanied by a local guide.
From Jiankou, you'll hike east to Mutianyu, a section of the wall that was fully restored in the 1980s to its original glory. The trek between these two sections is 5.6 miles and takes roughly 5 hours to complete. It is fascinating to see the striking contrast between the crumbling Jiankou and restored Mutianyu sections, where you can descend by cable car or toboggan slide – to save your knees.
6. Yubeng Village Hiking
Location: Deqin County, Diqing Tibetan Autonomous Prefecture, Yunnan Province.
Distance: about 50km (31.25 miles)
Altitude: 3,200m (10,496 feet) to 3,729 m (12,234 feet)
Duration: 4 days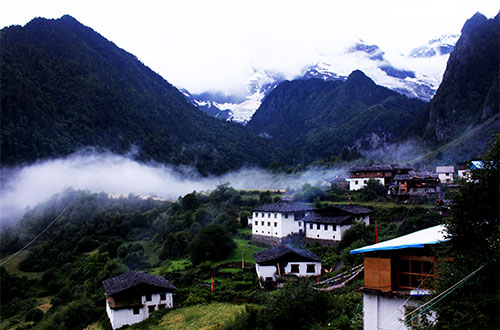 "In the sky is Heaven, and on Earth is Yubeng". Nestled in a valley at the foot of Meili Snow Mountain, among lush green forests, surrounded by rugged glacier covered mountains, lie the two small villages of Upper & Lower Yubeng. There is only one dirt road that goes to the Tibetan village, and the road is only good for 4WD and motorcycles, so hiking or riding a mule are the most popular ways to get to the village . This also explains why the small village was unknown to the outside world for a very long time. The valley is amazingly beautiful with spectacular views of the mountains, waterfalls and glaciers. From Yubeng village there are loads of trekking possibilities, although only the two main hikes are signposted. You need at least 4 days to hike all the highlighted routes. Other options for hiking in the region include the legendary Kawa Karpo Kora, a 12-day pilgrim circumambulation of Meili Snow Mountain.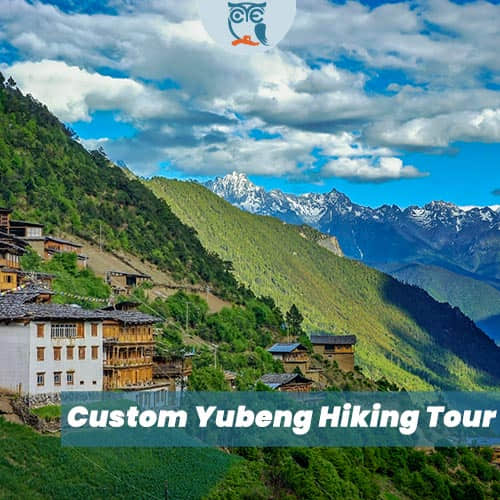 7. Hiking West Sea (Xihai) Grand Canyon on Yellow Mountains
Location: Yellow Mountains, Huangshan (also called Tunxi), Anhui Province
Distance: 10.5km (6.5 miles) for the whole loop hiking
Duration: 2-6 hrs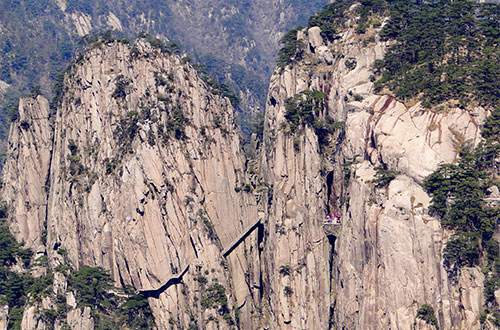 Huangshan, or the Yellow Mountain, is often described as 'the loveliest mountain of China' and has inspired many Chinese forms of art, especially the Shan Shui style of landscape painting. The original name was Yishan or Black Mountain because of its black stones. The area was renamed from Yishan to Huangshan after the legendary Yellow Emperor (Huang Di), the mythological ancestor of the Chinese people. Legend has it that Huangshan was the place that Huang Di ascended to heaven.
Huangshan and its otherworldly pine-clad rock formations have captured people's imagination for centuries. It attracted more than 3.5 million visitors in 2019. To avoid the crowds, the best option is hiking in the West Sea Grand Canyon. This canyon is one of the most beautiful parts of the mountain and there are less tourists. You can decide on the hiking distance when you are there. There are lots of steep steps and it may take you up to 6 hrs if you want to finish the whole trail. We recommend that you hike down to the bottom of the canyon and take the monorail back up.
The canyon will be closed from Dec.1st to Mar.31st each year. Please avoid this period if you want to do the hike.
CET Popular Yellow Mountains Hiking Tour Packages
8. Hiking Hemu Village in Kanas Lake Natural Reserve
Location: Burqin County, Xinjiang Uygur Autonomous Region
Distance: 46km (28.75 miles) one way
Duration: 3 days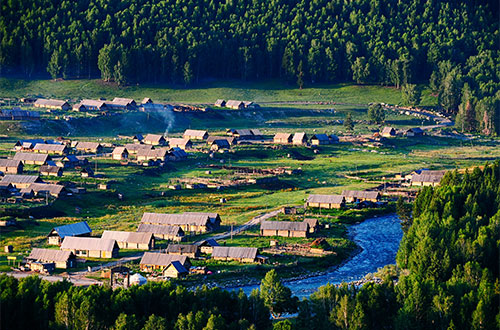 Hemu Village is a small village situated in Kanas Nature Reserve in Altay, northern Xinjiang region. The inhabitants are mainly Tuwa (Tuva) people, an ethnic group also found in Russia and Mongolia. They still have the same lifestyle as their ancestors did. They live by grazing animals and hunting. The Tuwa families live in log houses built out of wood. Some Tuwa have now converted the interiors of their houses into lodgings for tourists, providing bases for a variety of treks throughout the park. Hemu Village is widely considered the most beautiful village in China because of its fascinating natural beauty in autumn. Here you'll find vast open plains with grazing cattle, accompanied by rolling hills set against a backdrop of high mountain tops. In each valley there is usually a cluster of yurts, where the local cattle herders live.
The most rewarding hiking is the three-day journey from Hemu village to Kanas Lake; it is about 46 km (28.75 miles). On the way, you'll find taiga forests, flower-filled meadows, clear green lakes, and Eurasian birds like swans and snowy owls. The best season is from May to October.
9. Mount Kailash Hiking
Location: Ngari Prefecture, Tibet Autonomous Region
Distance: 54km (33.75 miles)
Altitude: 4,675m (15,334 ft) – 5,648m (18,525 ft)
Duration: 3 days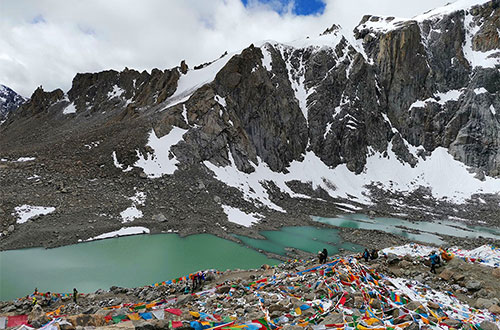 Locally referred as "Kang Rimpoche" or "Precious Snow Mountains", the 6,721m (22,044 ft) Mt. Kailash is a part of the Trans-Himalayan range and holds a great religious significance to devotees of Hindu, Buddhism, Jain and Bon (indigenous religion of Tibet). It is considered as the abode of Lord Shiva in the Hindu religion. It is known as Mount Meru in Buddhist texts. For Buddhists, the mountain is known as Kang Rimpoche, or 'Precious One of Glacial Snow'. Jains call the peak Ashtapada or "the highest mountain in the world". It is the source of four of Asia's greatest rivers – the Indus, Sutlej, Brahmaputra (Yarlung Tsangpo), and Karnali River.
The three-day clockwise hike around Mt. Kailash is one of China's classic treks. It isn't that strenuous but it does take you to high altitudes, starting at 4675m and peaking at 5648m at the Drolma La pass, so you need to be well fit and well acclimatized before the hike.
We recommend that you visit here from June to September; it may snow at Drolma La pass at other periods and that will make the hiking very dangerous.
Make your adventure unique by getting in touch with us.
10. Hiking from Dazhai Village to Ping'an Village
Location: Longsheng County, Guilin, Guangxi Zhuang Autonomous Region
Distance: 16km (10 miles) one way
Duration: 4-6 hrs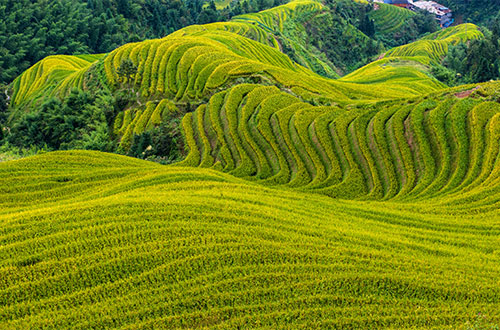 Located about 100km (62.5miles) from Guilin, the Longji or Dragon's Backbone Rice Terraces cover a number of areas inside Longsheng County – namely Ping'an Terraces, Dazhai Terraces, Ancient Zhuang Terraces and Jinkeng Terraces. Local people started to build terraces some 650 years ago and the land is still their life resource today. The area is home to two ethnic minority groups, Zhuang and Yao people. There are plenty of opportunities to immerse yourself in the local culture of the minority groups that inhabit the area.
The hike from Dazhai to Ping'an takes 4-5 hours and gives you a glimpse into the lives of the local people's culture and daily life. One must-have dish is the bamboo rice (rice stuffed inside bamboo before being heated using charcoal).
The Longji Rice Terraces can be visited year-round, for hiking tours; we recommend autumn when the weather is usually good with not too much rain. Beautiful golden colors take over the terraces then.
CET Top Guilin Hiking Tours
Conclusion
A hiking vacation is the perfect way to ensure you deeply experience a new corner of China and leave nothing overlooked. Our walking and hiking tours are crafted to offer our guests an unfiltered and genuine connection to the culture, the landscapes, the people and the natural beauty of China. We have experienced guides who know the most scenic trails and local secrets that elevate the adventure from an active vacation to the journey of a lifetime.
Our destinations cover the very best of all that China has to offer eager travelers and hiking enthusiasts! We have plenty of options for all ability levels and levels of adventure! Check out China Hiking Tours.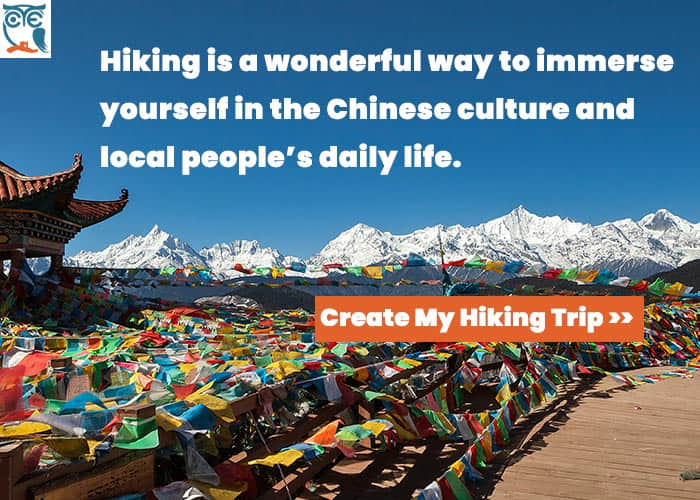 Have a question?
OR
Are you eager to begin your Chinese cultural journey?
Drop us a line and we will promptly connect you with our leading China expert!