Hiking with Kids in China

Hiking with kids can be an extremely rewarding activity for the whole family. A great way to enjoy family time together and explore the great outdoors. Whether you are an avid hiker, a beginner or just want a family outing, we have put together some information to help prepare you to go hiking in China as a family.
Hiking is one of the best ways to spend quality time with your children. Every family deserves time off from modern-day conveniences. Venturing into the countryside and introducing the love of nature to children at a very young age is very important. Taking children on a hike lets them develop a love for nature. It is a chance for kids to flourish and explore natural surroundings they are not familiar with. They get to escape the endless mirage of a concrete jungle and witness the beauty of the countryside that will also enhance their senses. This may give your kids an appreciation of the beautiful world we live in and safeguard the environment. Nothing makes you appreciate something more than experiencing it firsthand. As Mark Twain put it "Travel is fatal to prejudice, bigotry, and narrow-mindedness."
Travelling with children to a different country like China exposes them to a new 'normal.' It will give them an enriching experience, and enlarge their worldview with an appreciation of another culture and customs.
Our article will help you get the most out from a hiking trip to China.
Tips for Hiking with Kids in China
Unlike hiking for adults, hiking with children can be more complex as you need to consider a lot before setting out. It does not mean it is impossible! If you hike with a baby, you need to consider the following:
1. Choose a carrier or stroller
If you hike off-the-beaten paths, a hiking carrier is a good choice. For stroller-friendly paths, then hike with a stroller is recommended. If you buy a new carrier, ensure your child is used to it before heading out. Most high-quality child carrier backpacks feature an integrated sunshade which you can deploy according to the weather.
2. Diaper changing pad and supplies
Depending on the duration of the hike, you will probably have to change your baby's diapers. Pack plenty of diapers, and enough waste disposable bags with a double-seal, as you would need to carry the soiled diapers out again.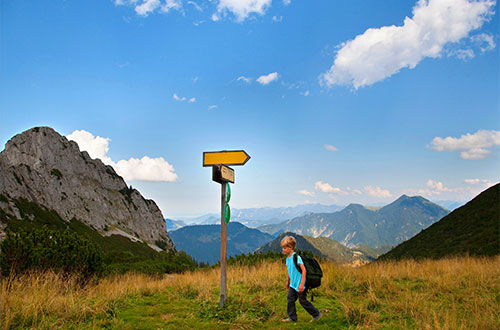 3. Sitting mat
It is a good idea to bring a sitting mat. This gives you a place to put your baby down so he/she could stretch out. It can also serve as a changing pad.
4. Food and drinks
If your baby is on formula, be sure to have filtered water with you. For babies on solids, we recommend bringing pouches of baby food instead of jars. Be sure to bring a bib!
5. Extra Food for you
You will probably eat much more than normal when hiking with a baby. Be sure to bring lots of high-energy snacks.
6. Toys
Babies are usually curious and interested in observing their new surroundings when they are being carried, therefore you would not need to bring an entire toy box for the hike. One or two of their favorite things which can be attached to the backpack with a carbineer are more than enough. Make sure that the toy is within reach on the go, but not in a way that could prove dangerous for the little one.
7. Clothing
As babies are not going to be active during the hike, you can dress them accordingly to weather conditions and ensuring they are comfortable.
Traveling with young children who are independent:
1. Clothing
Always bring a jacket, hat and an extra set of clothes and socks. Bring a change of clothes with you in your backpack on your hike, in-case they may get wet.
2.Shoes
Having the right hiking shoes for your children is very important. A good pair that has been well worn in before you go on your trip. Never wear a new pair of shoes that has not been broken in.
3. Water
Always bring water bottles with you. Make sure you have brought enough for your hike. Though they are heavy to carry, it is important everyone stays hydrated.
4. Food and snacks
It is important you have some snacks and food. This helps you to refuel when you get tired.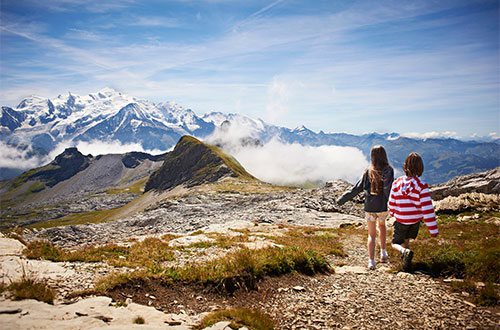 5. Games for children
They can get bored very quickly, so be creative to keep things fun: Spot birds in trees, count squirrels, sing songs and make up verses, hold twig races in streams. There are a few hiking games for children that we have found work well: Storytelling, Guess the animal/plant and Scavenger Hunt.
6. Companions
Bring along a friend and get double the fun. Having non-sibling friends come along keeps the energy up and cuts down on the complaining. It is a good idea to travel with another family which has children of similar ages.
Recommend Hiking Routes for Groups With Children
When you start hiking with children, you should start slow with shorter trails where you can easily turn around and/or shorten the hike, if the little one gets very annoyed with sitting in the child carrier or the children feel tired. One of the key things to remember when hiking with children is that the hike no longer becomes about getting from point A to point B, but more about exploring the trail and what is on it. With that in mind, CET has compiled a list of hikes that are good choices for a family with children. These are hikes that could be done with a minimal amount of carrying; they are not far from the city. You can return to the hotel quickly if your children do not want to continue the hike.
1. Moganshan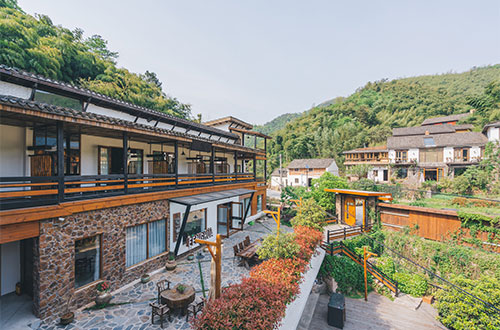 About 60km(37.5m) northeast of Hangzhou, initially built by American and European missionaries looking to escape the sweltering heat of early 20th century Shanghai summers. This fresh alpine area is home to over 100 beautiful villas built with stone quarried from the mountain. The hills of Moganshan are threaded with a cobbled path, surrounded by bamboo forest. The thick, greenish-black trunks move imperceptibly, creating a faint rustling in their canopy of feathery leaves. In summer, you can cool off in the mountain streams and swimming pools. Remember to bring a swimming suit.
2. Shi Li Lang Dang in Hangzhou
The West Lake, a UNESCO World Heritage site, is famous for its boat rides and the majestic "Impression West Lake" a light, music, dance, and theatre production that takes place on the water. But the walking and hiking trails that abound in this picturesque area are equally worth exploring. For a group with children, we recommend is Shi Li Lang Dang, literally ten li (5 km) path on Lang Dang Ridge. Its winding stone paths are flanked by tea fields and modest trees; leading up to Five Clouds Hill. You will hike through Meijiawu village where the famed Dragon Well Tea grows. Your children can help local farmers to pick tea leaves, and learn how green tea are produced.
3. Wolong Nature Reserve near Chengdu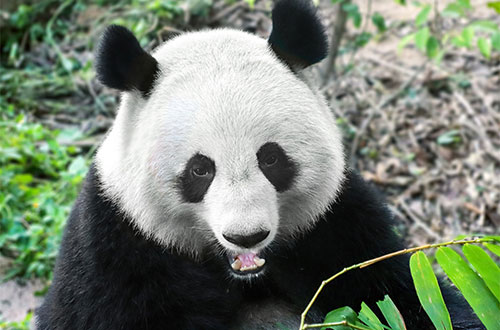 Many people love pandas and may not get the chance to see them in person. Would your children want to see pandas? How about combining a hike with a panda tour? Wolong Nature Reserve is your choice. Located east of the mysterious Siguniang Mountain or Four Girls Mountain, the Wolong National Nature Reserve is the natural habitat of wild giant pandas. It also has a reputation for its natural beauty. There is a hiking trail in the Dengsheng valley in Wolong. The well-paved hiking trail is 5 km (3 miles) long and the hike takes about 2–3 hours. The forest and ecosystem along the trail are well preserved. If you're lucky, you may find evidence of wild giant pandas.
4. Southern Great Wall new Fenghuang
Not many people are aware of the existence of the Southern Great Wall. Or that there is a Great Wall at all in Southern China. Most people know the Great Wall in the Northern parts of China, with the famous sections around Beijing from the Ming Dynasty. The Southern Great Wall was built between 1554 and 1662, during the Ming dynasty. Its original purpose was to serve as a dividing line between those of the Miao (Hmong) ethnicity who were either loyal or disloyal to the Ming. It was a solid 3 meters high and 2 meters wide wall with hundreds of towers and encampments along its 215km (134miles) length. Most, unfortunately, have been destroyed and has disappeared over the centuries. But several kilometers of the wall have been restored and at Liaojiaqiao Town, a 2 km section is accessible for visitors to hike.
Added in 2003, the wall now features the "World's Largest Go Board," which is 1,004 square meters. It is a board for the classical Chinese game of Go. Every two years the Southern Great Wall continues to host Go tournaments, with human participants playing the role of the pieces on the giant board!
5. Anji Bamboo Forest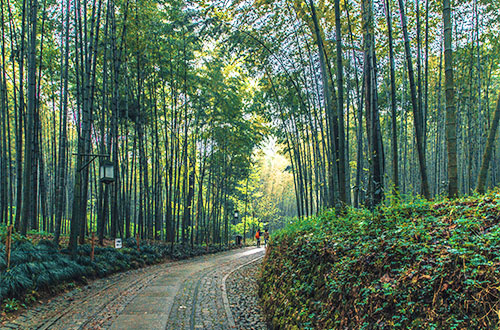 About 77km (48miles) from Hangzhou, Anji has long been known as the "birthplace of bamboo in China" with 65,000 hectares of bamboo forest. Anji Grand National Bamboo Forest, where the Oscar-winning movie "Crouching Tiger, Hidden Dragon" was filmed, displays some breathtakingly stunning scenery that only nature can produce. You'll hike the bamboo forest, there is a glass bridge in the forest, which you can cross on it. China accounts for approximately 1/5th of the global Bamboo supply with a total area of about 20,000 sq. km (7,722 sq. miles). Bamboo is considered a symbol of Chinese values, including virtue, positivity, and grace. Bamboo also serves as a muse for artists from sculptors to painters and poets.
About a 30minutes drive from the bamboo forest, there is an amusement park called Hello Kitty Park, where the family can also enjoy. There is a hotel in the park.
China is the home of one of the world's oldest civilizations, but it has become a "modern" nation in the past 40 years. You'll enjoy its colorful cultures and great landscape with modern hotels and transportation. Its diverse habitats are home to thousands of species of animals and plants. You can do a short hike to visit a tea plantation in Hangzhou or hike in the panda reserve in Wolong as we recommended above. You can also hike one or two of the countless local city parks to learn more about Chinese people's life.
China is one of the most children-friendly counties in the world. Your children will have a fabulous time as long as you create your trip to include plenty of things they'll like. Our professional travel advisors can give you recommendation; just let us know your plan.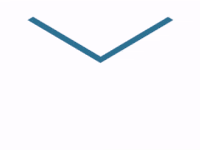 Have a question?
OR
Are you eager to begin your Chinese cultural journey?
Drop us a line and we will promptly connect you with our leading China expert!