Tips for Hiking in China

Hiking in China will be a wonderful experience that provides you with incredible scenic landscapes and experience of a variety of cultures in different regions. But before you go hiking in China, some tips need to be noticed.
1. Better to avoid official public holidays
Well-known hiking destinations or scenic spots are likely to be very popular with local tourists. If it is possible, avoid major holidays in order to have a comfortable and less crowded journey in China.
2. Keep an eye on the weather
Before going abroad to hike in China, be aware of the climate zones and temperature that can vary dramatically, and even the mountains make their own weather. It is hard to forecast when it will rain. Always take a raincoat in your bag.
To learn a bit about the climate in China, for example, the north and central regions have frequent rain periods during hot summers and cold winters. Destinations in the southeastern areas are also known for plenty of rainfall in spring and summer. That will help you to plan a good time for your hiking.
3. Choose a suitable hiking route
China boasts a variety of landscapes, and there are plenty of options for you to choose a satisfactory one to suit your time, fitness level, preferred distance and destinations that you will like. If you are a hiking beginner, you can choose Guilin, Hangzhou and Beijing as your destinations. For those looking for a challenging and exhilarating hike, there are Yunnan Province, Huangshan Mountain, and Tibet which will be perfect for you.
4. Take the right equipment
After you choose your hiking route according to your energy, it is important to well-prepare your backpack. The reason is that an overloaded backpack may be frustrating or lead to exhaustion.
What to pack for your hike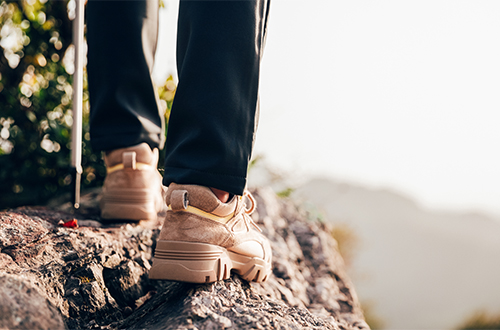 Navigation tools
Take a map and a compass or GPS for your hiking trip, because even though a local map cannot depict all of the details, it can be really helpful when you are in a place without a signal.
Clothing and Rain Protection
The weather forecast is not always accurate, and there might be a sudden storm or the temperature can change quickly, so you should bring a lightweight rain poncho or dress in layers. Avoid cotton and other fabrics, like jeans.
First-aid Kit
Take a portable first-aid kit, which could include bandages, tape, antibiotic ointment, gauze pads and any medications that you think necessary.
Sun Protection
Whether the days are sunny or cloudy, there is always ultraviolet radiation outside, so bring sunscreen of SPF 35 or higher to protect your skin. Don't forget to take sunglasses and a sunhat to shield your face and eyes.
Trash Bag
It cannot be avoided to make some trash when you go trekking, so take a trash bag to contain your garbage and keep the trail clean.
Bug Spray
You are likely to encounter common insects – a including ticks, bees, spiders and mosquitoes – on your hike during spring and summer days. Preparing a bug spray prevents pests from ruining a great hike.
Hiking Shoes/Boots
It is better to find lightweight and waterproof hiking shoes. In general, synthetic materials are recommended, such as nylon and polyester, which are light and dry faster when wet.
Trekking Poles
Getting a good pair of trekking poles will be very helpful for keeping your balance.
Safety Items
If you are worried about your safety when you want to start your hiking challenge, you can prepare a fire starter, a flashlight and a whistle in case of needing to signal for help in an emergency.
5. Pack extra food and adequate water
Bring some snacks such as cookies, chocolates or meat jerky for energy supply during a hike in case of low blood sugar. Adequate water is very important for your body. Make sure you have enough water to drink throughout the day.
6. An experienced guide should be considered
Although many routes are well signposted, a native language speaking guide is very helpful when you are navigating in small villages far away from downtown or in mountainous places without a signal. If you are hiking or trekking solo, we highly recommend for you to find a local guide in case of any accidents.
7. Book your hotels in advance
Arranging your accommodation in advance will help you to have a comfortable and enjoyable rest after hiking. If you cannot understand Chinese, make sure the hotel provides English speaking service.
8. Other handy tips
Let your families or friends know your hiking plans, at least the general area where you will be.
Better to hike with a companion, although China is a safe country, accidents cannot be predicted.
Bring your cell phone for emergencies.
Find a reliable Travel Company
Hiking in China, you may encounter a language barrier, or want to find a suitable route and a professional guide to ensure you have a safe and unforgettable trip. Then, it is necessary for you to choose a reliable travel company to customize. Our CET travel specialists will be pleased to assist you to solve problems from a guide to accommodation while travelling.
Have a question?
OR
Are you eager to begin your Chinese cultural journey?
Drop us a line and we will promptly connect you with our leading China expert!