How to get to Mutianyu from downtown Beijing
Join our small group tour. It is convenient, worry free, and affordable for everyone. However, the itinerary is fixed and cannot be changed.
Book our private one-day tour with your personal car and bilingual tour guide. You will enjoy flexible and customized services, and have a great value experience.
How to get to Mutianyu Great Wall on your own
By Public Bus
Take public bus line: 916 Express and transfer to bus line h24. The journey is about 75.3 km.
Find your way by taking the subway or a taxi to Dongzhimen Junction Station.
Take bus line 916 express to arrive at Huairou North Avenue Station after 14 stations.
Walk about 130 meters to Huairou North Avenue Station.
Take bus line h23, h24, h35, or h36 to the ticket office of Mutianyu Roundabout.
Afterwards, walk about 500 yards (450 meters) to the ticket office of the Scenic Area.
By Train
K7711 From Beijing to Huairou Depart at 07:56, arrive at 09:04, takes about 1 hour 8minutes.
Y513 From Beijing to Huairou Depart at 13:04, arrive at 14:06, takes about 1hour 2minutes.
Get out of the railway station and hire a minibus to the ticket office of Mutianyu Great Wall. It will take half an hour and cost 60 Yuan.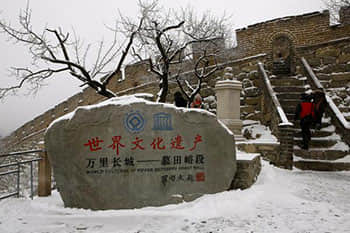 How to visit the Mutianyu Great Wall?
The easiest way: Take round-trip cable car and hike about one hour on the top.
Challenging and Fun: Take the cable car up to the Great Wall and Toboggan ride down with one hour hiking on the top. This is recommended for traveling with children.
For Hiking Fans: Hiking from Mutianyu to Jiankou for about 5-6 hours. The picturesque view will be a feast for your eyes. This is recommended for people who are energetic and love outdoor hiking.
What to Prepare
Mountaineering boots
In summer: sun cream, sunglasses, sun-protective clothing, and sunhat. In winter: anorak, gloves, and Toboggan cap and etc.
Bring enough water and food, which you can buy in the city.
Bring cash as credit card is not acceptable there.
Best Time to visit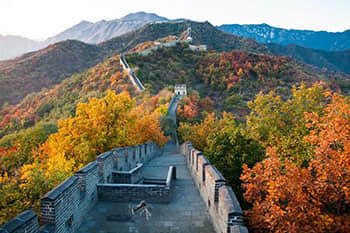 The best time to visit Mutianyu is in late summer and early autumn, though it is feasible to visit all year round. During this time, it is easy to walk and admire vigorous plant growth. If you have good ability in sport and balance, you may like to visit the Wall in winter and enjoy the snow scene of Great Wall, but the path will be very slippery.
Highlights on the Mutianyu Great Wall
Admire mountain flowers in spring
Peach and apricot blossoms in spring are white and pink. The magnificent Great Wall seems prettier with the flowers.
The Great Corner Tower (Dajiaolou) is located on the top point of eastern side on the Wall. There are walls on three sides of it. It seems like a corner of a wall from any angle, so it is called Dajiaolou in Chinese.
Numerous watch towers
Due to the important geographical position of Mutianyu, there are 25 watch towers in this section, which is more dense than other sections.
Great variation in altitude
In this section, the lowest altitude is 486 meters, while if you walk 2 kilometers to the east, the altitude goes up to 1039 meters. Looking backward, you will find what a splendid scene it is.