What Do People Do On Chinese New Year's Eve?

Chinese New Year is the most important holiday that is celebrated across the great country. This is a time to rejoice with family and celebrate the lunar new year.
Watch the video to find out what we do on New Year's Eve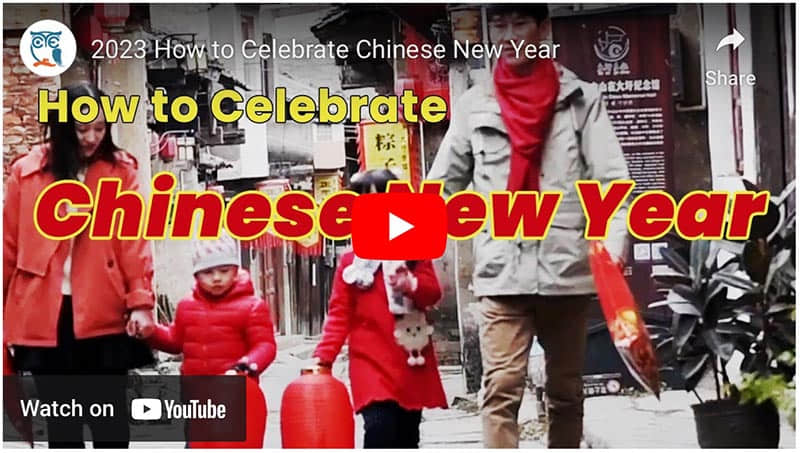 How to Celebrate on New Year's Eve
Setting up Decorations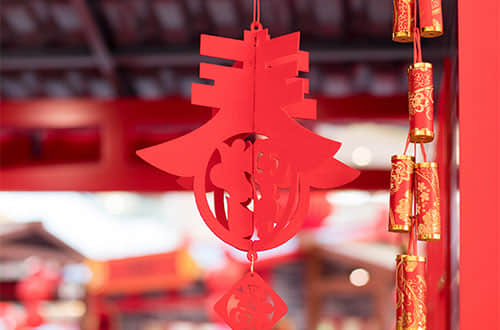 The first step to preparing for the most joyous time of the Chinese lunar calendar comes with decorating. Decorations are an essential part of getting in the New Year spirit. With a wide range of festive decorations, setting up the home in preparation for the celebrations to come can last all afternoon.
Around the time of Chinese New Year, you will see a flood of red decorations such as red paper cuttings, couplets, Chinese knots, red lanterns, and Chinese New Year Paintings. Red is the celebrated color due to its auspicious connection with luck. Along with the red coloring, the depiction of the year's zodiac sign makes the second most common appearance in the decorations. For example, 2020 is the year of the rat, so many public and private properties have decorations with happy looking mice or rats. 2021 will be the year of the Ox, so expect to see many Ox-related decorations come January.
Taking care to organize decorations in a traditional manner will ensure that. Proper decoration will get the whole family in the mood and reunite families under one, joyous roof.
Enjoy the Feast! Nianyefan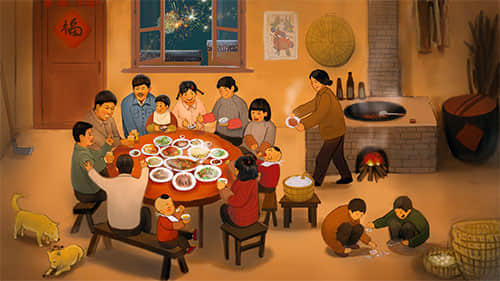 It is not uncommon that streets are quiet across China on New Year's Eve. This is because all of the families are in their homes having a huge dinner gathering. This is a time that not only the immediate family gets together, but is a gathering of all extended family members. Aunts, Uncles, Cousins, Grandparents, and anyone in between all gather under one roof to enjoy a huge meal. This reunion dinner is the most important family time of the whole year. Large gatherings have been the norm for many generations and are one of the most important practices of the Chinese New Year.
Over the years, Chinese dinners have changed drastically. Families of all types used to have limited access to premium meats, making the traditional Chinese New Year's dishes very simple. Over the more recent years, Chinese people from across the country have access to delicious foods and meats to make a wide assortment of food for large family gatherings.
Chinese New Year Holiday Dishes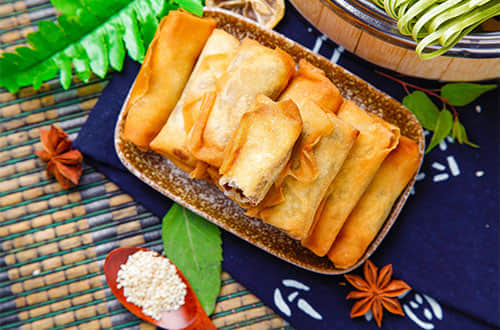 There are many dishes that Chinese people eat on the New Year to bring luck and health for the upcoming year. The number-one most common New Year's dish is dumplings (jiaozi). These dumplings are made entirely by hand and will often be prepared while the other family members are decorating the home during the day.
Some of the other meaningful Chinese New Year dishes are:
Spring Rolls (Chunjuan): Like eating dumplings, this dish is meant to bring wealth to the eater in the year ahead
Glutinous Rice Cake (Niangao): Apart from achieving wealth, this dish is a symbol that those who eat it will receive a promotion in their job or a better position at school.
Rice Balls (Tangyuan): Eating rice balls with the family is a promotion of family ties.
Longevity Noodles (Changshou Mian): Long noodles bring long and happy life.
Read more on 4 Typical Foods on Chinese New Year
After Dinner Activities
Gifts aka Red Envelops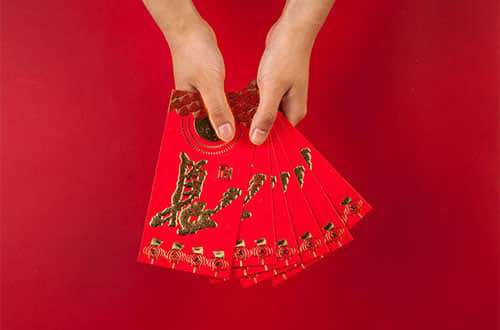 Gift giving is the pinnacle of many holidays around the world. Chinese New Year is no different when it comes to giving gifts. While in previous generations it was more common to receive a physical gift from family members, now it is commonplace to give red envelopes with cash inside. Elders of the family will withdraw some brand new cash notes for this a few days in advance. These are the most popular gifts now. With the ever-increasing use of tech and mobile phones, it is common to give the red packet money through online applications. Read more on Chinese Red Envelopes (红包 hóng bāo Lucky Money).
Fireworks and Firecrackers
One of the most taught facts about China is the country's discovery of gunpowder and fireworks. While fireworks have been used as a symbol of spectacle and celebration around the world, China has been using fireworks for Chinese New Year's Celebrations for hundreds of years. All across villages and cities, you will find families setting off smaller fireworks for the family to enjoy. Apart from this, many public locations will present a much more high-scale show with incredible fireworks displays. Along with the in-person shows, there is the ability to watch fireworks online now!
Aside from larger firework spectacles, there is a tradition to use fireworks at the stroke of midnight. The flash and sound of the firecrackers is used to drive away bad spirits in the upcoming year. This practice derives from stories from ancient China, and is still widely popular across the country today.
The Spring Festival Gala
The Spring Festival Gala (Chunwan) is one of the biggest TV spectacles in China. This is a televised event that is played on the widely accessible CCTV channel. This is a collection of intricate dances, displays of culture, songs, fireworks, celebrity appearances, and much more. All of these performances are free for anyone to watch online or at home. This is a popular family activity, as everyone can sit down and relax while watching the amazing performances. This is a great way to get into the festival mood with a wondrous display of culture and pride.
Mahjong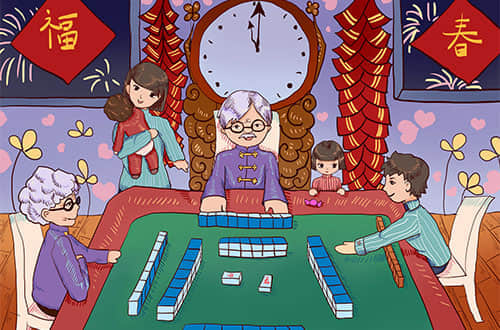 Mahjong is a game that represents Chinese culture and history. This game has a deep root in China since it has been around for many hundreds of years. Mahjong is a simple gambling game that would be comparable to poker the closest. Mahjong is a great game to play while relaxing with the family. Unlike watching the television or playing video games, playing Mahjong is a way to spend time with the family and enjoy a little bit of friendly competition. The rules and guidelines are not easy to follow for young people, so this is normally a game played by the older family members, allowing the kids time to run around and play. It is the perfect low-effort activity to enjoy after a big New Year's meal that fills your belly. Read more on 'Mahjong - An Essential Guide'.
Conclusion
Some various meaningful symbols and practices surround Chinese New Year to usher in a successful and happy year. However, at its core, Chinese New Year is a time to enjoy with family. Getting together with extended family members brings everyone together under one roof to celebrate and eat. Chinese New Year is a time to share great stories while sharing delicious foods. Success and happiness may be a result of properly celebrating the New Year, but it wouldn't mean a thing without the love that comes from spending time with family.
Have a question?
OR
Are you eager to begin your Chinese cultural journey?
Drop us a line and we will promptly connect you with our leading China expert!