How to Make a Chinese Lantern

Displays with myriads of brightly lit red Chinese lanterns are strongly symbolic of a celebration, of happiness, and especially good luck.
Even if you haven't been on a trip to China (yet), you can see them in every "China Town" and Chinese restaurant in cities around the world. You can see rows and rows of lanterns hanging along a street or above you in a restaurant. At other times you can see a lake or pond crowded with lit red lanterns all floating around. On special occasions the sky is filled with lightweight lanterns flying away into the night.
While the lantern displays in China are bigger, brighter, and more bountiful, there is no reason why you can't have the fun of making some of your own Chinese lanterns.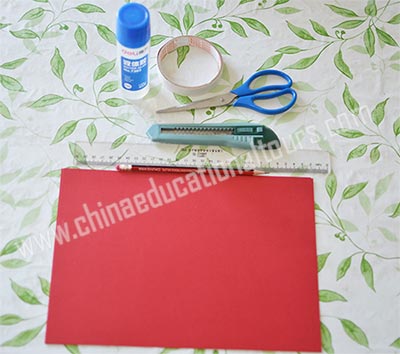 Easiest Paper Chinese Lantern
What you need
Red A4 (or Letter) size paper.

Chinese lanterns are traditionally red, because the color is symbolic of good luck and prosperity. You can use plain paper, or card, A4 (or Letter) size.

Ruler and pencil to draw/cut/fold straight lines.
Scissors.
Glue and/or sticky tape, and/or a stapler.
What to do
(Optional) Cut a 2cm (1 inch) strip off the long edge of the paper. Save it for a handle for the lantern.
Fold the paper in half, bringing the two long sides together.
Make a series of parallel cuts, about 1cm (½ inch) from the folded edge to within 2 cm (1 inch) of the edge, a bit like if you were making a fringe. (You can prepare it by first making a fold along where you want the cuts to stop to keep it nice and straight. And you can draw lines with a pencil and ruler before you cut if you are not confident of cutting evenly and straight.)
Unfold your paper. Bring the edges around to form a tube and glue / tape / staple the two edges together, allowing the slits to open.
(Optional) Attach the extra strip to form a handle to hold or hang your lantern.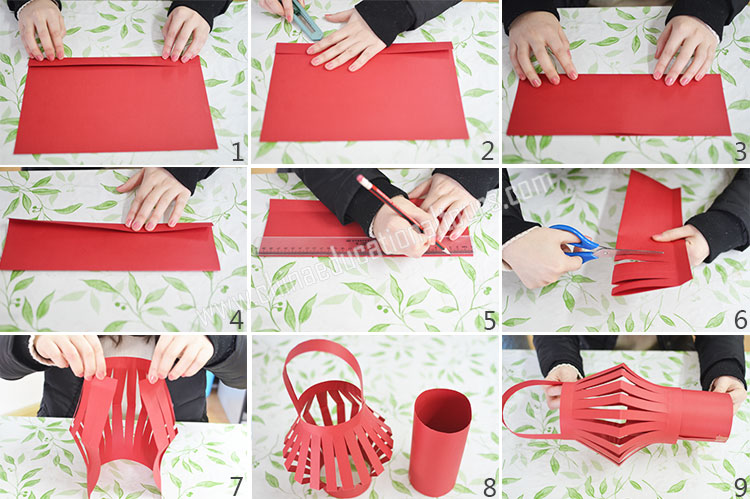 Variations
Use a second piece of paper – e.g. gold or yellow – and roll it into a tube (long edges together). Glue the top edge of your red piece around the top of your gold tube. Glue the bottom edge a little above the bottom edge of your tube so that the slits open nicely.
Try using different types of paper, different sizes, different colors.
Decorate your lantern with paints, pieces of colored paper (especially gold), cut out shapes, or even tassels made of paper or thread.
Variation – a round lantern
To make your paper lantern more like the big round ones you see on display, you need to get rid of the fold across the middle.
Using a ruler and pencil to mark your lines first if you need to, make parallel cuts, about 1cm (½ inch) apart, starting from one of the long edges to within 2cm (1 inch) of the other edge.
Then use a strip of sticky tape to repair the cut edge.
As before, bring the edges around and glue to form a tube, and allow the slits to fall open. The lantern with be more ball-like than the simple version above.
Again, a variation is to include a gold or yellow tube in the middle.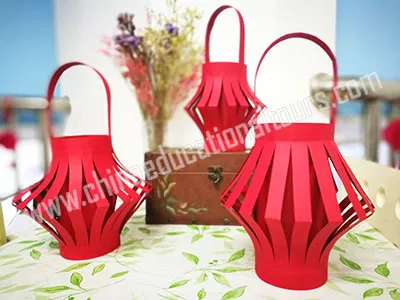 Ideas for displaying your lanterns
String up rows of red lanterns, or a variety of colors, across a wall, doorway, porch, or even in your garden.
Small lanterns look lovely as a tree decoration.
Add extras to your lanterns such as tassels, or other trims, making each one different. You could put family names on them.
Lighting your lanterns
When you see Chinese lanterns in a public place they are all lit with bulbs or candles. When making your little lanterns out of paper at home, lighting them with candles is not really a good idea. However you could use strings of small LED bulbs. You can even get some that look like a lively flame.
Putting the gold or yellow tube inside your lantern helps with the illusion of being lit, simply for decoration.
Have a question?
OR
Are you eager to begin your Chinese cultural journey?
Drop us a line and we will promptly connect you with our leading China expert!