How Do Chinese Celebrate Lantern Festival

Today's Lantern Festival is a perfect combination of tradition and modernity. It is time to eat Tangyuan, admire lanterns, guess lantern riddles and watch art performances. Lantern festival in many cities attracts a great number of visitors. Some people happily walk around with a bright small lantern in hand, making the atmosphere especially festive.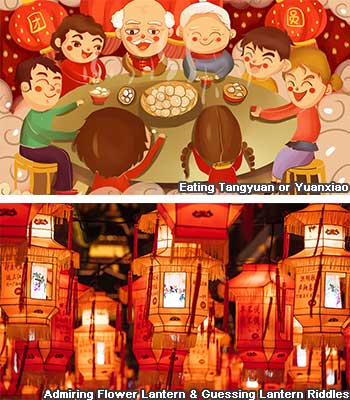 Eating Tangyuan or Yuanxiao: a symbol of reunion and harmony
Tangyuan and Yuanxiao are both soft glutinous rice balls. Tangyuan is very popular in southern China, but in Northern China people like to eat Yuanxiao. These are typical foods symbolizing family reunion and happiness. Read more about the difference between Tangyuan and Yuanxiao.
Admiring Flower Lantern
Delicately crafted lanterns are set up along the street, various shaped lanterns are painted with calligraphy, landscapes, flowers, and birds. The dazzling lantern display is a magnet for countless visitors.
Guessing Lantern Riddles: An Ancient Puzzle Game
Guessing lantern riddles stems from the Song Dynasty, and are also known as "tiger lanterns", because guessing the right answer is as difficult as killing a tiger. Riddles have different forms, such as puzzles which are word tricks, and puzzles requiring a knowledge of history and classical literature. It is an attractive activity to keep people's brains ticking over and to keep the festive mood.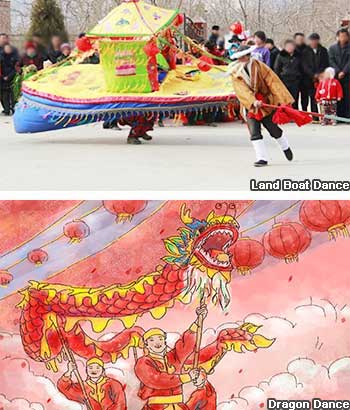 Land Boat Dance
The Land boat dance is one of the folk art performances, which imitates sailing boats on the water. The boats are decorated with red silk and colorful lanterns. Normally, one dancer raises a decorated boat around their waist, but sometimes there are four to seven dancers in a big, long boat.
Dragon Dance
The Dragon is the incarnation of luck and prosperity. The Dragon dance is one of the activities with the national characteristics of China, which developed from the dragon totem, the dance with dragon lanterns and the enjoyment of the lantern displays. Vivid dragon lanterns are made of thin bamboo or iron strips, silk, and lamps. Performers show deft and rhythmic movements with fast trotting. The Dragon dance is usually performed on significant traditional festivals. It is an outstanding mark of Chinese culture.
Have a question?
OR
Are you eager to begin your Chinese cultural journey?
Drop us a line and we will promptly connect you with our leading China expert!