Shanghai Weather in February
Frequently incoming cold air tends to bring frost, snow, hail and gusty winds. It is either dry and cold, or wet and cold.
| | | | | |
| --- | --- | --- | --- | --- |
| | Average Maximum | Average Minimum | Highest Maximum | Lowest Minimum |
| ℃ | 11 | 5 | 19 | -1 |
| ℉ | 51.8 | 41 | 66.2 | 30.2 |
Sunny Days: 7 days
Cloudy Days: 10 days
Rainy Days: 11 days
What to wear and bring?
In early February
Even when people choose the right clothing to protect against the harsh winter weather, the nose and mouth need to also be protected against the cold air, to avoid damage from cold air on nasal and throat membranes. So it's a good idea to cover your face with a scarf or wear a face mask outdoors.
In mid-February
Sporadic rains or gusts of wind necessitate wearing rain gear. Forget about those thinly knitted sweaters with wide collars. Turtlenecks, thick scarfs, down jackets and padded clothes are both aesthetic and warm.
In late February
The rising temperature can be misleading. Whether it is sunny or rainy, it is still pretty cold. Wear a soft and naturally snug-fitting style underwear layer for outdoor activities. Thick layers means poor ventilation and stuffiness. Clothing with little wool cannot give you warmth. Put on snug-fitting clothes that offer warmth, ventilation and comfort.
Tips:
Weather on Chinese New Year
Cold air could bring dry or wet weather during the Spring Festival. Ice can form on damp surfaces, roads under overpasses and tunnel entrances. Consider the traffic conditions for your travel plans.
Historical Shanghai Weather in February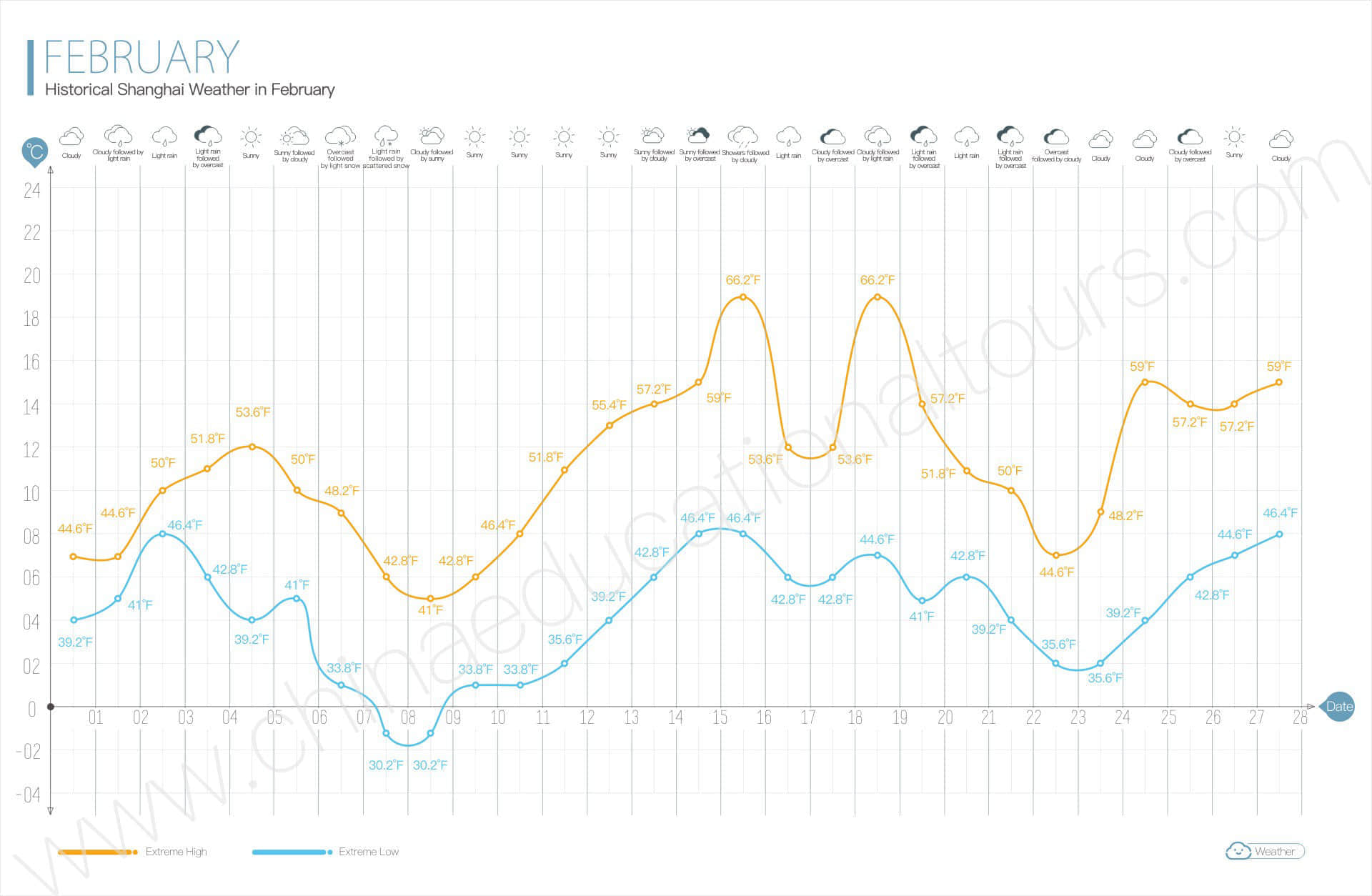 click here to enlarge
Have a question?
OR
Are you eager to begin your Chinese cultural journey?
Drop us a line and we will promptly connect you with our leading China expert!