How to Plan a Day Trip to Shanghai
Lying on the estuary of the Yangtze River in eastern China, Shanghai is hailed for its inclusiveness like "the ocean that accepts all rivers". East meets West here in Shanghai, a bustling world-class metropolis that still retains plenty of old-world charm. Along with historic temples and old-town markets, you'll find a quirky mix of European architecture dating back to the international settlements of the 1920s and 1930s. Home to more than 23 million people, Shanghai now boasts the financial hub and some of most beautiful skylines in China.
Shanghai is full of beautiful contrasts. Catch the pulse of the megacity on a walking tour of Old Shanghai and the ultra-modern Pudong New Area, shape your understanding of the city's history by strolling through the former French Concession, then climb up the famous Shanghai Tower to get a bird's-eye view of futuristic skyscrapers.
The China Transit Visa (also known as visa-free transit) allows layovers in Shanghai for up to 144 hours; as long as you are travelling from and onward to 2 different countries and you have a passport from one of the 53 countries.
For Half Day Layover in Shanghai
If you just have half a day (4 hours) to spend in Shanghai, we recommend the Bund Area, Nanjing Road and Yuyuan Garden.
The Bund area is a designated section of Shanghai's port along the Huangpu River lined with beautiful neo-classical buildings and a waterfront promenade. The Bund is the best place to view the iconic skyline in Shanghai – Pudong skyline.
The Shanghai equivalent of New York's Fifth Avenue, Nanjing Road stretches 5.5 kilometers (3.4 miles) and is filled with anything that you could want ranging from food stuff to clothing, and accessories to antiques to electronics.
The Yuyuan Garden is a classical garden filled with artfully arranged ponds, trees, flowers, rock structures, pavilions and pagodas. This garden will give you a glimpse of the past of Shanghai. Outside the Yuyuan garden is a bustling marketplace called Yuyuan Market, which is filled with shops selling everything from dumplings to kitsch. There are several little dim sum restaurants where one can fully indulge in what Shanghai is perhaps best known for, xiaolongbao – soup dumplings.
If you travel to or from Pudong airport, we recommend the Maglev (aka Magnetic Leviton) for you, it is a high speed train from the airport to Longyang Road (downtown Shanghai). Raised above the ground like a monorail, it can go up to 430 kilometers per hour and crunch a 45 minute train ride into eight minutes.
One Day City Highlights Tour in Shanghai
If you have one whole day for a tour, you can add the Former French Concession, and visit the Jade Buddha temple and Shanghai Museum.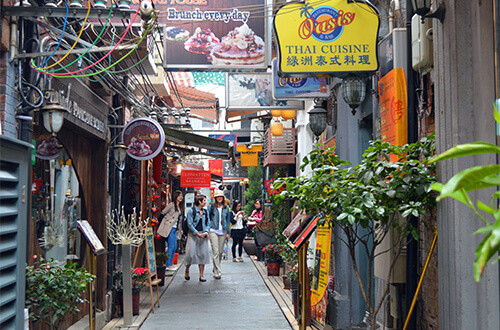 As the name implies, this neighborhood was in fact a former concession (AKA territory governed and occupied by a foreign power) of France from 1849 until 1943. Here, stately European-style mansions with wrought-iron fences and romantic details are the norm, along with wide boulevards and abundant gardens and parks. And the legacy of the neighborhood's global influences can still be observed in the architecture, cuisine, schools, and other institutions. The Jade Buddha Temple is much more magnificent and the most famous of all Shanghai temples. It was built in 1882 to enshrine two jade Buddha statues, which were brought from Burma. After the fire in 1918, it was moved to its present place. The Shanghai Museum is one of the best museums in China; its collection covers thirty-one categories, including bronze, ceramics, calligraphy, painting, sculpture, oracle bones etc., and among which the collection of bronze, ceramics, calligraphy and painting are especially celebrated.
One Day Water Town Tour from Shanghai
The area around Shanghai is flat and littered with waterways, lakes and canals. You can find several water towns in this area. They make the perfect day trip from Shanghai, allowing you to get an in depth knowledge of local people's traditional lifestyle.
The closest one is Zhujiajiao Water Town, only 48km from city center of Shanghai. The famous attractions include Zhujiajiao Culture and Art Museum, Kezhi Garden and the site of the Former Post Office of the Qing Dynasty (1616 – 1912). There are also a lot of interesting local food stalls you can try. Zhujiajiao is easily reached by metro from the center of Shanghai, but due to the ease of accessibility and proximity to Shanghai, it is one of the busiest water towns.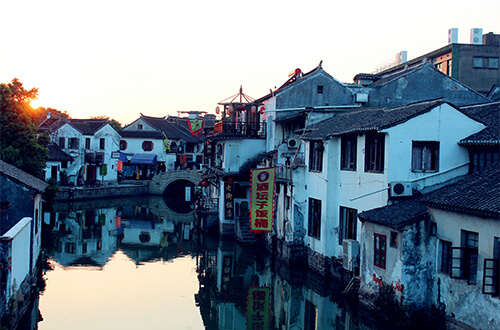 Xitang is another wonderful little water town located a little north-east from the city of Jiaxing. Xitang became famous because Mission Impossible III was filmed there. A unique covered corridor spans about 1,000 meters and provides a sheltered walkway along the river. Located on both sides of the bank, it allows easy access to the water and also protects against the sun and rain.
Nanxun is one of the best and largest of the water towns. It is the quietest water town due to its distance from Shanghai (two hours' drive one way). Some of the highlights of this town include the Liu's Former Home and the Former Residence of Zhang Jingjiang. They combined Chinese style and European style, particularly Spanish, in the architecture here.
There are other towns like Tongli, Zhouzhuang and Wuzhen you can visit; it is possible to have a one day tour to see one of them. Like most tour attractions, there are more visitors on weekends, so try to visit them on weekdays if possible.
Suzhou Classical Gardens One Day Tour from Shanghai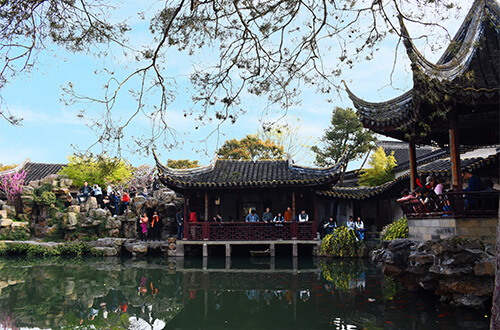 Originally founded in 514 BCE (the Persian king Darius invaded Scythia the same year), Suzhou has over 2,500 years of rich history, and relics of the past are abundant to this day. Since the Song Dynasty (960CE-1279CE), it has been an important commercial center of China. During the Ming and Qing Dynasty, Suzhou was the nation's economic, cultural and commercial center. It is just 30 minutes by bullet train or 1.5 hrs by car from Shanghai. The Classical Gardens of Suzhou are the most refined representations of the art of classical Chinese garden design. They are complex landscapes imitating natural scenery with pavilions, rocks, hills and rivers. The designs were especially adapted to the small space available in private gardens. The classical gardens in Suzhou were added to the list of the UNESCO World Heritage Sites in 1997 and 2000. The most popular ones are the Humble Administrator's Garden, Lingering Garden and Garden of the Master of Nets. It is possible to visit all of them in one day from Shanghai. A boat cruise on the canal is also recommended.
One Day Family Tour in Shanghai
If you are traveling with children, there are four places we recommend:
The 1st place is Disneyland, you'll visit one of the world's largest Disney castles – fantasy fairytale castle, participate in the world's longest Disney parade, and explore the six unique and unforgettable theme parks – Mickey Avenue, the Gardens of Imagination, Dream World, Adventure Isle, Treasure Cove, and Tomorrowland. You can easily spend two days in the park, but it is also possible to do it in one day. Since it is close to Pudong airport, you can just visit it on the day of your departure.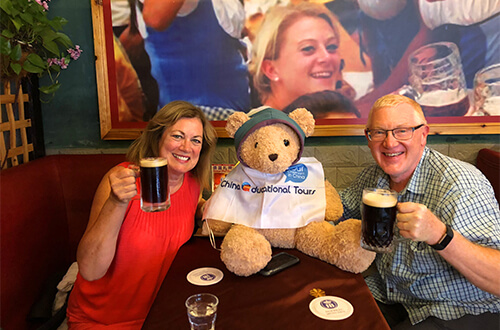 The 2nd place is the Shanghai Natural History Museum. It is one of the largest natural museums in China. Upon entering the pavilion, you can see the skeleton of Mamenchisaurus, which is about 26 meters long. It is the largest and the longest necked dinosaur discovered in Asia. There are 10 permanent exhibitions in the museum, divided into three systems: natural evolution, life environment, and human civilization. From astronomical geography to natural science, it is a paradise for curious children and they can greet dinosaurs and explore the jungle. You can spend 4 hours in the museum.
The 3rd place is Shanghai Zotter Chocolate Factory; it's actually a "chocolate theater". You watch a video about the company, starring the founder, then go on a tour with a guide who will tell you about chocolate making and then guide you into areas with lots and lots of samples you can taste.
The 4th place is Shanghai Wild Animal Park (aka Shanghai Wildlife Park). It's home to about 10,000 animals of more than 200 species including Asian elephants, South China tigers, snub-nosed monkeys, giant pandas, white rhinos, antelopes, zebras and giraffes. The Panda Pavilion is home to giant pandas.
One Day Tour of Museums in Shanghai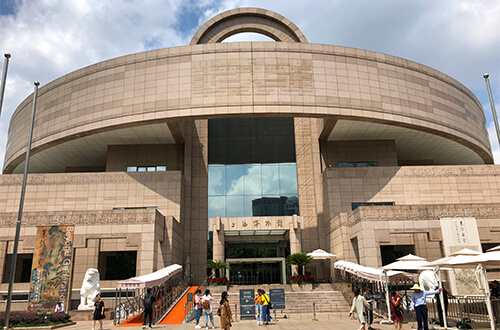 From ancient art to contemporary art and from natural history to auto science, Shanghai is home to an impressive range of museums. Shanghai is aiming to become the modern cultural capital of Asia.
At People's Square area, there are three museums where you can easily spend one whole day: Shanghai Museum, Shanghai Urban Planning Exhibition Centre and the Shanghai History Museum (also called Shanghai Revolution History Museum).
Shanghai Museum is a museum focused on ancient Chinese history and art. It houses China's international-standard exhibits of bronzes, paintings, sculpture, ceramics, jade and Ming and Qing dynasty furniture.
Shanghai Urban Planning Exhibition Centre: this modern museum covers Shanghai's urban planning history, tracing its development from a swampy fishing village to a modern-day megacity. Its mix of photography, models and interactive multimedia displays keeps things entertaining.
Shanghai History Museum is in a baroque-style, and was originally the Shanghai Racecourse building which was finished in 1934. It is informative and gives a comprehensive guide to the evolution of Shanghai from medieval to present times.
At the Bund Area, you can visit Rockbund Art Museum, Shanghai Postal Museum and China Securities Museum.
In a stately 1930s art deco building, the Rockbund Art Museum is an international platform for the promotion and exchange of contemporary art. The museum holds free lectures on art, technology, and music.
The Shanghai Postal Museum was formerly the Shanghai General Post Office which was finished in 1924. It showcases the history of the post in China. If you are interested in stamps, they have quite a few on display.
China Securities Museum was once a landmark of the Bund, the building housing the China Securities Museum was formerly known as the Astor House Hotel. Built in 1846, it is a Victorian baroque building in the neoclassical style. The building has witnessed the birth, development and growth of China's securities market. It is the place where the Shanghai Stock Exchange came into existence in 1990.
Aurora Museum is a private museum which opened in 2013. It houses six floors of jade, ceramics, and sculptures organized by dynastic timeline. It is a hidden gem of Chinese arts. The entrance fee is 60 yuan (about 9 USD) which keeps a lot of tourists away.
China Maritime Museum, the largest and most prestigious maritime museum in the country, is composed of six exhibition halls, two special exhibition zones, two science movie theatres, and a children's amusement center. The only disadvantage for the maritime museum is that it is way out of the city center; you need one hour's subway ride and 20 minutes' walk. But it is about 40 mins by car from Pudong Airport, and you can arrange it on the day of your departure.
One Day Industrial Tour in Shanghai
Shanghai is fast becoming a global innovation hub, with many calling it the next Silicon Valley. If you are traveling with a group of students, an industrial tour to visit one of the local companies is a good choice for you.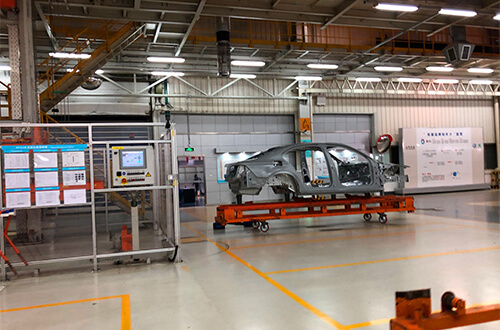 The most popular factory tour is visiting the Shanghai Volkswagen Automotive Company in Jiading District; you'll enjoy the firsthand look into how Volkswagen cars are actually made. After a video showing some of the car models that are produced in the Shanghai Automotive factory, you'll be driven onto the assembly line for a look at how Shanghai Volkswagen makes their cars. Near the Shanghai Volkswagen factory is the Shanghai Auto Museum. It houses an array of vehicles from all over the world. Most information is provided in English. You can spend 2-3 hrs here.
The second company we recommend is Baosteel Group Corporation. It was only founded in 1978 and quickly grew to be the most competitive steel complex in China. Baosteel has been enrolled in the Global 500 since 2004 and ranked 111th in 2020. The total steel production of Baosteel was 95.47 million tons in 2019, and it was ranked 2nd among the steel enterprises all over the world. You will visit the all-weather berth, blast furnace, and hot strip mill. You will see the steel manufacturing process in the workshop.
If you're still not sure where to visit in Shanghai, you can just drop us an email and one of our experienced travel advisors will tailor-make an itinerary for you.
Have a question?
OR
Are you eager to begin your Chinese cultural journey?
Drop us a line and we will promptly connect you with our leading China expert!