Guiyang Weather in February
February is one of the coldest months of the year in Guiyang, and the average temperature is between 2℃/35.6℉ and 9℃/48.2℉. There are more cloudy and overcast days than rainy and snowy days.
| | | | | |
| --- | --- | --- | --- | --- |
| | Average Maximum | Average Minimum | Highest Maximum | Lowest Minimum |
| ℃ | 9 | 2 | 22 | -4 |
| ℉ | 48.2 | 35.6 | 71.6 | 24.8 |
Cloudy Days: 10 days
Overcast days: 13 days
Rainy days: 3 days
Snowy days: 2 days
What to wear and bring
Early February
Early February is the coldest period in this month, when the minimum temperature can go down to -3℃/26.6℉, and there are some rainy and snowy days. Because of the cold weather, it is recommended that you wear warmer clothing like a fur coat, a leather coat, or some other heavy coat. Besides this, do not stay outside for a long time.
Mid-February
Compared to last period, the middle period of this month is relatively warm, the days are mostly cloudy days, and the highest temperature stays around 19℃/66.2℉. It is recommended that you wear a sweater with a coat, or a down jacket and other warm clothes.
Tips:
Weather on the Chinese Spring Festival
On the Spring Festival, it is usually cloudy, with the temperature staying between about 7℃/44.6℉and 19℃/66.2℉. It is a nice day to go out. It is recommended that you wear warm clothing like coats and sweaters.
Late February
Now it is similar to mid-February, with the temperature still between 8℃/46.4℉and 19℃/66.2℉, and there are some cloudy and rainy days. Down jackets and sweaters are also necessary. Bring an umbrella when you need go out.
Historical Guiyang Weather in February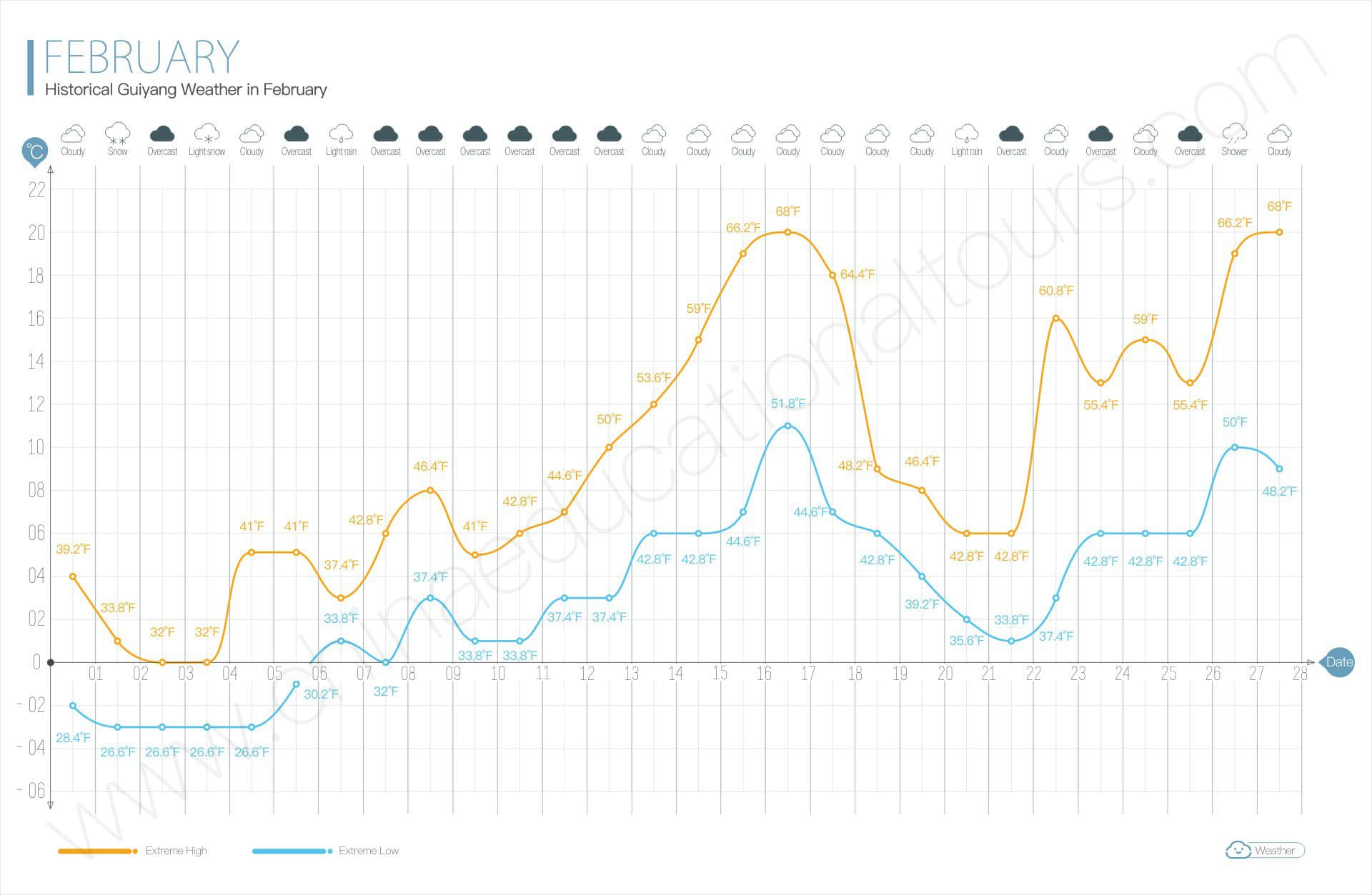 click here to enlarge