Guiyang Weather in January
January is one of the coldest months of the year in Guiyang, when the lowest temperature goes down to -4℃/24.8℉. But the average temperature is between 1℃/33.8℉ and 7℃/44.6℉. There are more overcast and rainy days than clear days this month.
| | | | | |
| --- | --- | --- | --- | --- |
| | Average Maximum | Average Minimum | Highest Maximum | Lowest Minimum |
| ℃ | 7 | 1 | 15 | -4 |
| ℉ | 44.6 | 33.8 | 59 | 24.8 |
Sunny Days: 1 day
Cloudy Days: 4 days
Overcast Days: 17 days
Rainy Days: 9 days
What to wear and bring
Early January
At the beginning of January, it's cold and the lowest temperature can reach -1℃/30.2℉.It rains continuously for a couple of days. It is suggested that you wear a down jacket, or a military coat (it is warm clothing in green for Chinese military soldiers.), and thick pants. Because of the rainy days, you need carry an umbrella when you go out.
Tips:
Weather on the Chinese New Year Festival
On New Year's Day, it can be cold and usually rains lightly, with the minimum temperature staying around 6℃/42.8℉. It is recommended that you wear warm clothing like a down jacket, a military coat, or a windbreaker. Bring your rain gear in case of rain.
Mid-January
Compared to early January, it's warmer in mid-January. The lowest temperature stays around 4℃/39.2℉, and the maximum can reach 15℃/59℉. The days are nearly all overcast during this period. You still need to wear a down jacket, winter coat, or fur coat to keep warm.
Late January
It is the coldest period in January. The minimum temperature is between -4℃/24.8℉ and 5℃/41℉. And there are more overcast days with a few light rainy days. It is recommended that you wear warm clothing such as a down jacket or a fur coat. Sometimes, gloves and a hat are necessary.
Historical Guiyang Weather in January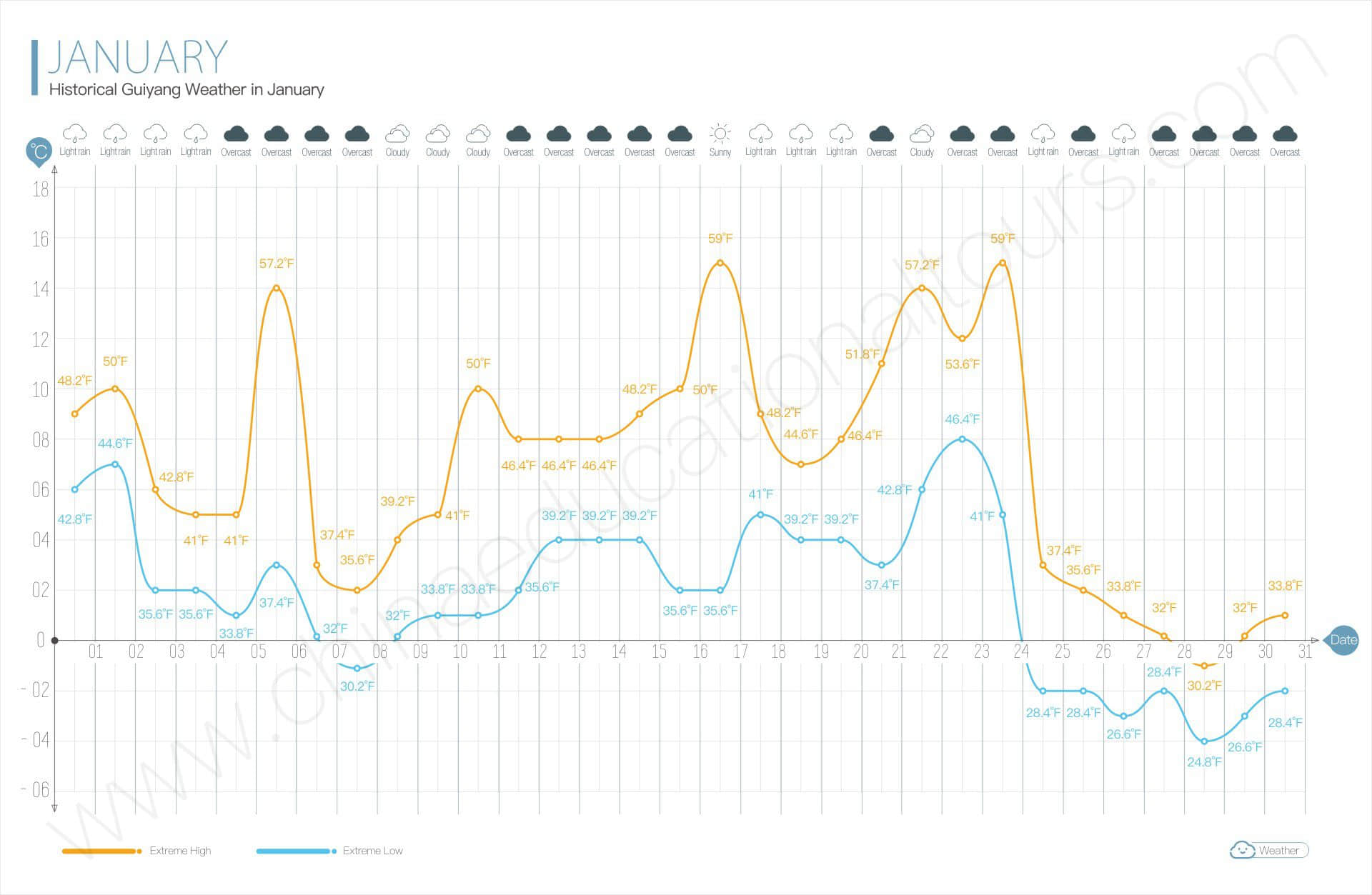 click here to enlarge
Have a question?
OR
Are you eager to begin your Chinese cultural journey?
Drop us a line and we will promptly connect you with our leading China expert!