Dazu Rock Carvings

The Harmonious Synthesis of Buddhism, Taoism, and Confucianism Statues
Comprising more than fifty thousand statues carved from sandstone outcrops at seventy-five different sites, the Dazu Rock carvings constitute a high point in the history of cave temple art in China. It saw the sinicization and secularization of Buddhism in China. They build on the early cave temple tradition but developed in new directions, integrating the ideologies of Buddhism, Daoism, and Confucianism to produce sculpted devotional complexes that are uniquely and wholly Chinese. Dazu stands apart from other cave temple sites both artistically and in terms of subject matter, much of which is secular. At Baodingshan in particular, there are many charming - as well as sobering - representations of the Chinese family and their daily life.
Location: About 120 km (75 miles) northwest of Chongqing.
Timeline of Dazu Rock Carvings
650 CE (early Tang Dynasty: The first-ever carving at Dazu Rock Carving began at Jianzishan mountain.
In 892 Wei Junjing, military commissioner of Changzhou pioneered the carvings at Beishan, and his example was followed by other gentry and monks after the collapse of the Tang dynasty (907 CE).
The creation of rock carvings ceased during the early years of the Song dynasty and was not to resume until 1078, in the reign of Emperor Yuan Feng of the Northern Song dynasty.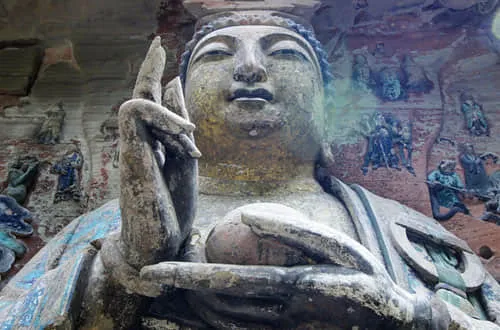 1082-1096 CE: Shizhuanshan carvings were built and the first site that combines Confucianism, Buddhism, and Taoism.
1174 -1252 CE: The famous monk Zhao Zhifeng passed the hat around for years and carved Baodingshan carvings under his supervision. It is divided into two parts: the large and small bend with a temple containing an Avalokitesvara with 1000 hands in the middle. In total there are over 6000 statues, mostly dedicated to Buddhism, spread over various cliffs and caves.
1382-1911 (Ming and Qing Dynasty): The carvings, were not as beautiful as that from previous dynasties.
In 1961, the Beishan and Baodingshan carvings were announced as part of the priority group of heritage sites to be placed under protection by the State Council.
In 1999, the carvings (Beishan, Baodingshan, Nanshan, Shizhuanshan and Shimenshan) were listed as UNESCO sites.
What to see at Dazu Rock Carvings?
Baodingshan Rock Carvings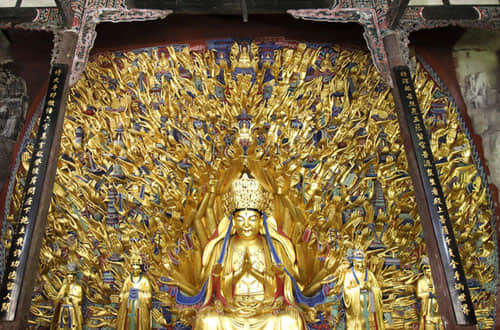 Baodingshan is the largest and most popular rock carving site in Dazu. It encompasses a huge area that houses not only the intricate carvings but also a museum (price included in admission), two different temples, and a movie theatre (price not included in admission). Don't miss the golden sculpture of Avalokiteshvara Buddha or Guanyin with a thousand hands. At 7.7 meter high and 12.5 meters wide, the Thousand-Hand Guanyin sits calmly with an eye in each hand in different positions, holding different sacred vessels such as the treasured mirror, rosary, scarf, treasure vase, lotus and the treasure sword, representing the many abilities to watch out and help the people in the world.
Beishan Rock Carvings
Beishan is the second-most popular rock carving site. It is about 13 km from Baodingshan. The rock carvings are still in excellent shape, although not as many are colored like the ones at Baodingshan. To limit corrosive damage from water, structures have been built around the carvings; although a little odd, they were as tastefully done as could be. There is also an old pagoda with two large Buddhas sitting underneath it.
Nanshan Rock Carvings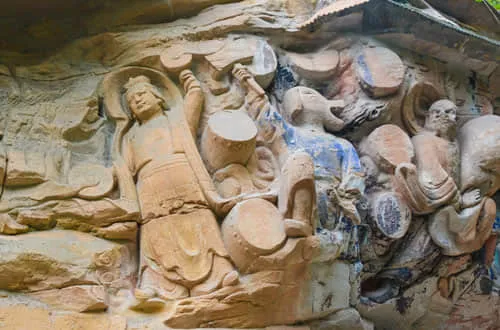 The rock carvings in Nanshan is quite small, and they have more tablets with inscriptions than the other two. The Nanshan carvings are more Taoist than Buddhists. Before the Dazu Rock Carvings appeared, cave temple art influenced by Taoism was extremely rare. Taoist believers were inspired by the Buddhist carvings around Dazu and ventured to carve their grottoes.
Shimenshan Rock Carvings
Shimenshan is even smaller than Nanshan with just over 70 carvings in 12 niches and caves. The statues are a combination of Buddhists and Taoists, with the peacock as the most beautiful. A series of small niches on a cliff just around the corner has magnificent Taoist carvings.
Shizhuanshan Rock Carvings
Shizhuanshan Rock Carvings is the first site that combines Confucianism, Buddhism, and Taoism. At the time when these carvings were made, it was very uncommon to see the three belief systems of Buddhism, Taoism, and Confucianism portrayed side by side. After all, throughout China's long history, these three systems went through periods of conflict. The carvings in Dazu played an important role in allowing these differing beliefs to coexist peacefully, each system eventually becoming widely accepted throughout the country.
Its caves and carvings are scattered over a wider area (including the Mother and Child Temple and the Thousand Buddha Rock 1.5km apart). There is a cave dedicated to Confucius and 10 of his best students.
How can I fit Dazu Rock Carvings into my tour to China?
You can use either Chongqing or Chengdu as a gateway to Dazu. From Chengdu to Dazu, you can go to Emei and Leshan (Giant Buddha Statue), then to Zigong (Dinasour Museum and the Ancient Salt Mining Museum), then to Dazu Rock Carvings and finally arriving in Chongqing.
If you just want to visit the Dazu Rock Carvings, you can fly to Chongqing and do a day trip to see the carvings.
Other highlights in Chongqing
Traditionally, most travelers travel to Chongqing only to catch the cruise ship that sails along the Yangtze River. Chongqing is aa hidden gem. There are a lot of things you can see and do there, such as trying the Chongqing spicy hotpot that is famous all over China. If you have more time, you can even spend one day to visit the nuclear plant that is open to the public.
Yangtze cruise
Chongqing is the city that sets sail downstream for the Yangtze cruise or the final destination city for the upstream cruise. Many ships sail along the river. You can find out more about the Yangtze cruise on our website HERE.
Panda House in Chongqing Zoo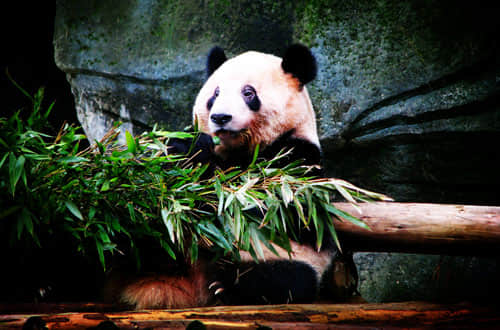 The giant panda bear from Sichuan Province is often seen in Chengdu. However, if Chengdu is not on your travel destination, you can see it in the panda house in Chongqing. At the Panda House, you can see these cute cuddly pandas doing what they do best - chomping through piles of bamboo and romping around with their friends.
Ciqikou Old Street
Ciqikou means Porcelain Port. A bustling port in the early 20th century, and now turned into a tourist spot. The street is full of shops lining both sides selling many things from handicrafts, souvenirs, local food to ear cleaning service. Do try the local food such as the handmade Suan La Fen (Chongqing Hot & Sour Noodle Soup).
Hongyadong or Hongya Cave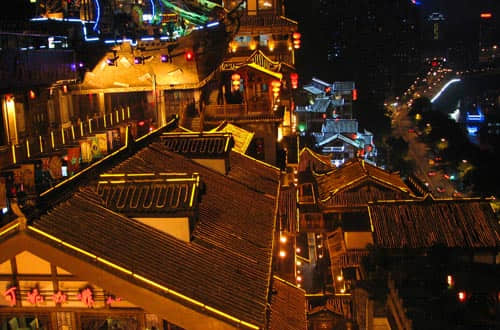 Located at the waterfront where the Yangtze and Jialing River meet, and close to Chongqing's core commercial district of Jiefangbei on Cangbai Road. It is not a cave, but an 11 floor, 75-meters high Diaojiaolou style complex characterized by restaurants, shops, and hotels.
816 Underground Nuclear Plant in Fuling
Located in Fuling, about 120km from Chongqing. The construction began during the 1960s, at the height of the Cold War and amid rising tension between the Soviet and Chinese governments, and the project called off in 1984, with the construction of the doomed project only 85 percent completed. The whole plant covers 100,000 square meters — the equivalent of 14 football pitches — with a volume equal to 600 Olympic-sized pools. It has the world's largest known network of man-made tunnels and maze-like corridors extending more than 20 kilometers.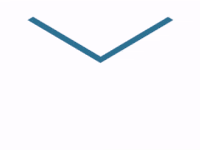 Have a question?
OR
Are you eager to begin your Chinese cultural journey?
Drop us a line and we will promptly connect you with our leading China expert!