What is a Chinese Overnight Train Like?

Overnight trains are one great economical way to get around this massive country, as well as being a delightful cultural experience for foreigners.
There are a variety of options available for traveling on overnight trains, each with appropriate pricing, and varying degrees of physical comfort, space and personal privacy.
What are the different options for overnight trains?
There are three types of sleeper cars – Hard Sleeper, Soft Sleeper, and Deluxe Soft Sleeper.
All three are air conditioned and carpeted, and passengers are provided with a clean pillow and quilt.
Hard Sleeper (Only for adventurers)
If you are keen to really get the feel for Chinese people and the local culture, then the Hard Sleeper car is an economical opportunity for a quality experience.
There are 11 compartments
There are six bunks in each compartment.
The compartment has no door, but opens straight onto the corridor.
There is a Chinese-style sink and toilet at the end of the car.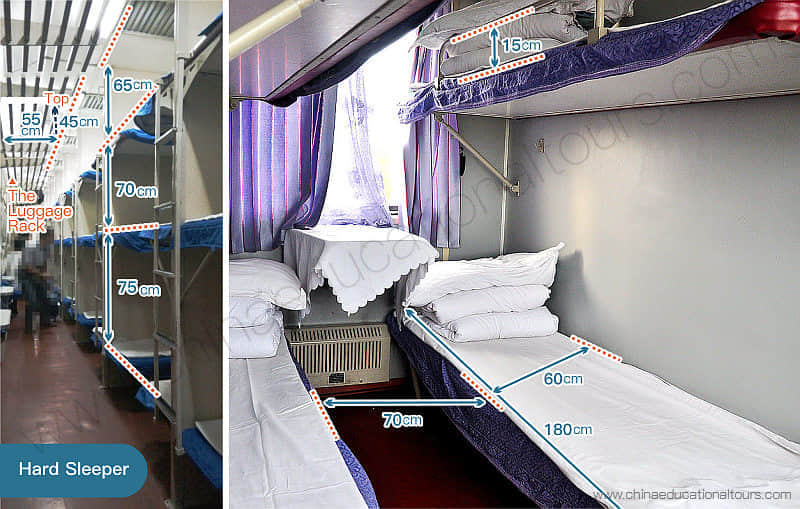 There is also some variation between the three levels of bunks in each compartment:
The lower bunks are the most expensive, and are spacious enough for you to sit up on the bunk. However, this bunk has least privacy from people in the corridor, and you may find fellow passengers in your compartment wanting to sit on your bunk as well.
The middle bunk costs a little less, is not difficult to climb into, and although you can't sit up, there is room to prop yourself up on your elbow. When you don't want to sleep, you can sit on a seat in the corridor, or with a friend on the lower bunk. It has more privacy from people in the corridor.
The upper bunk is the cheapest, and does require some agility to access it. It is much more private from the corridor, and comfortable enough to sleep in, but the height of the space is quite restrictive.
Soft Sleeper (Highly Recommended)
If you are traveling in a group of 3 or 4, then it can be fun to book a Soft Sleeper compartment together.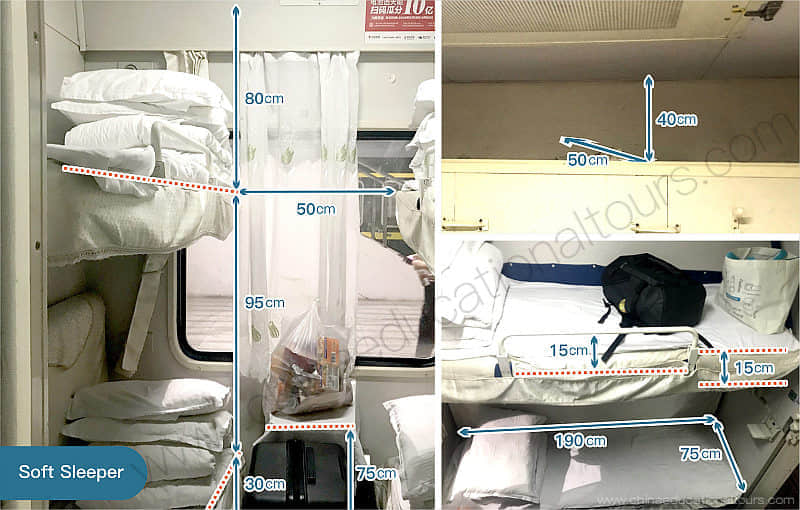 There are 9 compartments to a car
There are 4 beds in each compartment, with softer bedding.
The compartment is not open to the corridor, there is a door.
There are Chinese or Western toilets at the end of each car.
The soft sleeper costs about twice as much as the hard sleeper. The upper bunk is slightly cheaper, but they both have enough space to sit up in, and you will have more security and privacy.
If you are not travelling in a group of four, you will share a compartment with other passengers who may be not the same gender.
Deluxe Soft Sleeper (only available at some trains traveling between large cities)
If you are traveling as a couple, then a Deluxe Soft Sleeper can be an especially enjoyable experience.
There are 8 compartments in a Deluxe Sleeper car.
There are two bunks in each apartment, either one on each side or an upper and lower on one side and sofa on the other.
There is a door on the compartment.
Western-style toilet, possibly en-suite.
There will be much less opportunity to interact with your fellow passengers, although you can go to the restaurant car or walk along the corridors. From within your compartment you will have an uninterrupted view of China as the train dashes through the countryside.
Overnight High-Speed Trains
When you buy a ticket, you may wonder why overnight trains often have only ordinary trains to choose. In fact, China's high-speed trains were not operated between 24:00 and 5:00 every day before July 2017.During this break time, the entire high-speed rail line is shut down for maintenance of vehicles and tracks.
The Beijing-Shanghai double-decker sleeper train, which opened in July 2017, became the first overnight high-speed train in China. The high speed train double-decker sleeper offers a more comfortable travel experience than the ordinary soft sleeper, and offers more luxurious options for a bed above and a desk below. There are even offers with separate sleeping compartments. It boasts complete facilities around the bunks, with reading lights, power plugs, etc. Passengers have praised it as being like a moving hotel.
Sit ups – Hard and Soft Seats (Not Recommended)
This option is less comfortable with overcrowded and smelly carriages. People with unnumbered tickets, the very cheapest option, will be looking for any opportunity to take advantage of an empty seat, or else stand/sit/lie in the aisle or between the seats.
Soft Seats are a bit better, the carriage is more spacious, and nobody can enter without a soft seat ticket. Choose this only when it is a short journey less than 5 hours.
Useful Tips:
1. The food on the train is monotonous and expensive, so it is a good idea to prepare some beforehand to take the train.
2. Sleep masks and noise-proof earplugs can give you a better sleeping experience.
3. Wake up time in the morning is the busy time for lavatory, so it's better to avoid the rush hour. You need to take care of your valuables while you sleep.
Packing List:
1. Bottled Water
2. Food and Snack
3. Toiletries
4. Slippers
5. Power bank
6. Wipes, tissues, and washing-free hand sanitizers
7. Sleeping bag (for neat freak)
Be prepared to better enjoy an overnight trip
Depending on the type of carriage you have chosen to travel in, you need to be prepared for some interaction with local people. Adults and children will notice you and they will want to try to converse with their limited English. Some of their questions and comments may seem intrusive or inappropriate, but offense is not their intent so remain polite even if you choose not to answer.
The toilets in your carriage may be local "squat" style or western, but either way you will need to carry your own tissues or toilet paper. You will also need a towel, wash-cloth, hairbrush and toothbrush. There is usually a public sink area with a mirror. Wet wipes and hand sanitizer can also be useful.
Hot boiled water will be available in the carriage, and you can choose to copy the Chinese people with their tubs of instant noodles, or make yourself a cup of tea or coffee. You might also want to bring a bottle of drinking water and fruit or other snacks. Snack carts with limited and fairly expensive offerings will come down the train.
Although the bedding is disinfected, you may choose to bring your own pillow case. The air-conditioning on the trains tends to be cold, so have something long-sleeved to wear.
Make sure you have something to occupy your time such as reading material and/or your devices such as iPad for entertainment.
Useful Tips:
A Steward will come to change your paper ticket to a plastic ticket and will change it back before you disembark. This reminds you to get off the train at the right station.
Power supply is available in your own apartment in the Soft and Deluxe Soft Sleeper car. It is only available in the corridor of the Hard Sleeper car.
Lights will be out at 10pm in all cars but bed lamps are available in Soft and Deluxe Soft Sleepers.

Have a question?
OR
Are you eager to begin your Chinese cultural journey?
Drop us a line and we will promptly connect you with our leading China expert!