Helpful Info for British Travelers
Flights
There are more than 150 flights between UK and China every week. More than 10 Chinese cities have direct flights to London. And these English cities have direct flights to China: they are London, Manchester and Birmingham. We believe that more direct flights are coming soon. If you choose a stopover flight, most of the UK cities could fly to the main cities in China. As for a direct flight, the average flying time is from 11 hours to 14 hours. And for a one-stop flight, you may need to add another 3 to 4 hours for stopover.
Here are the flight times for some of the direct flights from several UK cities to various destinations in China.
Departure City
Arrival City
Flying time
London
Beijing
10hrs 35mins
Shanghai
12hrs 5mins
Guangzhou
12hrs 35mins
Hong Kong
12hrs 35mins
Manchester
Beijing
11hrs
Shanghai
14hrs 40mins
Hong Kong
12hrs 50mins
Birmingham
Beijing
15hrs
Shanghai
14hrs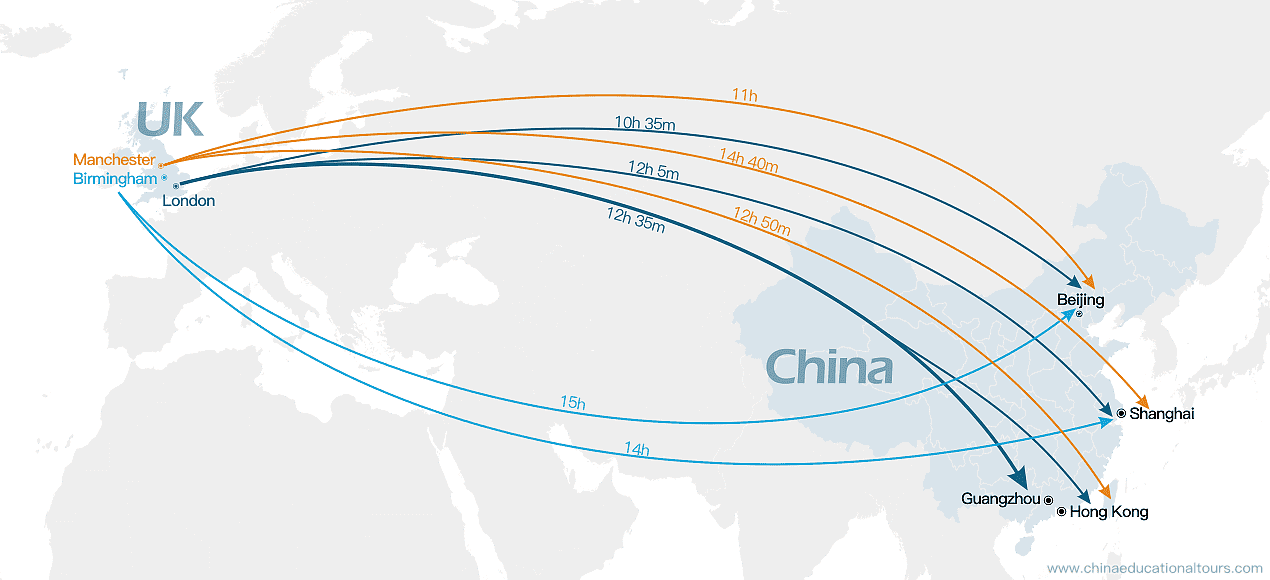 * The information above is for reference only. The actual flight time is based on the specific flight schedule on the travel date.
TIP: How to get a good deal on international flights?
Book your international flight at least 2 to 6 months before departure.
Flights with at least one stopover are usually cheaper than direct flights.
Check out each airline's official website (like British Airways, Air China, Virgin Atlantic and Cathay Pacific).
Check out some online flight booking websites like: Expedia, SkyScanner, and Kayak.
China Visa
The UK citizens always need a pre-arranged visa to visit China's mainland (HK and Macau offer visa-on-arrival). An L type visa is requested for those who intend to go to China as a tourist. The duration of each stay is 30 days. You can check out this page to apply online China Visa Application Service Center or this page for more information: http://www.chinese-embassy.org.uk/eng/visa/
The People's Republic of China currently maintains one Embassy in London, but also maintains 3 consulates-general in the following UK cities: Manchester, Edinburgh and Belfast.
Visa Fees
Nationality
Regular service
Express service
British
£85(Except for 5 year/10 year multiple entry visa)
£104
£170(Multiple entries for 5 years)
£189
£255(Multiple entries for 10 years)
£274
American
£108
£127
Canadian
£59
£78
Israeli
£20
£39
Argentina
£115
£134
Brazilian
£100
£119
Uruguayan
£32
£51
Panamanian
£46
£65
Serbian
£2
£21
Romanian
£58(Single entry)
£77
£77(Double entries)
£96
£115(Multiple entries)
£134
Others
£28(Single entry)
£47
£42(Double entries)
£61
£56(Multiple entries for 6 months)
£75
£84(Multiple entries for 1 year and above)
£103
Note:
1. Diplomatic, Service, and Courtesy visas are free of charge.
2. In special circumstances (such as humanitarian reasons), the Embassy and Consulates will provide urgent service (the second working day collection). In addition to the visa fee, the applicant is also required to pay a urgent service charge, which is £28.
For more information on other, shorter duration visas and visa fee, click here: 144-hour and 72-hour visa-free transit..
Sample Costs for Traveling in China
| | | | | |
| --- | --- | --- | --- | --- |
| Meal for 1 person – inexpensive restaurant | Meal for 2 people - mid-range restaurant | McDonalds (per person) | Domestic Beer (16oz) | Imported Beer (16oz) |
| £4-£7 GBP | £20-£40 GBP | £4-£7 GBP | £1.5-£3 GBP | £5-£10 GBP |
| Bottled water (16oz) | Fresh Milk (1 gallon) | Banana (1 pound) | Apple (1 pound) | Flag-Down fare for taxis |
| £0.4-£4 GBP | £4-£8 GBP | £0.5-£2 GBP | £1-£3 GBP | £2-£3 GBP |