Welcome to Hangzhou
Hangzhou, one of the seven ancient capitals in China's history, enjoys the reputation of being Paradise on Earth, along with its neighbor Suzhou. "Hang", literally means "ship", and refers specifically to the ship which the legendary Dayu took while taming floods 4,000 years ago, which shows how ancient Hangzhou is. West Lake in the heart of Hangzhou is a must-see, and cultural sites such as the Lingyin Temple and the Pagoda of Six Harmonies should not be missed. If you are a lover of tea and silk products, educational visits to tea plantations or silk factories can be arranged.
Best time to go:
Hangzhou has a subtropical monsoon climate with four distinct seasons. It is hot and humid in summer, and cold and damp in winter. Spring and autumn stand out as the most comfortable seasons to visit the area. Try to avoid national holidays as it will be crowded in popular scenic areas.
What to see: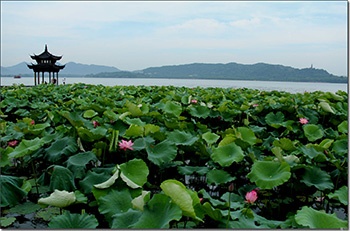 West Lake, embraced on three sides by mountains, is a huge fresh water lake with an area of 6.39 sq.meters. The Lake is divided by Gushan Mountain, Baidi Causeway, Sudi Causeway and Yanggongdi Causeway, resulting in the landscape of one mountain, two pagodas, three islets and five lakes. A leisurely boat cruise on West Lake will take you into the heart of the Lake to visit the Three Pools Mirroring the Moon and the Mid-Lake Pavilion.
Lingyin Temple, called the Temple of Soul's Retreat in English, was firstly built in 326 A.D. by a preacher, Huili, from India. It is one of the oldest Buddhist temples in China. The biggest wooden Sakjamuni Buddha statue in China sits in the main temple of Lingyin.
Fei Lai Feng, also known as the "Peak Flown from Afar", faces Lingyin Temple and is famous for its lime rock carvings of Buddha completed in the Song and Yuan Dynasties.
Wuzhen Water Town, 80 km away from Hangzhou, is a distinctive water town with many rivers, bridges and beautiful houses from the Qing Dynasty. Wuzhen is divided into four parts, two of which are open to tourists - Dongzha (East Area) and Xizha (West Area). Dongzha maintains the original look with local residents living in the town while Xizha has been reconstructed to keep the ancient style and accommodate tourists with starred hotels and numerous shops.
Hangzhou
Month
Jan
Feb
Mar
Apr
May
Jun
Jul
Aug
Sep
Oct
Nov
Dec
Year
Mean Maximum Temperature ℃(℉)
8
10
15
21
26
29
34
33
28
23
17
11
21
47
51
59
70
79
84
93
91
83
74
63
52
71
Mean Minimum Temperature℃(℉)
2
4
7
12
18
21
25
25
21
15
9
4
14
35
38
45
54
64
71
77
77
70
60
49
39
57
Rainfall amount ㎜(inch)
81
88
141
123
129
219
173
162
124
79
72
49
1438
3
3
6
5
5
9
7
6
5
3
3
2
57
Days with Rain(≥ 0.1 mm)
12
12
15
15
14
15
12
14
12
9
9
9
147
Mean Monthly Sunshine Duration hrs
102
97
116
141
165
137
213
193
144
145
129
129
1709
Recommended Tour (3 Days)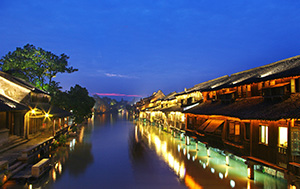 Day 1, Your tour guide will greet you warmly at the arrival hall of the airport and then transfer you to the hotel. Helpful information around the hotel will be given for a relaxing walk on your own.
Day 2, Get up early for a big breakfast, then drive to Wuzhen Water Town in one and a half hours. Wuzhen has a history of more than 6,000 years and it is home to many notable people, including Maodun, a well-known modern revolutionary writer. A boat ride is included to see houses built along the river and local people busy living their lives. Lunch is arranged in the ancient town to try local delicacies. The private A/C vehicle will take you back to the hotel in the afternoon.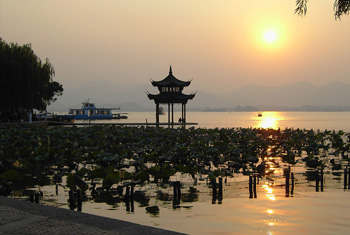 Day 3, Ask your travel consultant for a hotel close to West Lake if you want to enjoy breakfast with a river view. Or you can get up early and walk to the Lake to feel its tranquility without crowds. After breakfast, head for the dock to board the West Lake cruise boat. The boat will take you to Huxin Islet for more attractions. After lunch proceed to Lingyin Temple and Fei Lai Feng to learn more about the history of Buddhism in the Hangzhou area. Say goodbye to Hangzhou and you will be transferred to the airport/railway station for your next destination.
How to get there
| | | | |
| --- | --- | --- | --- |
| Cities | Distance to Hangzhou (km) | By Air to Hangzhou | By High-Speed Railway to Hangzhou |
| Beijing | 1591 | 3hrs | 5hrs |
| Xi'an | 1696 | 3hrs | 8hrs |
| Shanghai | 202 | No direct flight | 2hrs |
| Chengdu | 2842 | 3hrs | 14hrs |
| Suzhou | 160 | No direct flight | 2hrs |
| Guangzhou | 1251 | 3hrs | 6-7.5hrs |
| Guilin | 1350 | 2hrs 10m | 8.5hrs |
Recommended Hotels
Category
Hotel Name
Hotel Class
Why Recommend
Ranking on Trip Advisor
International Chain
Four Seasons Hangzhou at West Lake
5-star
√ A world class five star hotel with beautiful garden right next to West Lake
√ Highly professional staff, taking care of every detail, genuinely welcoming and having a much better command of English
√ Chinese restaurant in the hotel is a must eat
1
Wyndham Grand Plaza Royale Hangzhou
5-star
√ Staff are super friendly are willing to help in every way
√ Located at a strategic area which is close to the iconic West Lake (5 mins walk) and also near to eating places
√ Foreign staff work at hotel to offer service in different language
2
Hyatt Regency Hangzhou
5-star
√ Staff are polite efficient and anticipate ones every need
√ Rooms are modern with good technology and furnished comfortably
√ Facing West Lake, great to take a walk anytime
9
Best Value
Courtyard by Marriott Hangzhou Wulin
5-star
√ Great location near Wuli Square for shopping and eating
√ Staff are welcoming, helpful and accommodating
√ Great value for money
4
Haihua Hotel Hangzhou
4-star
√ Good location, situated towards the Southern edge of Lijiang Old Town
√ Comprehensive and tasty Breakfast buffet
√ Excellent service and cosy rooms
79
Enjoyor Hotel
3-star
√ Great restaurant on the 2nd floor (european) and good chinese restaurant on the 3rd floor
√ Clean and modern rooms with great little additions like live plants and a fish bowl on the desk
√ Walking distance to shopping areas
306
Boutique
Banyan Tree Hangzhou
5-star
√ Excellent service and friendly English speaking staff
√ Walking distance to Xixi National Wetland Park & Museum
√ Serene and peaceful scene with native plants adorning the surrounding villas, winding waterways, and cute stone bridges
21
Amanfayun
5-star
√ Guest rooms are constructed from the village houses for an original China experience
√ Food was superb and the ambiance was great
√ Quiet and religious atmosphere near Lingyin Temple to see monks passing by
7