Wuzhen water town has a long history of over 6,000 years in the northern suburbs of Tongxiang, Hangzhou City, Zhejiang Province. The whole town is divided into Xizha (western street) and Dongzha (eastern street) by a crisscrossing river. Dongzha maintains the basic original layout while Xizha has been reconstructed to reproduce the ancient appearance of the water town. Compared with Dongzha, Xizha is more bustling with numerous shops. When visiting the town, you will feel like you are touring in a Chinese water-color painting with white-washed walls, dark tiles, small bridges and flowing waters. And you may see carved beams, painted rafters, stone alleys and old houses. All of them have witnessed the vicissitudes of history.
Quick Facts
Chinese Name: 乌镇水乡 Wǖ Zhèn Shuǐ Xiāng
Building time: In 1991
Duration: 1-3 days
Entrance fee: Dongzha:RMB 100, Xizha:RMB 120, Coupon ticket(including Dongzha and Xizha):RMB 150
Opening Hours: In summer (May 1-October 8), Dongzha is open from 7:20 to 18:00; and Xizha is open from 9:00 to 22:30. In winter (October 9-April 30), Dongzha is open from from 7:20 to 17:30; and Xizha is open from 9:00 from 22:00.
Address: Shifo South Road No.18, Tongxiang, Jiaxing City, Zhejiang Province
Best time to visit: All year round (Every year from the end of March to the end of April, Wuzhen Water Town holds Xiangshi Fair (carnival of Jiangnan water town).
From Shanghai to Wuzhen:
from the Shanghai South Bus Station or Shanghai Hongqiao North Railway Station to Wuzhen Bus Station or Tongxiang Bus Station.
There are shuttle buses running from Hongkou Football Stadium at 8 o'clock and Shanghai Stadium at 7:50 and 8:45 to Wuzhen on weekends and public holidays
From Hangzhou to Wuzhen:
Zhejiang express bus directly heads for Wuzhen from the Hangzhou Jiubao Passenger Transportation Center. The coaches take 1h and 20 min and cost RMB 20. The last departure from Wuzhen to Hangzhou leaves at 5.30pm.
From Jiaxing to Wuzhen:
Public mini-buses head directly for Wuzhen at 7:20, 9:50, 13:40, 14:10, 14:30 and 16:45 every day from Jiaxing West Bus Station.
Attractions in Wuzhen Water Town: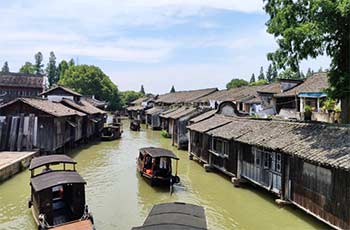 Dongzha
Dongzha—the water-bound town with the style of the late Qing Dynasty and the Republic of China
The water-bound ancient town completely preserves the style of the late Qing Dynasty and the Republic of China. The local residents still lead a peaceful life here. When strolling around the streets and alleys of Dongzha, you can witness the original living status of the local people. Besides this, Dongzha has many scenic spots, including the Former Residence of Mao Dun, Lizhi Academy, Qinggengyudu and Hanlin Mansion. When viewing from the Fengyuan Twin Bridge, you may see the weeping willows along the south bank of Dongshi River and the waterside pavilions along the north bank. The Former Residence of Mao Dun reflects the living conditions of the literary master Mao Dun. There are also various manual workshops. If you want to learn about the working process for creating blue calico and Sanbai Liquor, you should not miss Dongzha. The Hongyuantai dye-house, Sanbai liquor workshop and cloth shoes workshop all reflect the life of the local people. The archaic buildings dating back to the Ming and Qing Dynasty are fascinating. For example, the Jiangnan bed exhibition hall, the shadow play theatre, the ancient stage, and the exhibition hall of wood carving will take you back to the ancient times.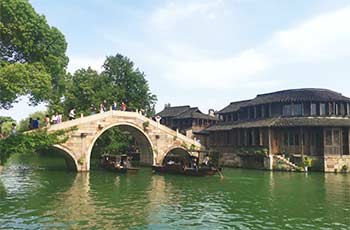 Xizha
Xizha:
Xizha is larger than Dongzha. Xizha is an ancient community now set aside for sightseeing and as a resort. Surrounded by crystal waters, it consists of 12 islands, which are connected by over 70 small bridges. Amongst all of the ancient Chinese towns it has the highest ratio of river and bridges to land area. In the scenic spot, there are bars, guesthouses and resort hotels of various types. That's why it is called "living in the water-bound town of Jiangnan". In the morning and evening, you can fully experience the tranquil beauty and poetic flavor of Jiangnan water towns. Each shop here has only one style and sells a single kind of commodity. When night falls, you will be enchanted by the opera performed on the opposite stage while having a little wine or setting several lotus lanterns afloat at the riverside.
Delicious food in Wuzhen Water Town: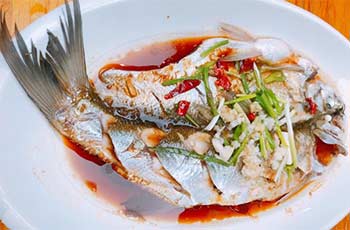 Baishui fish
Snacks: Braised mutton with soy sauce, steamed Baishui fish and stewed duck in soy sauce are the most popular snacks of Wuzhen, especially the mutton. The Hanlin Imperial Academy restaurant and Fengyuan restaurant of Dongzha, and Minguoshidai restaurant, Yusheng restaurant, and Sanzhenzhai seasoned duck store of Xizha all enjoy great popularity. It is recommended that you taste the fried fermented dofu, Dingsheng cake, Gusao baked roll, and other special snacks in the streets and alleys.
Local specialties for gift: If you want to bring back some unique items, you can go to the specialty stores in the street. There are numerous choices, including handmade Sanbai Liquor, Taoxuchang brand bean paste, exquisite wood and bamboo carvings, and kerchiefs, teacup mats, umbrellas, wallets and various pictographic pendants made of "blue calico".
How to play:
Dongzha and Xizha are nearly 1.5 km apart. If you want to tour Dongzha and Xizha in just one day, it is recommended that you come to Wuzhen earlier in the morning and spend 2-3 hours in Dongzha, and then go to visit Xizha after lunch and enjoy the night scene there.
If you have two days for your tour, you can spend one day in Xizha and the other day in Dongzha. Attractions in Dongzha and Xizha: You can spend one day strolling along the stone path of Xizha, tasting the local snacks such as the fried fermented dofu, Dingsheng cake and Gusao baked roll, or visiting the former sites of Zhaoming Academy and the old post office. And you can also appreciate the scenery of the waterside town on the sculling boat. If you have enough time, you should not miss the night tour in Xizha. With water alleys, ancient bridges and white walls illuminated by lights, it has a poetic flavor if you take the sculling boat when touring around. After appreciating the night scene, you can take pleasure in having a drink in the bar, or watching an open-air movie or a huagu opera.