November is when the fall and winter shake hands in Guilin. There can be drizzling rain. But for most days, it is cloudy. Just a little rainfall and low temperature differences between day and night enable a smooth tour.
| | | | | |
| --- | --- | --- | --- | --- |
| | Average Maximum | Average Minimum | Highest Maximum | Lowest Minimum |
| ℃ | 19 | 13 | 29 | 6 |
| ℉ | 66.2 | 55.4 | 84.2 | 42.8 |
Sunny Days: 3 days
Cloudy Days: 15 days
Rainy Days: 12 days
What to wear and bring?
In early November
The sharp temperature drop has a natural effect on early November. With the big temperature gap between day and night, people will both experience the temperature of 25°C in the day and 15°C at night. It can be cloudy for most of the time. But it randomly rains. Put on thin sweaters, windbreakers and other clothing in a tour and add clothing properly at night.
In mid-November
The temperature is between 15 and 20°C. The drizzling rain comes and goes from time to time. It is recommended to wear T-shirts with jackets, denim jackets and so on. It is wise to bring rain gear for outdoor activities.
In late November
As it is the beginning of the winter, the temperature in Guilin could drop sharply later in November as much as 6 to 10 degrees Celsius in one day. It sprinkles occasionally. Most days are overcast and cloudy. The temperature fluctuates greatly throughout late November. It is time to put on warm clothes such as cotton-padded clothes and winter boots.
Historical Guilin Weather in November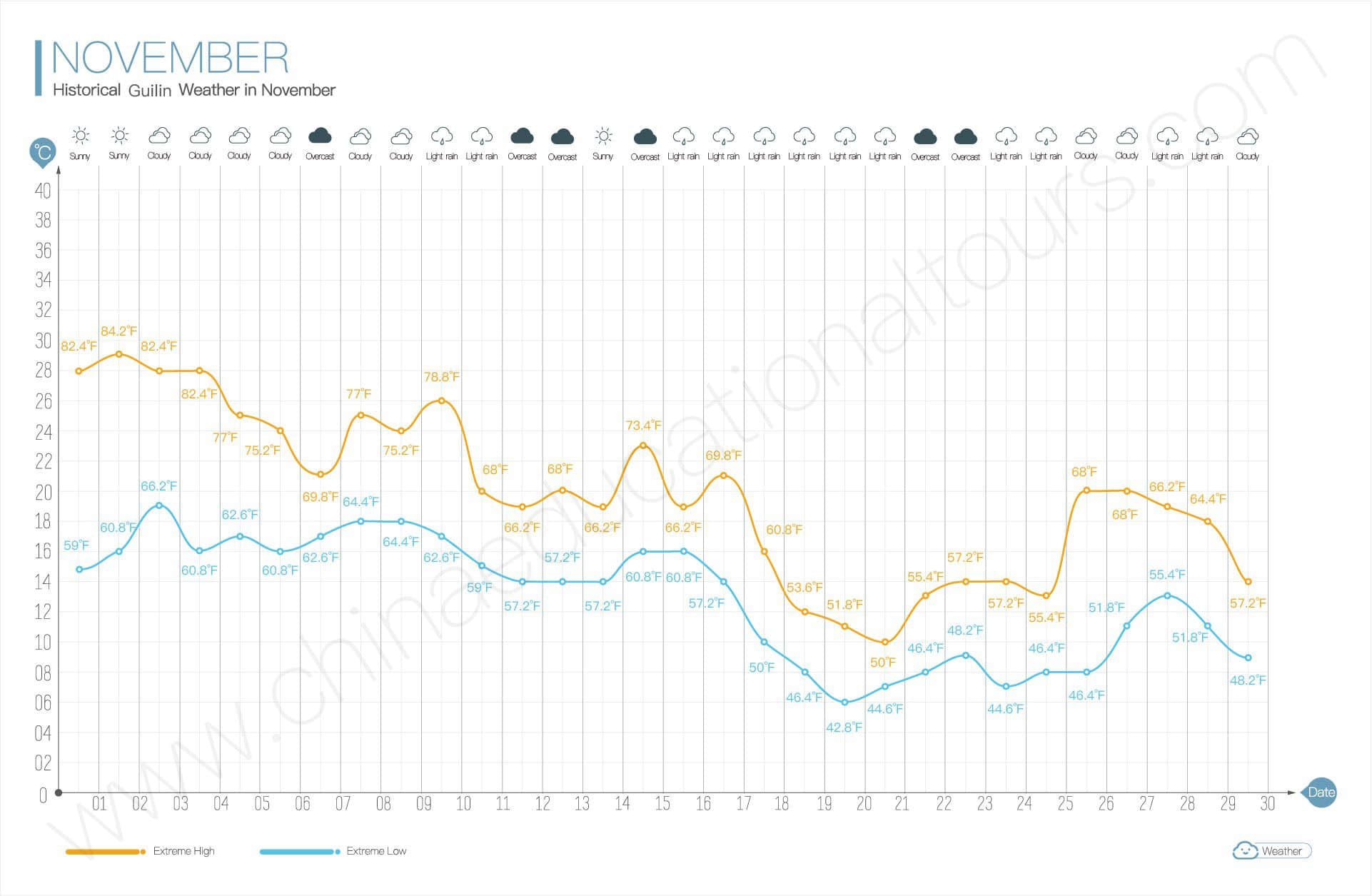 click here to enlarge