Chinese Cultural Activity Tour
Over the years we have developed more Cultural Exchange Opportunities in different areas around China. Our Cultural Exchange Opportunities are designed to instil humanitarian values that encourage a lifetime of service and activities that are developed when we volunteer our time to help others. Through a variety of service learning programs, we work closely with you to design an experience that will best educate your students. Whether it is an educational factory visit or an interactive activity with local people, our products give your group the opportunity to interact and encounter real life in China.
1. Tai Chi Experience at Temple of Heaven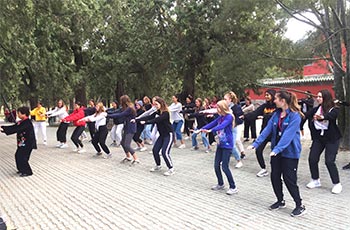 Tai Chi Experience at Temple of Heven
Temple of Heaven was commissioned in 1420 by the great Yongle Emperor of Ming Dynasty. The most famous building is the Altar, which is one of the best ancient Chinese structures existing today. More than 20 Chinese emperors of the Ming Dynasty and Qing Dynasty came there to pray for a plentiful harvest and to express worship to the god of heaven.
The Altar is designed after the philosophy of Taoism. This makes the park an ideal place for Tai Chi, which is also related to the theory of health care through Taoism. This two hours of learning the initial steps of Tai Chi will help you understand the philosophy and the popularity of this exercise that is practised throughout China.
2. Attending Class with Chinese Students in Beijing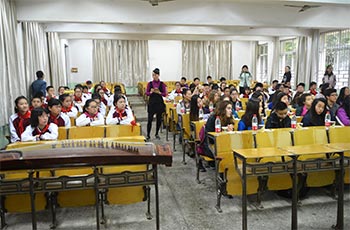 Attending Class with Chinese Students
An insightful activity for culture exchange is having class together with Chinese students of your own age. You will have the opportunity to communicate with Chinese students and participate in class activities to find out how Chinese education works. It will improve your Chinese and their English. You may also share how education methods in your country differ. After the class, you may become pen friends so that you could share ideas to better understand culture conflicts.
3. A Tour of Beijing Yanjing Brewery
As the second largest beer brand in China, Yanjing commands 89% of the market share in Beijing and 50% in northern China. This tour takes you to visit the whole workshop including the brew house, fermenting cellar, filter room and filling room. You will learn the history and development of Chinese beer and how advanced a Chinese factory can be. At the end of the tour, you will be given a complimentary glass of fresh beer for anyone who is over 18.
4. Huiyuan Juice Factory Visit in Beijing
Founded in 1992, Huiyuan Group has established 130 operating entities all around China. It is now the leading brand in the Chinese beverage industry. It's in a close relationship with fruit, vegetables, tea, and grain production bases with a total area of 1.6 million acres, and has built up a sales network and an agricultural operating system covering the whole country. The factory tour includes watching a short film about the company's development, visiting its showroom of all of their products, the workshop where juice is produced and a supermarket where you could try some fresh juice. This tour is suitable for visitors in the same business or for students interested in business.
5. Volkswagen Factory Visit in Shanghai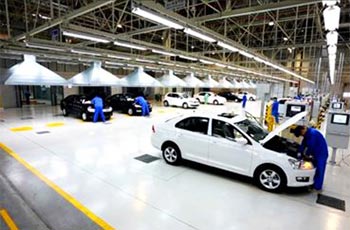 Volkswagen Factory
Shanghai Volkswagen, founded in 1984, is one of China's leading automobile manufacturing companies.
The half day tour is very educational and informative for people who want to know about the development of China's automobile industry. You will be shown around the workshop and briefed about the company itself. Afterwards, a short visit to Shanghai Auto Museum presents more than seventy car models, and vehicle manufacturing history.
6. Dumpling Making in Xi'an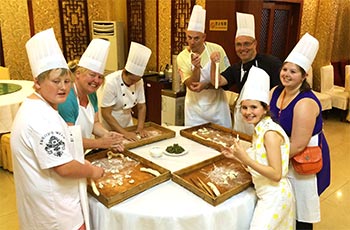 Make dumplings
Dumpling (Jiaozi) means happiness and wealth in Chinese culture. Making and eating dumplings is an important activity for most families on New Year's Eve during the Spring Festival. The wrapper is usually made from flour and water, but the fillings vary a lot, ranging from all sorts of meat and vegetables to seafood, mushrooms and even fruit. To visit a local family in Xi'an and making dumplings with the host will immerse you into traditional Chinese culture. Start with preparing the wrapper, followed by making the fillings, wrap them together, and last cook and eat the fruit of your labour. Talking to the host is best part of this activity.
7. Attend a Chinese Culture Presentation in Tang Bo Art Museum in Xi'an
Xi'an is one of the Four Great Ancient Capitals in China's history. Take a visit to Tang Bo Art Museum and enjoy the artefacts and treasures that are on display, the collection of Shaanxi folk arts, and ancient paintings. A lecture about Chinese painting and calligraphy will be given by a professor. Your students will learn the structure of Chinese characters. They will have a chance to learn how to write Chinese characters with a Chinese brush. It's the perfect opportunity for you to have a look at this most beautiful form of written language.
8. Experience Shanghainese Life
Take a visit to one family in Shanghai Longtang. You will be immerse into the life of the Shanghainese. Your guide will accompany you to visit a local food market and buy ingredients at the beginning of this five hour tour. Afterwards, you will talk with your host in their house with guide's translation. The talk will help you understand local life style and their tradition. Then you will prepare lunch with your host and have a lovely meal together. It is an experience you will never forget.
9. Cooking Class in Yangshuo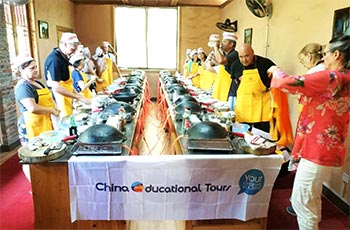 Cooking Class
Chinese people love eating. Food is the most important part of our life. Learning Chinese cooking takes you closer to the real life of China. In the morning, you will follow your tutor to the local market to learn about buying the ingredients you will need to prepare the daily meals. Fresh vegetables, pork, beef, lamb, fish, and even live animals can be found in this very busy market. After that it's back to the kitchen, where each of you will have your own work table. You will learn to cook three popular Chinese dishes. You will find it is fun and easy by actually doing it. At last, you will taste your own dish and exchange with others, see who the best cook is.
Get a quick quote, click Contact us
Have a question?
OR
Are you eager to begin your Chinese cultural journey?
Drop us a line and we will promptly connect you with our leading China expert!