Discover Your Passion in Hua Quan Village
Reconnect with Nature and Broaden Your Horizons

Located in the heart of Jiangxi province in Eastern China, Hua Quan Village is nestled into the countryside near Longhu Mountain, known to be the cradle of Taoism and one of China's most remarkable UNESCO World Heritage Sites. It is easy of access from Shanghai by speed train.
"The Miracle" complies the creative artwork of muralists from around the world to form 100 murals along the walls of the village. Find a mural that resonates with your idea of one of life's miracles, taking time to appreciate and value even the smallest things in life.
With over 50 acres to call home, this thriving art village includes museums, open studios, a wellness and culture park, restaurants, and accommodation. Various educational activities have been created via the theme of Art, Culture, Wellness, and Nature.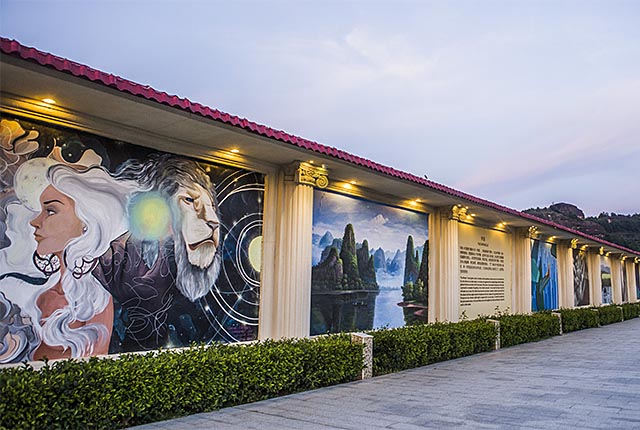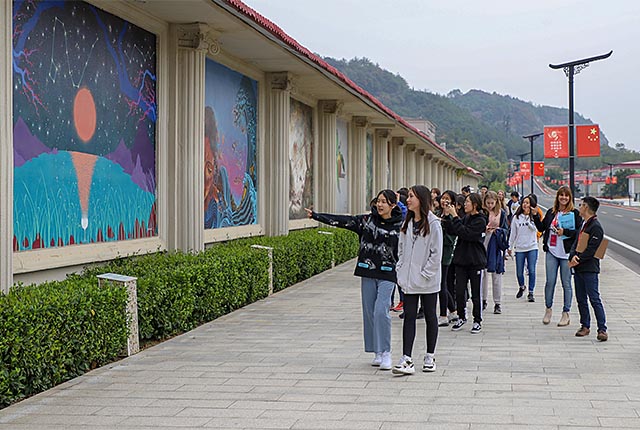 ART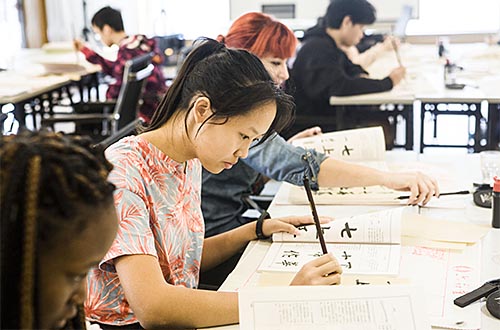 Calligraphy Arts and Chinese Painting
Students will explore the ancient art form of Chinese calligraphy and Chinese painting. By learning to manipulate calligraphy tools and materials, using brush techniques, and proper character composition, students will create exquisite works of calligraphy art and discover the beauty and traditions of Chinese calligraphy and Chinese painting. Additionally, they will identify and apply the techniques of a unique style of painting that originated from the Han Dynasty. It mainly refers to scroll paintings painted on enamel or rice paper using ink and water. The topics painted are typically characters, landscapes, flowers, and birds. Completed works will be on display in a student exhibit.
Jingdezhen Ceramics
Students will acquire basic ceramics skills revolving around throwing pottery, using a wheel, and hand sculpting. Students will recognize and illustrate the intricate pottery making process and explore the history of ceramic art invented in China two millennia ago.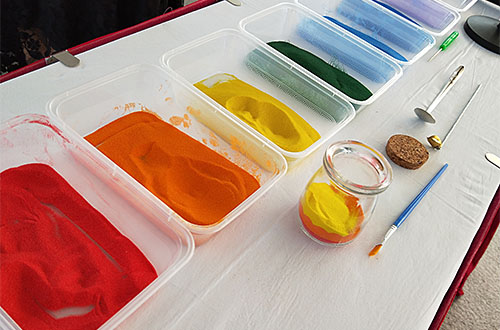 Sand-bottle Crafting
Experience the calming practice of sand bottle art. Students will practice sand bottle art coloring methods and processes to fill colored sand into glass bottles of various shapes and sizes. Additionally, students will manipulate sand bottle crafts, pattern making, color schemes, and sand portraits to create a colorful sand bottle creation. On top of bottle making, students will explore and manipulate the different skills needed to construct and animate sand painting pieces.
Sand Painting
It is the art of forming fixed or non-fixed patterns on the surface of the work by splashing colored sand and other powdered pigments.
Acylic Painting
Artists of all levels can learn acrylic painting techniques and methods. Designed to help students master their brushwork, color-mixing, and observation skills to create works that reflect each student unique artistic abilities.
Oil Painting
Beginning with an overview of the history and evolution of oil painting, students will paint their own pieces and in the process learn a variety of techniques such as color-mixing and proper brush strokes as well as push the boundaries of their creative thinking and l artistic expression.
Sketching
Beginning with the basics of sketching, students will work on strengthening techniques with gypsum geometric figures and still life sketch. This class helps to improve visual memory and to hone the ability to translate what one is seeing into a realistic drawing. Students will be introduced to multiple styles of sketch and receive basic training in utilizing perspective, proportion, and shading.
CULTURE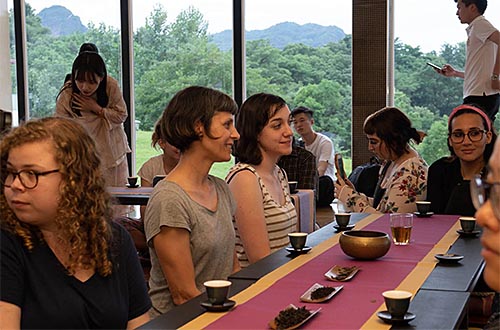 Tea Ceremony
Students will explore and perform the famous and unique Chinese tea brewing process and identify the secrets and aspects of the tea ceremony, which is a significant aspect of Chinese culture and traditions.
Dumpling Making
Students will be guided by a Chinese chef to explore, compare, and understand the relationship between traditional food and Chinese culture. Students will acquire the skills to make delicious dumplings in this course.
Perfumes Satchel Making
Experts share the magic of making scented sachets, as well as its social and cultural implications. Students will manipulate and acquire the traditional skills required to make Qingyang scented sachets as in ancient Chinese folk tradition. Moreover, students will distinguish aesthetic concepts and social customs of the older Chinese generation.
CHINESE TRADITIONAL FOLK SONGS & DANCES
Students will learn about Chinese language, folk dances, traditional folk songs and their historical museums.
TAO TE CHING STUDY
Learn the history and great wisdom of the Tao Te Ching. A dedication to the classic stories of Tao Te Ching and Taoist culture in China.
WELLNESS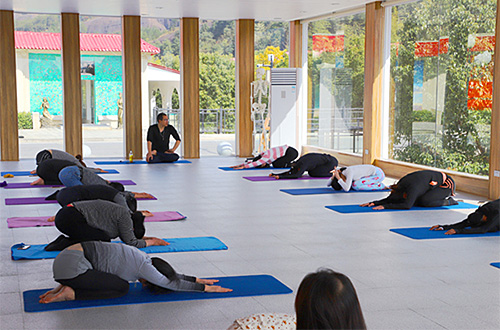 Hatha yoga is the simple practice of ancient poses to improve one's physical, mental, emotional, and spiritual state. Students will be taken through a series of asanas (poses that correct the body's posture and muscle movement), pranayama techniques (breathing exercises), and meditation exercises to help unify the body and mind.
Tai Chi is a Taoist practice that focuses on both defense training and enhancing physical health. This class will explore Tai Chi theory and basic techniques. The mountains and forests nearby are the perfect environment to practice and to find inner peace.
NATURE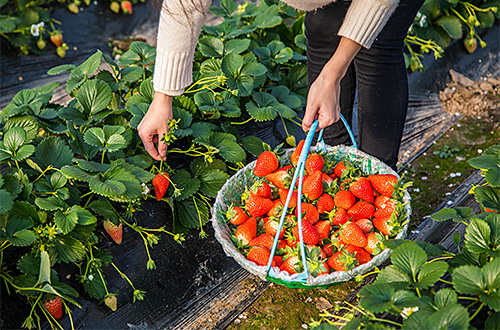 Community Farming
Students will have the opportunity for hands-on work in local farms picking pomelos, strawberries, chestnuts, and lotus seeds (based on seasonal availability). Students will identify and explore the process of rice transplanting, and harvesting lotus shoot, bamboo shoot, dendrobium grass, pueraria, sugarcane, and late rice. Learn about Jiangxi food culture and try regional cuisine with local families in their homes. Catch a glimpse of their everyday lives and prepare meals together. This is both a rewarding and intimate opportunity for guests looking to immerse themselves in the local culture.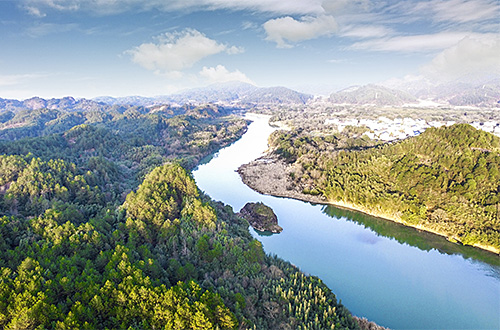 Explore Longhu Mountain
The tour of the mountains includes a ride and hike around the mountains, a raft ride down the Luxi River, and the Cliff Tomb Show. The raft ride provides a beautiful view of the mountains. Visitors will pass by numerous famous formations that resemble animals such as turtles, dragons, and tigers. Typically, one raft carries 8 passengers and the ride lasts for approximately 20 minutes. Along the way there are great views of the Cliff Tombs. After the ride, there is a 30-minute show, which involves monks climbing down the faces of these cliffs to show the audience how the tombs were originally placed in the crevices.

A remarkable cultural experience awaits you at Hua Quan Village.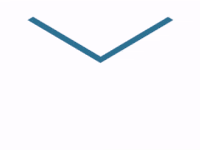 Have a question? Or can't wait to immerse yourself in the engaging journey of Chinese culture? Send us a message! Our top China specialist is ready to assist and connect with you without delay!