SH-07:

1-Day Shanghai to Tongli Water Town Tour

Our one-day, privately guided tour begins in Shanghai, which is China mainland's most modern, populous, and prosperous city. We travel from the heart of this megalopolis to the nearby, tranquil, canal-filled town of Tongli, known in China as "Little Venice of the East". Canals of all sizes are found throughout the town along with well-preserved stone bridges and walkways, giving Tongli plenty of ancient, picturesque character. Some of the houses here were built during the Ming and Qing Dynasties and some of the bridges are from the Song, Yuan and Ming Dynasties. This tour is privately guided so you will not be sharing this tour with unknown guests.
Trip Highlights
Explore a quaint, ancient canal-filled town dubbed – "the Venice of the East"
Adequate tour time allotted making for a relaxing, enjoyable day
Visit the gorgeous Tuisi gardens complete with ancient architecture and reflecting pond
Experience one of the oldest Chinese opera forms – the Kun opera
Take a relaxing, unforgettable gondola ride – float slowly through the charming canals of this postcard town
Local cuisine, we select local restaurants who serve well-prepared, tasty, and safe local cuisine
Customizable schedule with no shopping stops
Private tour for just your group (minimum 2 people)
Map of this Trip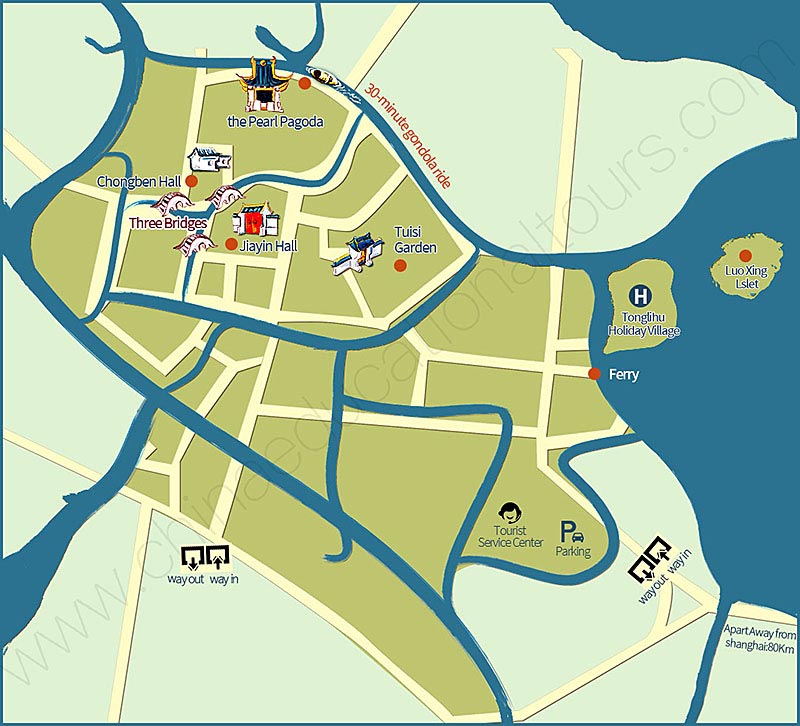 Click to enlarge
Full itinerary for Ancient Canal Town Escape: Shanghai to Tongli Water Town
The day before your tour begins
Your guide will call your hotel between 7pm and 9pm to confirm your stay and pickup time for the next morning, usually leaving a message with hotel staff to deliver.
At 8:30am, your guide will wait for you in the hotel lobby. It's a pleasant and scenic 1.5 hour drive to Tongli Water Town. On the way, you'll witness the dramatic change from a modern, bustling city to quiet, slow-paced town life.
Our first stop will be the narrow, stone alleys of Ming and Qing Street. These are an excellent example of ancient Chinese architecture. The streets themselves are cool in the summer and filled with small shops and restaurants perfect for a quick break or snack.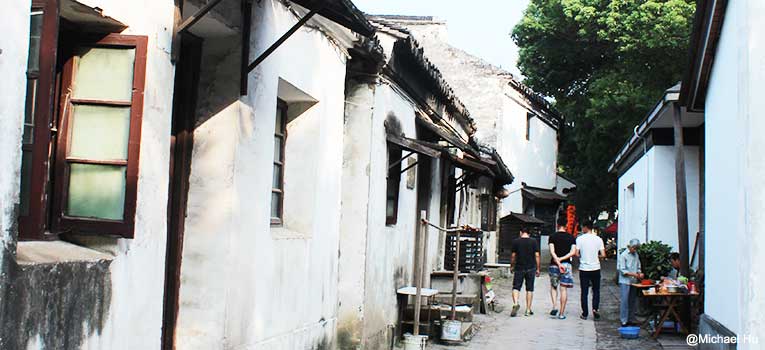 Local Street in Tongli
Our next stop is the exquisite private garden, Tuisi Garden – a highlight of the tour. This stunning postcard-like atmosphere boasts ancient architecture including small wooden buildings with the typically Chinese upward-sloping roof tips, typical Chinese trees, all in a water setting. The garden makes a perfect place for selfies and group pictures.
Tongli Tuisi Garden
After a guided tour of the garden, we visit the well-preserved, Jiayin Hall. This is perfect example of an ancient Chinese home, with exquisite window and door carvings.
The final stop of the morning is the famous Tongli Three Bridges. Three picturesque stone bridges not only make for incredible photos but are important to locals during weddings and blessing ceremonies.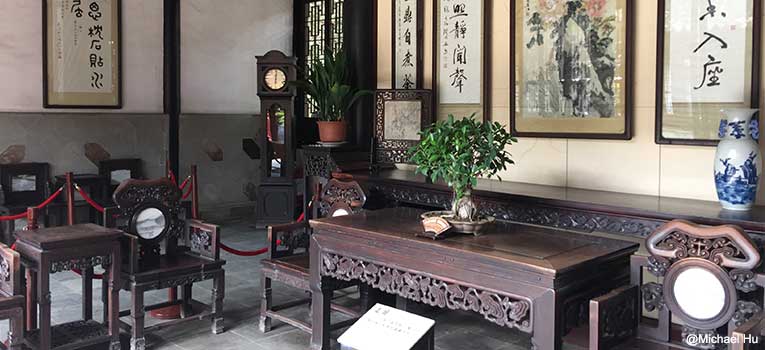 Jiayin Hall
Lunch will be served at one of our selected restaurants near the Three Bridges and is included in the tour price. The restaurant will serve authentic local cuisine and the location is perfectly situated to enjoy the fantastic ancient scenery of the three bridges and the beauty of the river while eating – making for a memorable experience.
Notes:
1. Please inform your travel specialist of any special dietary requirements, including food allergies, upon booking and remind your guide of these before departure.
2. If you have preferences for another cuisine, you are free to choose another restaurant, but it will not be included in the tour price.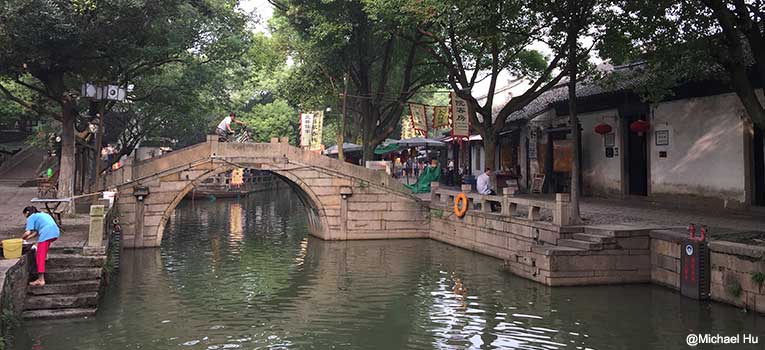 the Three Bridges
After lunch, we'll go to the nearby ancient house-turned-museum, Chongben Hall, to learn more about wedding customs of local water towns in eastern China, which we began at the Three Bridges.
After this, we head to an open-air stage to catch a Kun opera show, a very old type of Chinese opera referred to as "the ancestor of China opera". Since part of the joy found in Chinese opera is understanding the story being told, your guide will explain what's happening to those interested offering a unique opportunity for non-Mandarin speakers to fully enjoy this ancient art form.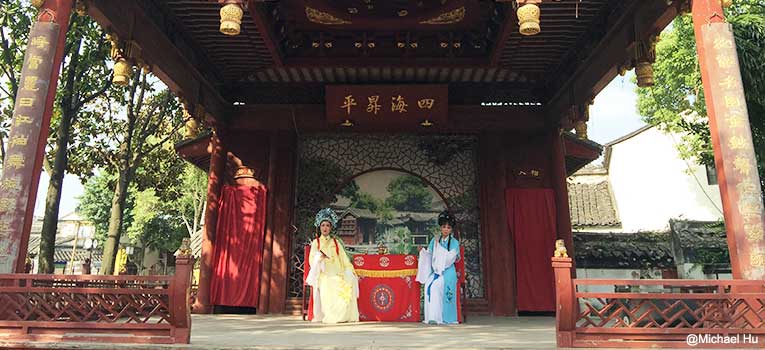 Kun Opera Show
After the show, we will visit the Pearl Pagoda, the largest garden in Tongli with a legendary story behind it and another picturesque stop that includes ancient Chinese architecture built on the water's edge.
Our final activity is taking a magnificent, 30-minute gondola ride. Now is the time to get your camera ready, then sit back and relax as the boat slowly carries us around several different waterways. For those interested, the boatman will happily let you try your hand at rowing. Along the way, we may get a chance to see locals involved in the ancient skill of Cormorant fishing – a dying method of fishing that uses specially trained birds (called Cormorants) which voluntarily dive under the water and catch fish with their beaks, then return to the fisherman's boat to drop off their catch.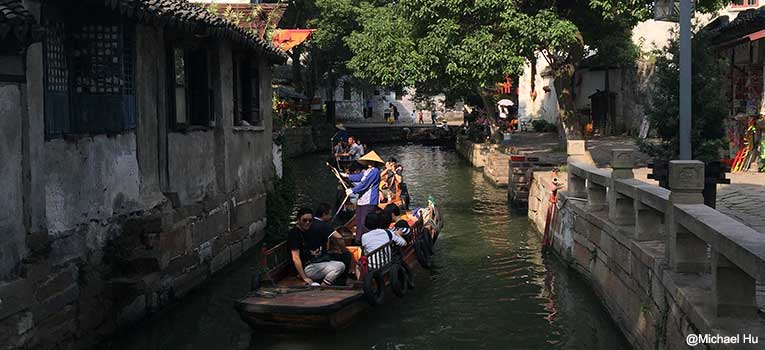 Tongli Gondola Ride
Our tour of Tongli Water Town will conclude at 16:00. We will return to your hotel in Shanghai around 17:30.
What's Includes
All admission fees
Tongli Water Town boat tour
Lunch at our designated local restaurant
Professional English-speaking local guide
Transportation to and from Shanghai / TongLi Water Town in private vehicle with driver
What's Excluded
Personal expenses
Hotel accommodation
Gratuities for guide and driver (appreciated but not compulsory)
Breakfast and Dinner
Departure information
Tours are available every day of the week.
Our hotel pick-up service is offered in the following area: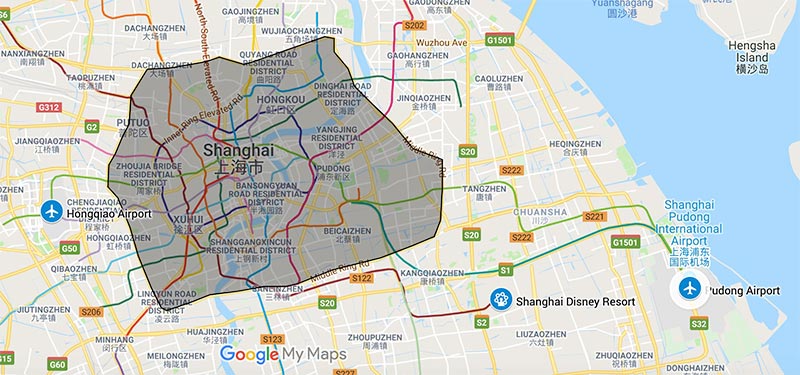 Click here to see on Google Map
For guests who stay outside of this area, we ask them to meet our driver at a mutually agreed upon location (which is usually the lobby of one of the below hotels).
Recommended Hotels
Standard: Kingtown Riverside Hotel Plaza Shanghai, Holiday Inn Express Zhabei Shanghai
Deluxe: SSAW Boutique Hotel Shanghai Bund, Central Hotel Shanghai
Luxury: Fairmont Peace Hotel, The Peninsula Shanghai
Detailed Information
Guide: Professional, fluent English-speaking guide. We also offer guides in other languages (French, Spanish, German, etc.) at no extra cost. Please contact us if you would like a guide in a language other than English.
Driver: Reliable licensed local driver with at least 5 years of driving experience.
Vehicle: Air-conditioned business car or van, with large windows and ample space. Exact model will depend on the number of people in your tour.
Restaurant: We will have lunch at a reputable restaurant which serves local cuisine. We will happily accommodate any special dietary requirements as long as you let us know at the time of booking.
Possible additional costs: Souvenirs, drinks, snacks, tips.
Customizable tours: Since this is a private tour*, we offer many customized options. For instance, instead of returning to Shanghai, some customers prefer to stay one, or more, nights in Tongli Water Town allowing for a more tranquil setting and enjoyment of the canals (a small additional fee will apply for the extra transportation). There are many ancient style hotels and inns in Tongli Water Town, and the area has a rich nightlife. Please contact us for any special tour requests.
(*two person minimum)
Customer service: English-speaking CET staff members are available to answer your questions.
Email: lee@chinaeducationaltours.com
International: +86-773 3564 989
USA & CA: 800-670-9603
Australia: 1800-130-494
Cancellation Policy – Worry Free Booking!
If any of our tours cannot be completed due to natural disasters or issues out of our control, we will inform customers at the first possible opportunity and offer an alternative solution. If no acceptable alternative solution can be found, we will issue a refund based on any services which were provided, including a full refund in the event the tour is canceled prior to departure.
If for any reason a customer wishes to cancel his/her booking, we will gladly issue a refund based on the following:
3 days, or longer, before departure: 100% refund*.
Between 24 Hours and 3 days before departure: 50% refund*.
Less than 24 Hours before departure: no refund.
After the trip has commenced, we are unable to issue a refund due to non-participation, early departure, late arrival, or missed days on tours.
(* Excluding penalties charged by hotels, railways, airlines, and PayPal, if applicable. All penalties will be itemized.)
FAQ
1. What time does the tour guide usually pick me up?
Your tour guide usually picks up guests at their hotel at 8:30 in the morning.
2. Will my guide contact me prior to our departure day?
Yes. Your guide will contact you the day before departure at your hotel by calling and leaving a message with hotel staff. Your guide will then confirm the pick-up time for the next day.
3. When can I get some information about my tour guide?
Guide information will be emailed to all guests 3 days before departure.
4. Will my tour guide accompany me during the entire tour?
Yes. Your guide will accompany you throughout the tour from hotel pick up to drop off.
5. Will the guide be a driver/guide or will there be a guide + a separate driver?
Your tour will have a professional, bilingual guide and a separate, experienced driver.
6. Can I travel if I have allergies/medical conditions/physical disability?
This day-trip includes a decent amount of walking which will include steps and some stairs. In general, we will not be doing any types of activities that may cause problems for those with health problems or allergies, however guests should be able to handle steps and stairs. If you have any further questions, or specific concerns, please contact our offices. Furthermore, we recommend that you consult your doctor if you have any medical questions about your specific condition(s).
7. Can pregnant women go?
Pregnant women do not usually have any problems on this trip. To make extra sure, it is recommended that you consult your doctor in advance.
8. Can I travel with my pet?
Pets are not allowed at most of China's scenic spots. If you will be traveling with a pet, it is better to leave your pet in your hotel room.
9. Can a minor travel alone?
All minors (17 years old or younger) will need to travel with a legal guardian.
10. If I want to leave the group during the tour, is this ok?
Since this is a private tour, you will have much more flexibility than when taking a group tour. In the event your group (family, friends, etc.) is somewhat large and someone would like to leave the rest, this can be arranged but guests should be aware that leaving the group at any time could create complications (ie, not being able to easily find the group again, being late to a prearranged meet-up time/place, making the rest of the group wait, getting lost in the town). All guests need to consult with their guide before heading off and make sure it will be ok. Your guide will do everything possible to make this happen, but we ask all guests to not leave the group prior to clearing this with the guide.
Why China Educational Tours?
Experienced
CET has been provided educational tours of China for 6 years. Our company is not only trusted by thousands of adult travelers, but also by dozens of high schools located world-wide (a partial list of satisfied high schools, and their comments, can be found on our webpage here). We provide not only sightseeing tours, but also in-depth knowledge and information regarding Chinese culture. We are based in China to give you an authentic, real-life experience.
No shopping traps. No tourist traps. Ever.
CET cares that our customers have a memorable, enjoyable, and safe experience in China. All CET tours are completely "tourist trap" free. Unlike many other companies, we never take customers to places where they are pressured to buy items or where travelers will be taken advantage of. Our guides are here to help make your trip wonderful.
Professional and Safe
Our team of staff members are well-trained, experienced, passionate, caring, and knowledgeable. Our first-rate local guides take care of all the details and safety issues so you can just relax, enjoy, and have the trip of a lifetime.
Private Tours in a Comfortable, Spacious Vehicle
Our day trips are private tours for independent small groups. Forget about being on a crowded bus and following rigid schedules.