How Does the Chinese Interact with Tea?

In China it is considered that there are seven daily necessities for life: firewood, rice, oil, salt, soy sauce, vinegar, and tea. Drinking tea and the Chinese culture are inextricably entwined. Tea may be drunk for thirst, or for medicinal purposes. But more often it is drunk in the company of others for spiritual, social and cultural reasons.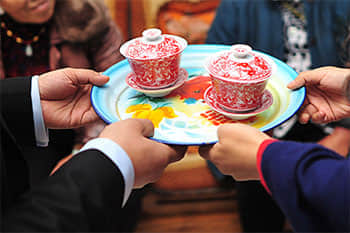 Chinese Wedding Tea Ceremony
Someone may offer others a cup of tea as a sign of respect. This might be young ones showing respect to parents and elders, or part of a business negotiation. Tea may even be offered as part of a formal apology. Tea is offered as a sign of gratitude during the Chinese wedding ceremony, for example, when the bride and groom formally prepare tea for the parents.
Down through history, sharing tea has only increased in popularity. Teahouses remain favorite gathering places, while around the table at home or in a restaurant, tea is part of every meal and not at all confined to a particular time and place.
Although tea is such a vital part of Chinese culture, there are many nationalities and cultural variations within China, and each has its own take on tea and tea drinking. Each variation includes different ways to prepare and present the tea. The Han people generally prefer plain green, scented, black, or oolong tea, while the Zang people would rather have their sweet, salty, acerbic butter tea. For the Uygur, tea is as important as rice, and they will not go without their milk tea and fragrant tea. The people of Inner Mongolia drink a salty milk tea that has a long and complicated preparation process, which a young girl must learn and demonstrate proficiency in at her wedding. For the Dai people their bamboo tube fragrant tea is the best, while the Naxi people like Yanba tea, and dragon and tiger tea. The Lisu people drink thunder tea, the Tujia people prefer Lei tea, the Bulang like sour tea, the Bai want 3-course tea, for the Miao it is oil tea, and for the Hui it is jar tea. Each one is locally and culturally relevant and important in daily life.
While in western cultures, people often invite friends, relatives or associates to their home for a 'dinner party' involving fine food and socializing, in the eastern cultures, especially China, it is more normal to invite people to join you at a restaurant, or even better, at a teahouse.
Some say that teahouses are the epitome of Chinese culture, and it's true that they hold a special charm. People go to their local teahouse to drink tea, relax, and meet friends, but there is so much more to it. Teahouses offer a wide variety of teas, and other seasonal drinks - tonics for warmth in winter, and cold drinks in summer - and food as well. In some teahouses the buffet of snacks is free once you have paid a minimum charge for some tea, especially in the high class big city establishments where entertainment is provided.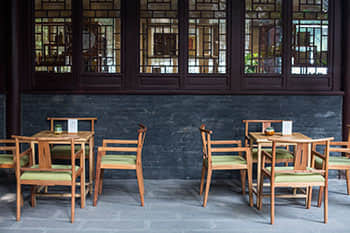 Tea House
Like everything else in this vast land, styles of teahouses vary from place to place with regards to décor, types of food and drinks, and entertainment. In Beijing, among the huge variety of teahouses there are some with a minimum charge of RMB 1,000 per person. The décor is meticulously designed to the purpose of the establishment. Some are created specifically for storytelling, others for playing chess, and the Qing era teahouses include an outdoors pergola for relaxation and conversation.
The more than 700 teahouses in Hangzhou belong to a culture that originated during the Southern Song dynasty. Here the people mostly drink West Lake Longjing tea, and the teahouses take their cultural activities very seriously as they participate in the National Tea Expo Fair, and the West Lake International Tea Party. They also offer tea ceremonies, tea cakes and relaxation, and special tea-tastings.
Tianjin teahouses have something special to offer along with the tea, snacks, singing of opera arias, and storytelling. Customers come to laugh at an entertaining "Cross Talk" show. This is a comedy style specific to China, and similar to "stand-up" in the west, involving a humorous interchange between two people, while the audience may interject as well.
In Guangdong the teahouses are magnificent to behold with wonderful décor, and such a variety of refreshments that they are an ideal setting for a date, reunion, or business meeting. Teahouses in Chengdu are also wonderfully decorated in a variety of ways presenting a quiet place to be refreshed.
In China, making and serving tea is an art in itself, with spiritual and religious overtones, and across the centuries has been developed and practiced as an elegant and graceful performance. This particular art is commonly practiced even among ordinary people, whether Buddhists, Daoists or Confucianists, because tea is taken as a means of quenching thirst and ridding the body of excessive oil, and also to nurture the spirit.
There are three basic styles of tea preparation. The simplest involves covering the tea cup to allow the tea to stay warm as it steeps. Commonly people use a teapot to make tea to share as a family, which is the second style. The third is considered more skillful, and involves the tea ceremony as described in the ancient writings of Lu Yu.
For a visitor to China, there are many opportunities to partake in various tea ceremonies, and enjoy both the art of the practitioner as well as the refreshment of the tea.
Have a question?
OR
Are you eager to begin your Chinese cultural journey?
Drop us a line and we will promptly connect you with our leading China expert!