CET-05:

12 Days Hong Kong - Guilin - Xi'an - Beijing Tour

Discover the essence of China starting from the gateway city – Hong Kong – and travel all the way to the north. Explore the metropolis of Hong Kong, natural countryside of Guilin, ancient city of Xi'an, and capital city of Beijing. You are going to see a big difference from Kowloon and Central in Hong Kong and enjoy the beautiful landscape in Guilin. Visiting the ancient ruins in Xi'an and Beijing could be lessons that allow you to get a better understanding of Chinese history.
Trip Highlights
Unexpected city tour in Hong Kong
See the palace of nature's art – Reed Flute Cave
Take a cooking class in Yangshuo County
Cycling on the ancient city wall
Admire more than 7,000 Terracotta Warriors
Hike on an unrestored section of the Great Wall
Suitable For: School, Family or Friends, Solo
Full itinerary for Highlight China Travel from South to North
Day 1
Hong Kong Arrival
Nihao, Welcome to China! Your tour guide will meet you at the arrival hall of Hong Kong International Airport (HKG). The guide will be holding a sign with your name on it and then accompany you to your hotel. You can leave the hotel check-in to the guide as well.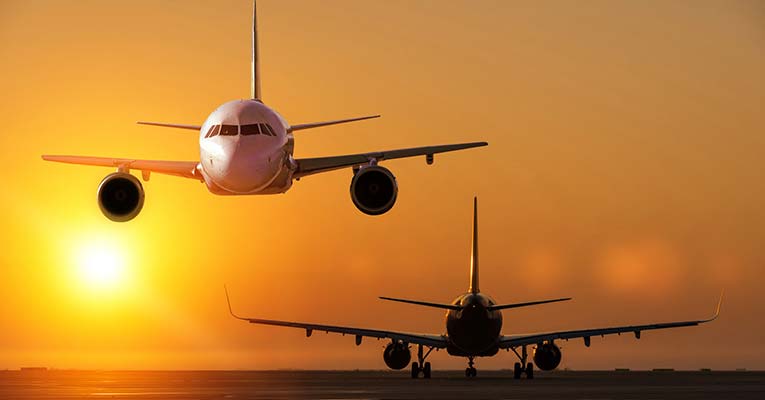 Fly to Hong Kong
Day 2
Hong Kong: City Tour (breakfast & lunch)
Morning
Hong Kong has more than just shopping. We selected the natural and cultural sites which give you an insight into this metropolis. Your first stop is Victoria Peak, which is the highest peak in Hong Kong. The next stop is the "Golden Beach" in Hong Kong, Repulse Bay. It is the most representative bay of Hong Kong. Shaped as a crescent, the bay stretches a long way. You then will visit the fishermen's living area – Aberdeen – before lunch.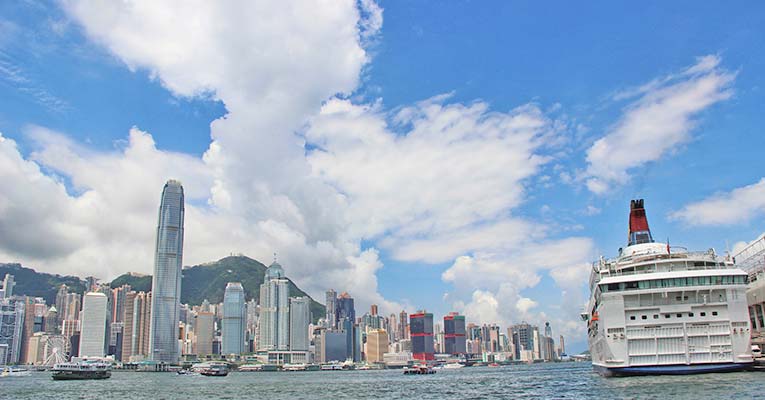 Victoria Peak: Must-see in Hong Kong
Afternoon
After lunch, we go across the ocean to reach Kowloon, where most of local residents live. You will see some historical sites. Firstly it is Wong Tai Sin Temple, built in 1945, which is the largest and most impressive temple in Hong Kong. Local people will pray for good luck for the whole year on the first day of the lunar New Year. The next one is Kowloon Walled City Park, which is the only Hong Kong territory not ceded or leased to the United Kingdom. It was rebuilt as a Chinese garden with Hong Kong characteristics. Not far away we will arrive at Nan Lian Garden, with artistic garden features of the Tang Dynasty. If there is still free time, you can choose to visit Jade Market, Bird Garden, or Avenue of Stars.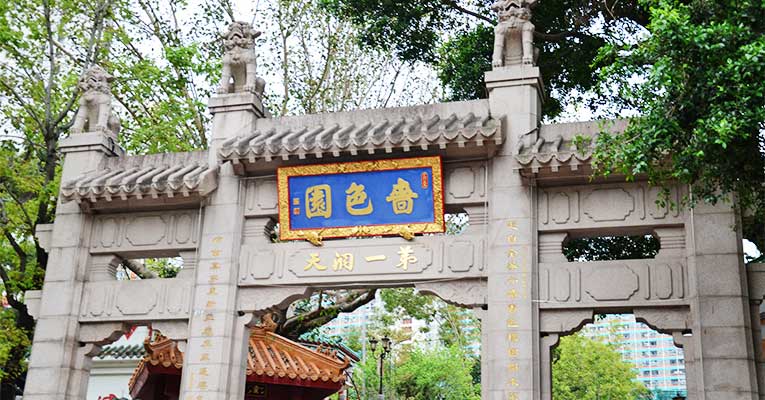 Wong Tai Sin Temple: The largest and most impressive temple in Hong Kong
Day 3
Hong Kong: Free Day (breakfast)
Hong Kong is a Shopping Paradise. There are both small markets and huge malls. You have one free day to shop around or explore the city on your own. Here are some shopping areas which are highly recommended: Stanley Market (Flea Market, & Street Markets), Mongkok (Neighborhoods), Cat Street Market (Specialty & Gift Shops), Temple Street (Night Market) and Hong Kong IFC mall (Shopping Malls and Architectural Buildings).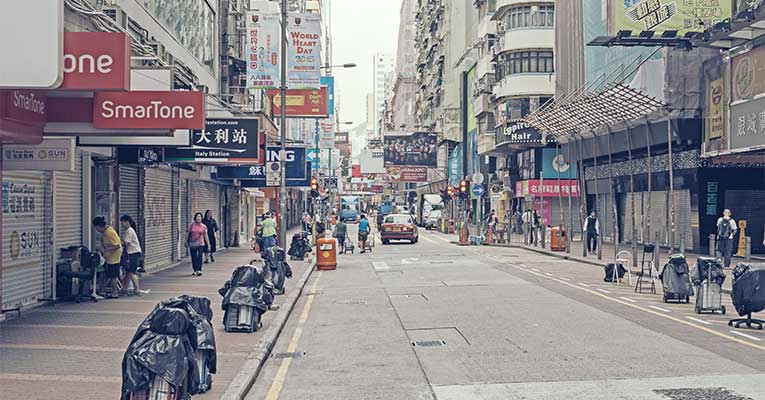 Shopping in Hong Kong
Another option: you can take a ferry to Macau and try your luck in the casinos or discover its Historical Centre.
Day 4
Hong Kong - Guilin by Speed Train: on The Train (breakfast)
Morning
Your tour guide and driver will meet you at the hotel lobby and transfer you to Hong Kong west Kowloon station. Board your speed train to Guilin for 3 hours and 19 minutes.
Afternoon
You will arrive at Guilin west railway station and meet your tour guide at the exit. Drive to your hotel and relax after check-in.
Evening
Recommended activity:
You can walk alongside Rongshanhu Lakes with colorful lights , and stroll down Zhengyang Pedestrian Street to see the nightlife in Guilin.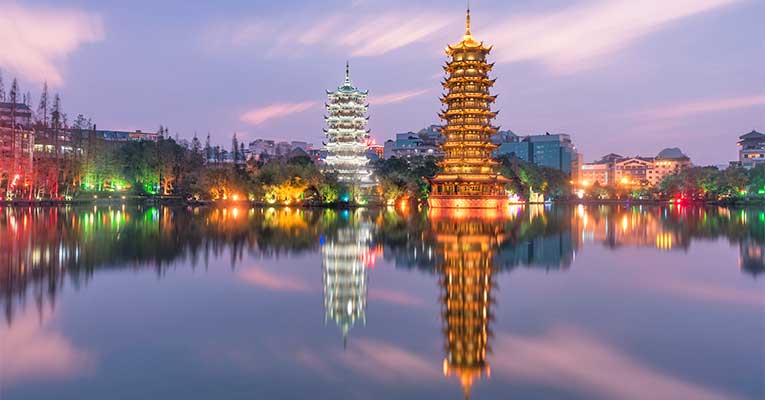 The Sun and Moon Pagodas, beautifully illuminated at night
Day 5
Guilin - Longsheng: Reed Flute Cave And Longji Terraced Fields (breakfast & lunch)
Morning
We will go to Reed Flute Cave. It's a classic Karst Formation cave where you can find hundreds of stalactites and stalagmites. With the help of colorful lights, it looks like a fairy tale world that you have never seen before. Then we drive you to Longji Pingan Village, which takes about 2.5 hours from Guilin. Lunch will be served after your arrival.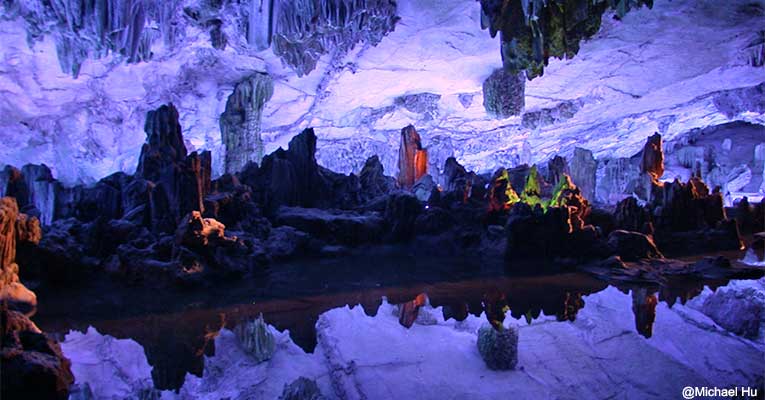 Reed Flute Cave: The Palace of Natural Arts
Afternoon
After lunch, you can stroll around the Minority Village and talk to local people and learn about their village life. Then you will have an easy hike to the mountain top from the village and enjoy the view of terraced fields along the way. There are two viewing platforms called Qixingbanyue (20 minutes hiking) and Jiulongwuhu (30 minutes hiking) allowing you to overlook the panorama of Ping'an Village. From the two angles you can see two different pictures formed by rice terraces: one is seven stars around a moon from Qixingbanyue; the other one is nine dragons and five tigers from Jiulongwuhu. We will drive you back to Guilin in the late afternoon.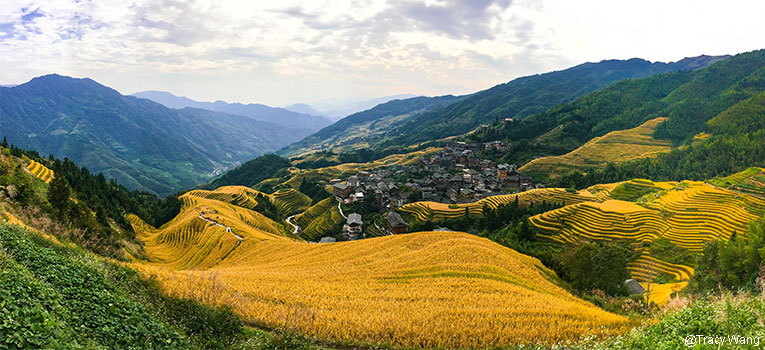 Longji Nine Dragons and Five Tigers (Jiulongwuhu)
Day 6
Guilin – Yangshuo: Li River (breakfast & lunch)
Morning
After breakfast, your tour guide and driver will meet you at the hotel lobby and transfer you to Zhujiang Wharf, about a 40 minute trip. Board your ship and relax. Your private tour guide will be with you onboard while the driver will transfer your luggage to Yangshuo by car.
This journey takes about 4 hours from Guilin to Yangshuo. As the mother river of Guilin, Li River is the reason people travel to Guilin. The Karst Mountain shapes along the river are quite special, and match up a fantastic world with the clouds. Locals are washing their clothes by the river and fishermen stay with their cormorants on boats. That's a old image of natural China. A simple lunch is served onboard.
Li River in Summer
Afternoon
You will disembark at Yangshuo. Walk a short distance to your hotel in Yangshuo and jump onto a bicycle to explore the countryside afterwards. This biking tour is a little bit off-the-beaten-path, to see the solitary karst mountains along the Yulong River and pay a visit to some local people's house. The host is more than happy to share his daily life with you.
Note: we can also arrange for you to tour around by car slowly if you have physical issues.
Check in at your hotel after you finish the trip.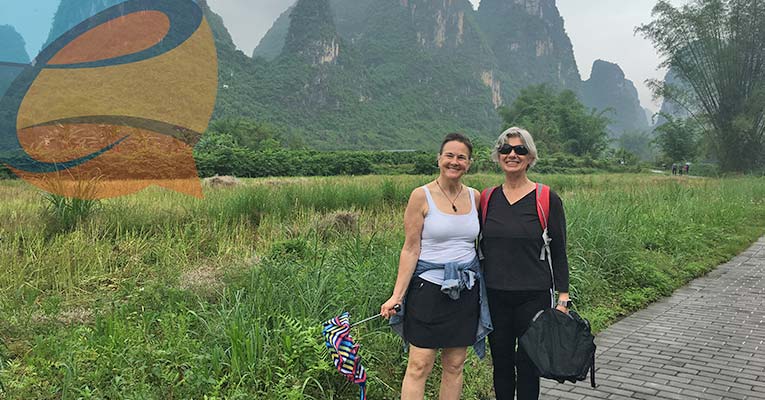 Biking or Hiking in Yangshuo, the incredible karst mountains were absolutely breathtaking
Evening
Recommended activity:
1. 'Impression Sanjie Liu Show' uses the Li River as the stage and the mountains as the backdrop to give audiences a visual feast performed by more than 600 actors.
2. Yangshuo West Street is the oldest street, with a history of more than 1,400 years, which is attractive to a lot of foreigners. It comes alive with the pubs and clubs open at night.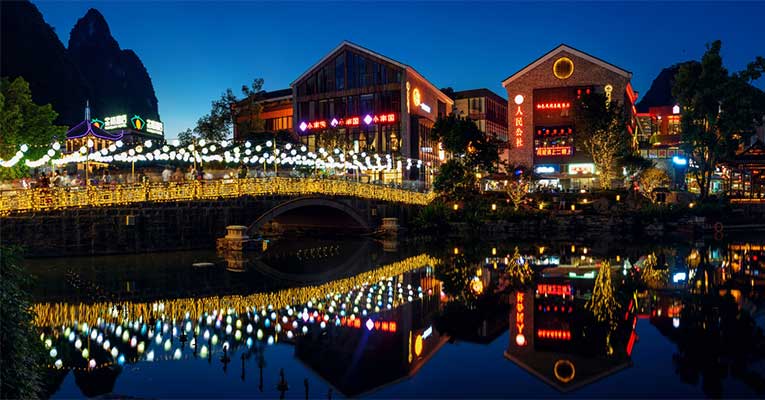 Yangshuo Nightlife
Day 7
Yangshuo / Guilin – Xi'an by Plane: Cooking Class (breakfast & lunch)
Morning
After breakfast you can go to a local market with the chef if you like, buy food materials to prepare for your Cooking Class. You will be amazed by a real local Chinese market, as you can find almost everything here. Also you can see people bargaining with the vendors which is all part of the fun. Back to the cooking school and follow the chef's guidance to cook your own lunch. There are 3 dishes and the recipes will be given to you so that you can make it at home. Enjoy what you cooked!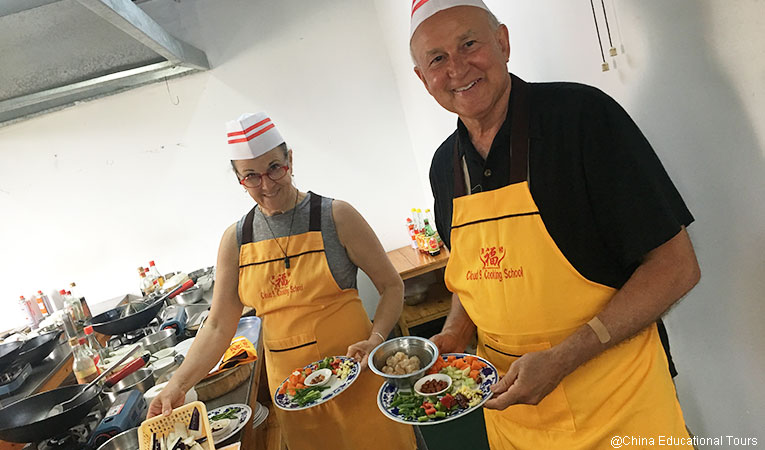 Kung Pao Chicken, make it myself
Afternoon
After lunch, we will drive about 2 hours from Yangshuo to Guilin airport to catch your flight to Xi'an. Say goodbye to Guilin.
Evening
Meet your local guide at the arrival hall of Xi'an Xianyang International Airport (XIY) on your arrival. The guide and driver will escort you to your hotel. Have a good night.
Day 8
Xi'an: World Wonders (breakfast & lunch)
Morning
Today is another highlight of your trip to China. We will drive you about 1.5 hours to the Terracotta Warriors Museum. As the most significant archeological excavation of the 20th century, the Terracotta Warriors was listed by UNESCO in 1987. There are more than 7,000 pottery soldiers, horses, chariots, and even weapons which have been unearthed from these pits. After that, you can go to see a Cave dwelling, which is an ancient form of habitation on the loess plateau in northwestern China. Have lunch nearby.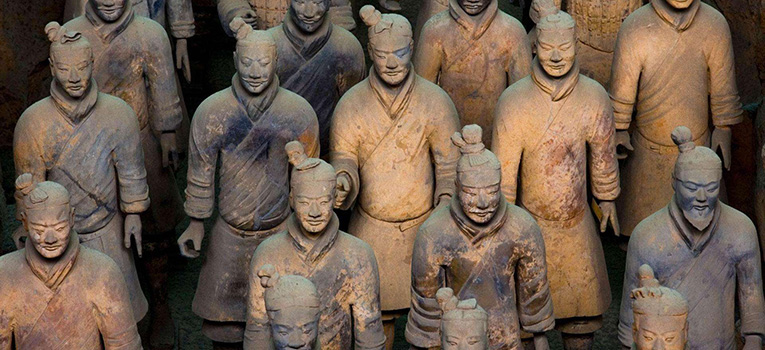 Terracotta Warriors and Horses:Do you know the faces of the terracotta warriors are all different
Afternoon
We will be back to the city center to visit Ancient City Wall. You can cycle round the 8 miles of the city wall and have a bird's eye view of the city.
Cycling on the City Wall
Evening
Recommended activity:
1. The music fountain at the north square of Big Wild Goose Pagoda is free to the public. You can stroll around it after dinner to experience local life.
2. Tang-Dynasty Palace Music and Dances is a performance that was re-created by many famous artists in Shaanxi province, displaying the essence of music, rhythm, and dance art in the Tang Dynasty.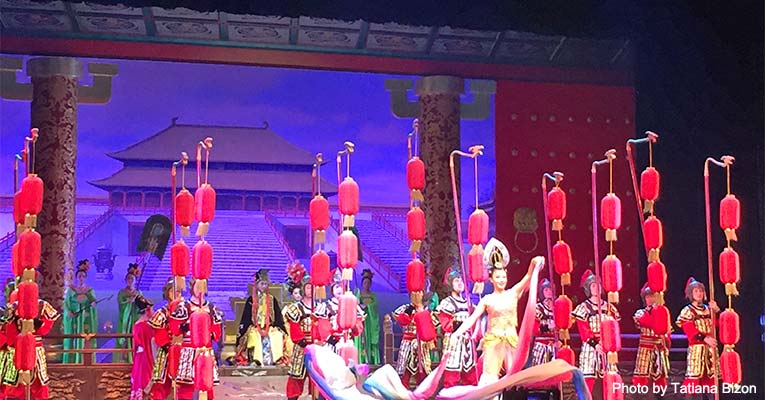 Tang-Dynasty Palace Music and Dances
Day 9
Xi'an – Beijing by Bullet Train: City Tour (breakfast & lunch)
Morning
After breakfast, you will visit the Small Wild Goose Pagoda. It is the same architecture style with the Big Wild Goose Pagoda, but much quieter with less tourists. It is a typical work of the square Miyan style brick pagoda in early China and is Buddhist architectural art heritage of the Tang Dynasty. You can learn how Buddhism was introduced into the Central Plains and integrated into the Han culture. And then you will have a chance to watch a Shadow Puppets Show, which is a kind of folk drama. It tells stories in silhouettes of characters made of animal skins or cardboard.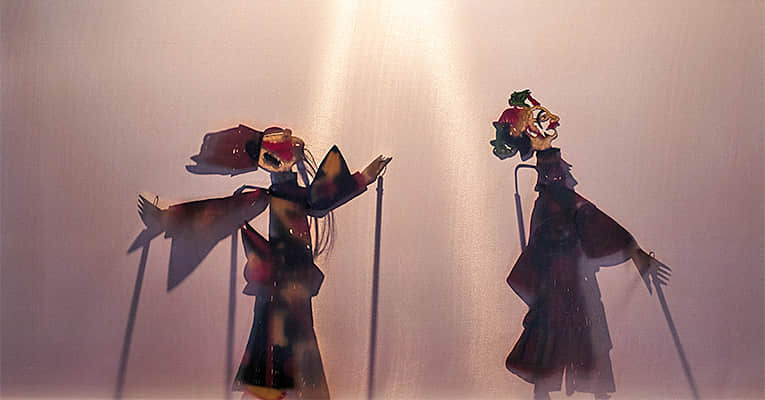 a Shadow Puppets Show
Afternoon
You will board a high speed bullet train from Xi'an to Beijing, which takes about 5.5 hours.
Evening
Meet your Beijing tour guide and driver at the exit of the railway station and transfer to your hotel.
Day 10
Beijing: The Great Wall and Temple of Heaven (breakfast & lunch)
Morning
After breakfast, we are going to the Temple of Heaven. Walk through the park and admire the great architecture. Talk to the locals and join in their Tai Chi exercise if you are interested. And then we head to Mutianyu section of the Great Wall, which takes around 1.5 hours from Beijing. You will have lunch at a farm on the way.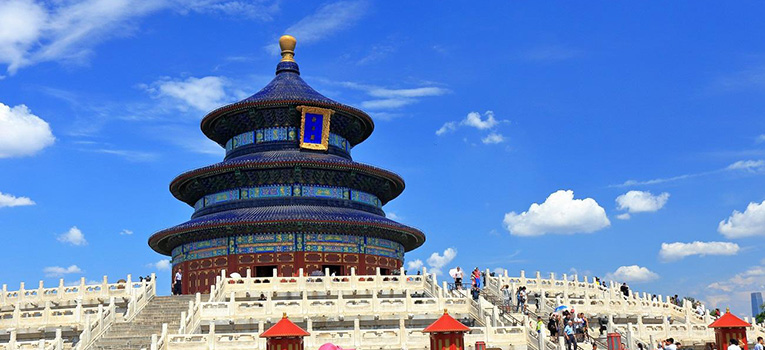 The Temple of Heaven is the centre of imperial ritual ceremony for Ming and Qing Dynasties
Afternoon
We selected the Mutianyu section, as it is less crowded and covered with beautiful vegetation. You can spend about 3 hours to walk through the 12 watch towers, depending on your physical condition, or take a one way cable car. You will be back to the city at around 17:30.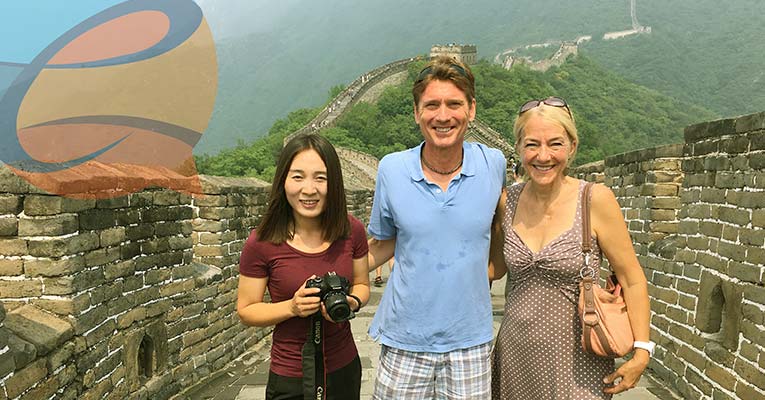 Mutianyu Great Wall Trip in Summer
Evening
Recommended activity:
1. 'The Legend of Kungfu' premiered in 2004. In contrast to the traditional Kungfu show, it demonstrates Kungfu through dramatic stories. The group also tours abroad and has a good reputation.
2. 'Acrobatics at Chaoyang Theatre' was founded in 1984. Their performances have won more than 30 awards at home and abroad. "Blue And White Porcelain" (balancing a stack of bowls on the head), which is one of them, was on the stage of the Spring Festival Gala in 2015.
3. Peking Opera is one of five major operas in China and the quintessence of Chinese culture with a history of near 200 years. It was only entertainment for the court in the beginning and then slowly opened to common people as well.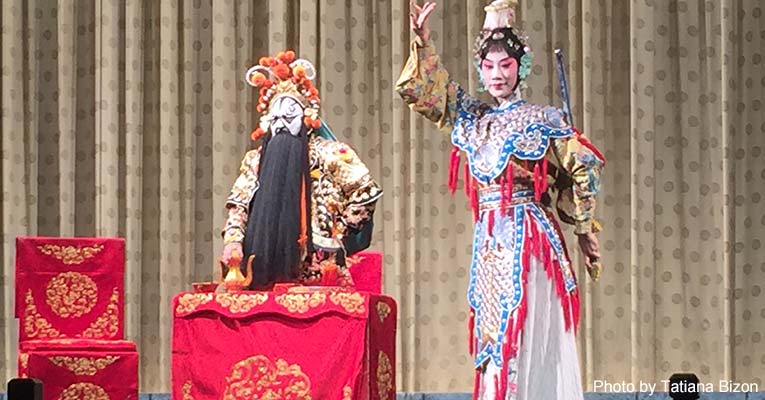 Beijing Opera: Farewell My Concubine
Day 11
Beijing: City Tour (breakfast & lunch)
Morning
Get up in the early morning to see the Flag Raising Ceremony at the Tian'anmen Square. Back to the hotel and have your breakfast.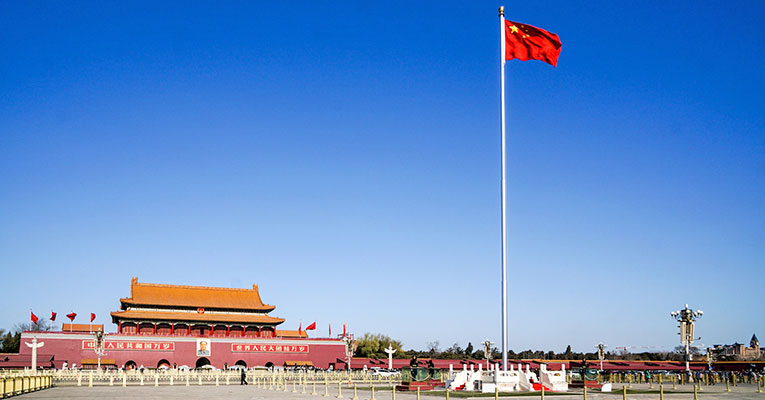 A Morning Visit to Tiananmen Square
And then your tour guide will take you to the Forbidden City. This wonderful piece of history will bring you back to the Ming and Qing Dynasties. By entering the museum, you are going back 600 years and stepping into the home of 24 emperors. Enjoy your lunch at a local restaurant.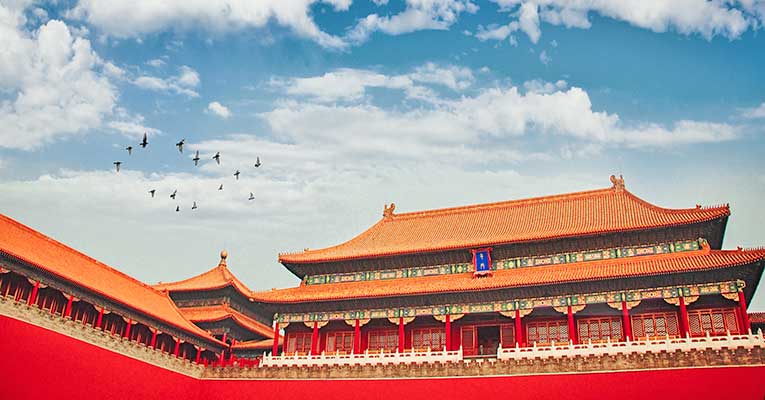 The Forbidden City: the home of emperors
Afternoon
The last stop is the Summer Palace. You can walk the Long Corridor, go boating on Kunming Lake, cross the seventeen arch bridges, and appreciate the metal statues of dragons and cranes. If there is enough time, you can walk around to discover a Hutong. The courtyard is the traditional community in northern China. You have a chance to visit some local people's courtyard and experience their daily life.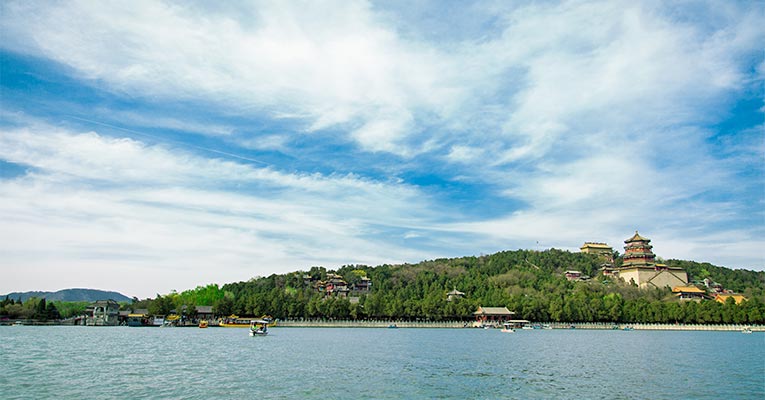 The Summer Palace: Royal Park
Day 12
Beijing Departure (breakfast)
Meet your tour guide at your hotel lobby and transfer to the airport, based on your flight schedule. Say goodbye to your Beijing tour guide and board your flight leaving for home sweet home.
Featured Hotel
| City | Comfortable | Deluxe |
| --- | --- | --- |
| Hong Kong | Harbour Plaza Metropolis Hotel | Harbour Grand Kowloon |
| Guilin | Guilin Bravo Hotel | Sheraton Guilin Hotel |
| Yangshuo | Green Lotus Hotel Yangshuo | Yangshuo Resort |
| Xi'an | Grand Noble Hotel Xi'an | Wyndham Grand Xian South |
| Beijing | Penta Hotel Beijing | Regent Beijing |
What's Included
Flight tickets from Hong Kong to Guilin and Guilin to Xi'an
High speed bullet train ticket from Xi'an to Beijing
Centrally located hotel accommodation
All meals as listed in the itinerary
Entrance to the attractions
Overland transfer with private licensed driver
Excellent English speaking tour guide
FAQs
1. Are hotels in China the same as in western countries?
Hotels in China don't usually match western standards. Five-star hotels are usually well facilitated with a spacious lobby and comfortable rooms. International chain hotels can meet western standards, while local brands may not. Four-star hotels are well-equipped but with not as much luxury as Five-star ones. Hotel staff in Four-star hotels speak limited English. Three-star hotels can usually meet the standard of most westerners, but breakfast is without many choices and hotel staff speak no other language.
2. Do we need another visa to visit Hong Kong?
Visitors from most countries can enter Hong Kong without a visa for periods of 7 to 180 days, depending on nationality. But if you are visiting mainland China, a China visa is essential.
3. Do Chinese hotels/banks accept American Express Traveler's Checks?
Most of the hotels do not accept Traveler's Check, but the Bank of China does. We usually suggest that you'd better take a credit card with you. You can use your credit card in the hotels, restaurants, supermarkets and shopping malls. You also can take your debit card to withdraw cash from the ATMs in China.
4. Can I use Gmail and Facebook in China?
Facebook, YouTube, Google, and Twitter are blocked, and do not work in China without a VPN. You should reset your device's proxy server settings or acquire VPN software ahead of your trip, then you can surf as you wish in China.
5. Can you provide SIM card or portable WiFi?
We can provide a SIM card with prepaid calls and data volumes and even portable WIFI devices. Alternatively, you can purchase on arrival, e.g. at the service counter at big airports.