CET-13:

10 Days Beijing - Xi'an - Chengdu Tour

This journey is not just about sightseeing but also a spiritual experience in your life. You will firstly arrive in Beijing to see the Great Wall and the Forbidden City, and also have a chance to visit an orphanage. And then go to Xi'an from where you can see ancient historical sites and do some service at a children's home. End your journey in Chengdu, where you can attend a panda keeper program in Dujiangyan and get a close to look at the Leshan Giant Buddha. On top of this, you will be deeply moved as you are involved in voluntary humanitarian activities. The community service program can also be operated in other cities, if you wish, to improve life for animals, people, and society. All of these activities have a spiritual value in the modern world.
Trip Highlights
Visit the biggest city square – Tian'anmen Square
Climb the most beautiful section of the Great Wall – Mutianyu
Cultural exchange with a local school
Visit an orphanage and play with the children
Take a part ina service project at a children's home outside of Xi'an
Participate in a calligraphy lessonnear the Small Goose Pagoda
Experience the panda keeper program in Dujiangyan
Suitable For: School, Educational Organization
Full itinerary for China Community Service Tour
Day 1
Beijing Arrival
Your guide will meet you at the airport on your arrival and escort you to your hotel. You can leave the hotel check-in to the guide and adjust for jet lag for the rest of the time.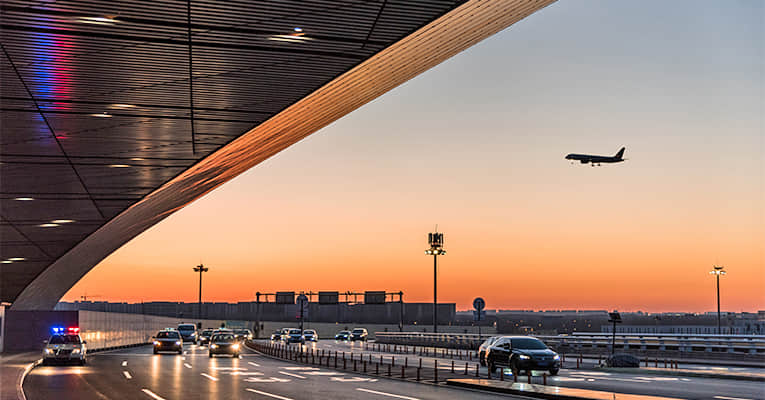 Beijing Capital International Airport at nightfall
Day 2
Beijing: Sightseeing (breakfast, lunch & dinner)
Morning
After breakfast, your trip starts with a visit to Tian'anmen Square. If you are interested, you can get up earlier to attend the flag raising ceremony there at around 05:00 am.Stroll around in Tiananmen Square and make sure that you notice the famous Five-Star Flag fluttering in the wind.And then you will enter the Forbidden City, which is the largest wooden architecturalstructure in the world and listed by the UNESCO, looking both solemn and majestic. Its houses are overflowing with extraordinary collections. Have lunch at a local restaurant.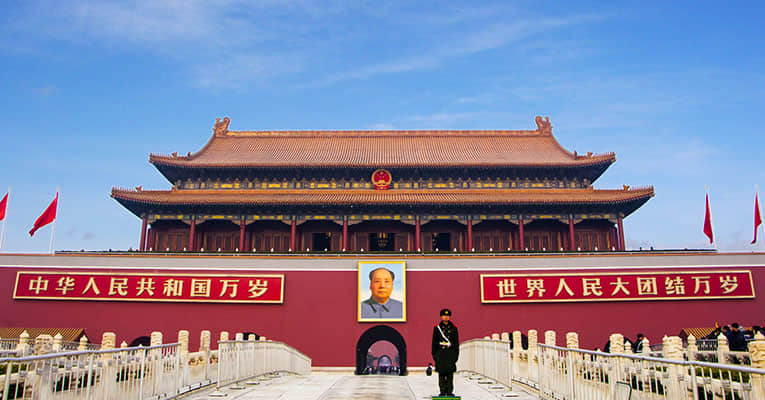 Tian'anmen Square - Where Can Watch the Flag Raising Ceremony
Afternoon
We will drive you to Mutianyu Great Wall for around 1.5 hours by road.As one of the best-preserved parts of the Great Wall, and it used to serve as the northern barrier defending the capital and the imperial tombs. It's known for its beautiful surroundings – dense woods and rich pastures changing colors with the seasons of the year. You will be back to the city to have Haidilao hot pot for dinner.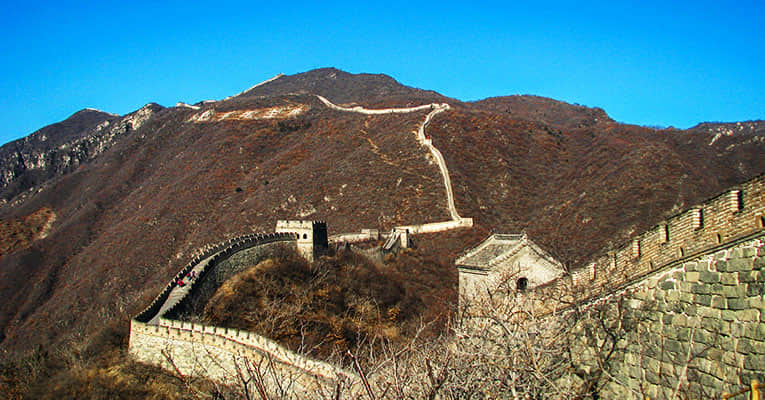 Mutianyu Great Wall
Evening
Recommended activity:
1. The Legend of Kungfu' premiered in 2004. In contrast to the traditional Kungfu show, itdemonstratesKungfu throughdramatic stories. The group also tours abroad and hasa good reputation.
2. Acrobatics at Chaoyang Theatre was founded in 1984. Their performanceshave won more than 30 awards at home and abroad. "Blue And White Porcelain" (balancing a stack of bowls on the head), which is one of them, was on the stage of the Spring Festival Gala in 2015.
3. Peking Opera is one of five major operas in China and the quintessence of Chinese culture with a history of nearly 200 years. In the beginning it was seen asentertainmentonly for the court and then slowly opened to common people as well.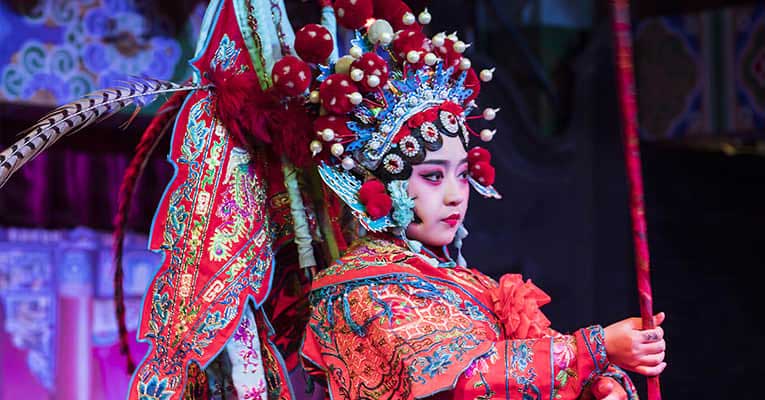 Actor of Peking Opera
Day 3
Beijing: Local School and Orphanage Visit (breakfast, lunch & dinner)
Morning
Today's itinerary is full of fun. Your guide will lead you to a local school.You can visit the campus, learn how to cook, have Chinese cuisine, and participate in a sports match.You will gain so much more than you can learn fromthe text books. Have lunch at school.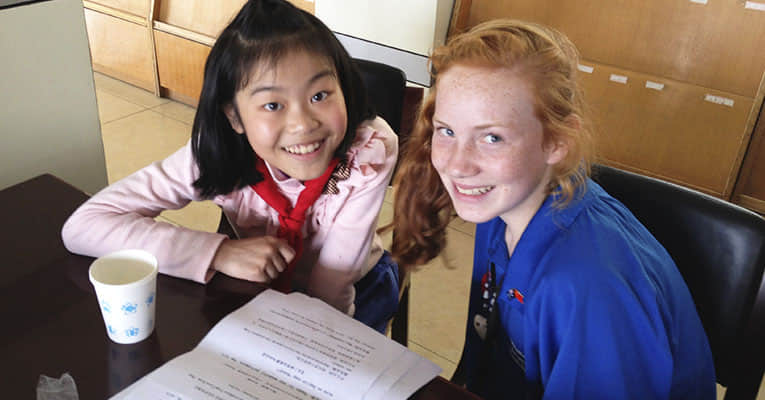 Communicate With Chinese Child
Afternoon
After lunch, you will move on to an orphanage in Tongzhou.This orphanage is situated in a villa, and some of the childrenhave cerebral palsy. The visit includes meeting the person who is in charge of the orphanage, and learning about the basic conditions. If you like, you can help with cooking dinner, taking care of orphaned babies and playing with children as well as making a donation. Have dumplings for dinner.
Day 4
Beijing – Xi'an by Speed Train: The Temple of Heaven (breakfast & lunch)
Morning
After breakfast, you are going to visit the Temple of Heaven, which is an imperial complex of religious buildings situated in the southeastern part of Beijing. The Hall of Prayer for Good Harvest is the venue where the emperors used to pray for fruitful harvests.Nowadays, it has become a park, where local people do exercises every day. You can learn Tai Chi for half an hour with a master. And then enjoy your lunch at a local restaurant.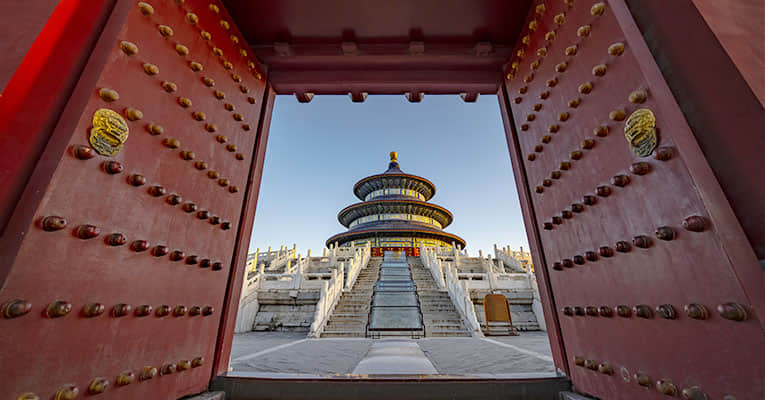 Temple of Heaven - a Symbole of Beijing
Afternoon
The guide and driver will take you to the railway station for boarding your speed train to Xi'an.
Evening
Enjoy a scenic ride and arrive in Xi'an.Your guide will welcome you, holding your name board at the exit, and accompany you to your hotel.Hotel check in, and sleep tight.
Day 5
Xi'an: Start Service Project(breakfast, lunch & dinner)
Travel to a children's home outside the city. This home was founded for children for whom all known legal guardians have been incarcerated. Please note that all of our service projects are approved by the organization and any projects that are not deemed helpful towards the children and the organization will not be facilitated. We recommend a building project (usually shelving or furniture of some sort) for secondary students, and a more interactive learning-teaching project for younger students on the program.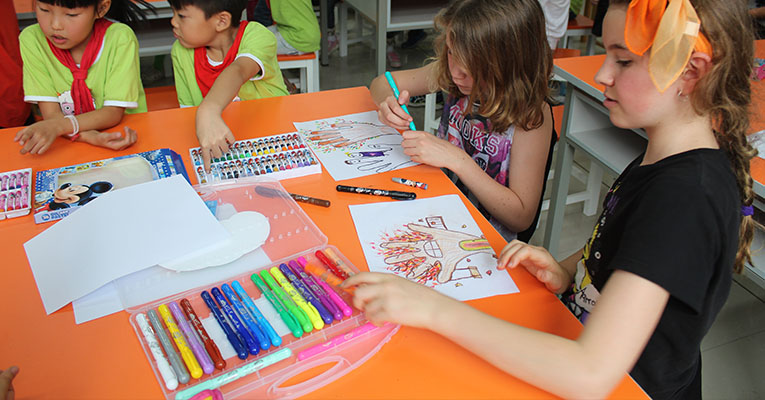 Doing Activities with Children
Evening
Recommended activity:
1. The music fountain at the north square of Big Wild Goose Pagoda is free to the public. You can stroll around it after dinner to experience local life.
2. Tang-Dynasty Palace Music and Dances is a performance that was re-created by many famous artists in Shaanxi province, displaying the essence of music, rhythm, and dance art in the Tang Dynasty.
The music fountain at the north square of Big Wild Goose Pagoda
Day 6
Xi'an: Finish Service Projectand Calligraphy Lesson (breakfast, lunch & dinner)
Morning
After breakfast, we spend the morning finishing up the service project and donating the created items to the children/home. Have a simple lunch there.
Afternoon
We return to Xi'an for students to participate in a traditional Calligraphy Lesson (got something specific you'd like to write? Let us know in advance) near the Small Goose Pagoda. The Small Goose Pagoda has a fascinating architectural history. In 1487, a violent earthquake created a large crack down the middle of the pagoda. A subsequent earthquake in 1521 caused the crack to magically disappear overnight! Due to its unique hemisphere foundations, the pagoda is the architectural version of a never-fall doll. We finish off the day with a reflection session to discuss the lessons learned and experienced. Dinner is served at a local restaurant.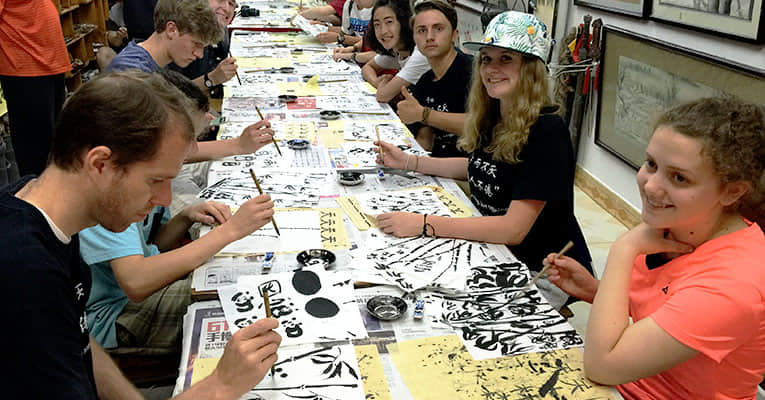 Calligraphy Lesson - Create Your Own Work
Day 7
Xi'an – Chengdu by Speed Train: Historical Sites (breakfast & lunch)
Morning
The most appealing attraction in Xi'an is the Terracotta Warriors and Horses. You will be amazed by the stunning sight.Qin Shi Huang was the first Emperor of China; this museum is considered one of the most priceless ancient tombs in the world. There are three pits containing Warriors and Horses, bronze weapons and chariots. The huge underground army unfolds in front of you. Have lunch nearby.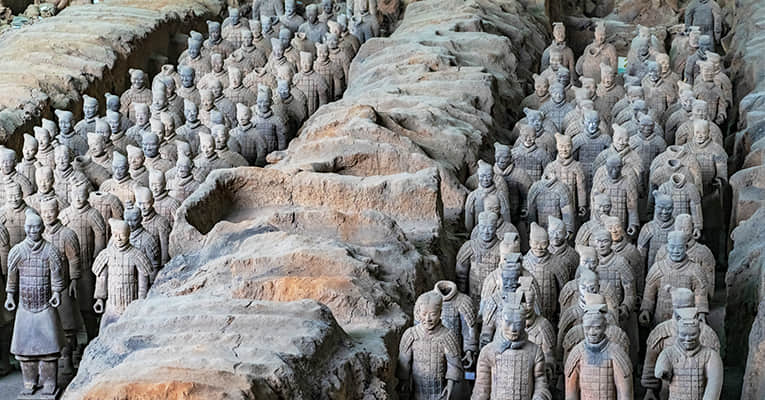 The Terracotta Warriors and Horses
Afternoon
Afterwards, you continue to explore the Xi'an City Wall. The complete city wall was an effective defense. On top of the city wall is a wide and flat road; you can not only walk along the road, but also ride a bicycle to enjoy the splendid scenery. If there is enough time, you can stop over the Muslim Quarter where you can enjoy a feast both for your eyes and your mouth.A lot of food lovers are lured to the bustling street with its long history. It is time to take a late afternoon speed train to Chengdu.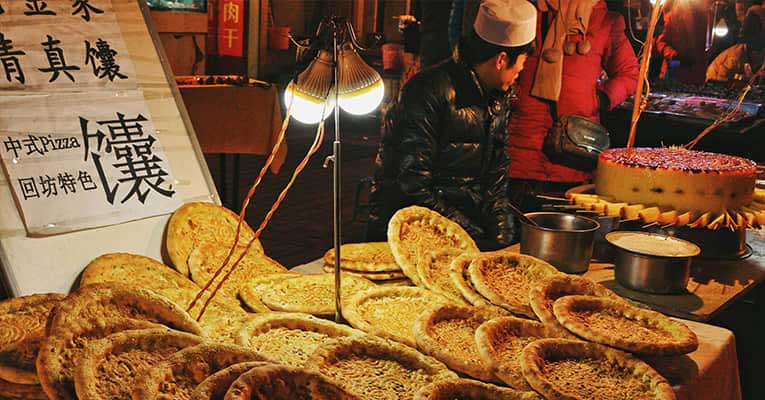 Muslim's foods in Muslim Quarter
Evening
On arrival, you will meet your Chengdu guide and be transferred to your hotel. Hotel check in with your passport and take a good rest tonight.
Day 8
Chengdu/Dujiangyan: Panda Keeper Program (breakfast, lunch & dinner)
Morning
Early morning, you will head to Giant Panda Protection and Research Center of Dujiangyan. It takes around 1.5 hours to drive there by road.This unique one-day tour is about the panda keeper program. Under guidance, you will quickly learn how to take care of pandas, and have a memorable experience of getting close to this lovely creature.Have lunch at the base.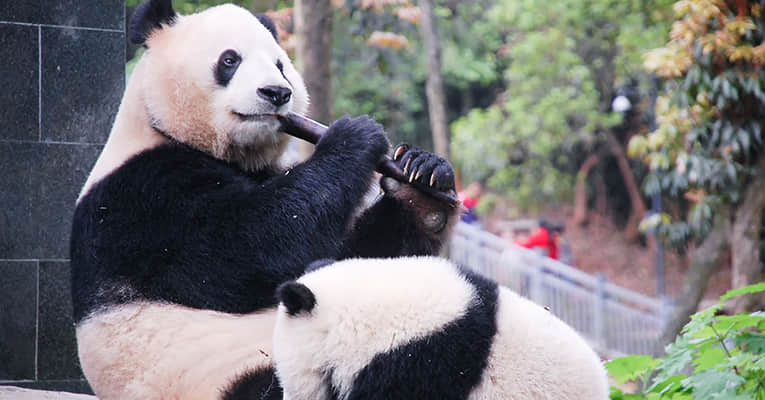 Giant Panda in Panda Protection and Research Center
Afternoon
Here you will experience a series of programs, learning about the history and facts about pandas, cleaning the outdoor and indoor enclosures, washing bamboo and carrot to prepare food and fruit cakes for the pandas. You will be awarded with a volunteer certificate after finishing all of this work. You will be back at Chengdu in the late afternoon and it will bethe right time to have dinner in the city.
Evening
Recommended activity:
Shu Feng Ya Yun Sichuan Opera offersthe wondrous authentic west Sichuan folk classical opera,presented in a large-scale multi-functional Liyuantheater which integrates traditional Chinese art performance, unique folk performance, opera, and drama supplies. The programs are Sichuan opera, stick-puppet shows, hand shadow plays, Chinese Acrobatics and face changing shows.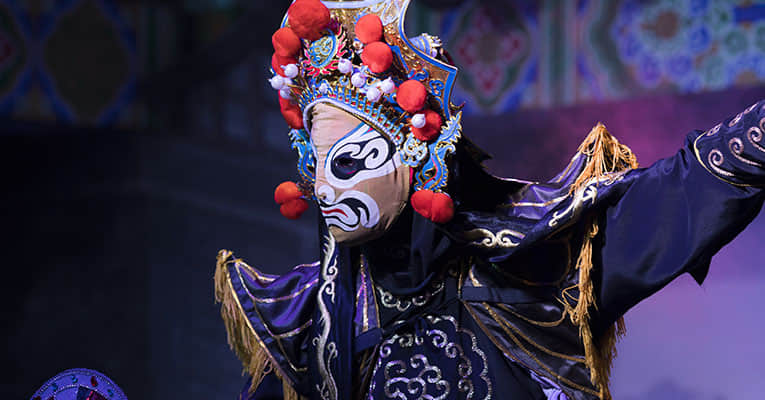 Sichuan Opera - "changing countenance"
Day 9
Chengdu– Leshan: Leshan Giant Buddha(breakfast, lunch & dinner)
Morning
After breakfast, you will visit a local vegetable market. It is a very old market where local people buy their daily necessities like meat, vegetables, traditional Chinese medicine, beverages etc.You can taste freshly made Spring Rolls and drink a cup of Baijiu(pronounced "Bye Joe") ,a kind of alcohol made from rice. After that, you are going to the Leshan Giant Buddha which is about 2 hours away from Chengdu.The Leshan Giant Buddha is a huge statue of Maitreya carved into the mountain side. It is made up of elaborate cliff-side sculptures from the Tang Dynasty and is the biggest seated Maitreya Buddha in the world.Have lunch there on your arrival.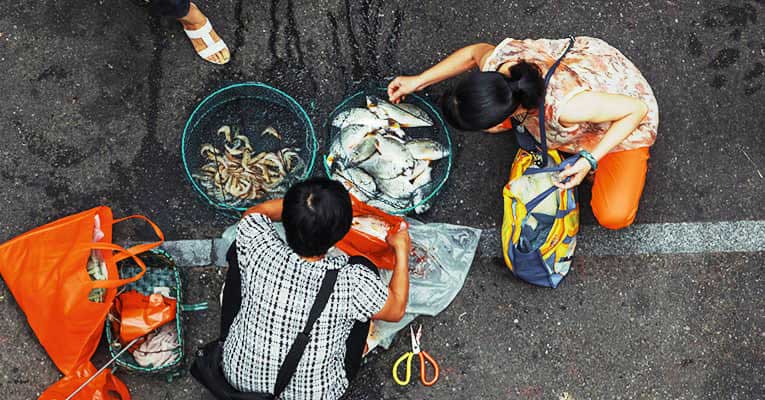 People buy things in a Local Market
Afternoon
You will have a chance to climb the famous "nine plank road" which is on the right handside of the Buddha. and was built around the same time as the Buddha. Today's highlight is taking a boat ride to view the Leshan Buddha Statue. It's only a short ride to the Buddha and each boat takes its turn directly in front of the Buddha, so get your camera ready. The Buddha is awesome and it's really only from the water that you can trulyappreciate how HUGE it is. We will drive you back to Chengdu after the tour ends. Enjoy traditional hot pot for dinner.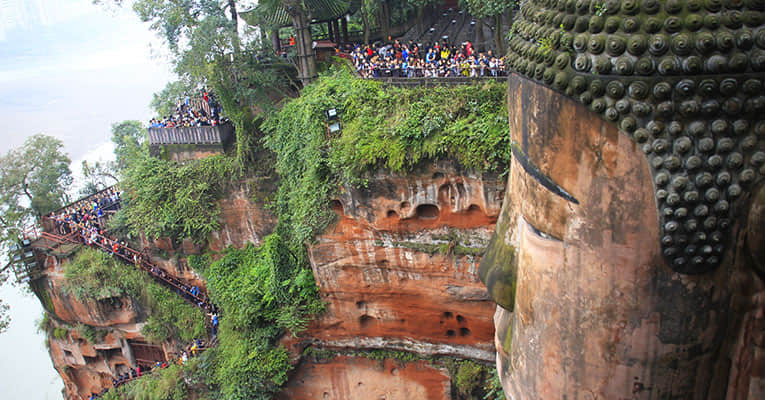 Climbing beside the Leshan Giant Buddha
Day 10
Chengdu Departure (breakfast)
Your guide and driver will transport you to the airport on time. We wish you a nice journey home.
Hotel Options:
Comfortable
Deluxe
Beijing
Penta Hotel Beijing
Regent Beijing
Xi'an
Grand Noble Hotel Xi'an
Wyndham Grand Xian South
Chengdu
Tianfu Sunshine Hotel

The Ritz-Carlton
What's Included
Experienced tour guides
Entrance fee to all spots listed in the itinerary
Well selected hotel accommodation
Meals mentioned in the itinerary
Expert drivers and comfortable vehicles with air-conditioner
Speed train tickets from Beijing to Xi'an; from Xi'an to Chengdu