CET-23:

15 Days Private Tour: Beijing – Xi'an – Guilin – Chongqing – Yichang - Shanghai

A two-weeks visit takes you on a journey from the ancient treasures to the architecture of modernization, cultural encounters, and the natural beauty of China. Exploring and listening to the stories behind the historical sites and relics in Beijing and Xi'an, you will experience cultural activities like calligraphy class, hand-made terracotta figurines experience, and watching a Shadow Puppets Show that will allow you to soak in the Chinese history. The breathtaking natural sceneries and the slow life of the minority ethnic people in Guilin reveal another side of China. Staying overnight on the Yangtze River Cruise for 3 nights is relaxing as you sail across to Shanghai. Shanghai, a city with a blend of the east and west, is where your tour ends.
Trip Highlights
Appreciate the ancient collections in the Forbidden City
Take a boat ride on the palace's serene Kunming Lake
Easy hike along the Mutianyu Great Wall
Visit a local family in the countryside of Yangshuo
Learn about the Chinese culture dating back thousands of years in Xi'an Museam
Spend 4 days / 3 nights on the Yangtze River Cruise and have excursions to man-made marvels
Explore Tongli water town by boat
Suitable For: School, Family, Solo, Team Building, Adoptive Family
Full itinerary for China Classic Tour & Yangtze River Cruise
Day 1
Beijing Arrival
We warmly welcome you to Beijing, the capital of China. Be picked up by your private tour guide at the arrival hall of the airport and driven to the hotel. Check-in your hotel and recover from your long flight.
Day 2
Beijing: History and Culture (breakfast & lunch)
Morning
Your first visit is the world's largest city square, Tiananmen Square. It is located in the center of Beijing city, across Changan Street.
Enter the Forbidden City, where you will visit several halls along the central axis and learn about their functions during ancient times. The treasures inside are indeed impressive. The Hall of Clocks and Watches is a place you would not want to miss.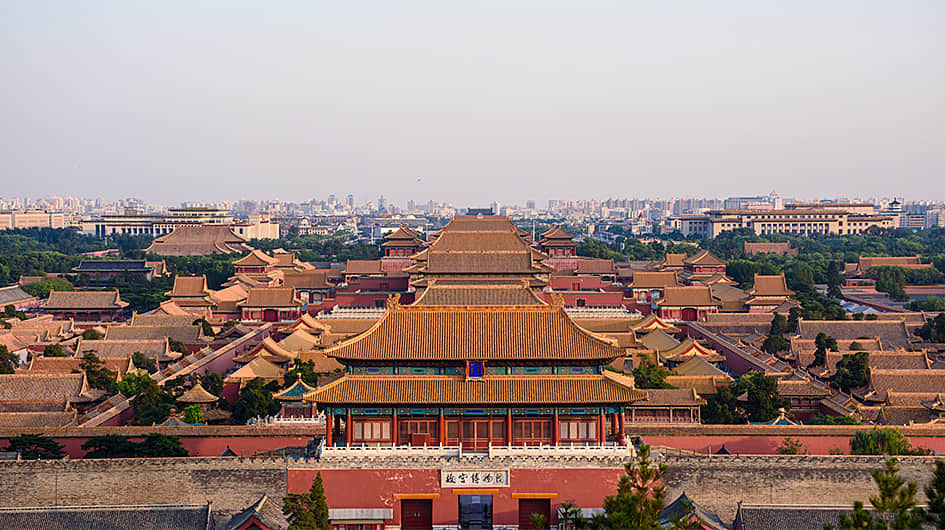 A Panoramic View of the Forbidden City
Afternoon
After lunch at a local restaurant, you attend a Chinese calligraphy class in Gaobeidian. In this class, you will be introduced to some basic skills in painting and be taught to draw a simple picture under the guidance of a teacher. Calligraphy tools like brush, ink, paper, and ink-grind are provided.
What happens during the class?
1. Introduction to the history and classification of Chinese calligraphy.
2. Demonstration by the teacher.
3. Learn to write some easy Chinese characters using a brush.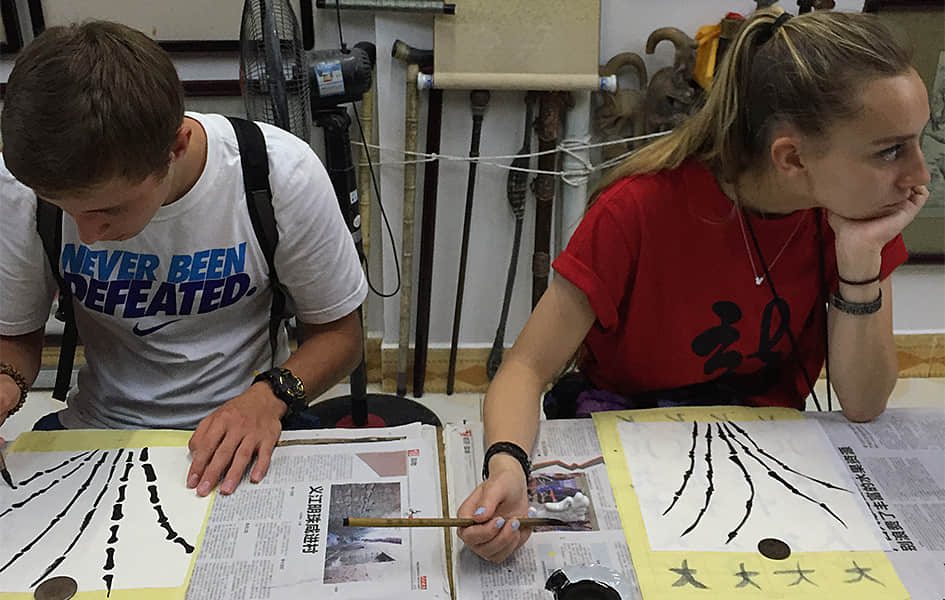 Brush Painting
Day 3
Beijing: World Cultural Heritage Sites (breakfast & lunch)
Morning
The Temple of Heaven is a popular park for the locals doing tai-chi exercises. Its main complexes are located in the inner altar, divided into Yuanqiutan and Qigutan. One is the place for offering sacrifice to Heaven while the latter one is the site of the Hall of Prayer for Good Harvests. Take a walk around the beautiful park, where you will meet Chinese practicing Tai-Chi. You can learn to do some movements if you are interested.
Afterward, you will head out of the city, for approximately a 1.5-hours' drive to Mutianyu Great Wall.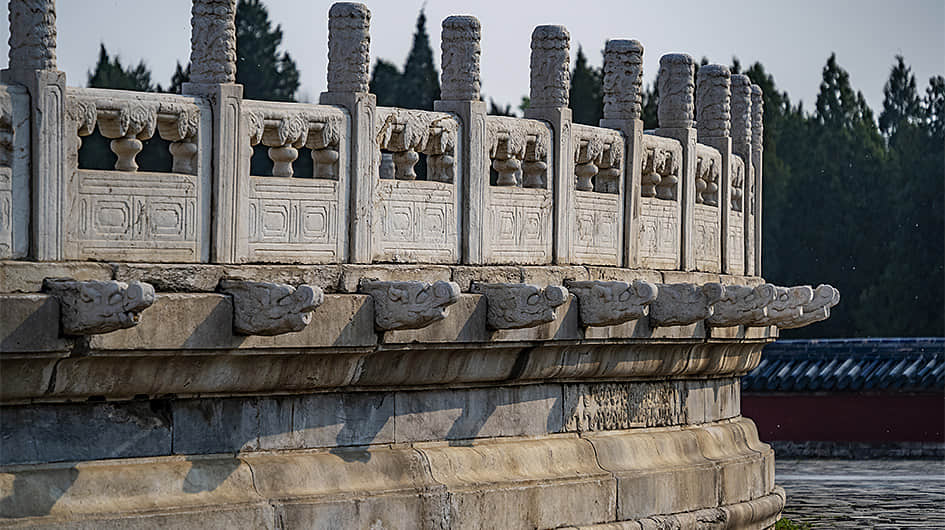 Circular Mound Altar in the Temple Heaven Park
Afternoon
Lunch will be arranged on the way. What awaits you is an amazing human accomplishment. Mutianyu section of the Great Wall has a stunning view but fewer visitors. Take a round-trip cable car is recommended, allowing your more energy to walk along the Wall highlights. Take a thrilling ride on the toboggan slide down is available if you are adventurous.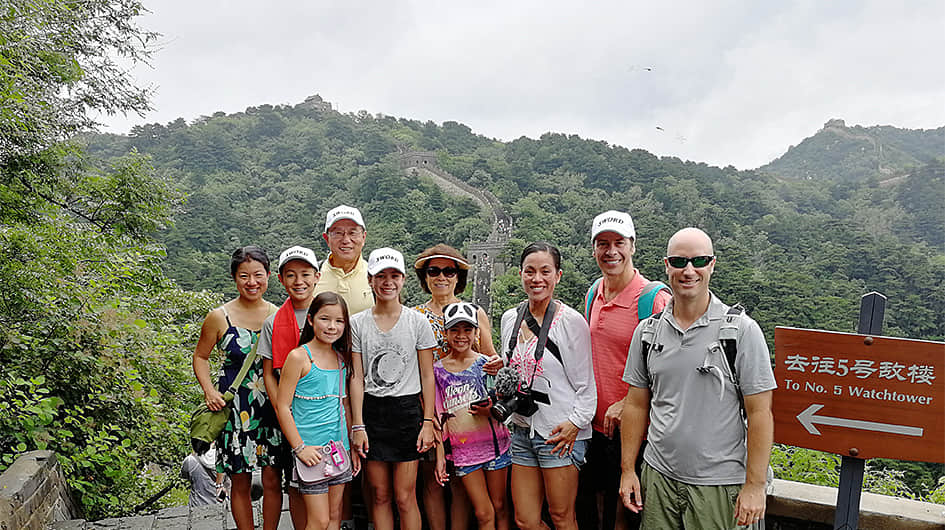 CET Group on Mutianyu Great Wall
Day 4
Beijing – Xi'an by High-Speed Train: the Summer Palace (breakfast)
Morning
You will finish off the Beijing tour with a visit to the Summer Palace. As a royal garden, its style is different from the Forbidden City. You may like to go on a short boat ride on the artificial Kunming Lake, giving you a great view of the grounds.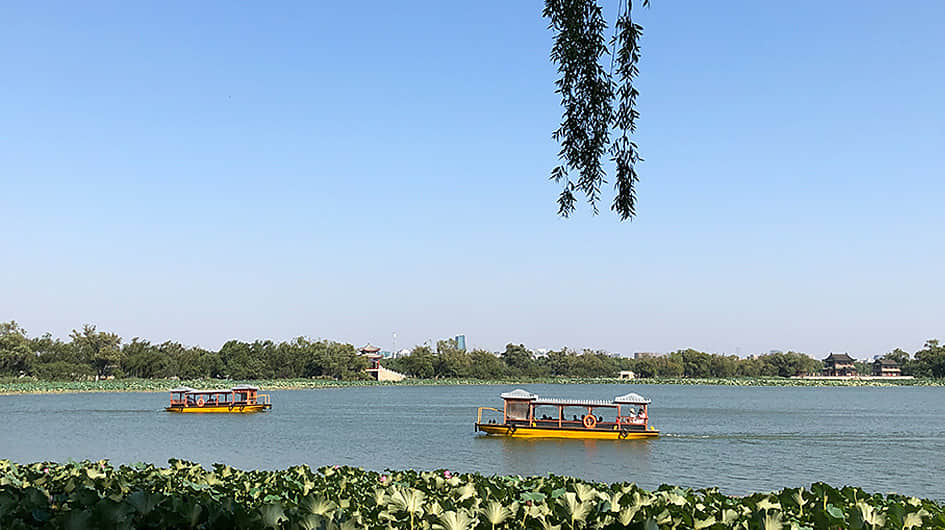 A Boat Ride on the Kunming Lake
Afternoon
After lunch, you will get on the high-speed train to Xi'an. Enjoy the smooth and steady ride to this ancient capital.
Evening
On arrival at Xi'an train station, you will be picked up by the tour guide and be driven to your hotel.
Day 5
Xi'an: Historical Sites (breakfast & lunch)
Morning
The famed world heritage site Terracotta Warriors and Horses is an extraordinary underground treasure. An entire army of life-size figurines was interred for more than 2,200 years! You will have a chance to make your terracotta figurines.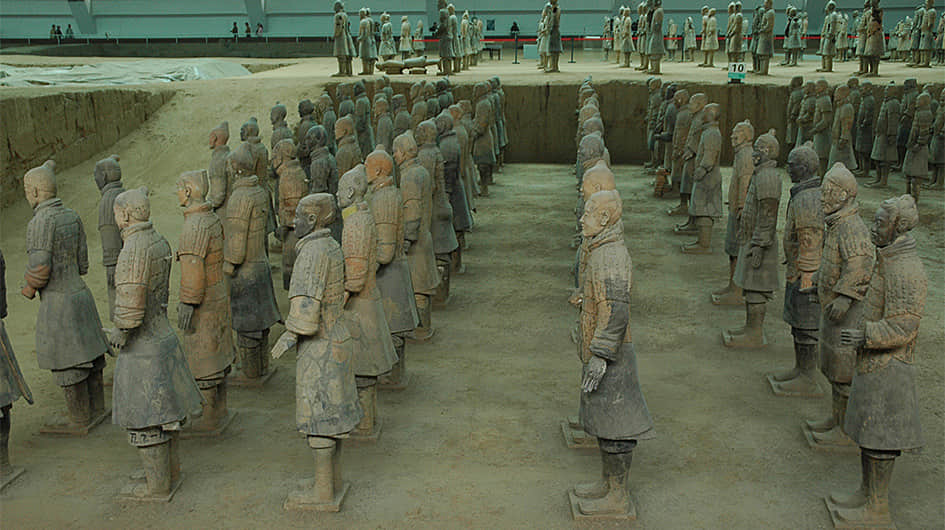 The Terracotta Warriors
Afternoon
You will be back to Xi'an city to visit the Muslim Quarter lined with shops selling halal food and various souvenirs and crafts. This is the largest Muslim enclave in Xi'an with around 20,000 Muslims. Feel the colorful and vibrant vibe in this street and enjoy your dinner in this foodies paradise.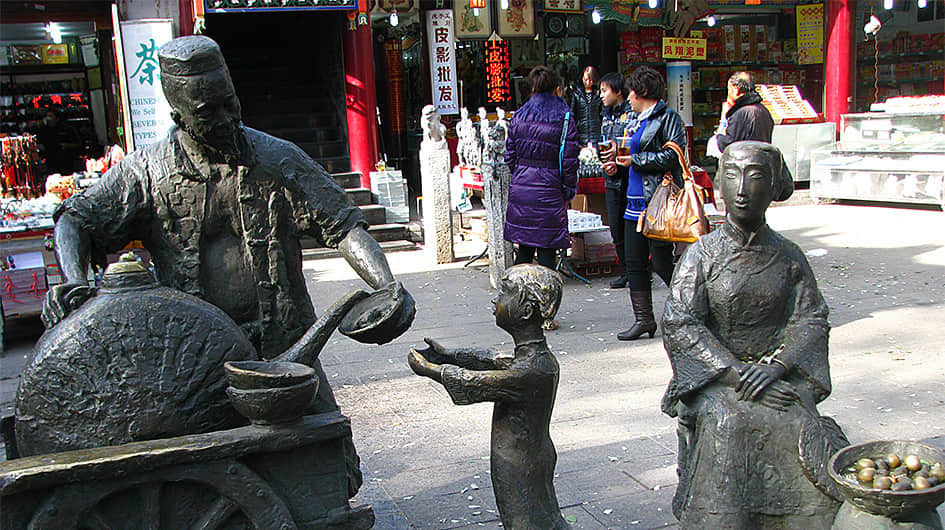 The Statues in the Muslim Quarter
Day 6
Xi'an – Guilin by Plane: City Tour (breakfast & lunch)
Morning
As the ancient defense system, Xi'an City Wall was built centuries ago to protect the center of Xi'an city. Walking or cycling on the top of the wall is available, to see the city skyline. The 70 steps of climbing up to the wall can be taken at a leisurely pace.
The Small Wild Goose Pagoda is located in the south of Xi'an City Wall. The paths around the Small Wild Goose' grounds are beautifully landscaped and full of interesting monuments. You can ring the cast iron bell made in the Jin Dynasty and make a wish. The traditional folk drama - Shadow Puppets performing in the theater is ready for you.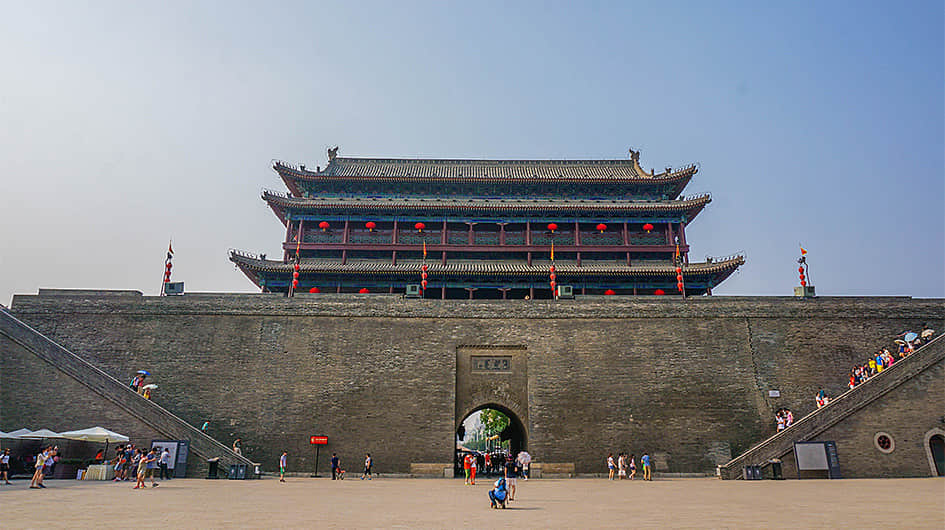 The South Gate of the City Wall
Afternoon
Xi'an Museum is just by the side of the pagoda. It displays hundreds of cultural relics which represent the history of Xi'an being the 13 dynasties' capital. You can use the access-to-relics service where hundreds of exquisite artifacts can be touched by wearing white gloves.
Have a late lunch before going to the airport. Your guide will accompany you, and help with check-in.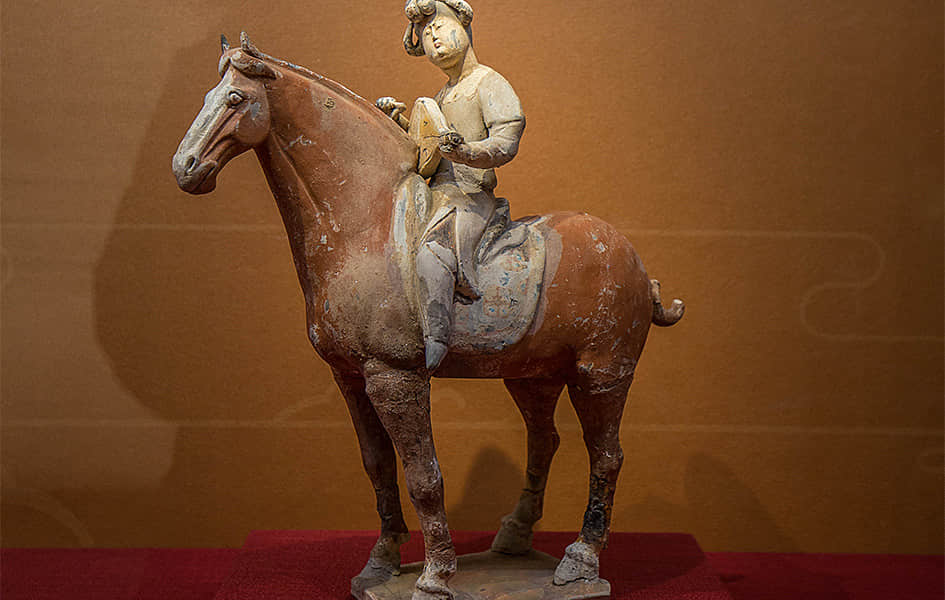 One of the Collections (Tang Tri-Color Glazed Ceramics) in Xi'an Museum
Evening
On arrival at Guilin Liangjiang International Airport, you will meet your tour guide holding a welcome card with your name on it. Hotel check-in and have a good night.
Day 7
Guilin: Longji Terraced Fields (breakfast & lunch)
Morning
Today you will travel out of the city to the famous Longji Terraced Rice Fields. The journey from the city will take approximately 2-hours heading north. You will enjoy the beautiful mountainous landscape that has been carved into terraces and stone paths. Here your hike starts from the Ancient Zhuang Village, with their unique architecture framework of Zhuang traditions – the three-storeyed wooden buildings, various plants, the locals busy tending to crops, the minority ethnic women embroidering, vendors selling their local crafts are just some of the scenes of this hike.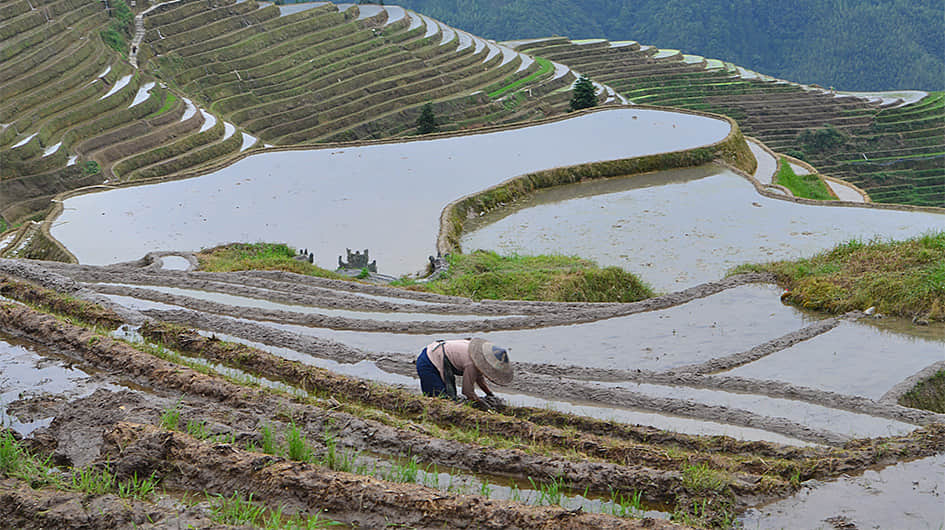 The Local Working on the Terraced Rice Fields
Afternoon
Arrive at Ping'an Village in the early afternoon. You will enjoy a delicious local specialty lunch – Bamboo Rice – glutinous rice cooked in a bamboo shoot. Wander around the village and visit a local family if you are interested. You will return to Guilin and stay the night.
The Local Specialty Lunch – Bamboo Rice
Day 8
Guilin: the Li River and Yangshuo (breakfast & lunch)
Morning
The best way to admire Guilin's karst landscape is embarking on the Li River cruise, which meanders along the river with spectacular mountainous scenery. Limpid water, blistering mountains, and low-hanging bamboo trees form an incredible painting. Look carefully, and see if you can identify the images of all nine horses on the "Nine Horses Mountain". A simple lunch will be served on board.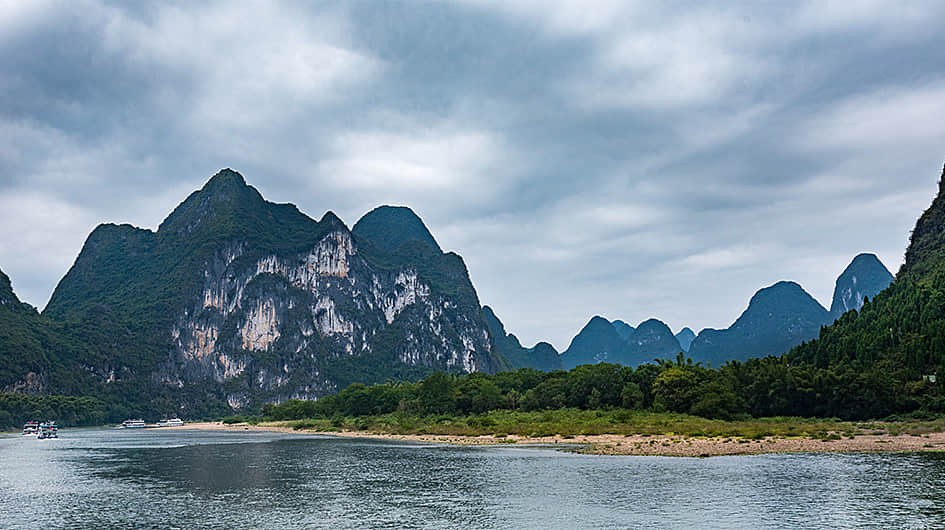 Nine Horses Mountain
Afternoon
Arriving in Yangshuo Longtoushan Pier, you will start your countryside tour, which is to see the karst landscape by land. Enjoy the comfort of a private car or cycling is available. Either way, you will admire the unique mountains, harmonious villages, and quiet countryside. En-route we can stop by a local family where you can learn about their life. Stay overnight in Yangshuo.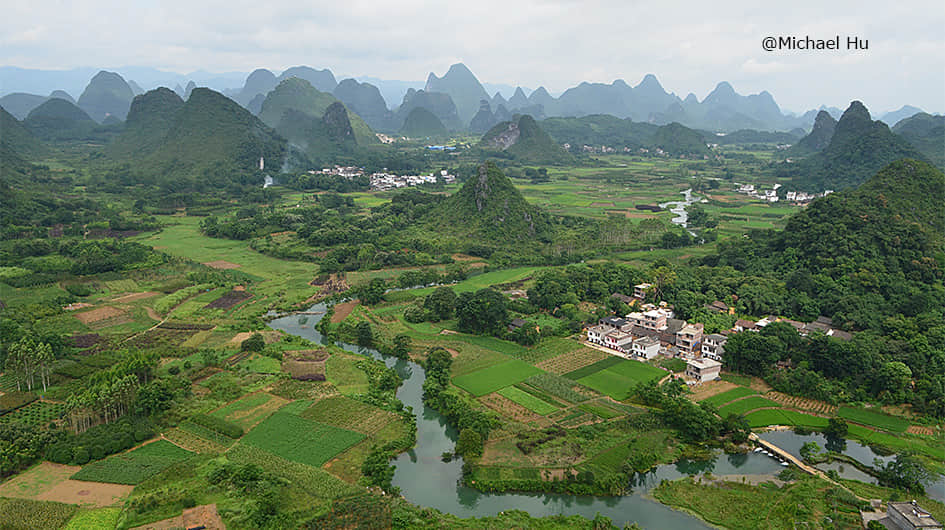 Karst Landscape
Day 9
Guilin – Chongqing by High-Speed Train: Yangtze River Cruise (breakfast & dinner)
Morning
After breakfast, your guide will accompany you to the Guilin train station for your late morning train to Chongqing.
Afternoon
Arrive in Chongqing in the late afternoon. Your private guide will pick you up at the train station and take you to have dinner before boarding the Yangtze Gold 5 Cruise.
(Note: you can choose other categories of the ship for your cruises; the itinerary is subject to change depending on different cruises.)
Evening
18:00-20:00 Embark at Chaotianmen Pier, Chongqing
21:00 Set Sail
21:00 Cruise briefing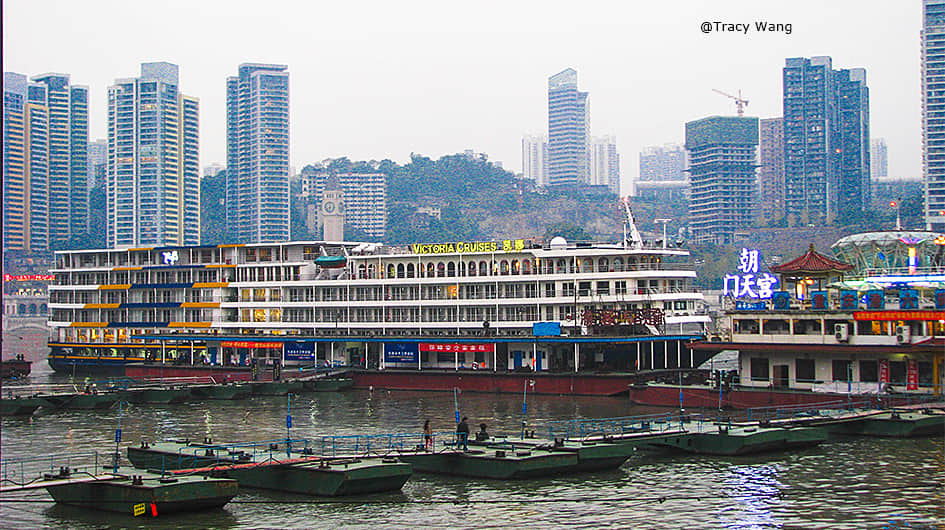 The cruise docks at the pier.
Day 10
Yangtze River: on the Cruise (breakfast, lunch & dinner)
07:00-07:30 Early-Bird Morning coffee & tea; Tai Chi exercise
07:00-08:00 Breakfast (buffet)
08:00-11:00 Shore excursion to Fengdu "Ghost City"
12:00-13:30 Lunch (buffet)
16:30-18:00 Optional excursion: Shibaozhai Pagoda (CNY 220 per person)
17:00-18:00 Captain's Welcome Party
18:00-20:00 Dinner (buffet)
19:30-21:30 Optional excursion: Feng Yan San Guo "Romance of the Three Kingdoms" Live Show (CNY 290 per person)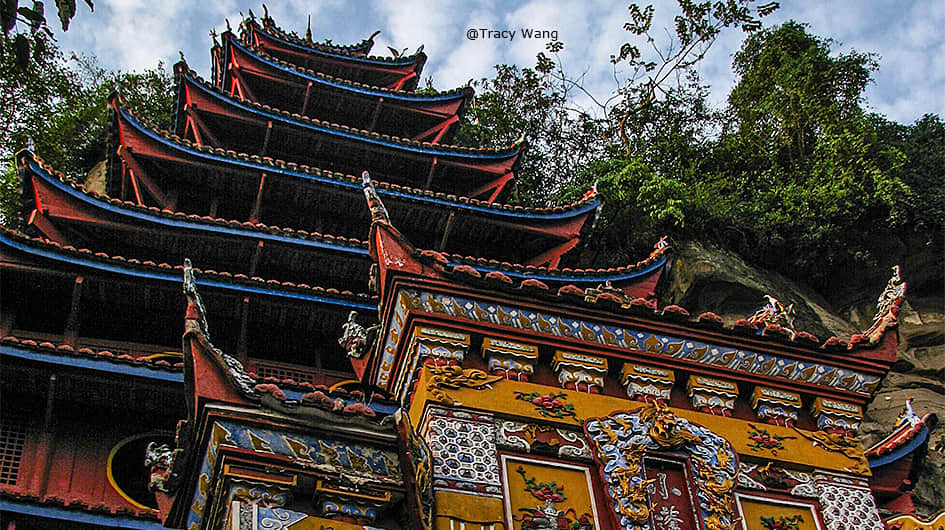 Shibaozhai Pagoda
Day 11
Yangtze River: on the Cruise (breakfast, lunch & dinner)
07:00-07:30 Early-Bird Morning coffee & tea; Tai Chi exercise
07:30-08:30 Breakfast (buffet)
08:00-11:00 Optional excursion: White Emperor City (CNY 290 per person)
11:00-11:30 Scenic cruising — Qutang Gorge
11:30-12:30 Lunch (buffet)
13:30-17:30 Shore excursion to Lesser Three Gorges
Enhanced Optional Tour: Little Lesser Three Gorges (CNY 150 per person) 17:30-18:30 Scenic cruising — Wu Gorge
18:30-20:00 Scenic cruising — Xiling Gorge (West Section)
19:00-20:00 Captain's farewell banquet (table dinner)
20:00-23:00 Settle the bills
20:30-21:30 Evening entertainment show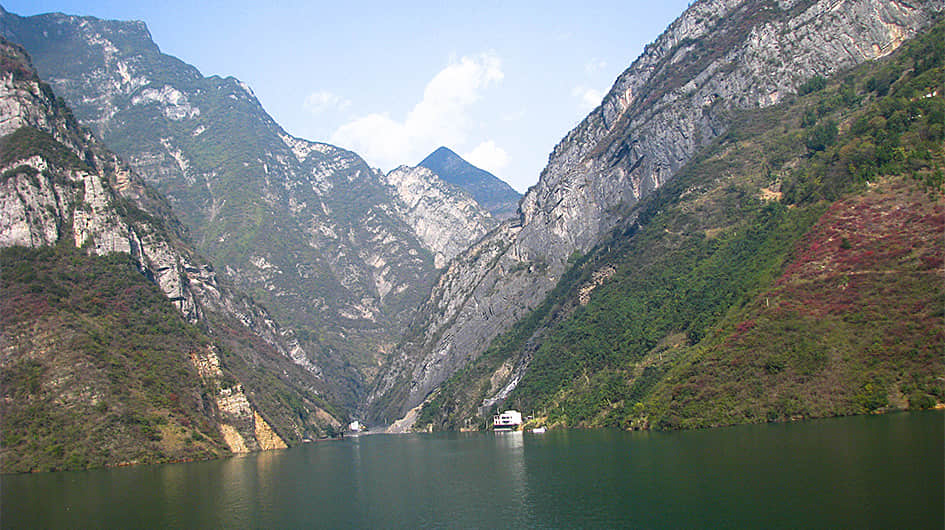 Wu Gorge
Day 12
Yichang – Shanghai by Plane: Three Gorges Dam (breakfast & lunch)
Morning
07:00-08:00 Breakfast (buffet)
08:00-12:00 Disembark at Maoping Pier
Optional excursion: Ship-lift Tour (CNY 290 per person)
Shore excursion to Three Gorges Dam
Shuttle bus to Yichang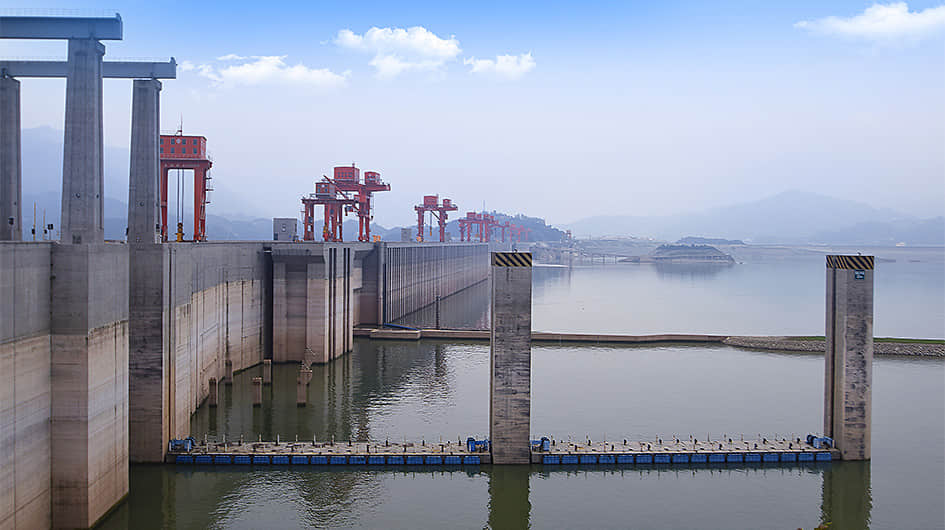 Three Gorges Dam
Afternoon
13:30 (Est.) Arrive at Yichang Sanxia Tourist Center (near Wanda Plaza)
Have lunch in a local restaurant and spend some leisure time in the city.
Evening
Take an early evening flight to Shanghai. On arrival at Shanghai airport, you will meet the tour guide and be transferred to your hotel. Relax and enjoy a good rest.
Day 13
Shanghai: City Tour (breakfast & lunch)
Morning
Yu Garden is located in the busy center of Shanghai. Once a private garden belonging to the Pan family of the Ming Dynasty, it was the largest and most prestigious during its era. Yuyuan Bazar is a bustling marketplace outside of the garden, where it is worth walking through corridors, archways, bridge and ponds to soak up the atmosphere. There are plenty of restaurants and souvenir shops. Please do bargain when you purchase souvenirs.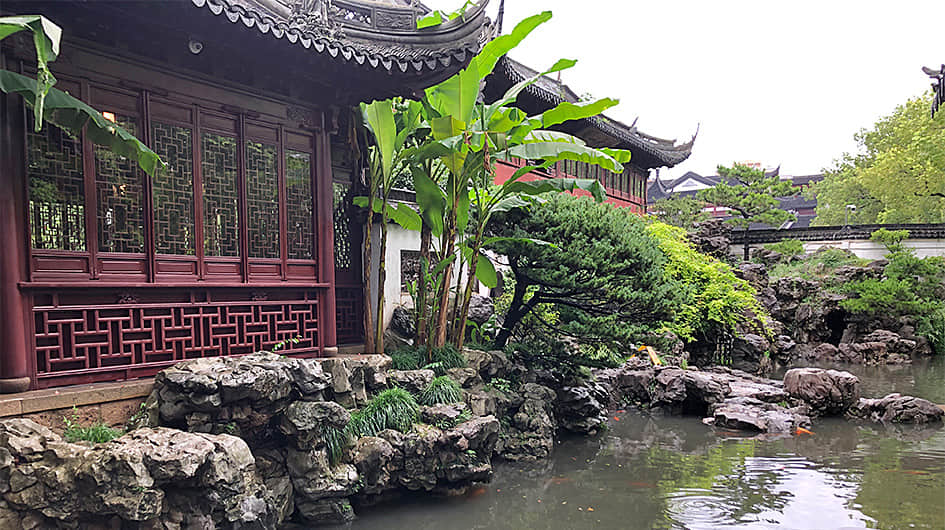 The Layout of Yu Garden
Afternoon
The Bund, a famous landmark of Shanghai and located across the river. Enjoy a nice walk and learn about the history of 26 colonial-style buildings. In the evening, you can enjoy the breathtaking city views at night when all the buildings are lit up.
Shanghai World Financial Center was completed in 2008 on the other side of Huangpu River, is the second tallest skyscraper in mainland China. You will go to the oval overpass for pedestrians and admire the architectural features around the center, such as the 88 story Jin Mao Tower and the Shanghai Tower that is 400 feet high.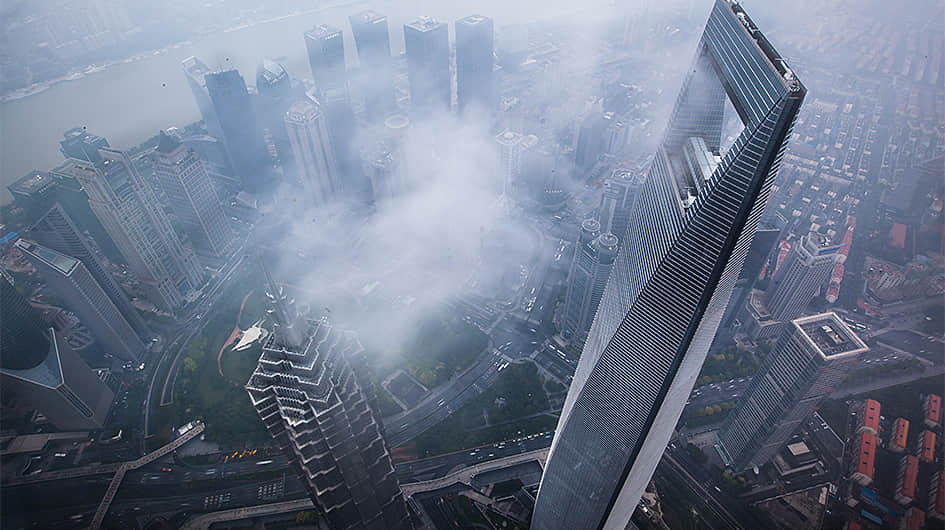 Shanghai World Financial Center
Day 14
Shanghai: Tongli Water Town (breakfast & lunch)
Morning
We will head to Tongli Water Town, which is one of the hidden gems around Shanghai. It is a 1.5 hours' drive from the city. This small town is an epitome of Jiangnan towns in the Ming and Qing Dynasty and retains its quaint and authentic vibe. You will first visit Tuisi Garden, also known as the Retreat and Reflection Garden, selected as a world cultural heritage. It is the most notable attraction with its unique layout, traditional architecture, and fantastic water garden. After that, listen to the love story that happened in The Pearl Tower and take a boat ride to feel the charm of this town.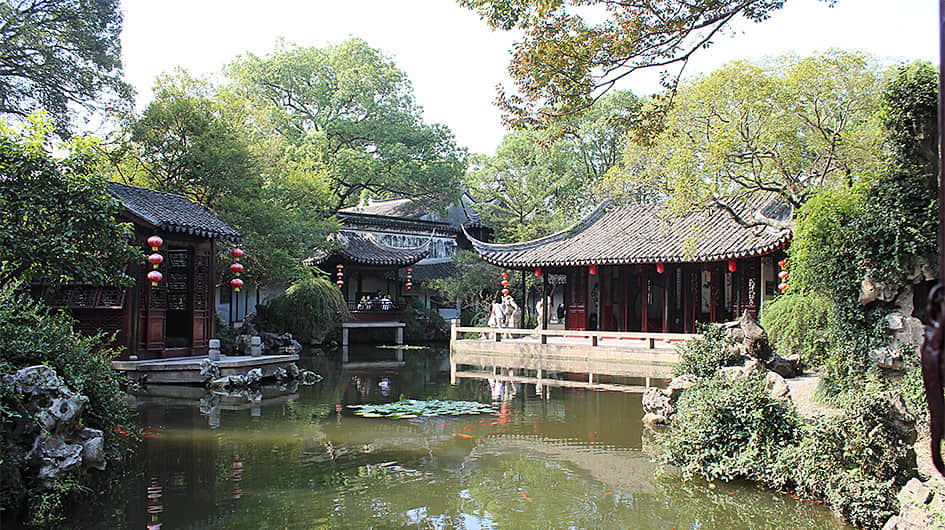 The Stage in Tuisi Garden
Afternoon
After a late lunch, you will be driven back to Shanghai. Former French Concession is the most stylish side of the city. Stroll along the old streets and view the buildings to enjoy a relaxing afternoon.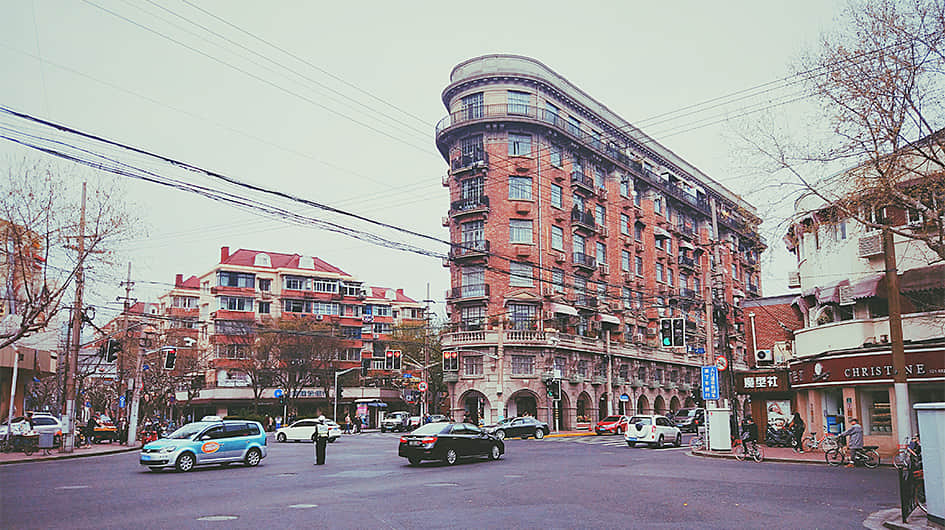 Colonial Architecture in Wukang Road
Day 15
Shanghai Departure (breakfast)
Today, sadly your journey comes to an end, as you depart for home. Your guide will meet you at your hotel lobby and take you to the international airport to see you off. We wish you a safe journey and hope that we can see you again.
Featured Hotel
| | Comfortable | Deluxe |
| --- | --- | --- |
| Beijing | Sunworld Hotel Beijing | Regent Beijing |
| Xi'an | Grand Noble Hotel | Sofitel Xian on Renmin Square |
| Guilin | Guilin Bravo Hotel | Sheraton Guilin |
| Yangshuo | Green Lotus Hotel | Green Lotus Hotel |
| Yangtze River Cruise | Yangtze Gold 5 Cruise | Century PARAGON LEGEND |
| Shanghai | Narada Boutique Hotel Shanghai Bund | Radisson Blu Hotel Shanghai New World |
What's Included
Professional English speaking tour guides
Entrance fee to all spots listed in the itinerary
Well-selected hotel accommodation
Meals mentioned in the itinerary
Experienced driver and comfortable vehicle with air-conditioning
4 Days / 3 nights Yangtze River Cruise from Chongqing to Yichang
High-Speed train tickets from Beijing to Xi'an, from Guilin to Chongqing
Flight tickets from Xi'an to Guilin, Yichang to Shanghai