Shangri-La means 'the sun and the moon in the heart' in Tibetan language. It is the capital of the Diqing Tibetan Autonomous Prefecture in Yunnan Province, and is located in the hinterland of the Hengshan Mountains which is in the northwestern part of Yunnan Province and on the Qinghai-Tibet Plateau. It is also at the border of Yunnan, Sichuan and Tibet. The unique location of Shangri-La made the 'Three Parallel Rivers' scenic spot, one of the world natural heritage sites, accessible for tourists to see.
Shangri-La appeared in the famous novel 'The Lost Horizon' that was written by British writer James Hilton in the 1930s, and caused the world to long to see it. It was soon adapted into a movie of the same name and received a couple of Oscars. Shangri-La has become a well-known utopia for all readers and audiences. The whole Shangri-La Tibetan Area has a long history and beautiful natural scenery.
Best Time to Visit
May to July and September to October are the best times to travel to Shangri-La. It is quite important to visit there at an appropriate time. Due to its location on the plateau, the landform is complex and the open time of scenic spots in Shangri-La is affected by natural conditions. It's always mild in these two periods. You would appreciate blooms, clear sky and the greatness of nature. The temperature difference will still be considerable.
Recommended Scenic Spots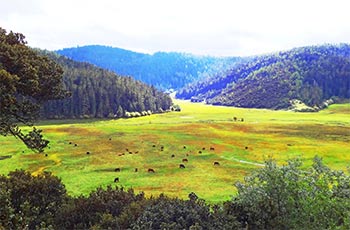 1. Pudacuo National Park: Pudacuo National Park, which some may call it the real Shangri-La in Shangri-La, is notable for the lush forests, emerald lakes and gorgeous pasture views you could see there. Shudu Lake and Bita Lake are known as the two pearls of the plateau. In autumn and winter, a large number of birds such as yellow ducks play at the lakes. Strolling in the woods on the pasture, the bells on the horse's neck ringing, the smoke rising in the distant pasture, you can feel the harmony between humanity and the surrounding natural environment
2. Tiger Leaping Gorge (Hutiao Gorge): It is the deepest gorge in the world and is located on the east of Hutiao Town. The gorge is naturally divided into three sections. The Tiger Leaping Gorge stretches about 20 kilometers. The Jinsha River rushed through here, and was stopped by the two snow-capped mountains of Yulong and Haba. The narrowest part of the river was only twenty or thirty meters. In addition to being recognized as a majestic natural scenery spot, Tiger Leaping Gorge is a world-famous hiking destination. Numerous outdoor enthusiasts come here every year. After walking through the middle section, down to the river, you can truly appreciate the magnificent momentum of the Tiger Leaping Gorge. Tiger Leaping Gorge is known for its odd geographic features, deep gorge, and spectacular views. The upper section has 'Xiakou' and 'Tiger Jumping Stone' for travelers to see. The middle section has got 'Stars' and 'First Line'. You can see 'High Gorge Growling Out of Pinghu' and 'Large Wonder' in the lower section.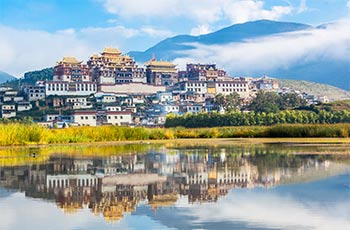 3. Songzanlin Monastery: It is also known as Garden Sumtsaling Monastery or Guihua Monastery. It is a traditional Tibetan Buddhist monastery and the main monastery for the Gelu religious sect in Sichuan and Yunnan Province. Built in 1679 on the mountain, its name was given by the fifth Dalai Lama. It is quite similar to the Potala Palace in Lhasa if you see it from far away. People also call it 'Little Potala Palace' because of its scale.
Natural Landscape
| | | |
| --- | --- | --- |
| Pudacuo National Park | Tiger Leaping Gorge (Hutiao Gorge) | Shangri-La Balagezong Scenic Area |
| Napa Lake (Napa Hai Nature Reserve) | Bita Lake | Shika Snow Mountain |
Cultural Attractions
| | | |
| --- | --- | --- |
| Garden Sumtsaling | Moonlight Square | Zhongdian Tibetan Classical Court |
| Dukezong Ancient Town | Tancheng Square | |
How far is Shangri-La from Major Cities
| Cities | Distance from Shangri-La(km) | By Air to Shangri-La | By High-Speed Railway to Shangri-La |
| --- | --- | --- | --- |
| Beijing | 3175.6 | 6hrs | No direct High-Speed train, no direct traditional train. |
| Shanghai | 2963.7 | 8hrs 10m | No direct High-Speed train, no direct traditional train |
| Shenzhen | 2074.8 | No direct flight. | No direct High-Speed train, no direct traditional train. |
| Guangzhou | 1962.6 | No direct flight. | No direct High-Speed train, no direct traditional train. |
| Hangzhou | 2786.2 | No direct flight. | No direct High-Speed train, no direct traditional train. |
| Nanjing | 2756.6 | No durect flight. | No direct High-Speed train, no direct traditional train. |
| Hong Kong | 2092.6 | No direct flight. | No direct High-Speed train, no direct traditional train. |
| Xian | 2028.4 | No direct flight. | No direct High-Speed train, no direct traditional train. |
| Wuhan | 2172.1 | No direct flight. | No direct High-Speed train, no direct traditional train. |
| Tianjin | 3231.4 | No direct flight. | No direct High-Speed train, no direct traditional train. |
| Lhasa | 4165.7 | No direct flight. | No direct High-Speed train, no direct traditional train. |
How to get there
Diqing Shangri-La Airport is connected to almost every important domestic city. Lijiang Sanyi International Airport is the second largest airport in Yunnan and a regional tourism hub in Yunnan. Visitors who want to travel to Shangri-La can take a flight to Diqing Shangri-La Airport or take a bus to Shangri-La from Lijiang Sanyi International Airport. Visitors can take the train to Lijiang and take the bus to Shangri-La. Because the Shangri-La station and the Tiger Leaping Gorge Station are all under construction, there is no direct train from Lijiang to Shangri-La.
Gourmet Food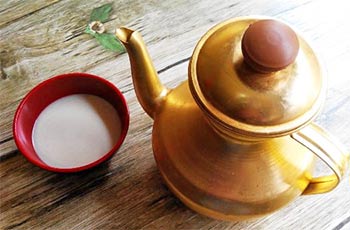 1. Ghee: Tibetans' favorite drink is ghee tea. According to legend, Princess Wencheng was not used to the diet of the plateau when she first arrived in Tibet. She came up with a way to drink half a cup of milk and then a cup of tea. Later, in order to drink milk and tea together, it has evolved into today's ghee tea. Pour the local tea into the tea pot, add ghee, salt and refined spices, stir the oil tea to blend and heat, then you can drink ghee tea. The ghee is high in calories. When you have a cup of ghee tea in the winter, it is delicious and can instantly warm you up.
2. Chiang (Highland Barley Wine): The barley wine is representative of China's western regions. They usually greet you with barley wine when you visit a Tibetan family. The raw material of Chiang is barley, and it is made from the snow-capped melted water and non-polluted natural mineral water. Chiang has a yellow color, a sweet and sour taste, and a low alcohol content, similar to beer. Drinking barley wine tradition always follows 'three sips and bottom a cup': first take a sip, fill it up, take another drink, fill it up, take a third sip and then empty the cup. In the local area, barley wine is an indispensable wine for the holidays, marriage, and reception of friends and family.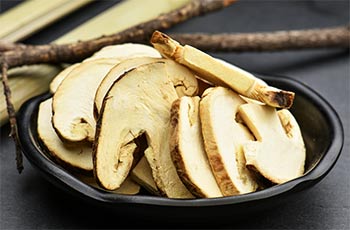 3. Tricholoma Matsutake: Tricholoma Matsutake is a wild plant that is symbiotic with the roots of pine, eucalyptus and cedar. Its shape is similar to velvet antler. Shangri-La is the main production area of Matsutake, which is harvested from mid-July to early September. Matsutake has also been popular in Japan and Southeast Asia. Fresh Tricholoma Matsutake is fried with green peppers, which is not only refreshing, but is also a very nutritious dish.
4. Yogurt: The Tibetan language word for yogurt is 'shuo'. It is a kind of dairy product in the Tibetan family of Zhongdian. It is made from milk that has been refined with ghee. Local residents call it 'longevity food' because it has a very rich nutritional value, is easy to digest and to be absorbed. It tastes sweet, not too sour, smooth and delicious. It is a natural supplement that prolongs life.
Souvenirs and Shopping
1. Tibetan Knife: It is a symbol of this region. There are many brands of Shangri-La's Tibetan knives, but the best are the two brands 'Kava' and 'Kazhuo'. They all have hundreds of years' history and good reputations. The knives are always sharp and have exquisite carvings. They are always distinctive if you put them among ordinary knives.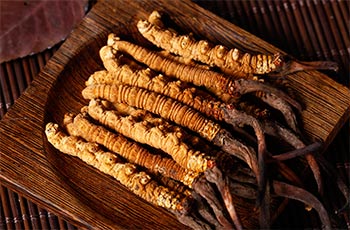 2. Cordyceps Sinensis: This caterpillar/fungus combination is also called Cordyceps, and is as popular as ginseng and antler to take as health supplements in China. It is produced in the alpine zone above 3,000 meters above sea level. The formation of Cordyceps is wonderful, it turns into insects in winter and turns into grasses in summer. When it forms summer grass, that is the best season to collect it. In addition to medicinal use, it is also beneficial to take as a supplement. It is expensive because of the difficulties involved in collecting them.
3. Cheese: Tibetans traditionally eat a lot of cheese. They use surplus yak milk to make dairy products such as ghee and cheese. Cheese is commonly known as 'qula' in Tibet. Qula is white, sour, and rich in milk flavor.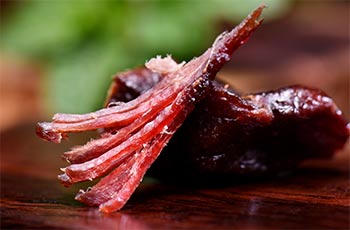 4. Dried Yak Meat: The yak lives in the area above 3,500 meters above sea level. These places are rich in wild medicines such as fritillary, Cordyceps, etc. The yak eats these herbs, and the meat is rich in nutrients. Yak meat can be fried, braised, stewed or sun-dried.
5. Tibetan Silver Products: There are many kinds of Tibetan silver products in Shangri-La. There are more than 20 kinds of religious silver products such as pagodas, Buddha statues, Buddhist altars and Buddhist ornaments. The silver products of general household goods are various as well, such as the silver eight treasure map, silver bodyguard box, earrings, bracelets, silver belts, silver covered wooden bowls, silver knives, silver bell needles container, silver jade bowls, etc.