Located in the center of Shangri-La Scenic Area, Pudacuo National Park is the main section of the Three Parallel Rivers scenic area, listed in World Natural Heritage. It consists of three main parts: Shudu Lake, Bita Lake, and Xiagei Tibetan Village. You will enjoy the breathtaking scenery, with lush forests, emerald lakes and gorgeous pasture views.
Quick Facts
Chinese Name: 普达措国家公园 Pǔ dá cuò guó jiā gōng yuán
Suggested Time: one day
Ticket: 100rmb per person
Address: Hongpo Village, Diqing Tibetan Autonomous Prefecture, Yunnan Province
Open Hours: 9.00-16.00

Transportation:

1. Shuttle bus: you can take the shuttle bus from Shangri-La Bus Station to Pudacuo (only one bus to Putacuo every day).

2. Van: there are mini-bus vans to take you to Pudacuo from Shangri-La town.

3. Taxi: you can take a taxi from Shangri-La town to Pudacuo.

4. Drive: the self-driving route is Shangri-La Airport – Shenying Road – Huancheng South Road – Huancheng East Road – East Ring Road – Pudacuo
Highlights of the Park
Shudu Lake
The lake is so clear with swamped meadows and animals all around it. In spring and summer, wildflowers bloom on the grassland, which is very beautiful. In the early morning of winter, the water vapor on the lake condenses, and composes a white mist layer over the surface of the water. You can only see this wonder by the first bus to the lake. There is a walking path along the lake, and it takes about an hour to complete a circular tour.
Bita Lake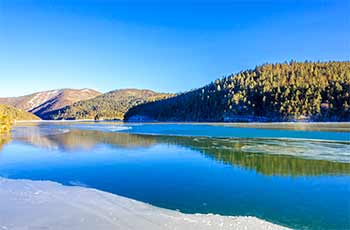 Bita Lake
Bita Lake in Tibetan language means 'a lake that is covered with oak tree made carpet'. Literally, the oak trees around Bita Lake are always thick and tall. Every year in May and June, the cuckoo petals fall into the water, the fish who eat the poisonous azaleas float to the lake surface. This is the famous scene of Bitahai: drunk fish. There is a plank road on the shore of the Bita Sea Lake, which runs along the boardwalk to the lakeside pier. There are cruise boats available as well, and you can take a boat and see the views around the lake.
Xiagei Tibetan Village
The village is mainly set for the promotion of Tibetan folk culture. There are various kinds of folk workshops such as a traditional pottery workshop, a Tangka workshop, a wood ware workshop, a horn-carving workshop, a Tibetan incense workshop, a local residence museum, and a Tibetan silver workshop. You can find ethnic handicrafts in these shops and you may take some as souvenirs.