Also known as Guihua Monastery, it is the biggest traditional Tibetan Buddhist monastery in Yunan Province and the main monastery for the Gelu religious sect in both Sichuan and Yunnan Provinces. Built along the mountains, it looks similar to Potala Palace in Lhasa from distance. People also call it the 'Little Potala Palace' because of its scale.
Quick Facts
Chinese Name: 噶丹·松赞林寺 Gá dān ·sōng zàn lín sì
Suggested Time: 3-5 hours
Ticket: 125rmb per person
Address: No.3 Niwang Road, Jiantang Town, Diqing Tibetan Autonomous Prefecture, Yunnan Province
Open Hours: 8.00-18.00

Transportation:

1. Take bus No.3 from Shangri-La town to the last stop at Songzanlin Monastery

2. Take a taxi from Shangri-La town, it may cost 20 rmb

3. You could also drive here and the car park is just at the door of the monastery
Highlights of the Monastery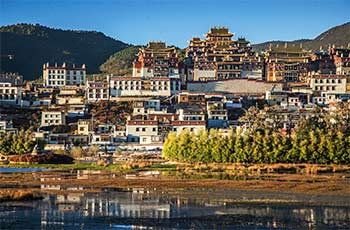 Songzanlin Monastery faces south, and it is surrounded by an oval wall. The main hall is majestic and vibrant, with brightly colored murals. The monastery is composed of two main lamaseries, Zhacang and Jikang. The gilded copper roof and eaves best endow the monastery with strong Tibetan features. The main hall is a five-story Tibetan-style carved tower, with the upper part of the main hall gilded with copper and gold. The Zhacang Hall is for monks to learn the classics and study the theories of Buddhism. The apse portion is to worship Tsongkhapa, Maitreya, and the bronze Seventh Dalai Buddha. In the middle of Jikang Palace, is the Buddha statue of the founder of the Gelug Sect, Tsongkhapa. Around it are delicate wall paintings of the eight pharmacists.
Valuable collections in the monastery: There are many treasures in the Songzanlin Monastery, including eight gilded statues of the Sakyamuni Buddha, of the five Dalai Lamas, and the Seventh Dalai Lama Period, the Palm-leaf manuscripts, the colorful golden painted Tangka, some gold, beautiful gilded and silver incense burner, a perennial lamp etc. The collection in the Golden Temple includes more than two hundred Kangyur (two of which are handwritten in gold) and Tengyur.
Have a question?
OR
Are you eager to begin your Chinese cultural journey?
Drop us a line and we will promptly connect you with our leading China expert!