Wuhan, the capital of Hubei Province, is located at the intersection of the middle reaches of the Yangtze River and Han River of the Jianghan Plain in central China. So the city is renowned as the "River City". It has been one of China's most important inland river harbors as well as the national industry, education and transportation hub. Wuhan has a history of 3500 years. It has played an important role as a political, economic and cultural center in central China since the Tang Dynasty. Wuhan has a humid, subtropical monsoon climate with abundant rainfall, sunshine and four distinct seasons. Summer time is extremely hot and humid in Wuhan and thus it is one of the famous "Hot pot" cities in China.
Basic Facts
English Name: Wuhan
Chinese Name: 武汉(wǔ hàn)
Government: Provincial capital city
Location: Central China (29° 58'–31° 22' N, 113° 41'–115° 05' E)
Area code & Zip Code:
Area Code: 027; Zip Code: 430000
Airports:Wuhan Tianhe International Airport (WUH)
Railway Stations:
Wuhan Railway Station, Hankou Railway Station, Wuchang Railway Station, Guanggu Railway Station
Suburban Districts:
Jiang'an, Jianghan, Qiaokou, Hanyang, Wuchang, Qingshan, Hongshan, Caidian, Jiangxia, Huangpi, Xinzhou, Dongxihu, Hannan
Population: about 11.21million
Best time to visit:
March to May is the best time to travel to Wuhan. Spring is the season when cherry blossoms are in full bloom and the temperature is mild. Wuhan is one of the hottest cities along the Yangtze River during June to August. When it comes to summer, the peak temperature can be over 39°C/102.2°F and with a humidity of 80%. In winter, it is wet and cold with the temperature around 0°C/32°F.
What to See: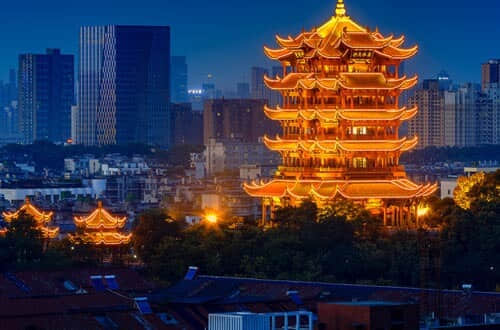 Yellow Crane Tower
1. Yellow Crane Tower: Standing on the top of Snake Hill, Yellow Crane Tower is one of the three greatest towers in the south of Yangtze River. It was first built in 223 AD as a watchtower for military defensive purposes. Nowadays, Yellow Crane Tower is the most iconic attraction in Wuhan.
2. Cherry Blossoms in Wuhan: The most beautiful season in Wuhan must be spring. If you visit Wuhan during 10th March to 20th April, you will be amazed by those Cherry Blossoms blooming in Wuhan University, East Lake Cherry Blossom Park and Qingchuan Pavilion Scenic Area.
3. Hubei Provincial Museum: Hubei Provincial Museum is one of the most impressive attractions in the province. It is reputed as the largest museum of ancient musical instruments in China. There are more than 200,000 collected items in the museum, including 812 First-class cultural relics and 16 national treasures since 1953. Among them, the Chime-bells from the Tomb of Marquis Yi of the Zeng State, the Sword of Goujian and the Human skull fossils from Yunxian County are the top 3 treasures that you should not miss.
Recommended attractions:
| | | |
| --- | --- | --- |
| Wuhan University | East Lake Scenic Area | Hankou Zhongshan Park |
| Mo Hill Scenic Area | Guiyuan Temple | Guqin Platform |
| Happy Valley Wuhan | Jianghan Rd. Pedestrian Street | Mao Zedong's Former Residence |
How to get there
Wuhan Tianhe International Airport is connected to more than 170 cities from home and aboard. You can travel to Wuhan by plane. Moreover, you can take a bullet train to Wuhan from most of the major cities in China.
How far is Wuhan from Major Cities
| Cities | Distance from Wuhan (km) | By Air to Wuhan | By High-Speed Railway to Qingdao |
| --- | --- | --- | --- |
| Beijing | 1149 | 2hrs | 4.5hrs |
| Shanghai | 820 | 1.5hrs | 4hrs |
| Guangzhou | 975 | 1h 45mins | 4hrs |
| Hong Kong | 1097 | 2hrs 10mins | 4.5hrs |
| Xi'an | 777 | 1.5hrs | 4.5hrs |
| Chengdu | 1160 | 2hrs | 8hrs |
| Chongqing | 870 | 1.5hrs | 6.5hrs |
| Hangzhou | 733 | 1.5hrs | 5hrs |
| Shenzhen | 1054 | 2hrs | 4hrs 50mins |
| Lhasa | 3401 | 3.5hrs | No direct High-Speed train, traditional train about 41hours 51mins |
Gourmet Food Recommendations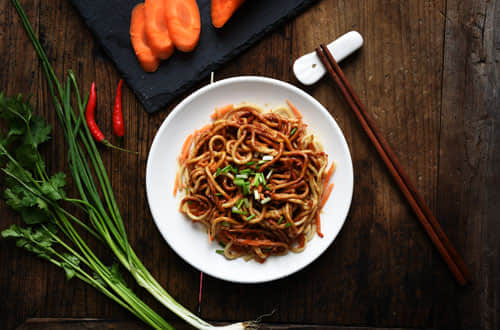 Regan Mian(热干面)
Regan Mian (Hot and dry noodles with sesame sauce) is considered to be the most typical local food for breakfast in Wuhan. It consists of long, freshly boiled noodles mixed with sesame paste. Wuhan Regan Mian(Hot and Dry Noodles) has been ranked as one of the Top 10 Most Delicious Noodles in China by the China Hotel Association in 2013.
Mianwo (Chinese Salty doughnut) is a kind of deep fried doughnut with a salty taste and is made with rice and soybean. It is much thinner than a common doughnut, and is a typical Wuhan local food for breakfast.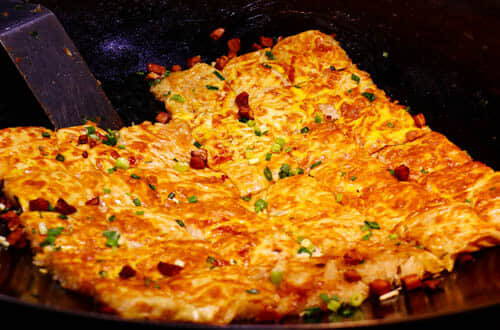 Doupi(豆皮)
Doupi (Bean curd skin) is a popular local snack with a filling of egg, sticky rice, beef, mushrooms and beans cooked between two large round soybean pancakes and cut into pieces. It is also an indispensable choice for breakfast in Wuhan.
Soup dumpling is a kind of steamed dumpling filled with minced meat and gravy. If you take a bite from it, the soup will spill out. So that is why it is called "soup dumpling".
Souvenir and Shopping:
Lacquer Wares: Craftsmen in Jiangling County of Hubei Province produce great lacquer wares. The Jiangling lacquer ware has the features of its ancient style shape, delicate workmanship, bright color and durability. It is a great souvenir with artistic value.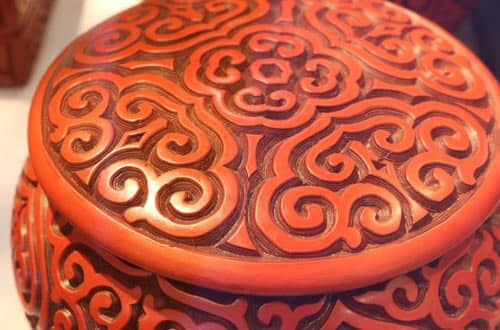 Turquoise Carvings
Turquoise Carvings: Turquoise carving has a history of over 4000 years in China. Zhushan County and Yunxi County in Hubei Province are the origin places of high-quality raw turquoise. You can find the very best of these in Wuhan. Wuhan is the major city of turquoise carvings trading. You may choose to buy as mall one as a souvenir.
Sesame Paste: Sesame Paste is the "soul" of Wuhan Hot and Dry Noodles. If you like the taste of this local food, you may buy some canned sesame paste back home and make your own homemade hot and dry noodles.