Top 7 Cuisines in Wuhan
Wuhan cuisine is the representative of Hubei cuisine. Surrounded by rivers and lakes, the cuisine in Wuhan is famous for its freshwater fish dishes. Moreover, with its long history and central location in China, Wuhan cuisine has a wide range of features and flavors. Wuhan cuisine focuses on cutting skills, heat control, and the appearance of dishes. The local dishes can be very spicy and with lots of chili. Although some Wuhan locals can't really handle spicy food, they are still addicted to chili. So when you are ordering dishes in a local restaurant in Wuhan, you need to confirm the spicy level of the dishes. Wuhan is not only a hot city, but also a "Hot" city.
1. Steamed Wuchang Fish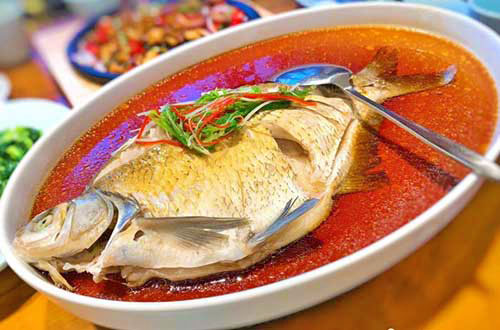 Steamed Wuchang Fish is one of the top dishes in Wuhan. The fresh Wuchang fish is steamed with mushrooms, bamboo shoots, ham, ginger and chicken soup. The dish is fresh and the taste is light. Chinese Chairman Mao Zedong in his poem wrote: "I have just drunk the water of Changsha, and now I'm tasting the Wuchang Fish."
Characteristics: the fish meat is light and tender.
Recommendation: Hujin Restaurant
Address: No.105, Bayi Rd., Wuchang District, Wuhan
2. Fried Smoked Pork with Red Cabbage
Red Cabbage is a nourishing vegetable and is one of Wuhan's local specialties. This vegetable was once a tribute to the emperor in the ancient time. Locals fry the red cabbage with smoked pork and coupled with garlic. It makes the pork not that greasy and salty. The mixed flavor of vegetable and meat is more delicious. It is one of the most popular dishes in Wuhan.
Characteristics: You will like the natural sweetness of the red cabbage and the fragrance of the smoked pork.
Recommendation: Red Cabbage is a seasonal food. You may find this dish from November to March.
Address: Most of the local restaurants in Wuhan serve this dish if it is the right season.
3. Three Combinations of Huangpi
Huangpi is the name of a district in Wuhan. This dish is the combination of braised fish balls, pork balls and mixed meat paste. It's quite complicated to make and the chef has to chop the pork and fish meat thousands of times until it becomes a meat paste. Then they make it into meat balls or sliced meat. They boil these materials together with chicken soup. This is an important dish to include when there is a banquet or festival in Wuhan.
Characteristics: There is a mixed flavor of fish, pork and chicken in one dish.
Recommendation: Best Yang Restaurant
Address: No.215, Xinhua Rd., Jianghan District, Wuhan
4. The Soup of Pork Ribs and Lotus Root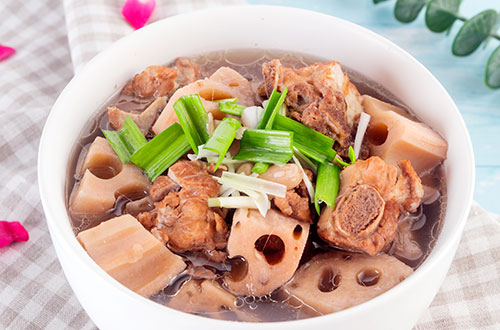 Soup is a part of Wuhan locals' life. Benefitting from the lakes around, large numbers of fine lotus roots are harvested in Wuhan. The Soup of Pork Ribs and Lotus Root is a very popular soup in Wuhan. The pork ribs and lotus root will be stewed for several hours until all the ingredients become soft.
Characteristics: The soup has a rich flavor and nutrition. The lotus root and pork are soft and delicious.
Recommendation: Da Zhonghua Restaurant
Address: No.908, Xiongchu Avenue, Hongshan District, Wuhan
5. Mianyang Three Steams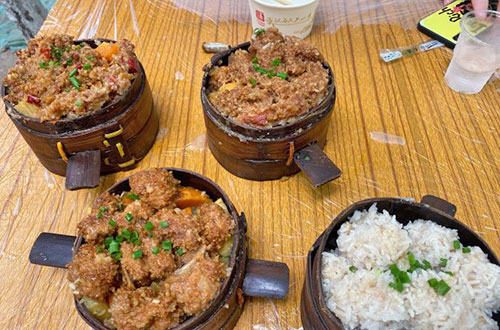 Mianyang Three Steams is a general name of steamed poultry and meat, steamed fishery products, and steamed vegetables in Mianyang area. Wuhan people believe that most of the foods' nutrients will be retained by steaming. There is a wide variety of steamed dishes in Wuhan, such as steamed pork ribs, meat balls, fish, lotus root, pumpkin, and vegetables, etc.
Characteristics: The steamed dishes are healthy, light and soft. It keeps the original flavor of the ingredients.
Recommendation: Wuhan Kanglong Taizi Restaurant
Address: No.181,Donghu Rd., Wuchang District, Wuhan
6. Sun Flower Tofu
The appearance of this dish looks like a sunflower but it is mainly made of Chinese Tofu, eggs, ham, sunflower seeds, prawns and green vegetables. The taste of the dish is very light and you may enjoy the mixed flavor of all the ingredients.
Characteristics: This dish looks good, and has a soft texture and fresh taste.
Recommendation: Lao Huibin Restaurant
Address: No.38, Sanmin Rd., Jianghan District, Wuhan
7. Braised Long-snout Catfish
Braised Long-snout Catfish is a very classical Wuhan cuisine. It has a history of over 100 years. The fresh Long-snout Catfish taste tender and nourishing. There is a saying in Wuhan, "If you have never tasted the Long-snout Catfish, you will never know what the fish tastes like." This dish was listed as an Intangible Cultural Heritage of Wuhan in 2011.
Characteristics: Tender and soft fish coupled with thick sauce.
Recommendation: Old Da Him Restaurant
Address: 3-1, Hankouli, No. 9, Yuanboyuan Dong Rd., Qiaokou District, Wuhan
Have a question?
OR
Are you eager to begin your Chinese cultural journey?
Drop us a line and we will promptly connect you with our leading China expert!