Top 10 Wuhan Delicacies
Wuhan is home to a variety of delicacies. They have a wide selection of breakfasts, so you can have different one for every day for a month. If you want to taste all the local snacks in a few days, you'll regret that you only have one stomach but not five. We have listed the top 10 Wuhan delicacies below. So you may try some of these delicious local foods when you are in Wuhan.
1. Hot and Dry Noodle With Sesame Paste
Hot and Dry Noodles is the most famous delicacy in Wuhan and even in China. It is one of the Top 10 Noodles in China. The boiled dried noodles are mixed with thick sesame paste, chili oil, dried salty turnip and onion. The local restaurants can make a bowl of Hot and Dry Noodles in 20 seconds, and customers just stand outside of the stall and finish the noodles in a few minutes. This is the common scene in the morning before people get to work or school. A bowl of noodles can wake up a city.
Features: fragrant, spicy, mixed flavor
Recommendation: Cai Lin Ji Restaurant
Address: Jianghan Rd. Pedestrian Street, Jiqing Folk-custom Street, Hubu Alley
2. Soup Dumpling
The ultra-thin hand-kneaded wrapper is filled with natural chicken broth and delicate double-ground pork, and it is quite a fresh flavor and not spicy at all. As an outsider, you need to be careful of the hot soup in the dumplings. Remember the correct steps: lift gently, move slowly, open a hole, drink the soup, and finally eat it all.
Features: tender, juicy and savory
Recommendation: Si Ji Mei Restaurant
Address: Jianghan Rd. Pedestrian Street, Hubu Alley, Jiqing Folk-custom Street, Wansongyuan Snack Street
3. Doupi (a pan-fried delicacy of glutinous rice and minced meat)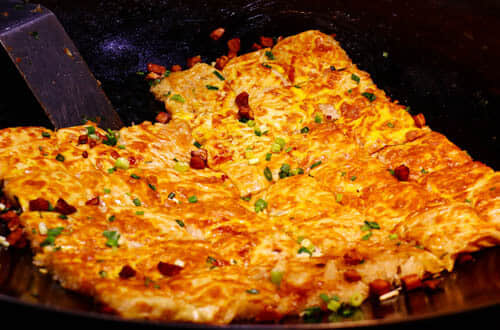 Literally means "Tofu Skin" but is not really made of Tofu. It is one of the most popular breakfast for Wuhan citizens and it takes way more complex ingredients to make a Doupi. Wuhan locals call it 'the King of Breakfast'. You will be full of energy for the whole day if you eat Doupi for breakfast. It is a large, thin soybean pancake filled with sticky rice, egg, shredded pork, Tofu, mushrooms, bamboo shoot, and sometimes shrimps. Then it is fried both sides and cut it into small pieces. Having a taste of Doupi is the proof that you have been in Wuhan.
Features: salty, fragrant, crispy
Recommendation: Lao Tongcheng Restaurant
Address: Jiqing Folk-custom Street, Zhongshan Avenue, Jiang An District, Wuhan
4. Rice Noodles in Fish Soup
The history of Rice Noodles in Fish Soup can be traced back to 1932. The local chef braises the fresh river fish with rice until they turn into a kind of thick fish soup. Then it is boiled with rice noodles, black pepper and dried shrimps. Normally, when people are having this delicacy, they prefer to couple it with a Deep-Fried Dough Stick. The thick fish soup spilling over into the crispy Deep-Fried Dough Stick, this brings fantastic flavor and texture.
Features: fresh, thick and smooth
Recommendation: Tian Heng Qi Restaurant
Address: Minzu Rd., Jianghan District, Wuhan
5. Shumai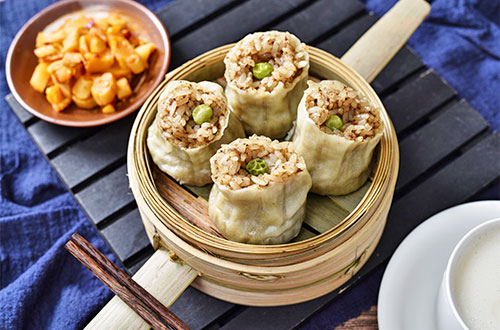 Shumai originated in northern China and it is a very popular dim sum dish in Guangdong Province. Wuhan people also like Shumai very much, especially for breakfast. It makes people easily feel full. As for Wuhan-style Shumai, the main fillings are pork and chopped mushrooms, and wrapped up with sticky rice wrappers. There was a time, a Shumai stall sold more than 5000 Shumai in a day. This shows how much Wuhan people love to eat Shumai.
Features: fresh, soft and smooth flavor
Recommendation: Shunxiangju Restaurant
Address: 2F, Exit D, Metro line 2 or 6, Jianghan Rd. Station, Jianghan District, Wuhan
6. Simmer Soups
Wuhan produces large numbers of fine quality lotus roots. The Soup of Pork Ribs and Lotus Root is the most popular soup in Wuhan. The other popular soups are Chicken Soup, Duck Soup, Beef Soup and Turtle Soup. Having a bowl of soup before or after the meal will help to protect and release your stomach. Especially as Wuhan local cuisine can be quite spicy and oily.
Features: nourishing, fresh and healthy
Recommendation: Xiao Tao Yuan Restaurant
Address: No.59, Fangcao Rd., Hanyang District, Wuhan
7. Chinese Salty Doughnut
You can find this snack at some street food stands or small food stalls in the streets and back lanes of Wuhan. It can be accompanied with Hot and Dry Noodles, Rice Noodles in Fish Soup, Shredded Bean Curd or Soya Milk. It is made of ground soybean and rice milk, salt, onion, ginger and sesame. The shape is just like a deep-fried doughnut.
Features: crispy outside and soft inside
Recommendation: Luo Shi Mianwo
Address: 8 Zhongbei Rd., Wuchang District, Wuhan
8. Spicy Duck's Neck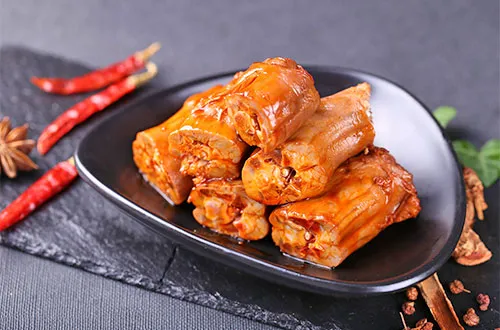 This snack is very popular in Sichuan, Hubei and Hunan province. It has a very strong, spicy flavor, but this is why some people love this snack so much. The Duck's Neck stall normally also has other marinated foods available, such as Duck's feet, Duck's Wings, Duck's Offal, Lotus Roots, and Salty Dried Tofu.
Features: spicy, salty, heavy flavor
Recommendation: Jingwu Duck's Neck
Address: 822 Jiefang Avenue, Jiang'an District, Wuhan
9. Bean Shreds
Bean shreds are mainly made of rice and mung beans. The Bean Shreds can be fried with vegetables, beef, pork or eggs. The most famous Bean Shreds are made in the Huangpi District of Wuhan. The bean shreds produced in Huangpi are very nutritious. They have mixed more natural ingredients to make it, such as buckwheat powder, arrow root powder, soybean and Chinese yam, making it even more tasty and healthy.
Features: nourishing and tasty bean shreds, fragrant gravy
Recommendation: Lao Qianji Restaurant
Address: Entrance of Hubu Alley, Ziyou Rd., Wuchang District, Wuhan
10. Crayfish
Crayfish has become a very popular dish in China in the recent years. Hubei province is one of the main crayfish producing areas in China. So don't be surprised when you see a whole street full of crayfish restaurants in Wuhan. If you like spicy, you must have a taste of the Spicy Crayfish. And the Steamed Crayfish is more friendly for people who don't eat spicy food. I'm pretty sure once you eat the first crayfish, you won't be able to stop from taking the next one.
Features: tender, fresh, spiced
Recommendation: Bali Crayfish
Address: 30 Xuesong Rd., Jianghan District, Wuhan
Have a question?
OR
Are you eager to begin your Chinese cultural journey?
Drop us a line and we will promptly connect you with our leading China expert!